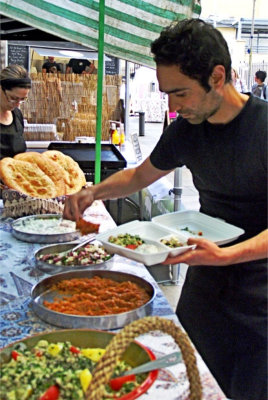 Foodies rejoice! Amongst the plethora of games, productivity, and many other seemingly useless apps, there stands a few that are perfect for foodies and they are free too. Thanks to Cocomamafoods for this list.
Epicurious: Download For Free
Whether you love to cook from recipes or are an avid hunter of unique dishes for inspiration, Epicurious is the app for you. This app lets you search, save and share recipes anywhere.
OpenTable: Download For Free
Never wait for a table again! Okay…they might not be that good, but if you're not already familiar with OpenTable, it's probably one of the best ways to get your hands on a dinner reservation. With partners at over 20,000 restaurants in the US, Canada, and the UK they make choosing a place for dinner quick and easy.
Seafood Watch: Download For Free
With all the talk about sustainability in seafood, it's about time there a convenient tool to help you make the sustainable choice. Seafood Watch recommends restaurants and retailers that source the most sustainable and ocean friendly seafood in your area.
AllRecipes – Dinner Spinner: Download For Free
The Allrecipes.com Dinner Spinner is a fun tool that helps you spice up your at home menu options by providing totally random recipes that fits your needs and keeps things fresh. All you do is select a dish type, the ingredients you have on hand, and prep time that fits your schedule and let the app pick your meal for you. Not to fear, you can filter out dishes don't meet your dietary restrictions, so it's safe and easy for everyone. Show off you spontaneity with Dinner Spinner!

Instagram: Download For Free
I know, you're all thinking "what are you talking about, that's a camera app"…and you're right. However, if you're a real foodie you'll be right at home with Instagram. Capture, edit, and share awesome photos with other like palette-ed individuals and you'll soon be winning followers and influencing taste-buds.
Thanks again to Cocomamafoods.com for this great list.