If you haven't heard about the latest in meal preparation and weight loss strategies, we're here to fill you in. It's called food prepping and in the extreme, it's a weekly activity when you prepare and package meals for the entire family for the entire week. And you don't necessarily cook everything in advance either. The key is to portion out servings – pre-cooked or read to cook.
How much and what you portion depends on your goals. If you're concerned about healthy or clean eating, you'll follow dietary guidelines. Looking to lose weight? You might find that limiting your portion sizes will do the trick. Are mornings rushed, looking for healthier lunch options or want dinners done fast? Prep for any or all of those meals.
Not into marathon prepping? Try "double" cooking – making extra at each meal to package for the days ahead. Just remember to take out your portions before you serve the meal so you're not tempted to eat it all!
Now on to some tips to get you started.
Containers

Plastic reusable containers (BPA free, of course) are the food preppers favorite way to store their meals – with bonus points if they're microwaveable. Plastic bags (and yes, you can wash and re-use), plastic wrap or Mason or other glass jars are all good and suitable for freezing. Or use aluminum foil or foil containers which can also be used to cook in. Just wrap with plastic or foil since these aren't always air tight.
Measuring Cups/Scale

Die-hard food preppers have containers in measurable serving sizes or divided ones for each portion of food. But measuring or weighing your servings is a sure way to know how much you're eating. Get a couple of sets of measuring cups so you don't have to wash/rinse before re-using.
Portion Sizes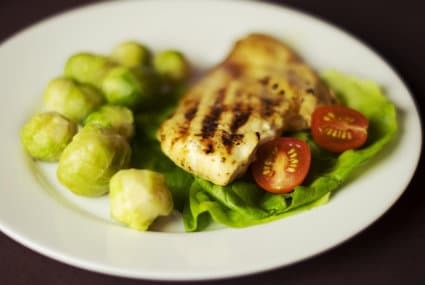 Eating for good health or weight loss means being aware of how much you eat. Recommended serving sizes for each food group are below. That's not to say you can't or won't eat more, but awareness is the first step to changing habits if that's your goal.
Non-starchy vegetables – 1 cup
Starchy vegetables – ½ cup
Fruit – 1 cup /1 medium fruit
Meat/fish/poultry – 3 ounces…which is really small!
Noodles, rice, potatoes – ½ cup
Peanut butter, jelly, condiments – 1 tablespoon
Oils, butter/margarine – 1 teaspoon
Bread – 1 slice
Grains, beans – ½ cup
Ice cream, frozen treats – ½ cup
Milk – 1 cup
Cheese – 1 ounce
Nuts, seeds – 1 ounce
Refrigerator/Freezer Storage Time

If you're preparing for just a few days, – and especially if you don't have a freezer – you can store most of your items in the refrigerator for up to 5 days. Raw poultry, fish or ground meats are the exception (1-2 days only) and hard boiled eggs which can stay a week in the fridge. Two months is a safe time frame for freezing cooked foods. Just don't freeze hard boiled eggs or salads with mayonnaise.
Food Prepping Recipes Hall of Fame

Many recipes lend themselves to advance cooking – some even tasting better after a day or two in the fridge. Hearty soups, stews and casseroles are natural for food prepping.  And a slow cooker is a food prepper's best friend.  You can cook up big batches to portion out for the weeks ahead.
But check out the recipes below that are on every food preppers list.  Most can be frozen and all are easy to make.

Breakfast Basics
Oatmeal – add fruit, nuts or seeds and flavorings. Refrigerate or freeze. Try this slow-cooked version with apples and freezing tips.
Yogurt Parfait – use plain Greek style yogurt, add berries or other fruits (with a teaspoon of honey to off-set tartness) then layer with granola, cooked oatmeal or some nuts
Breakfast Sandwiches – try this recipe with cooked eggs, ham and cheese on an English muffin. Stick them in the freezer or fridge then microwave to eat.
Lunch/Dinner
Salad in a Jar – layer salad ingredients in a Mason jar or tall container. The trick is to put "wetter" ingredients, like tomatoes, in first with drier ones, like chicken slices, in the middle and lettuce on the top.
Tuna/Chicken/Egg Salad – keep the salad in its own container to eat as is or wrap bread or crackers in plastic to keep them dry. You can also freeze chicken or tuna salad as long as you don't use mayonnaise (try this recipe here: https://onceamonthmeals.com/recipes/wholesome-tuna-salad-sandwich/)
Chili – with meat, poultry or vegetarian, it's always better re-heated.
Bistro Box – pick your favorites – fruit, vegetable sticks, wheat crackers, cheese, hard-boiled egg, meat slices/cubes – to create a meal in a box
Ready to Go Stir-fry – portion out vegetables and meat for a meal and keep in bags. If you're going to freeze, use frozen vegetables or portion out frozen ones. Any meats or poultry can be stored cooked or raw.