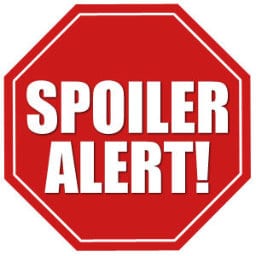 Some people just like to be surprised each week but others can't wait to know what's going to happen on their favorite TV show.  If you're the type that can't wait, the web is full of places to find spoilers and gossip about future episodes.  As one of those types, I've done a lot of spoiler sleuthing and these are my best tips for getting the goods!
TV Spoilers Sites
TVFanatic.com, SpoilersGuide.com, BuddyTV.com, Wetpaint.com and International Business Times (ibtimes.com) are some of my favorite sites for finding good spoilers.  E! (eonline.com), Entertainment Weekly (ew.com) and TVGuide.com also get some great scoops on what's coming up.  Whichever site you choose, on the site's home page, search for your show and read away!
Search
One of my favorite ways to find the latest TV show spoilers is to do a Google search. Type in the name of the show, with or without "spoilers" at the end then use the search tools to narrow the results down by date.   Change the "Any time" to something more current. That way you won't be getting old spoilers.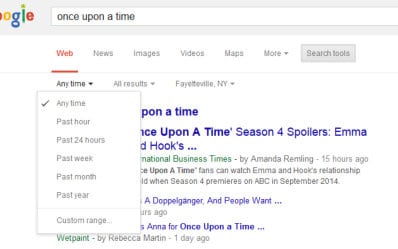 Twitter
TV fanatics are all over Twitter and boy, do they tweet a lot of good stuff.  Search for the TV show then save the stream so you can browse through it.  Also search for hashtags.  Usually it's the name of the show, like #OnceUponATime but fans and even networks often create their own.  Once Upon a Time fans, for example, use #OUAT plus they have other hashtags for characters.
Besides show names, check out the actors', producers/creators and TV network Twitter accounts.  Some of them are quite active and tweet teasers or behind the scenes pics that give you some hints about what's in the works.
Facebook
Most shows have a network run Facebook fan page.  As on Twitter, you'll find teasers plus videos and photos that can give you some ideas about what's coming up.  Be careful, though.  The networks like to throw out red herrings….like promos that don't tell the whole story or make you think something is going to happen and it doesn't!
Tumblr
The people who create Tumblr pages for their favorite shows are some of the most enthusiastic fans out there.  Look for pages that are regularly updated and contain links to the latest info.  If you're lucky, a Tumblr page can be your home base for finding spoilers and probably everything else you want to know about the show.