First, a confession. I'm a makeup and beauty product addict. And though there's no hangover, it can be as expensive as any other habit – or, as I prefer to call it – hobby. So I've become quite skilled at finding where to get the best prices on makeup and skin care products.
Of course, the big beauty stores like Sephora and Ulta have rewards programs but there are many other places to get great deals without the need to join a program. As for brand sites, some, but not all, have regular sales (usually 20% off) so sign up for a favorite to get the discount and access to products you can't find elsewhere.
So here are my top sites – ones I've purchased from and would recommend – for your browsing and shopping pleasure!
Sephora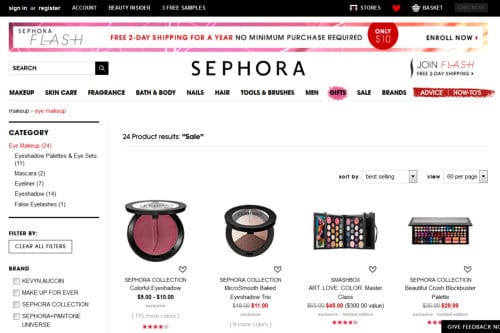 If you sign up for the Beauty Insider program, you'll get a heads up on their  few times a year sales. Sometimes it's $10 off a $50 purchase. Or it's a percentage anywhere from 10% – 20%. For brands or items you can only find at Sephora, these sales are a good time to stock up. Plus, you'll earn points to use for very generous premium samples of new and popular products and get faster shipping. Also check out their sale section for end of season collections, discontinued items and Sephora brand specials.
Ulta


Like Sephora, if you sign up for Ulta's Rewards program, you'll get notifications of sales and specially priced items along with a points program. Unlike Sephora, Ulta carries many drugstore brands along with higher end brands so there's a price point for everyone. They're also got a sale section often with BOGO offers. My only gripe with Ulta is that some of the brands are rarely eligible for sale discounts – and they're always the brands I want to buy!  And, their shipping is kind of pokey.
Amazon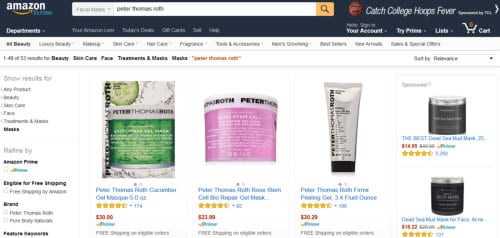 Amazon regularly discounts many department store brands. Type a brand in their search and 9 times out of 10, they've got it. The typical savings is 20%, but for some brands, it's as high as 35-40%. Just make sure to check the price at another site first since they sometimes inflate the retail price to make the discount look better. So far, I've never received an expired or bad product (just skip most perfumes…). I am careful who I choose to buy from, though, so check the vendor ratings and skim through the reviews for "bad service" comments.
Drugstore brands are usually cheaper on Amazon, too, but I always check out Drugstore.com (which they own!) to make sure I get the best price.
Nordstrom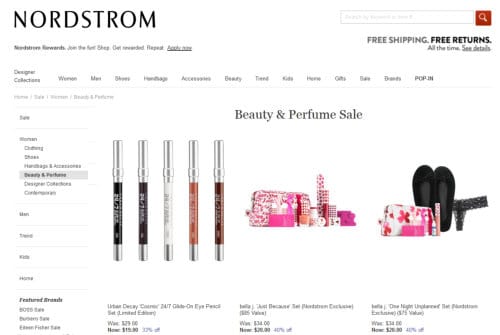 I regularly check out the beauty category in their Sale section for discounts on brands they're discontinuing and holiday themed items. In fact, most department stores have a beauty sale section (some better than others…). But Nordstrom does something differet.  Price Matching – where they give you the same discounts as a brand may be featuring on their own site. That way I don't have to sign up for a whole bunch of sites/keep all the passwords straight.  Plus, returns are free! Nordstrom, like most department store websites, also gives you your choice of 3 beauty samples with every beauty product purchase.
TJ Maxx


It's hit or miss, but you can find deeply discounted – and fresh – products in the Beauty section at TJ Maxx (in store only/not online). I've seen Glamglow, Estee Lauder, Ahava, Clinique, Shisiedo, Strivectin and many other department store brands at my local store. Lately, they've been carrying a lot of organic/natural brands like Acure, Alba, Aubrey, Avalon and one of my favorites, Andalou (I just noticed that they all start with "A"!). They've always got great deals on salon hair care products and bath/shower gels, soaps and lotions, too.
Overstock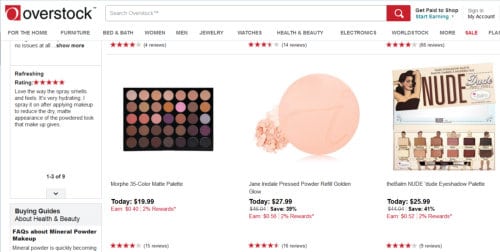 This is one of the few sites where I've found discounts on Jane Iredale products but they've got all sorts of brands here. You can save 10% – 50% and they have special pricing on both high end (like YSL Touch Eclat) and drugstore brands like L'Oreal or Rimmel. If you join their Rewards program ($19.95 a year) you can earn points to use for other purchases.
Skinstore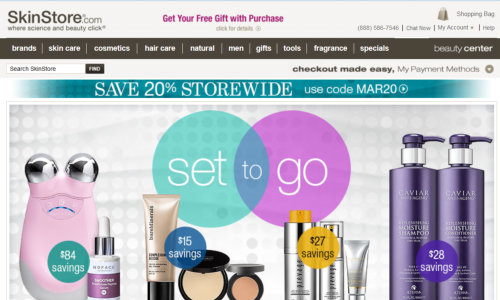 For a wide range of skin care brands, including those you normally find in dermatologist's offices, check out Skinstore.com. They almost always have a 20% off sale going on – and few brands are excluded. Shipping is generally very fast.
Beauty.com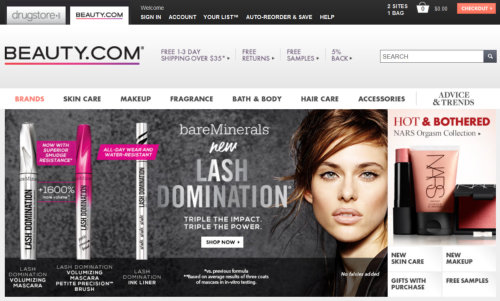 The "sister" site to Drugstore.com, Beauty.com has a 20% off sale a few times a year. If you're a sample junkie, you'll really like their makeup bag offers when you'll get a ton of samples with a purchase – though you'll usually have to spend over $100 to get it. But around holidays if you're buying gifts for beauty addicts, you might hit that amount anyway – and be able to get all those stocking stuffers for free.