There are sooo many great recipes on Pinterest and believe it or not, I've actually made some of them instead of just collecting them (though I have a lot more to go!). These are some of the most recent chicken recipes I've tried – all yummy and definitely keepers. Click on the link below the photo for the recipes.
Italian Chicken
This easy recipe calls for onion soup mix and Italian dressing but if you're concerned about salt, use some fresh onions, Italian seasoning and some low sodium chicken broth instead.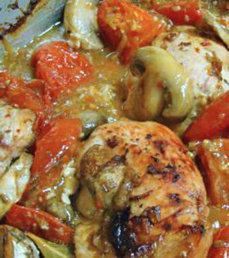 Coq au Riesling
Using white wine instead of red gives a lighter taste to this classic dish.  When I didn't have any bacon (hmmm…) but it was still delicious!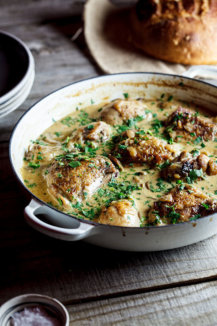 Lemon Rosemary Garlic Chicken and Potatoes
An all in one pot meal, dark meat chicken is perfect for roasting though if you want to use skin-on chicken breasts, just shorten the cooking time and halve the potatoes.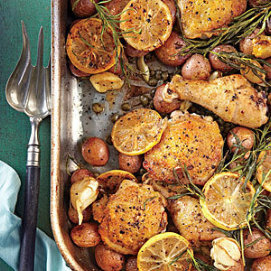 Bacon Wrapped Smoked Gouda
Chicken, cheese AND bacon!  Can't get much better than that.  And if you don't have Gouda, any milder flavored cheese like Muenster or Monterrey Jack will work.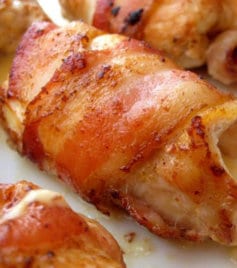 Baked Mozzarella Chicken Rolls
The kids will never taste the spinach inside these baked chicken rolls cause it's mixed with cheese – and the tomato sauce helps, too.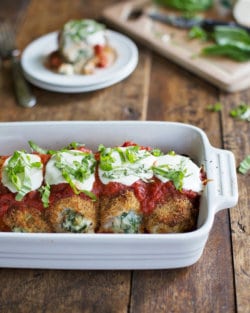 Baked Drumsticks and Potatoes
This one pot meal uses inexpensive chicken legs.  The potatoes and carrots make it a balanced and easy to make meal.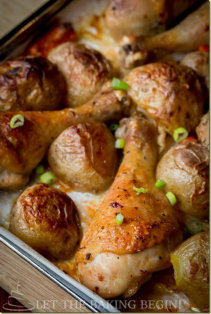 Grilled Bruschetta Chicken
If you're looking for something on the lighter side but with a "rich" taste, these chicken breasts topped with a tomato, basil and just a smidgen of cheese fits the bill.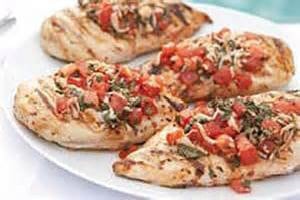 Breaded and Baked Chicken Drumsticks
Baking instead of frying shaves some calories but with this savory breading, you'll never miss it.