How much easier could cooking in one pot be? And all these chicken recipes take less than an hour to prepare. Save more time by using frozen veggies (no cutting/slicing/dicing!) and everything still tastes great. And save money by using left over chicken or less expensive dark meat in these recipes. Easy, fast and budget friendly – what more could you ask for?
Chicken Gumbo
Heat oil in a pot then sprinkle with flour, stirring constantly until flour is lightly browned.  Add cut onions (1 medium), peppers (2 whole), some garlic and oregano, again stirring until veggies are almost cooked.  Add 4 cups of water or broth (or a combination), a 10 oz. package of frozen orka and 8 ounces of sliced, pre-cooked andouille sausage.  Bring to a boil then add pre-cooked chicken (about 4 cups).  Allow a few minutes for the chicken to heat through.  Serve over rice or with cornbread as a side.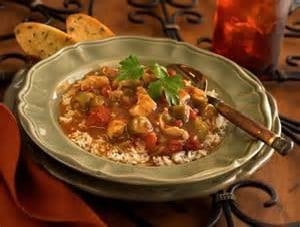 Chicken and Biscuits
Basically you're making chicken soup but thickening the broth with some flour.  Lightly saute sliced or chopped carrots, onions and celery sprinkled with thyme in butter or oil.  Remove veggies from pan.  Add a little broth and bring to a boil then add some flour to make a "paste."  Add more broth constantly stirring until you get the consistency you like.  Add the veggies and pre-cooked chicken and heat through.  Serve with biscuits on the top or underneath.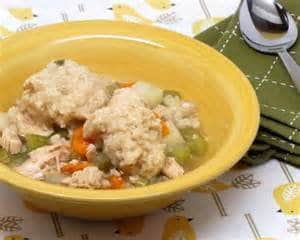 Chicken with Rice (Spanish Style)
Brown 1 lb of chicken parts in heavy pan until half cooked.  In the same pan, add sliced onions, peppers and some garlic, stirring until veggies are softened.  Add a 28 oz. can of chopped tomatoes (and juice) plus one cup of wine, broth or water.  Add one cup of rice then bring to a boil.  Turn down heat, cover and simmer for about 20 minutes or until rice is cooked.  Add a bag of frozen peas and cook for a few more minutes.  Stir in green olives before serving.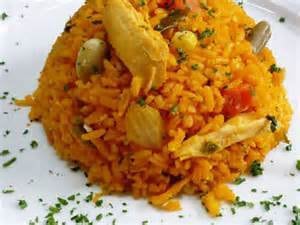 Chicken Cacciatore
Brown 8-10 chicken thighs (with or without the skin removed) in a little olive oil then throw the rest of the ingredients – a 28 oz can of chopped tomatoes (including juice), one bag of frozen peppers and onions, a small can of mushrooms (drained), some oregano and garlic – in the pan.  Cover and simmer until thighs are fully cooked.  Use some tomato paste to thicken sauce if desired.
Chicken in Wine Sauce
This recipe always call for bacon which I never have/always skip – but it still tastes great without it.  If you want to add bacon, chop it first and cook in heavy pan or dutch oven until crispy.  Add more oil if needed and brown 4 lbs whole chicken legs.  Add sliced carrots (about 1 cup), onions (1 large cut into chunks or whole pearl onions – canned are fine), thyme, parsley and bay leaf then cover with equal parts chicken stock and wine (3 cups total).  Bring to a boil then cover and simmer until meat is cooked through – about one hour.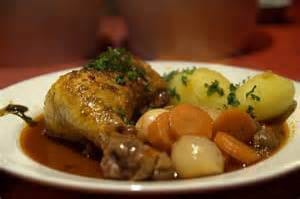 Chicken Cutlets With Tomato Saute
Saute 1 1/2 lbs of chicken cutlets (dark or light meat) in oil.  Remove from pan then add 1 1/2 pints of cherry tomatoes and 2T chopped onion, stirring lightly.  After the tomatoes start to burst, add 3/4 cup of white wine or chicken broth and simmer until liquid is reduced by half.  Stir in 1 tsp (dry) of the spice of your choice (I like oregano but tarragon or garlic are some others to try).  Serve with other veggies and crusty bread.