I've seen those lists of "easiest vegetables to grow". They must not know me! I've tried them all and let me tell you – wrong! Like whoever added tomatoes to the list had to be crazy. You've got to water them all the time – and patio pots are the worst at drying out before you know it.
Okay. So maybe I'm a lazy gardener. But being lazy has taught me that there really are some good I can grow that makes it to harvest successfully. Here are the ones that made the cut.
Lettuce
Forget romaine or iceberg lettuce.  Small or loose leaf varieties are the easiest. You don't need a deep container – 4 inches is plenty.  And if you pick off leaves as you need them and "stagger seed" (every few weeks sprinkle a few more seeds to keep the harvest going). They grow best in the spring and early fall since cooler weather suits them. Bring them inside for warm weather growing.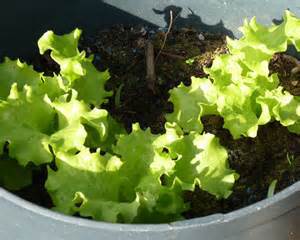 Radishes
I've grown radishes in 4 inch containers but if you give them 6 inches, they'll grow larger.  Small or large, these grow quickly and taste so much better than store bought bunches.  Since these will grow from late spring to early fall, stagger seed these, too.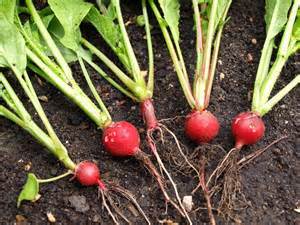 Carrots
I usually grow the miniature varieties like Tom Thumb, but if you've got the room I can't see why traditional longer carrots wouldn't be just as easy.  I recently found out that "hairy" carrots means they got a bit too much water.  Who knew?  But they're still good to eat though you  might want to peel off those hairs.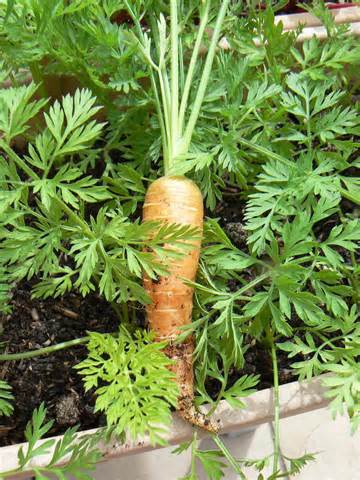 Potatoes
Potatoes are my favorite food so I was thrilled that I could grow these.  They do need looser, slightly more acidic soil than other vegetables, so consider planting in a separate area or using
grow bags.
Plant them early in the season and out of the heat since too much heat will stop potatoes from forming.  Just place your tubers eye side up on about 4-6 inches of soil then put another 4 inches on top.  In the late summer/early fall, dig up the potatoes (just like Scarlett did in "Gone with the Wind").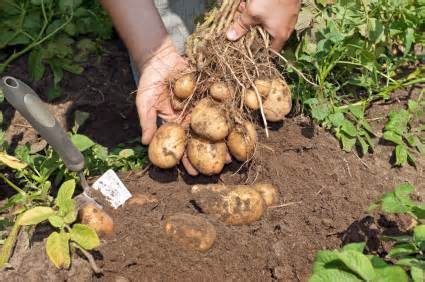 Sprouting
And save yourself some money by putting aside a few potatoes (organic only) that have started to sprout a few weeks before planting.  Put them in a sunny spot and when the sprouts are a few inches long or the potato starts to shrivel, cut in chunks (one sprout per chunk) and put them in the ground!
Herbs
I have a herb green thumb!  Chives, mint, basil, rosemary, parsley – I've grown them all.  For the most part, I use 6 inch pots and keep them nearby so I can snip (cut at the base of the stem – not at the top!) them as I need them.  If you plant herbs in the ground – like my mint and chives – be prepared for some of them to take things over.  Either plant them in their pot (keep them from going to seed) or in a garden where you don't mind all that "lushness".