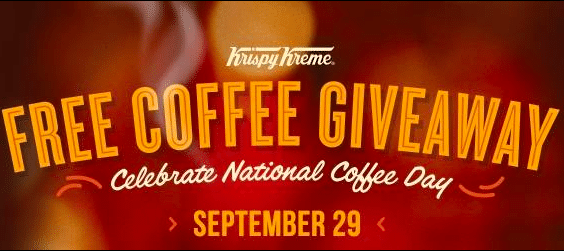 National Coffee Day comes but once a year, and on this day, coffee shops are eager to brew up a good deal for coffee lovers. Don't miss out on this opportunity to enjoy a FREE cup o joe…or more than one! Check out these offers:
FREE Gevelia Mocha Latte K Cup Sample  – For coffee fans who'd rather brew at home and drink their cup in their favorite  comfy chair.
 Dunkin Donuts – on September 29 on the my offers tab you can get an offer for a free hot or iced coffee.
Krispy Kreme -Stop by to pick up your FREE 12 oz hot coffee on September 29th, no coupon and no purchase necessary!
Tim Hortons – Not to be outdone, Tim Hortons Cafe & Bake Shop are offering a FREE coffee on 9/29 with the purchase of a coffee when you say "Happy National Coffee Day" to a team member. No coupon is needed!
Peet's Coffee & Tea – From 10AM to 2PM on September 29th, enjoy a FREE Small Maple Latte with the purchase of an Artisan Baked Good or Simply Oatmeal. But wait! to Redeem this offer, you must print this coupon or show it on your mobile device.
Pilot and Flying J – Print your coupon now for a FREE 16 oz. coffee! Valid Sunday, Septemter 29th only.
Wawa – Sign up NOW to get your coupon for a FREE coffee.
Kwik Trip – Bring this coupon along with you on Sunday, September 29th for a FREE 12oz Karuba beverage. Don't have a printer? Text COFFEE to 75309 and this coupon offer will be instantly sent to your mobile.
 Starbucks – FREE coffee tastings of their NEW blend "Ethiopia".
APlus Sunoco –  Coupon for FREE 16 oz. Coffee (valid through September 30th!)
Dunn Bros – Prefer to brew your own joe? Dunn Bros is giving away a FREE 2 oz sample bag of their new Winter Blend coffee on 9/29. This special blend combines customers'  favorite beans into a coffee that's flavorful, easy to drink, and perfect for the season!
Just can't wait to get caffeinated? For all overzealous caffeine addicts and coffee enthusiasts, we've dug up an irresistible offer: grab this coupon for a FREE Premium Roast Coffee at McDonalds (exp. 10/2).