Update: Dealflicks has closed as of August 2018.
Have you been to the movie theater lately? If you're like most people, you've just been binge watching Netflix. Since less people are watching movies in theaters this means theaters are desperate to fill seats and offer you discounts. Currently about 88% of movie theater seats are empty across the United States. Dealflicks saves you money by partnering with theaters to fill empty seats by selling discounted movie tickets up to 60% off with no fees.
Finding Movie Ticket Deals Used To Suck, Until Dealflicks?
Saving on movie tickets was nearly impossible before except for the rare Groupon for a theater near you. Let's go through the few options you had to save money on movie tickets before Dealflicks.
Getting an exclusive screening is free but most of us aren't cool enough to be catching an exclusive screening.
Matinee screenings during the afternoon are always cheaper, but skipping work for a matinee time doesn't make sense for most folks.
Buying a used gift card can save money but it's added complexity every time you want to see a movie and you might actually pay more if you don't use the entire gift card.
Fandango or Costco discounts are never consistently available and they charge fees or require you to purchase at a physical location.
Joining a movie reward program makes sense but you usually only save $10 for every $100 you spend, like at AMC for example.
Dealflicks clearly seems like the best option by allowing you to save up to 60% and when I tested the site I could save 32-40% which is better than the 10% you'd get from the AMC rewards program or a discounted gift card. Dealflicks was also hands down cheaper than Fandango and they don't give discounts on food as well. Lastly, Dealflicks movie tickets are always available, and customers can purchase at the last minute on a mobile phone unlike Costco deals. Let's give Dealflicks a test run and see if it stands up to the hype.
Dealflicks Test Run
The process is pretty easy. Just find a location using your zip code or city name. Find a theater near you, pick your time, pick your deal, then check out. Pretty simple, but longer than sites like Groupon which allow more flexibility in terms of time for their movie deals and they do it in just one click. I didn't purchase a deal because there were no theaters near me that made sense so I can't truly review the deal redemption process. However, I imagine redeeming the movie deal goes like it does with Groupon: an easy as 1-2-3 transaction or confused looks and you have speak to a manager.
Dealflicks Downfalls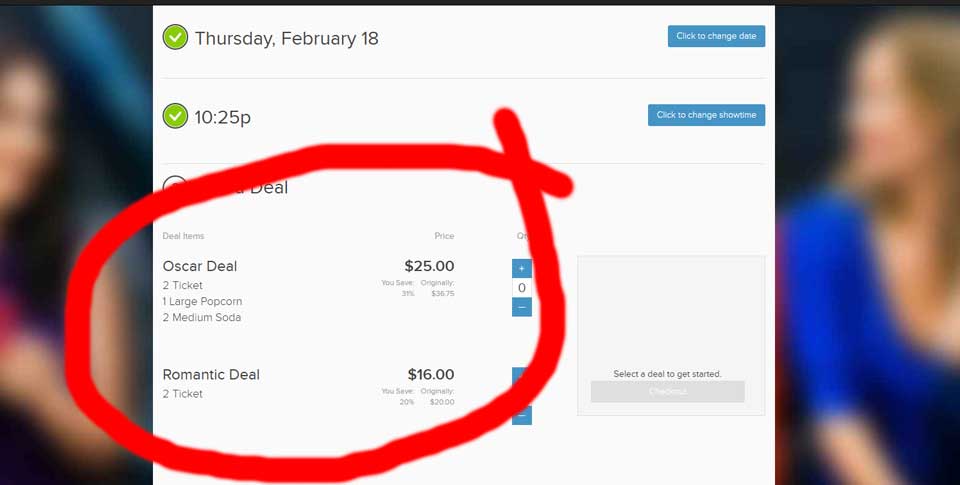 More often than not when I tested there were only package deals which required at least 2 tickets or 2 tickets and a large popcorn with 2 sodas. I found one theater 10.32 miles away (a long distance in New York City) that gave a discount on just one ticket without buying food. So if you want to go solo, Dealflicks looks like a no go.
Customer service wise they seem to have a few complaints in that department, specifically around the refund policy. What if something extreme happens and you just can't make the showing? Doesn't matter, no refunds.
The last negative about Dealflicks is the lack of deals nearby. With only 750 theaters across the US, it will be tough to get most folks hooked to the Dealflicks movie deals. I feel like if you are near a Dealflicks movie theater you won a mini-lottery.
Final Dealflicks Thoughts

Personally, if there was a theater near me I'd use this for date nights all the time. Alas, there isn't, so I give Dealflicks a thumbs down for saving money. For you readers, see if there is a theater near you offering discounts. If there isn't a theater near you, I don't think there will be anytime soon so just skip Dealflicks for now. In short, Dealflicks is the perfect date night savings tool if you have a theater near you.