Need a change from Christmas cookies? How about cupcakes? You can make any flavor cake you want. But what makes them holiday worthy is the icing! We've got some great ideas for decorations and toppings for your new holiday staple.
O Tannenbaum Cupcakes
An ice cream cone covered with frosting gives these cupcakes their spectacular height.  It's like two treats in one!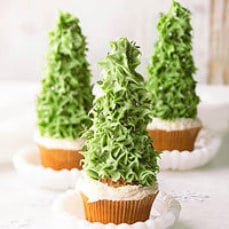 Snowman Christmas Cupcakes
For marshmallow lovers!  After icing the cupcake in white, plop a marshmallow on top, "draw" a face with icing then decorate with licorice rope (dusted in sugar) and silver sugar balls.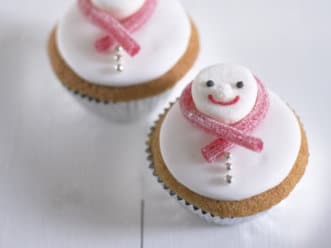 Strawberry Santa Hat
Does putting a strawberry on a cupcake make it healthy?  Maybe not, but it sure is easy to do.  Add icing or whipped cream to turn it into Santa's hat.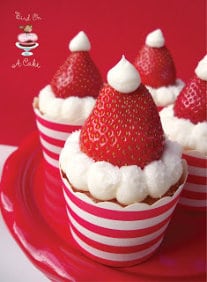 Cookie Cutter Fondant
Use cookie cutters and presses to create deigns from purchased (or homemade) rolled fondant.  Place on cooled cupcakes, add some extra tube frosting dots if you want then sprinkle with glitter.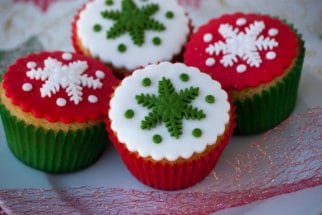 Mini Themed Cupcakes
This is almost too easy, but they look great all lined up like this. Use an icing tube and tip to squirt out a star, flower or swirl shape then place Christmas themed sugar toppings in the center.  Frosting wreath is optional.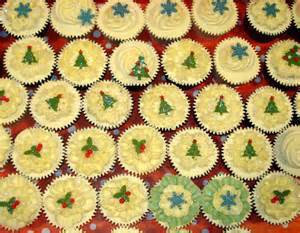 Candy Topped
M&Ms, gum drops, licorice rope and cinnamon dots turn these white frosted cupcakes into something special.  With all the Christmas candy out there now, use your imagination  – and personal favorites – for your own designs.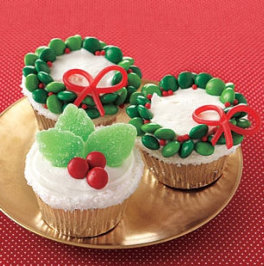 Icing Tree with Star
Piped frosting built up to look like a tree then topped with silver sugar balls and a star candy or cookie.  Simple and beautiful…and all that extra icing!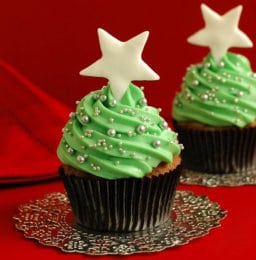 Christmas Wreath
A wreath is a natural for the round cupcake and they're easily done with a star tip.  Add the bow and/or little dots with a circle tip.