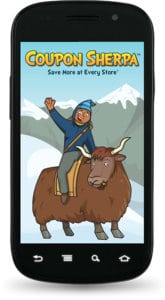 If you could only have one coupon app on your phone (besides yoFreeSamples', of course), make it Coupon Sherpa.  Available for iPhone and Android, you'll have coupons from every national retailer (including restaurants) imaginable.  For many of them, all you need to do is show the coupon on your phone in the store to get the discount.  Now that's how a coupon app should work.
But there's more.  Coupon Sherpa collects online offers so while you're shopping on the web, you can find discount codes to use when you check out.  They also have a mobile site so if you don't want to or can't download the app you have another option.  Passbook enabled coupons are clearly marked, too, so if you've got an iPhone you can send the coupon from the Coupon Sherpa app or their mobile website to keep them handy.
So how does the app look/work?  It's kind of like an address book.  Choose in-store or online to see all coupons listed alphabetically.  There's also a search function and a way to save your favorite stores.  When you use or look at a coupon, you can let Coupon Sherpa know if you decided to use the coupon or whether it worked or not.
Unlike on their website, printable coupons are not clearly marked (fix that!). So that means you'll need to do some prep work before you shop to see if you have to print anything first.  But if you forget to print one, try showing the coupon on your phone to the retailer anyway.  Some have a "dummy" coupon they can scan or another way they can give you the discount when you check out.
A Hot Deals section is probably for promoted offers and a Submit button that lets you to upload coupons you find to Coupon Sherpa.  And just to round things out, there's an easy Feedback section to report problems.
My biggest complaint isn't the little ad at the bottom on the screen (a small price to pay for all this convenience).  It's that many coupons are not really coupons but notices about store sales or promotions or sign-ups for something before you can get the coupon. Unfortunately there are a lot of those.  It would be great if they would section those out under a "Sales" and a "Sign up to Save" menu item.
Some users have asked for a location tool so Coupon Sherpa can notify you of nearby or local deals.  Not sure if they're going to go there but as a treasure trove of national coupons in your pocket, Coupon Sherpa is the way to go.