For years I haphazardly stuck plants in my pots somehow expecting them to look like the beautiful arrangements at the garden shops. Needless to say, I was always disappointed. Then I read up on how to arrange container plants. The trick isn't really where you place the plants, but choosing the right mix of plant heights to get the effect you want.
Plants are divided into 3 basic sizes – tall "thrillers" (for height and drama), medium "fillers" (for weight and mass) or lower trailing types also known as "spillers". Some plants can be a mix – like medium height plants that also trail – that can serve both purposes in an arrangement.
Keeping height in mind – along with the amount of light in the location you'll be placing the container – all you need to do is choose the colors of the flowers or foliage. Here are a few simple container garden recipes.
The Mound
To create a mound arrangement, choose a plant that's both bushy and trailing (petunias, potato vine, or just about any of the varieties you see in hanging planters).  Depending on the size of the pot, you'll need multiples of the same plant or a mix of similarly sized varieties.  You can use all the same color or mix up your favorite shades. Space them side by side, in a triangle or square a few inches from the edge of the pot.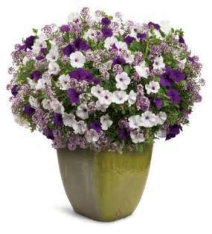 Three Level Planting
This classic arrangement is ideal for larger (10 inch diameter and up) round containers.  Pick a tall plant or two for the center and surround by medium height filler plants and a spiller (trailing) plant to ground the arrangement.  For really large containers, try two different tall thrillers for even more interest.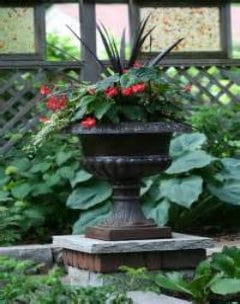 Small Single
Pots 8 inches or less only need a single plant and are perfect for small areas or to fill out groupings.  One filler, trailing plant (like ivy) or tall but not too wide thriller is all you need. Place on a table, line up on a ledge or place on steps on a stairway.  You can also hang the pots from railings or trellises using holders or sturdy rope.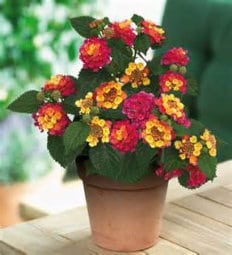 Single Thriller
A single thriller plant in a large pot creates a lot of drama.  Of course, you can bring some of your larger indoor plants outside for the summer.  Or consider using perennials or shrubs that you can plant in the ground in the fall.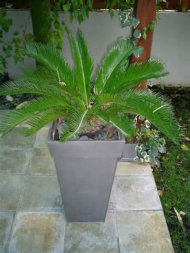 Rectangular Planters
For rectangular planters, it's a matter of choosing the right proportion for the planter and considering where it will be placed.  Filler plants alone or mixed with spillers creates a classic window box look that's not too high to block the view.  For ground level placement, add some thrillers for height.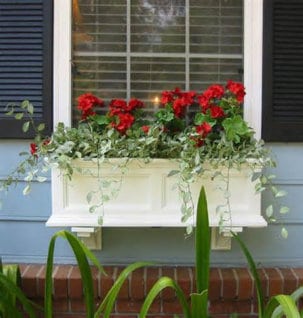 Edible Plants
Lettuces, herbs or just about any vegetable plant can be used in place of or mixed with flowers.  In fact, some herbs, like basil, keep tabs on flower pests. All of the above treatments can be used for single or multi-plant containers.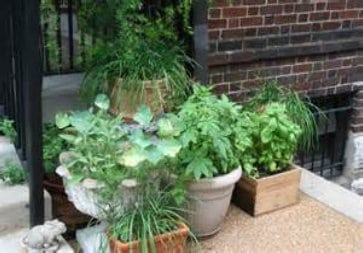 More Ideas and Tips
One of my favorite places to get ideas for plants is Proven Winner's Container Gardening section. They have hundreds of "recipes" for container plantings  and a great article on placing plants in unusual shaped planters and general container gardening tips.  Also check out Better Homes & Gardens Container Gardens slide show. and Container Garden Ideas with full color pics of beautiful arrangements plus names all the plants (and the number of each) that you'll need.