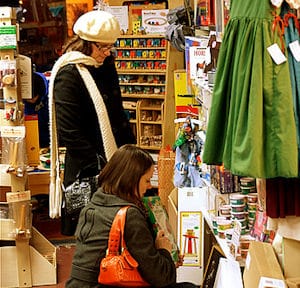 Whether you celebrate Christmas or not, there after the holiday sales can be a great time to get some bargains. And, if those gift cards you received are burning a hole in your pocket, after Christmas is a good time to use them.  So plan your after Christmas strategy now!
Overstock Electronics – Keep an eye out for holiday "loss leader" items that stores used to reel you in. Now that the big rush is over, the stores are looking to unload these at discounted prices. DVD or CD players, televisions and sound systems are some of the deals you might find.
Holiday Items – While these have been on sale in some stores for weeks, whatever is left has got to go. Some stores – especially smaller/local ones – don't discount as much as the larger stores but if you've had your eye one something special in a local shop, get there early!
Kitchen Appliances – As with overstock electronics, stores piled up with coffee makers, toaster ovens and other small appliances that made quick/easy gifts during the holiday. If you've got kids going to college this coming year, pick up a few things for them now.
Linens – January is "white sale" month when stores clear out last year's linens, towels and other household items (especially stuff that was priced too high to begin with).
Jewelry – Since stores stocked up on jewelry gifts for the holidays, look for special pricing on both costume and fine jewelry.
Photo credit: stevendepolo