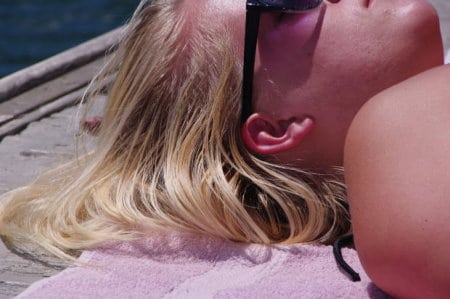 Everyone loves the sun but no one loves the side effects of too much.  Burns, skin discoloration and wrinkles are the most common but there's always the specter of cancer.  Sunscreen helps lessen these issues.  And in the case of wrinkles can even help reverse some of the damage.
If you haven't already, start making sunscreen part of your daily routine applying it to exposed areas whether you're mostly indoors or out.  And when it's time for more extended outdoor activities, it's a must. Here's our sunscreen cheat sheet on how to choose and use sunscreen with some of the best rated sunscreens pictured.
Type of Sunblock
Sunscreens can be chemical or physical.  Physical sunscreens like zinc oxide or titanium dioxide reflect or scatter light deflecting both UVA and UVB rays.  These types of sunscreens are recommended for babies and those with sensitive skin. But they're a great choice for everyone as long as you remember to reapply often.  Since they create a film on the skin, they can easily wear off.  Also, avoid those with nano-particles as these can be absorbed into the body.
Chemical sunscreens absorb light in one or multiple wavelengths which is why you'll often see a combination of ingredients. While chemical sunscreens are generally safe (avoid oxybenzone for babies under 6 months), some do experience reactions or have concerns with chemicals being absorbed by the body.  According to the Environmental Working Group, avobenzone (UVA blocker) and octocrylene or octisalate (UVB blockers) are your best choices with little to  no absorption issues.
Other Ingredients
You'll find quite a few multi-tasking sunscreens with mattifiers (oil blockers), anti-oxidants, anti-aging ingredients, skin soothers and moisturizers.  At any price point, these may feel good on the skin or work better under makeup.  Just avoid any formulations with retinyl palminate, retinol or vitamin A. Those skin care ingredients can make skin sensitive to the sun so they're best used at night.
You can also find sun exposure supplements with compounds found in plants that provide some protection against the harmful effects of too much sun.  Plants, you ask?  Yes – plants like fruits and vegetables.  Eating a wide variety of them 5 or more times a day have been shown to reduce burning and damage from sun exposure.  You can also take supplements with polypodium leucotomos and/or other nutrients to boost protection.  However, supplements alone won't do the job.
SPF – What It Means
SPF is an indicator of the amount of rays that will be blocked or absorbed.  No sunscreen blocks 100% of the sun's rays and you wouldn't want it to anyway.  Our bodies actually need some sun as it's important for the production of vitamin D.  SPF of 15 (93% blockage) is the minimum recommended for daily use.  SPF 30 (97%) is recommended for when you spend times outdoors. After SPF 30, the increase in protection is marginal. SPF 50, for example, only adds another 1% protection.
However, Consumer Reports and others have analyzed hundreds of sunscreens and most don't live up to their stated SPF.  So go higher whenever you can with SPF 40 being the recommended minimum.
How Often To Apply
All sunscreens of any SPF lose their effectiveness after about 80 minutes under dry conditions.  If you've gotten wet, experience excessive sweating or rubbed off the lotion, you'll need to apply it again. Bring your sunscreen to the beach or outdoor events if you expect to be there more than a couple of hours.
How Much
You should use the equivalent of a shot glass or golf ball to cover your body including feet and hands.  Since most of us typically use a different sunscreen on the face, use about a teaspoon/nickel size dollop for the face and another dollop for your neck.
Application
You'll want to apply a thin even coat over all areas.  Commonly missed spots include toes (including the area in between), bottom of feet, back of neck, upper chest, nose and ears.  Let the sunscreen absorb before dressing or applying makeup.
Hair and Scalp
Excessive sun exposure can dry or alter natural or hair chemically treated hair.  Try sunscreen sprays formulated for hair to add some protection for your hair and scalp.  But your best bet is to wear a hat.  Tighter weaves or those made from sun blocking cloth will do the job.
Eyes
Many sunscreens – including those for the face – can sting the eye area as it "melts" into your eyes.  Read the packaging for eye area warnings or look for facial sunscreens with physical sunblock (zinc oxide or titanium dioxide) which generally cause less irritation. You can also purchase sunscreens specifically for the eye area.
Sunglasses with UVA/UVB blocking also provide protection for the eye area – both the skin and your eye's interior.  Wrap around styles are the best.


Makeup
Many foundations, powders and other face creams contain sunscreens.  Think of them as extra insurance rather than your primary sunscreen.  The exception would be a BB or CC cream with SPF that you use all over your face.  These are good substitutes for a separate facial sunscreen with the added bonus that they're not likely to burn eyes.