Summer means grilling if you're lucky enough to have a spot outdoors.  And if you have a big crowd to feed or you're getting tired of hot dogs or hamburgers, here are some budget friendly ideas to mix things up.
State Fair Special
Sausage is always a good value as long as you don't go overboard – and you round it out with veggies like they do at the New York State Fair.
Get some sweet or hot Italian sausage – often on sale during BBQ season –  and add sauteed onions and peppers (cheaper this time of year thanks to local harvests).  Slap it all on a hot dog roll (another summertime sale item).  All three food groups!  What more could you ask for?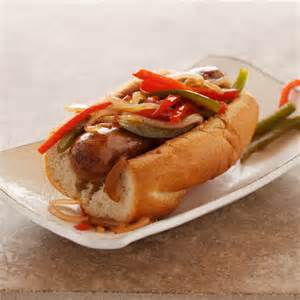 Butterflied Chicken
We all know it's cheaper to buy a whole chicken than parts.  But grilling a whole chicken can take a while.  Speed things up by butterflying the chicken.  Cut the backbone out, spread it out then sprinkle with salt, pepper and a little oil.
Cook on medium-high indirect heat with skin side up for about 40 minutes.  (Don't open the grill unless you see flames!)  Flip and cook for 20 minutes more or until juices run clear.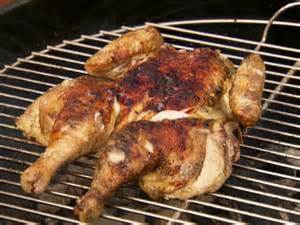 Grilled Kabobs
Stretch your meat (or Tofu…) with veggies (or fruit) skewered on a stick.  Soak some bamboo sticks, use metal skewers or just throw everything in a one of those grill pans (you have to take everything off the stick anyway to eat it…).  Pre-cook potatoes and other hard vegetables first so you're not stuck with under-done this and over-done that.
Marinade is optional, but brush on some oil and spices for more flavor and to keep things from sticking.  Some ideas for pairing – hotdogs with onions, peppers and tomatoes; kielbasa with pineapple or oranges; chicken with potatoes, mushrooms and zucchini (getting hungry…).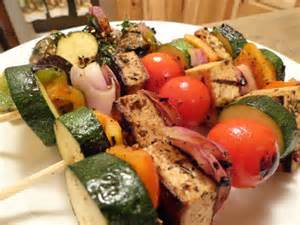 Grilled Turkey Legs
These are a steal at my local grocery store and they are great on the grill.  A little salt and pepper is all you need – and maybe a dash of oil if you like a dark, crisper skin.
Set up your grill for indirect method cooking then place them on the grate turning once about halfway through. They'll take about 45 minutes to cook but you can speed things up by partially cooking in your microwave or oven first.  But go all grill if you can for the crispiest skin.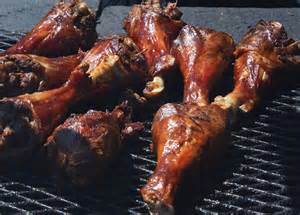 Stuffed Burgers
Everything is twice as nice when it's stuffed with something!  Pick fillings that cook at the same rate as the hamburger – or pre-cook and fill right before they go on the grill.
You can make individual patties or put it all in/on a grill safe dish/loaf pan or frying pan/grill stone. Some fillings to try – bruschetta or salsa type mixes; rice, peppers and tomatoes; garlic mashed potatoes; mushrooms and onions (getting hungry again…).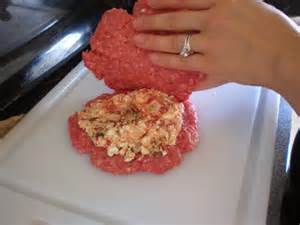 Grilled Pizza
Make your own or buy pre-made dough or crusts (flatbreads also work) and top with just about anything. If you don't have a large spatula or pizza peel, use a open sided cookie sheet to get the pizza on and off the grill.
Grill one side first for a few minutes over direct high heat. Remove, add your toppings to the grilled side then place back on the grill. Lower the heat then cover and cook for 2-3 more minutes. (If you have toppings that need a longer time to cook, prepare them first.) Remove, let rest, then enjoy!