Looking for a gift for your techy friend, kids or significant other? Check out some of the hottest technology gadgets for 2013. Best of all, these are all under $50!
Roku LT – $49.99
Unless you need a headphone jack, 1080dp HD or multi-band wireless, the
entry level Roku
is a fairly simple way to enjoy streaming video on your TV via a wireless (or hard-wired) home internet connection.  It's also less glitchy than some of the more advanced models, though you may need to remove your wireless security temporarily to set it up.  You'll also need a HDMI cable (and port on your TV) if you want to enjoy high definition video but it does come with standard AV cables if that's not important.  1000 plus free channels plus you can access subscription channels like Hulu Plus, Netflix and Amazon.
SanDisk Sansa Clip Zip – $29.99
Cheaper than the Apple Shuffle and no need for iTunes – just drag your music files to the rechargeable
SanDisk Sansa
when it appears in My Computer after it's connected via USB cable.   It has 4 or 8 GB of storage, an FM radio and can record sound.  The headphone jack can also be used to connect to mini-speakers.  Great alternative when you don't want to burn down your phone battery.  The tiny device has good battery life plus a screen to navigate through the menus.  A
newer and slightly more expensive (but still under $50)
adds a stop watch but if you go by the reviews, the oldy is the goody.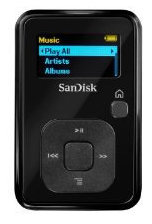 Buy SanDisk Sansa Clip Zip (Amazon.com)
Google Chromecast – $32.88
Attach the
Chromecast
to your TV and a power source (wall plug or use your TV's USB port if it has one), connect to your home wireless network (suprisingly easy!), then "cast" music, videos or photos to your TV from your tablet or phone.  There's no remote – everything is controlled through a Chromecast supported app (like Pandora, Netflix, Google Play and others) on your phone or tablet.  Open the app then click on the "cast" button to send the media to your TV.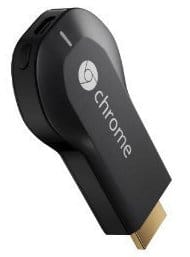 Buy Google Chromecast (Amazon.com)
AYL Bluetooth Wireless Speakers – $29.99
Power up the
AYL Wireless Speaker
then connect your Bluetooth enabled device (phone, tablet or computer) and stream music from the device to these speakers.  The range is pretty good, though all of these Bluetooth devices work best without obstructions and within 10-15 feet away from the source (phone, etc…) device.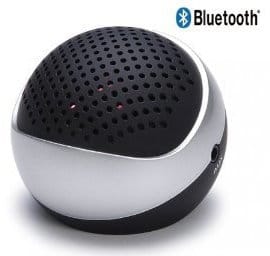 Buy AYL Bluetooth Wireless Speakers (Amazon.com)
SanDisk Cruzer Fit USB drive – $17.99
If you're working in tight quarters, don't like dealing with mini SD cards or just want something unobtrusive for your computer or tablet, try the
SanDisk Cruzer Fit USB drive
.  Available in sizes ranging from
4 – 32 GB
and a
64 GB version
, the only downside is that it uses the slower USB 2.0 standard. And it has encryption – a  plus for keeping special files protected.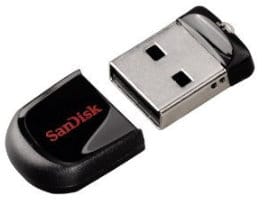 Buy SanDisk Cruzer Fit USB drive (Amazon.com)
Panasonic Headphones – $29.99 – $35
These
Panasonic RP-HTX7 Headphones
may be entry level headphones, but the sound quality is great for the price.  Strictly for audio– there's no microphone so you can't use them for phone calls – they're also comfortable and come in a variety of colors (some pricier than others).