It's that time of year again: stores change their summer display in preparation for autumn, and ghosts and ghouls line the shelves. Halloween brings everyone back to their childhood days, when donning the most creative costume was a high priority. While fancy, detailed costumes are available from a variety of party stores, the best way to ensure a unique disguise is to make your own. Gone are the days, however, when an acceptable costume consisted of a couple of holes cut into a sheet. Today's DIY Halloween costumes are often incredibly ornate and creative creations. Not only can you win the most creative prize at the local masquerade, you'll save a bundle in the process. Check out our eight favorite ideas below.
Grapes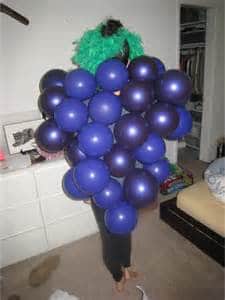 Believe it or not, one of the simplest costumes you can make is to disguise yourself as grapes. Simply blow up a couple dozen purple balloons and tie them all together. Once you've created your "bunch," tie the balloons to your clothes. Add "leaves" by wearing a green scarf and hat or attaching green felt to your shoulders.
Peacock
Have access to some peacock feathers? Model yourself after the colorful bird by wearing a blue dress and orange or yellow tights. Attach your tail feathers with tape or thread, and strut your stuff down the street. Attach a shorter feather to the top of a headband, and you'll be the fanciest bird on the block.
Ladybug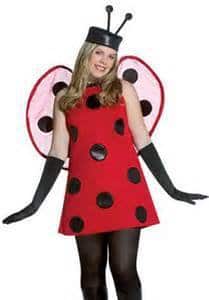 Find a red dress in your closet and tape or pin large black spots—made from construction paper or felt—to it. For antennae, simply attach pipe cleaners to a headband. Finally, make wings from pipe cleaners or clothes hangers, bent to create the proper size and shape. Put on some black tights and you're ready to go!
Rainbow
Dress up in white clothes, than spray paint red, yellow, orange, green blue and purple splashes of color of stripes on them. Spice up the costume with a red wig, orange face pain, a green belt and blue or purple shoes.
Loofah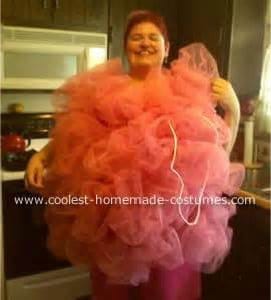 Look spic and span in this original costume reminiscent of a soothing bath. Wear a colored leotard, body suit or mini-dress. Buy about 20 yards of like-colored netting (not tulle) from a local fabric store and layer it, sewing to the base costume, to form the loofah shape. Top of your costume with a rope looped from your shoulders and even a rubber duck to top it off.
Bubble Bath
Similar to grapes, wear a pink body suit or leotard, and pink or white tights. Tie together about two dozen clear and white balloons before tying the group to your clothes. Tape some sponges or loofahs to the costume, or tie some in your hair.
Jellyfish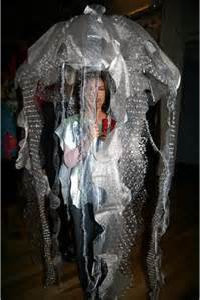 Purchase a clear bubble umbrella at a local discount store. Attach strips of white fabric or even white streamers to the rim of the umbrella so they hang like tentacles. Wear white clothing and carry the umbrella so that your head nearly hits the inner peak. For added effect, cover the umbrella with layers of bubble wrap, hot gluing the plastic to the umbrella. If you plan to be in dimly-lit or dark rooms, you can make the costume glow by attaching a string or two or Christmas lights to the inner rim of the umbrella and spraying the inside of the umbrella with special black-light spray.
Astronaut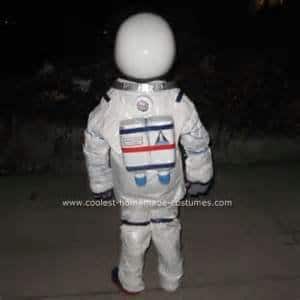 Dress up in white pants and shirt, and add armbands and pants' stripes with none other than duct tape. That's not all: create a rocket-boosted power pack with empty soda bottles. Paint the pack silver and add some fire power with orange, red and yellow streamers. Drape the pack over your arms with more duct tape.