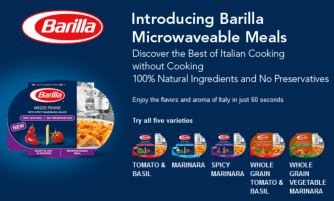 I had a chance to try out Barilla's new microwave meals.  Besides the pasta part, the best thing about them is that they don 't have to be frozen and they're not full of junk ingredients. Plus, they're hot/ready to eat in 60 seconds.  Serving size was pretty good – certainly enough for a lunch or to use for part of dinner if you add a veggie or…meatballs!  Just enough sauce…but if you're one of those who eat pasta just for the sauce, you may want a little more.
There are several varieties – some with regular pasta and others with wheat pasta – and different sauces to choose from.  I tried the regular pasta with spicy marinara and the wheat pasta with vegetable marinara sauce.   The spicy marinara was my favorite – pasta perfectly cooked and a little kick to the sauce.  I wasn't sure what to expect from the wheat pasta – but I didn't like it.  The sauce was great, though, and if there were twice as much, it might have killed the taste of the pasta.  My sister, who I was sharing these with, liked it better than the regular pasta variety, so it's really a matter of taste. Only complaint was that the package was a pain to open.
You can get a $1 off coupon to try these yourself here – http://www.barilla.com/readymeals – but I have to tell you, it was tough to download!  I couldn't do it at all in Firefox so I tried Internet Explorer.  That worked, but I had to "allow" JAVA to run – something that is normally turned off.  And I wouldn't recommend turning it on all the time either since JAVA is a real hacker target!
I haven't found them in the stores yet but it looks like they'll cost a little under $4.  Amazon.com sells them by the case – about $20 for 6 of the same variety – plus they have a special $5 off promotion going on so you could get 6 for $15!
Photo screenshot from barilla.com