UPDATE #2: Only a few more days to shop! Drugstore.com is offering 10% off all clearance items and Beauty.com is giving 25% off all orders for today – Wednesday 9/28 (in stock items only.)
UPDATE:  The site is shutting down at the end of the month – September 30, 2016.  All sales are final/no returns and if you have Drugstore dollars, they need to be redeemed by then.
More items are being added to the sale/clearance section on each site. Beauty.com's sale now includes most of their niche beauty brands many at 50% off.  If you always wanted to try brands like Tarte, Jane Iredale, Kevin Aucoin or Ouidad, now is the time!
On Drugstore.com, over 7,500 items are on sale now.  As on Beauty.com, you won't find popular items of widely available brands, so if you wanted to stock up on Maybelline Big Lash mascara, you're out of luck.  But many "natural" and novelty brands are in the sale section at half off.
…..
Walgreens, the owner of Drugstore.com and Beauty.com announced in July that they're closing the two sites to concentrate on their own online presence. And a few weeks ago, the process started with cancellation of the Drugstore Dollars program and automatic re-ordering service – and some big discounts for shoppers!
If you're a regular at these sites, you probably noticed all the emails with big discounts on certain product categories or brands. While Walgreens can likely shift a lot of the inventory from Drugstore.com to themselves, not so much for Beauty.com which specializes in high end beauty brands. So expect them to offer deeper discounts over time on those products.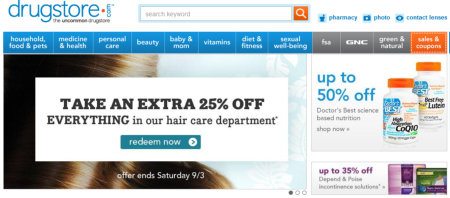 The last email from Beauty.com offered 25% off orders (up from last week's 20%) along with a makeup bag full of beauty samples for purchases over $100. Paula's Choice, NARS and Kate Somerville are the only exclusions (20% off those). They've also discounted many products at up to 75% including those from brands like Bare Minerals, Crabtree & Evelyn and Jane Iredale.
I took a look to see if there was any price padding going on at Beauty.com. Happy to report it doesn't seem to be the case. However, even with the current 25% off, there are a few brands you can get cheaper elsewhere. Elizabeth Arden is one mainly because their own website is running a summer special with deep (like half!) discounts on most of their products. Peter Thomas Roth is another one to skip. Amazon.com's prices on that brand are the cheapest you'll find anywhere. To make sure you're really getting a bargain, check prices at other sites – including the company site where they often have specials and discounts – before you buy anything.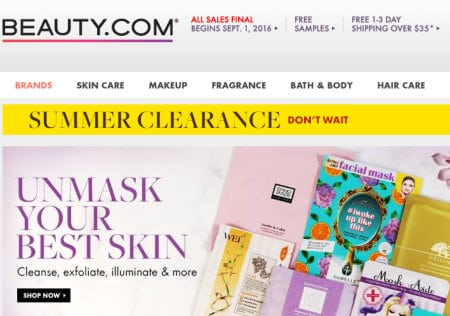 On either site no returns are allowed/all sales are final.  But if you're stocking up on products you regularly use, that shouldn't be a problem. On Beauty.com, you also get 3 samples (usually the small packet type). Shipping is free for orders over $35 – and it's fairly fast. I usually get my orders in 4 days or less.
If you haven't signed up at these sites, now is the time so you'll be alerted to specials and discounts. Sad to see these sites close, but looking forward to picking up some bargains!