Father's Day is June 17 this year!  For those who like to give gifts, we've rounded up some affordable and sure to please gifts for Dad.

Attach this portable USB charged ultrasonic bug repeller to a belt or wear around your neck or wrist while camping, gardening or any outdoor activity to keep flying insects and even rodents away.  One charge lasts about 48 hours.  Also can be solar charged.

For travel, to keep in the office or car or just to have a spare, these mini, battery operated electric razors are quite good (or so I've been told…) – and cost around $15. You can expect to get 60 minutes of cordless shave time. The Norelco travel razor, pictured, has floating, self-sharpening heads – best for normal beard growth. If you have a heavy beard, check out this Braun travel shaver model with a traditional head.

Water resistant, glow in the dark and sweep second hand, this $31 watch is perfect for when Dad  doesn't want to wear his "fancy" watch when he's working around the house (or thinking about it…).  The rugged cloth band adjusts easily and you can choose from several band and face color combinations.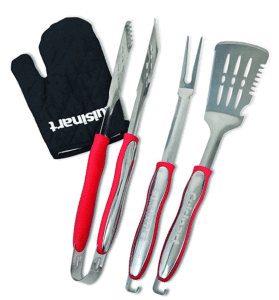 Does anyone know a Dad who doesn't like to grill? These sturdy, metal grilling tools by Cuisinart will last a long time and at around $12, won't break the bank. It also comes with a mitt – a good way to get him in the habit of wearing one for heat protection (you know how guys are…).

No one likes warm beer. So keep these beer chill sticks in the freezer to pop in the bottle. Keeps beer cold without the diluting effects of ice – and the topper keeps bugs from dive bombing in your bottle if you're outdoors. You'll get 2 sticks with cleaning brush for just a little over $10.  And if Dad prefers wine, check out these wine chilling sticks.

I don't play golf, but I read that these soft golf balls by Callaway are all the rage especially for those whose swing is not up to speed. For under $20, you can see if they'll help Dad's golf game.

Amazon carries a line of highly rated, sturdy backpacks like this premium one for $29.99.  Great for work or the gym, Amazon also offers laptop and outdoor backpacks and a basic, under $18 version. I've still got my basic one from years ago…

For as low as $13.56 (who came up with that amount?) you can buy a moisture wicking polo shirt with 50 SPF to boot. These poly blend polo shirts by Hanes won't shrink (but I do recommend sizing up since they cling…not a good look for older Dads….) and they don't wrinkle.
No counter space for your second generation Echo Dot?  Get this Echo Dot wall holder and hang your Dot right from an outlet. I mean, think of the possibilities! Music in the bathroom, news updates in the garage, guided workouts in the basement…