A crafter I know makes and sells various sized "pillow" filled with rice that you can heat or freeze and use to ease sore muscles or swelling. At a recent craft show, someone else was selling the same thing a few booths away. But hers sold out even though they cost a few dollars more.
What was the difference? She wrapped each one in a gold gauze ribbon and attached a decorated card with printed instructions for use. Her competitor just sold them bare. Presentation is everything! Even the most humble gift can be made special with how it's packaged or wrapped.
That said, here are some easy and inexpensive ideas for adding that extra touch.
Fabric
Fabric scraps and ribbon can be turned into pouches for smaller gifts.  Just place the item in the center of the fabric, gather it up and tie with a ribbon tied in a simple bow.  For large gifts, buy a few yards of inexpensive fabric or paper, cloth or fabric table clothes as an alternative to garbage bags or tons of paper wrap.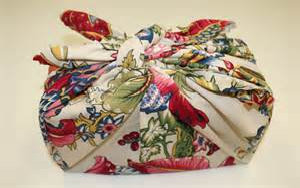 Glass Jars
Glass jars aren't just for food.  If you want to hide the gift, paint the jar, line it with tissue paper or stuff it with confetti.  Tie on some ribbon or twine or paint, decorate or cover the lid to dress it up.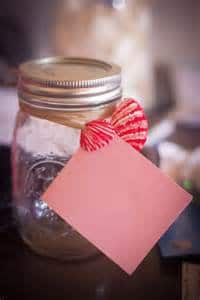 Lunch Bags
Use lunch or fold-over bags for light weight items.  Fold over a few inches at the top, punch two holes and thread ribbon or twine.  Or gather the top, tie and place a decorative pick in the top.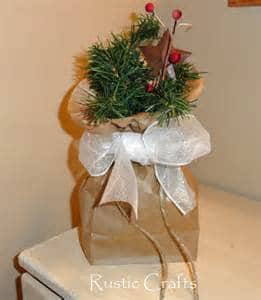 Shopping Bags
Save handled shopping bags, cover the logo with a paper band and decorate.  Or cut it out and back with colored or wrapping paper or cellophane.  If it's not too large an opening, leave it as is and stuff the bag with tissue paper.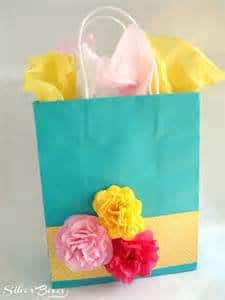 Shopping Bag, Part 2
Take a handled bag and tape or staple on a pocket.  You can make one from paper, fabric – or cut one from an old pair of jeans!  Slip in a candy cane, small ornament, a sprig of dried herbs or other treat.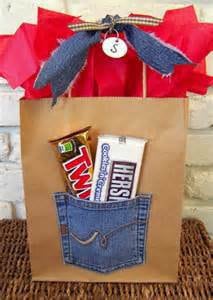 Tubes
Roll up t-shirts or other clothing items and wrap as a tube.  Wrap other, less pliable items in heavy construction paper or light weight cardboard and pad the top/bottom with tissue paper.  Gather and tie each end with ribbon, twine, decorative wire or tape to secure.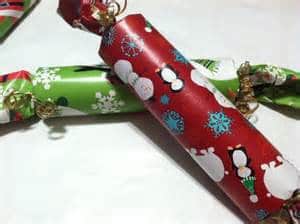 Envelopes
Large envelopes (9 x 12 or larger) are great for books, scarves, socks and other gifts that don't need extra protection.  Use decorative tape, ribbon, paper strips and/or a sticker to secure.  Decorate smaller envelopes for gift cards and jewelry.