So you want a whiter smile, but you don't want the expense of fancy strips, gels, pastes or kits. Fortunately, there are some easy and effective ways to achieve the same results without spending a bundle. Here's a few of our favorites:
Hydrogen Peroxide
You can use the same bottle of peroxide that's already in your medicine cabinet to whiten your smile. In fact, bleaching teeth with hydrogen peroxide is even acknowledged as a safe method by the American Dental Association. Make sure you're using a 3-percent solution, which is safe for oral use. Each day before you brush your teeth, mix the peroxide with water in a 50/50 solution, then pour about 2 tablespoons of the antiseptic into your mouth and swish for one minute. Finish the routine by rinsing your mouth with water and brush your teeth as normal.
Baking Soda
Wet your toothbrush and dip it into baking soda so that all bristles are covered with substance. Brush your teeth for two minutes, spit and rinse your mouth with water. If you can't tolerate the leftover taste, go ahead and use your regular mouthwash. Protect your tooth enamel by only using this method once or twice a week.
Lemon and Salt
Combine 1 teaspoon of lemon juice with 1 teaspoon of table salt in a small bowl. Wet your toothbrush and dip it into the mixture, then brush your teeth for two minutes. Finally, rinse your mouth and your toothbrush with lukewarm water. It's that simple.
Drink with a Straw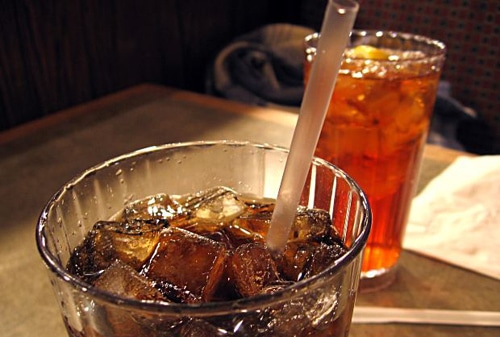 As they say, an ounce of prevention is worth a pound of cure. Therefore, keeping your teeth white is much easier than whitening them after the fact. Since beverages such as coffee, tea and soda are known to stain your teeth, try drinking them through a straw. Doing so will minimize the amount that will coat and stain the front of your teeth. Likewise, make sure to rinse your mouth right after you finish drinking coffee, tea, wine or soda.
Baking Soda AND Peroxide
Why use one of these home remedies when you can combine them together? After wetting your toothbrush, pour about one ounce of hydrogen peroxide onto your damp toothbrush, then pour about a half ounce of baking soda into a small bowl, dipping your toothbrush into the baking soda. Brush your teeth for two minutes, then rinse your mouth with lukewarm water. Repeat this process only about once every four months.