With graduations, weddings, showers and all the other parties spring and summer brings, entertaining costs can really add up.  Here are 5 appetizer ideas that will keep your guests happy without breaking the bank.
1. Marinated Chicken Skewers
Chicken thighs, bone in breasts and frozen chicken tenders are usually not as pricey as boneless/skinless chicken breasts.  But that doesn't mean you can't use them as substitutes in this recipe.  Marinate pieces of chicken in seasonings.  And feel free to alternate the chicken pieces with par-boiled peppers, onions or another veggie (or fruit!) so you can make even more.  Thread on skewers (soak wooden ones first) then grill or broil  Serve with or without a sauce (pureed red peppers, oil/spice mix, pesto, salsa…to name a few options).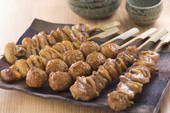 2. Cheese and Bacon Crostini
A loaf of bread, some cheese and a sprinkling of bacon is all you need for this recipe that's good hot or at room temp. Top firm, sliced bread with pimento cheese and some cooked, chopped bacon.  Toast or broil in the oven for a few minutes so the cheese melts.  Serve warm or let cool.  In fact, you can use any cheese spread or slices and top with other meat, cooked veggies or just spice things up with basil, crushed red pepper or garlic powder.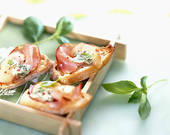 3. Flatbread
Buy or make your own flat bread, then slice then toast to serve with hummus, tzatziki sauce, tomato bruschetta, a black olive tapenade….or just about any dip or sauce you have on hand or want to make.  Put a few of your selections in small serving bowls to give your guests a choice.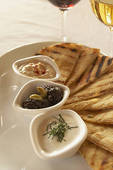 4. Cheese Fondue
You don't need a fondue pot to serve cheese fondue at your next party.  Make the fondue in a double boiler on the stove and serve in a crock pot on warm or other warming dish. There are tons of recipes on the web for any budget and taste. Choose unconventional dipping items like pickles, sausage, apples, salami along with traditional bread cubes.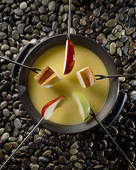 5. Chicken Salad Sliders
Stretch your meat dollars by turning it into a salad.  And almost everyone loves chicken salad.  Tuna, imitation crab, turkey and egg salad work, too.  Add some lettuce or red peppers for color. Buy slider rolls or cut larger rolls in halves or quarters.  Garnish with a fancy toothpick and pop an olive on top.