This has got to be one of our most popular posts so we decided it was time for an update.  And update we did, removing a few that were no longer fun (horrors!) and replacing them with more entertaining and useful sites. Because we all want to find ways to save money but don't want to fall asleep reading long articles on investing and money management.  Not that there's anything wrong with that, but we want our advice educational and fun!

Writing from real world experience, Melissa, a South Dakota native, shares her tips for living simply (and small!). You'll find posts on anything from buying in bulk and gardening to home-schooling.
Squawk Fox gets into the nitty-gritty with detailed articles ranging from saving on phone plans to how to keep a frugal fresh fridge. You'll find something on saving on just about anything here.
This site's tag line is  tag line is "living large on a small budget"  and has been around forever.  It focuses on personal finance and the site is full of money and lifestyle tips.
Money, home, auto and even tax tips, this site has something for everyone. There's a section with weekly reader tips for things like cleaning grout, how to use up all that candle wax and recycling bacon drippings!

Another one of us living the frugal life and writing about it, Jazmin describes herself as "budget-trimming, leftover-saving [and] penny-pinching". The site's emphasis is on menu planning and recipies that are tasty, healthy and don't break the buget.
This site takes a natural approach to living – and shows you how it can save money, too. DIY remedies and home care, home schooling, preparedness/survival, arts and crafts – everything you need to live simply (and save).
Food, family, lifestyle and more, lots of interesting and unusual articles like how to plan a cheap wedding without looking cheap and building a fermented food pantry.

This site is heavy on personal fiance with frugal tips for credit, banking, insurance and more. There's also a reader mailbag post each week where questions on anything from student loans to wedding gift advice are answered.

Frugality in action! Kristen's blog shows you  how to live happily on less.  You'll find recipes, DIY projects, home ideas plus a shot of inspiration and support.

This blogger has been living frugally since 1999 – and writing about it! Learn how to get out of debt, get organized, shop and eat better…plus lots of home tips and advice.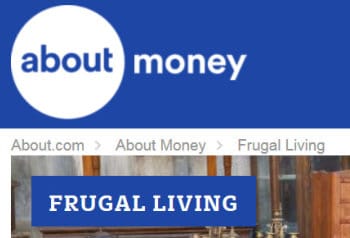 About.com sites can be full of clutter but if you can get beyond that, this guide is just great. Start with the "must reads" that included 10 ways to start living frugally and creating a budget.

No frugal living site list would be complete with Money Saving Mom – a site chock full of advice, how to's, coupons and offers.