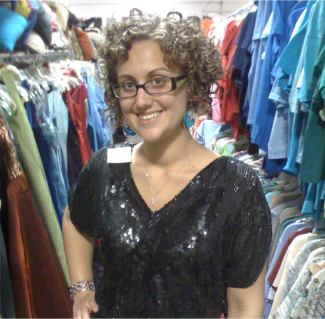 I know a lot of people, including myself, who have visited thrift stores in hopes of finding some bargains on clothes.  My step-mother, in fact, hasn't stepped foot in a "real" store for years.
There's definitely an art to thrift store shopping. Here are some tips for what to expect…and what to do with your finds.
Prepare for the Search
Unlike retail stores, everything isn't always neatly organized – you're going to have to do a little digging.  So be prepared to spend some time going through racks and bins. Bring a large, open and ideally clear tote bag (don't want to appear like you're shoplifting!) just in case there are no carts to place your finds in as you make the rounds.
Location, Location, Location
Scout out stores near more affluent areas.  Though not always the case, clothing donated in one area is going to stay in that store.  You're likely to find items of higher quality here or with only minor imperfections. But prices may be a bit higher especially on well-known designer brands. Still, you can pick those up at bargain prices.
Fitting
While you're scouting, see if they have a fitting room so you can try things on.  If not, be prepared to model in the aisle!  Wear a light t-shirt or tank under your coat or sweater and leggings or yoga pants to make it easier to slip things on.
Timing
Each shop has a day where they re-stock inventory – or they do it on a "as it comes in" basis.  Since most are dependent on volunteers, this isn't always at a specific time or even the same day.  You can ask about the store's stocking schedule, but don't expect a definite answer.
Frequency
Smaller sizes women's clothing is likely to be plentiful only because the average person isn't a small/extra small. The medium or larger sizes are usually the first to go. So plan to make frequent trips if you're looking for popular sized clothing.
Keeping it Clean
If you're buying shoes, bring a spray like Tineacide, Fungasin or a water/bleach mixture with you and spritz the inside of each shoe before trying it on.  It's not a perfect way to guard against any fungus or bacteria breeding in there, but it's something.
As for other items, thrift stores ask that all donated clothing has been cleaned, but we know that's not always the case. But while you're not likely to catch anything from unwashed clothing, a shot of Lysol will do the trick.
Stains
Avoid polyester/blends or silk garments with stains since they will rarely come out.  If the stain is in an inconspicuous area or can be altered out (like at the hem of a too long for you skirt) maybe it's not a big deal. And some people are okay with adding decorative patches or embroidery to cover immovable stains, but that's not for everyone. In any case, if there are stains, ask about a price discount.
Repairs
You can successfully repair small holes in sweaters if you can match the yarn color and texture.  Or, if it's a really good find, bring it to a tailor who can do it for you.  Seam splits can be repaired fairly easily, too. But skip anything with tears in the body of the fabric or frayed edges unless you want to do something creative with the piece.
Odors
Musty orders can be difficult to remove especially if the item is wool or silk.  Soak those in water with Febreeze or a cup of white vinegar. Hardier fabrics can be soaked and washed in the washing machine. Hang them outside to dry avoiding direct sunlight to discourage fading.
Another trick is to place the garment in a garbage bag filled with a cup or two of coffee beans. The beans will absorb the odor, though you may end up with a faint coffee aroma for a while (better than musty!)
Buttons
If buttons are missing, be prepared to replace them all!  That can be a good thing if you want to be creative or create a distinctive piece. But first search the garment for spare buttons. Men's shirts, for instance, often have spares at the bottom hem. Also look for where you can make a swap. If a middle button is missing on a coat or blouse, swap a matching top bottom for a decorative button – or no button if you're the type who never buttons up.
Be Nice!
Everyone says get to know the volunteers so you can get a shot at the best stuff. Not to dis volunteers, but they can be a cliquey bunch or as a thank you for their time, they're offered first crack at new merchandise. The best advice is to be nice – and a regular. After a while, you might ask one to be on the lookout for something. And bringing in your own clothing to donate doesn't hurt either.
Photo by Fuschia Foot