Hello fellow freebie hunters,
Welcome to another freebies news & mailbox update. Your source for information about freebies after the sign up. Since that last update over almost 3 months ago there have been a lot of fakes and bad news unfortunately. That being said, as you can see from the photos below, lots of freebies have been received as well which is the goal of this freebie hunter. And as usual I'm doing with the Clint Eastwood theme of "The Good, the Bad and the Ugly" for this update. Let's start with the good news.

The Good:
Samples & Deals from Free Samples June 4th 2017 Through June 26th 2017: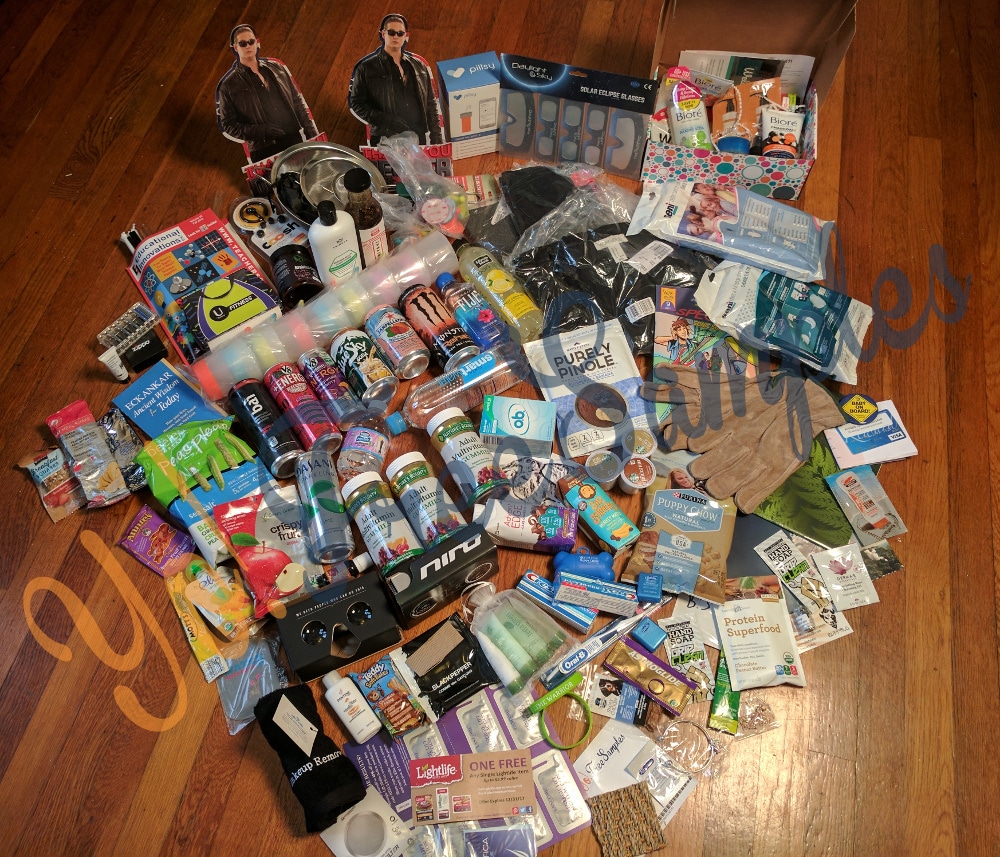 Samples & Deals from Free Samples June 27th 2017 Through August 22nd 2017: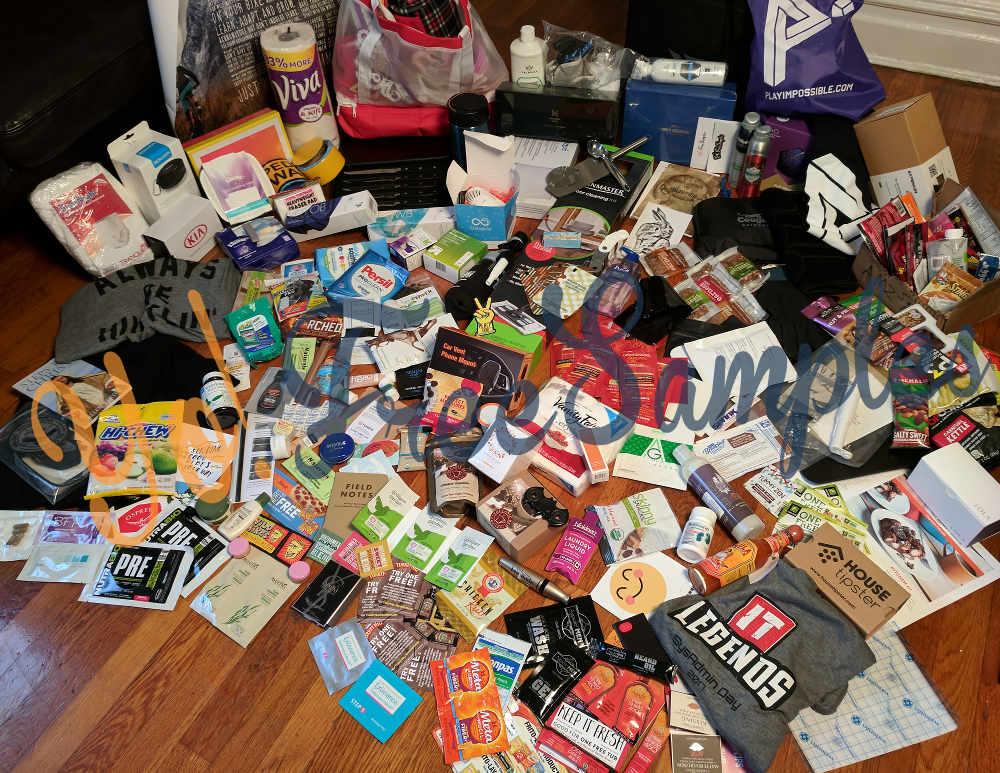 Psst.. you can click on the image above to open the image full-size in a new tab.
Mailbox Note: Most of these are freebies. Some are Amazon deals (like the knifes) which are usually 75-99% off that are posted mostly exclusively to the Facebook group due to how fast the deals expire. There are a few items missing, for example if a company didn't want to be featured or it was just too big or I was using/and or consumed the freebie already. If you have any questions about a specific one feel free to ask in the private Facebook group post about this or just email/contact/tweet and I'll answer you personally.

Savage Jerky Co. Mojo Jalapeno Jerky: Marlboro sent out Zippo Lighters instead of jerky due to shipping issues according to this email. Got it in the mail around June too. I'm not complaining, all freebies are good news.

Star Trek Cards: On June 6th they sent out an email update saying they were overwhelmed and that "We have ordered new cards and shipping materials and we're doing everything we can to get you your cards as soon as possible. This may take a very long time, but we're committed to making it happen." – so it might take awhile but it should be coming.

Tokyo Smoke Papers: There have been a lot of conflicting messages from this Canadian smoke shop. However, I finally got them in the mail (lower right in the photo, black papers). So when I spoke to them they said they shipped to the US, but then there was an email an

GoodRX: A few people in the Facebook group have shared photos of getting their GoodRX pill boxes or phone wallets. In previous updates I expressed doubt so wanted to move this to the good news section. However, not everyone has gotten these though so it's not great news!

PalmMute: See update below, the following is outdated: This might be another Solocost, however they decline they are related. They told me they have shipping centers in the US and China. They are very responsive to emails and on social media. They also started this Facebook group so they are active and engaged with people it appears. They also do have some legit photos of people who have received their stuff like this one, or this one. But they also have rude comments like this one saying they delete comments of people who say they don't come. I also got a few complaints of rudeness from readers as well. I just don't know what to believe on this one yet. And if it's shipping from China we still have a few weeks to determine how legit this website is. They assured me the mood rings were all shipped and it came out July 17th so it should be here around mid-September for the longest shipping estimates. The only clear answer is that time will tell with this one and this freebie hunter is watching and slightly confused.

PalmMute Update 8/30/17: Got it in the mail, moved this to 'good' news.
The Bad:
Pact App: This was very sad news for this freebie hunter. This app netted over $75 for using it less than a year; and it gets you healthy at the same time. They officially closed on August 20, 2017. For those looking for replacements I've been trying Beeminder (no rewards though but my favorite for changing behavior), AchieveMint (made a few bucks, mostly from referrals, walking would take a LONG time), Sweatcoin (Got 1 freebie from them so far) and recently I started trying out DietBiet and made over $60 the first month, risky though.

Ghost Fragrance: This turned out to be UK only. Here was their response: "Thank you for getting in touch, however we are only shipping within the UK. Kind regards, Ghost Fragrances"

Flat Outs Shoes: They got overwhelmed and blamed the rush on spammers in this email so nobody will be getting the shoes even, if you earned it with legitimate sign ups.

Stress Ball & Pens From MrFantasyFreak.com: No dice on this one one: "Unfortunately, we ran out of inventory within 30 minutes." is what they said via email to anyone who signed up.

Coffee Booster: They suspended the free sample program as they usually ship only 200 per week. They did offer a coupon though instead of getting mad which is a sign they have good people over there.

Eternal Air: Their stock was too depleted fast. Some folks got the actual product (self included) but most did not.

Epiphany Tea: Another case of some will get it, some will not. According to their email: "Regarding your requested Free Samples, yes, many folks will be receiving them but unfortunately our free sample packs have run out and the recipients of their free tea samples have been emailed." – so if you didn't get the email, you aren't getting it. They did include a coupon with the email, always a good sign of a good company or good level-headed people.

Solocost Jewelry: This officially went bad. Read here to get caught up on the past news if you haven't heard of Solocost here. I got the necklace, but just about everyone else didn't get a thing as you can see from the Facebook comments on their page. My suspicion is that they only sent it because of my association to this website. It's been since June, I think we can write this off as a fake or bad freebie.

MakeX Jewelry: This company followed up with a $14 charge to ship the free sample. Definitely not a freebie.

Quessenberry BBQ Sauce: They sent out an email saying they ran out of samples and could only ship the first 50 or so.

TummyZen Heartburn Relief: It appears some people got this (self included) and some didn't seems like a first come, first come basis.

Mosquito Magician: They sent out an email saying they'll ship it. But… you need to pay shipping. Oh well.

Target Cartwheel: The Perks test rewards program is over in a few days officially. That is, if you were lucky enough to be in a test market like Denver, Houston, San Diego, St. Louis or Raleigh-Durham, North Carolina. However, this could mean rewards and freebies coming to the main Cartwheel app soon so keep an eye out!

TOCCA Perfume: If you signed up for them they passed along this message: "We will not be fulfilling any requests." – no dice again!

Soft Tiles: They got overwhelmed and won't be sending out samples unless you are genuinely interested. It's nice of them to leave that open for people who want to sample the tiles.

Simoniz Car Cleaning Product Sample: I made a mistake, this was UK only, sorry to all those who signed up before!

Blends With Benefits: They sent a notice mentioning a 10+ week delay but they intend to fulfill them. Here is a quote from the email: "We have your rewards on file and we will be shipping your blends as soon as we get them in stock." Hopefully good news, time will tell.

Deep River Honchos Kit: This was finally released via email. And it has shipping. And it's a paid subscription. Oh well. They also send a lot of follow up emails asking you to buy the kit. Unsubscribe.

Air Water Life pH Test Kit: This won't be coming. They thought freebie hunters were "rogue spiders" – here is a quote from their email: "From 8-3-2017 to 8-7-2017 our free pH system received an incredible number of fake requests from some Rouge Robot Spiders. Unfortunately, due to this our system has automatically deleted all free pH requests from 8-3-2017 to 8-7-2017." – thanks to fellow freebie hunter Elizabeth for the quote!

SolaWrap Greenhouse Film: Another company overwhelmed. According to fellow freebie hunter Elizabeth you won't get this if you filled out the online form and only if you call them to follow up.

Phytoserre Skincare: This was a confusing response. They said most people wouldn't be getting samples. And a few would. Kudos to them for trying to sort it out. This offer is active again at the time of this writing too. Not sure what is going on so just going to keep this in bad unless anyone gets a free sample mailed to them.

Cremation Jewelry: They had "a HUGE response to our cremation jewelry sample offer and ran out of stock…" and they now have a contest to win the jewelry. No dice, again, ugh!

iSatori Fitness Supplements: No one is getting this one either according to the email they sent out here.
The Ugly:
Russian Fake Freebie Scammers (* See update here, they are now called the WebSEO fake freebie network): July and August were bad months for fake free sample offers. There was a slew of at least 3 offers that are all tied together by the same advertising ID. They have all been sent to me by what I assume to be burner Gmail accounts asking to post them. Then a few days after the ads appear once enough freebie sites get posting them. And I know they are tied together because they use the same advertising ID. It frustrates me to see these on other sites or communities, whoever shares these freebies are funding an unknown entity. And that entity could be, well, not so good people. And if you expect to get the actual freebie, fahgettaboudit. I am no security journalist like Brian Krebs. However, from WHOIS records, Russian language on 2/3 of the sites and the yandex.ru (a Russian version of Google) tracking I am assuming these are operated by Russian scammers. Here are the 3 sites you should most certainly avoid sharing your personal information with below:

Fire & Spice Peppers Sample: Here is my detailed report on why it's fake here. In short, it looks like this was a real company, then it was a porn site and now it's someone impersonating the previously legitimate company. Here is the location so you can avoid it: http://firenspice.com/free-sample/
InTur Travel Agency Cosmetic Bag, Travel Pillow & Pen Freebie Offers: Here is my detailed report on why it's fake here. In short, it's business location is an apartment in Moscow, Russia. It's on a website that ends in ".su" which short for Soviet Union. Websites ending in ".su" are not in good company to say the least. Why? Because the Soviet Union doesn't exist anymore so it's a fairly unpoliced part of the internet. And you can enter anything on the 3 freebie forms. Here are the URLs so you can avoid them: http://www.intur.su/free-sample/, http://www.intur.su/free-ballpoint-pen-for-travel/ and http://www.intur.su/free-travel-cosmetic-bag/
Megatex Toothpicks & Catalog: I got an email 5 days ago asking to post this on YoFreeSamples; and it followed the same process of no advertisements, and now if you look at it, they have ads: http://en.pkpmegatex.com/free-sample/ and they have the same advertising ID which proves that it's tied to the same spammy entity. It also has the same look and feel as the other ones. After seeing the same advertising ID in their website code that is enough proof to call this a fake. Not to mention the Russian language and no ability to buy anything with the "catalog" they provide you. So they give you a catalog so you can't buy? Sounds like a smart business move. Sarcasm aside, you should avoid this one as well.
Honorable Mention! Paradosiaka Extra Virgin Olive Oil: Not sure is honorable to be mentioned among Russian Scammers. But this site made the cut. The advertising link isn't there with the other 3 websites. However, the look & feel of the form is identical. I also arranged for a taste test and still haven't heard back. The address is residential too. URL to avoid like the plague: http://greek-olive.com/free-sample/

Any offers that look similar to Facebook: Ever see those $250 Kroger coupon scams? There have been of those scams coming out around different companies. For example, the $75 Aldi Coupon scam, debunked by Snopes here and recently the Johnson's Baby Kit. These just take you down a path of endless surveys that simply don't work. If you see anything that looks like below, avoid it:


Digilake Computer Brush: A clear fake. The site looks like a legit store, until you try to checkout, it throws errors. And it has the "Can You Help Us" pop up that is a very good indication of a fake. All it does it make the scammer money and waste your time. For new readers, this is what it looks like so you can know what I'm talking about in the other fakes in this post. URL to avoid: http://www.digilake.com/as/requestbrush.php

Ringtonica Correction Pen: This shows you a well-known scam popup asking for "help" after you submit the form. You can submit without entering information too. Definitely a fake. URL to avoid: http://www.ringtonica.com/correction_pen/

Blackrock Highball Glass & Wristband: This looks like other fake Facebook offers. A basic form, you can submit just about anything, and then it offers you an always welcome popup asking: "Would you like to get a surprise gift in the mail?" – from there it takes you down an endless path of surveys that will get you nothing and earn them money at the expense of your time and personal information. If you signed up for one of these I wouldn't worry about spam emails unless you filled out the endless path of surveys as these type of fakes are pretty unsophisticated technically. URLs to avoid (and feel free to report their page to Facebook as a scam): https://www.facebook.com/BlackrockManufacturingSolutions/app/190322544333196/ and https://www.facebook.com/BlackrockManufacturingSolutions/app/128953167177144/?ref=page_internal

Himalayan Salt Body Scrub: Here is another fake with endless surveys. This time the "Can you help?" part of the scam is better implemented. You have to enter your information, and they even kinda check if it's good. Then it asks for help if you hit "Continue" and then… the endless path of surveys. Don't believe that it's fake? Try setting up an appointment on the "Book Now" page. Also, the phone doesn't work (goes to a fax line sound after awhile). Address is missing suite number and it's part of a plaza so the address is effectively a parking lot. When you book appointment it says weird keyword message and doesn't charge anything. Domain was registered on May 2nd 2017, updated on June 24th 2017. Avoid this fake. URL to avoid or to try to book a solid spa visit (joking don't visit this place, the address is a parking lot): http://favospa.com/free-body-scrub

I.M. International Towel Samples: When your company is located in the middle of an intersection you know you have problems. This freebie doesn't have the annoying scam popup, but it just smells fake. Or at very least, it's very old and expired. URL to avoid: http://imitowels.com/product_sample.php

Roasters Pods: Here is another one that offers a "Mysterious gift?" fake freebie. It looks like they hijacked this Facebook page and started sharing this fake offer. Cute. Avoid this one by never going here: http://roasterspods.com/ or https://s3-eu-west-1.amazonaws.com/roastersuk/index.html

Scroll Pen From Office Savers Club: This one looked pretty legit. However, my favorite way to find fakes it to try to buy anything. Because why offer the promotion if you don't have anything to promote? And you guessed it, if you try to buy anything, it won't work. It just hangs forever over the few times I've tried this a few months apart. The address doesn't look like an office store would be located there either. So with those facts discovered, it's on my fake list as a result, avoid this one: http://officeinstock.com/office-savers-club/

Salt City Candles: Another "Mysterious gift?" appears after each one of these, it's been around since 2013. No one has ever seen the light on this one. URLs to avoid (and feel free to report to Facebook too): https://www.facebook.com/SaltCityCandlesOutlet/app/128953167177144/ and https://www.facebook.com/SaltCityCandlesOutlet/app/190322544333196/

Bath Bomb Sample: This may very well be legit, but in February 2017 the site carried the Kovter and Locky malware. What is that? It locks your computers files, photos and everything on it. Then it holds it "hostage" and makes you pay ransom to get your stuff again. Not cool. I spoke with the author who discovered the malware and they confirmed the site has since been cleaned. That being said, I haven't heard back from whoever runs the site after multiple attempts so I'm still marking this as fake. It could be real because you can manage to buy stuff on the site but I just can't risk it. URL to avoid: http://www.bathsaltsboutique.com/try-a-sample/

Yaarlo: This is a freebie site, so apps where you earn rewards aren't the #1 priority. However this scam is worth a mention. Yaarlo was an app where you "get paid" to do activities like watching videos and such. And one day, they just disappeared from the internet. And they are still gone. Many users had $10, $20 or even $50 in their accounts when this happened, including a few friends. Shame on them and sketch ball team. Here is more information here on Reddit. I tried calling the CEO's mobile phone a few times and never got a callback or answer. I wouldn't be surprised to see it disconnected soon.

Advance Auto Snowbrush, Microfiber Cloth, Calculator & Plastic Polish: What an ambitious company, giving away 4 products for free, for years on end. Just kidding, this is another scam where the popup appears offering you a mysterious gift. URLs to avoid: https://www.facebook.com/advanceae/app/190322544333196/ and https://www.facebook.com/advanceae/app/128953167177144/?ref=page_internal and https://www.facebook.com/advanceae/app/306231082728461/?ref=page_internal and https://www.facebook.com/advanceae/app/203351739677351/?ref=page_internal

Keychain Camera: Nothing about this Google Form feels legit. The image isn't a keychain camera either, it's an actual camera. I'd avoid this one, gut says no. Might be real but I didn't feel confident enough to enter own personal information. URL to avoid: https://docs.google.com/forms/d/e/1FAIpQLSdIhSCOvSH92UPqo526toWL2mxRXqxexj7XS-Ugrrp9TnQzbQ/viewform

Dirty South Vintage: This one was promising but multiple emails got returned from the all powerful MAILER-DAEMON saying "Sorry, we were unable to deliver your message to the following address: [email protected]" – highly doubt this will come. Sorry for posting this one.

9OOS Phone Cases: Looks like 9OOS pulled a Yaarlo and took down all their social media pages and actual website without notice. It's been down for weeks now. Don't expect this one because it's pretty safe to say it's a scam. And according to one conversation I had, it might be a whole lot worse of a scam (thank you to the person who shared this with me). That being said, there is no way to prove what was said in that past link but just be careful out there everyone. Other red flags included an address in Kaunas, Lithuania (thanks to fellow reader Katie for photo) which is certainly an eye raiser when you consider how much it would cost to ship from a place like that to the US. And this was said to be a US freebie. I tried to reach the user who submitted this freebie on Reddit under username andriusvv8who. That user appeared to be associated with the company from his or her comments. I have not heard any response to multiple comments and messages. There was also suspicious robot-like activity on the Reddit posts as well. Nothing says "hey this is legit" at all for this one. There are a lot of great freebies out there and there are a lot of bad ones out there which is why I do this freebie update post to try to separate the good from the ugly. This was their website (which no longer works so you couldn't avoid it if you wanted to): 9oos.com
---
Do you want freebies like the ones mentioned in this post? Sign up for our daily email newsletter. And keep in mind, I don't ship samples, you need to sign up for each one yourself. The more you sign up for, the more you'll get.

That is all I have for the sample update today! Do you have any updates to contribute, send me an email at

[email protected]

anytime.

– John 'Samples' Clark