Hello fellow freebie hunters,
Welcome to another freebies news & mailbox update. Your source for information about freebies after the sign up. The past month the freebies really ramped up in my mailbox as you can see from the photo, hopefully the same happened with you. And as usual I'm doing with the Clint Eastwood theme of "The Good, the Bad and the Ugly" for this update. Let's start with the good news.

The Good:
Samples & Deals from Free Samples April 23rd 2017 Through June 3rd 2017: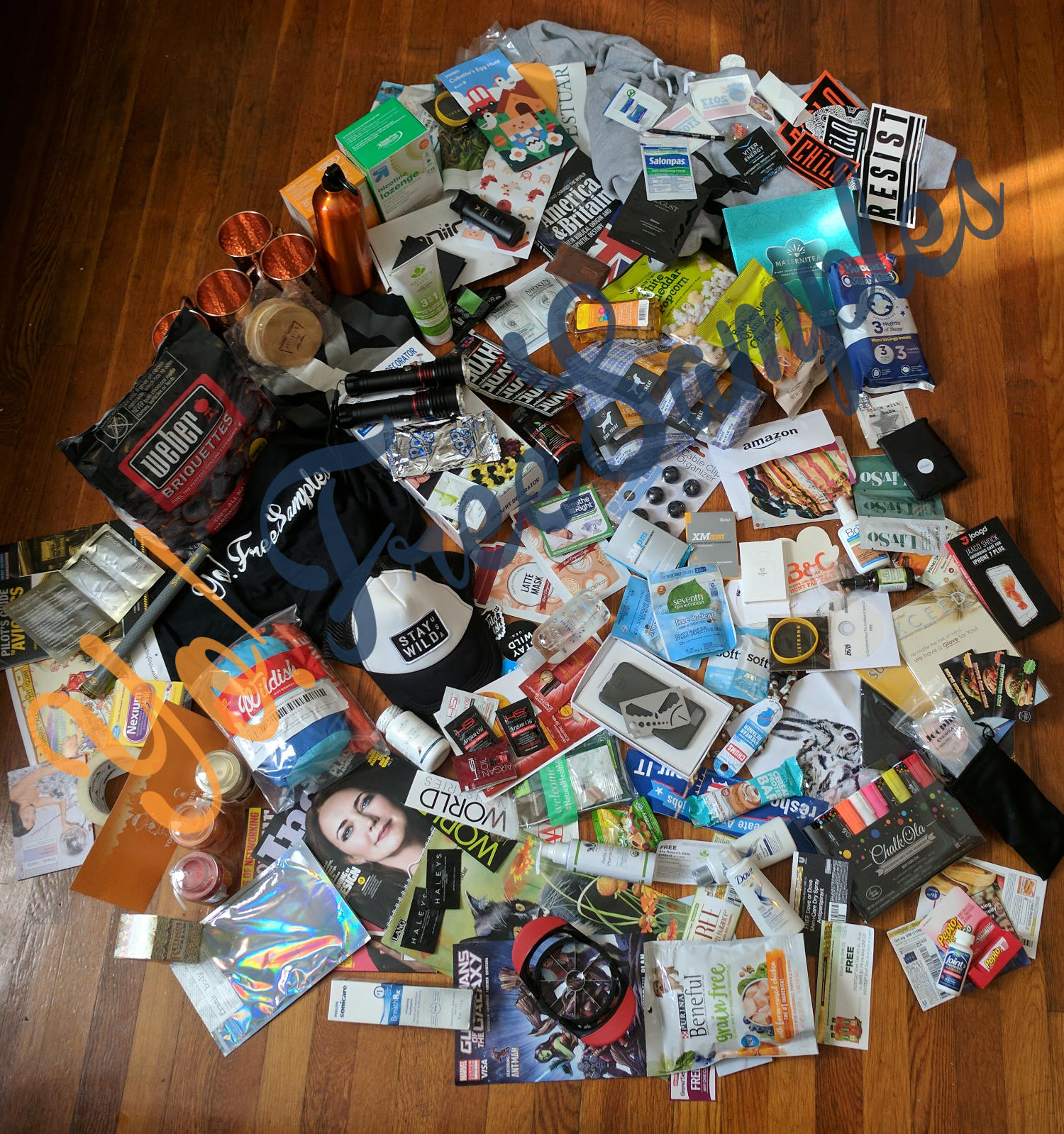 Psst.. you can click on the image above to open the image full-size in a new tab.
Mailbox Highlights:

0.8L / Latte Mask: There is only a chance to get full-size products from 0.8L these but this was my third from them. Worth applying to a few of them if you like beauty products.
Weber Coal Briquettes: My neighbor enjoyed these as a gift. These were a big one, it went fast but that is a solid win.
Tobacco Freebies: The multi-tool and the credit card holder. These freebies are always big winners.
YoFreeSamples T-Shirt: These were from promoting the CreateAShirt.com Friday contest, this is the only freebie nobody else could get unless they were a blogger as well.
Others: I've just given up on marking each one as received, I'll continue to try my best to mark as many as possible but don't expect full 100% coverage of verified received samples on the site moving forward. There are simply too many freebies arriving now. That being said, I am always happy to dig up a sample, deal or freebie if asked so just contact me anytime if you want to know how I got one, I'll likely send you the post here on this site where I got it.

Skinny Shake Sample: Looks like we overwhelmed them, however they said they'll still ship them, just with a delay according to this email from them stating: "Thank you for your interest in Skinny Shake®. The response to our free sample offer was beyond our expectations, and we are experiencing a slight delay in getting all our orders in the mail. However, your order is important to us, and we will get it to you as quickly as we can. Thank you for your patience."

Coco Kettle Clothing: I was skeptical this would ship or not because you only had to refer 2 friends for a free clothing item, still hasn't arrived but it did ship for me at least!

Trinova Coffee Maker Cleaner: This was only meant for VIP members so the coffee cleaner won't be coming which is bad news. But the good news is they were kind enough to let us know about how to sign up for their VIP program in their email if you want to sign up for future freebies to test and review. Overall net positive news even though it won't be coming.

Dr. Dalton's Premium Treats: Another overwhelmed business, another great promise and response. Here is a snippet from their email, in short you can expect the sample, just not anytime soon. And they also have coupon code included in the quote below too: "In the last few months I have been simply overwhelmed by the wonderful response these treats are receiving from all over the U.S. I love hearing from all of you and assure you I will get sample treats out to each and every one of you who requested them. I only ask that you be patient with me. I am still a one-woman show (with the help of my family once in awhile!). I will have your treat samples out to you in the next few weeks and in the meantime, I would love to offer you a special promotion code to show my gratitude for those who just can't wait. The "DOGSRULE-3OFF" code works on my website www.drdaltons.com, or you can buy them from Amazon.com by simply requesting Dr. Dalton's Treats."

Viva Towels: This company made a mistake by putting up a form on their website, and they sent out a $2 off coupon as a result with this kind letter.

SampleSource: This is always a great sample, I got this the last sample update but it's a friendly reminder to keep an eye out for their survey coming soon so you are likely to get more SampleSource boxes!

Crown Earrings: They ran out of supplies, but are working with their suppliers to slowly fulfill the demand according to this email. Above and beyond effort and communication. I could be wrong too but I believe I got this in the mail already (see Jan-April photo, purple upper right container).

Amsety Liver Bar: They ran out of stock pretty fast like their other samples. They had a great response and offered 2 other freebies including a $10 credit and a free eBook. "We had a HUGE number of requests for free samples so unfortunately we're now out of stock. But don't worry! To thank you for your participation and interest in liver health, we have two other freebies for you!" Hey, better than nothing, and it never hurts to offer something else free.

MaterniTea: This company had no idea the viral power of samples. They were overwhelmed and sent out a similar tea product after running out of stock. Excellent fast response and they already sent the samples all the way from Australia. A good response says a lot about a company, check them out beyond sampling if you haven't here. Also verified received this in the mail (see photo).

Solocost Owl Bangle/Pink Resin Necklace: Not sure if this is good or bad news yet but I'll place it here for now. The store went down for a few days and is now , a very good sign. They reported the downtime on Facebook page saying it's down for maintenance and will be back soon. I've read rumors of people reporting their Shopify store for not sending products (asked to confirm here without any response as expected). On a positive note- I've seen many reports of shipments coming in 30-45 days and I've seen one photo of a received one. These are also identical items from AliExpress that cost $0.58 with free shipping and companies do tend to buy cheap products from AliExpress to sell or giveaway in the US as promotions. So that being said, this still could be real or fake; time will tell. Worse case it's a scam and there is spam emails in our future; best case is there is free jewelry showing up on our doorsteps in a few weeks from China and the store re-opens. Either way I felt I needed to update this post to share the information as this was a pretty popular freebie. There is was going on in the Facebook group here if you want the latest information before the store went back online. Here is the thread with the latest information now the store is back online if you want to see future updates about this. I'm still hopeful this will come considering how cheap the products are from AliExpress but we'll see.

More Solocost updates 6/6-6/7: Seeing more shipment notices from readers also around the same time this this post came out on Facebook from them. Looking good, keep an eye on your mailboxes.
The Bad:
Bullet Adult Toy: According to an email from the kind Leslie on Facebook, it said "Unfortunately we had to cancel a large number of orders (thousands)" due to code sharing. However, I have seen a few photos of some people getting it (Facebook Group Private Link), so if you got lucky you might still have a chance but it sounds like most people won't get this one.

MacroNu Food: They sent an email letting folks know that the free food was for very specific towns/cities. Most of us won't be getting this, I didn't post it on the site because it was so local but just wanted to update everyone about it in case you did manage to sign up for it.

Daily Goodie Box: Just to clarify more about this one, it's appears to be basically a contest and not an actual sample box from what I've seen from reader experiences since they have been around in business for the past year. So this news is bad. Why? Because their homepage claims you'll get one for signing up no strings attached. This is just straight up deceptive. They could just say it's a "chance" to win a sample box and things would be clear and cool. They also make ridiculous Facebook posts telling people not to complain (Facebook Private Group link). That is a uh, real winning personality there. On a positive note, more people are getting boxes, mostly from spamming their Facebook posts begging for a box or randomly from account pages. But after a year in business it's clear that Daily Goodie Box isn't even close to a SampleSource or PINCHme. But there is a chance you'll get one, just don't complain to them!

Tidal Vision Scrubs: It appears there isn't a set date on when they will offer the free scrub (which has been collecting our information for months now) according to an email I got from them: "We are a small start up company and the set up has taken a lot longer than we anticipated. Once we are up and running you will receive communication from us on how to get your free Scrub!" Doesn't smell like good news if you ask me.

JavaMoji Coffee: JavaMoji is not going to come, thanks to fellow reader Dani for passing along their response. If you reach out to them they may give you a 50% off coupon if you still want one.

H&H Remedies: Tried ordering this thing a few times, it never has arrived nor has it for any readers I have talked with about it. I won't be reposting this (unless it's a memory lapse but doubful).

bumpn Swag Bag: Confirmed with a few readers this is an outdated offer, if you see it around your information isn't at risk, it just likely won't ever come in the mail though.

Grillaholics Wristband: No dice, this was actually was meant to be only available to Grillaholics previous customers according to an email they sent out. They did offer a 40-50% off coupon as well which was a nice touch to ease the blow. However, they should have asked for a customer order ID or mentioned it was for previous customers on the page if it was a public URL, we still love you Grillaholics.

6 Hour Sleep: They claim their sample link was "hacked" – I find that claim ridiculous, when you list a public page on the internet that can be found by Google or anyone; and it advertises a free sample, people might sign up and may even share it which is the whole point of a free sample promotion isn't it? Companies that want to disavow freebies sites can do so, but to say hacking is a step too far for a public URL in my opinion. For the record, there never will and never have been any "hacking" on YoFreeSamples. Just focused reporting & testing like any good news site.

Gatorade GX Bottle: This isn't coming, it was only meant for attendees off the 67th National Athletic Trainers Association Annual Meeting so all other orders are canceled. On a related note, conferences are a great place for freebies, hands down.

Kirei Bamboo: Asked to be removed from site, don't expect any samples.

Active Iron: This one a bunch of you signed up for it, but it was brought to my attention that it is UK/Ireland only that will receive it unfortunately.

NoseBudz: Looks like most of us won't be getting this unless you paid the updated shipping costs of $3.99 according to their response: ""The amount of requests has far exceeded the amount we planned for. [..] This isn't your fault – so we want to take care of you. We are offering you a limited, special deal of 40% off our 4-pack exclusively for you." – a very respectable response by offering a coupon. But I put this in a bad section as most of you who signed up won't get it.

CardioFlex Q10 or Wholy Tea: Some people call this fake because it doesn't come, but that is wrong, it's just "Canada" – it's extremely expensive to send samples from Canada to USA. So Canadian companies don't send them most of the time. Check out their Facebook page, it's all Canada based activity, all the time.
The Ugly:
OZ Naturals Anti Aging Vitamin C Serum from M Coiffure Full Service Salon: This isn't a full service salon, it's a full service scam or a hacked website. The address is a parking lot first of all. And you get the "Can You Help Us?" pop up after you sign up, or even just hit the form button. This won't come it's a money making scheme for some affiliate fraudster. URL to avoid: http://salonanddayspa.org/freeserum.html

Schwarzkopf Seah Hairspa Rose Cream Mask from M Coiffure Full Service Salon: This is from the same spa page as above, avoid it. Avoid any site posting this offer too. URL to avoid: http://salonanddayspa.org/free-hair-treatment.html

Coffee & Tea Experts Mug + Tea: A tea mug with a sample set of 6 different teas? Sounds too good to be true. It is. The common "Can You Help Us?" scam pops right up after you "verify" your address details. It's a nice touch to verify the address, but it's still fake. URL to avoid: https://www.facebook.com/CoffeeandTeaExperts/ – and if you got a moment, report this page as a scam so nobody else falls for it and maybe, someday, Facebook will do something about these ugly scams.

Aroma Essences Pain Cream: This was a bad one turned ugly. They added $2 shipping which is totally normal and fair when getting overwhelmed with freebie hunters. However I got reports that people who paid were asked to pay again and never got any samples. Their store is now offline as well and not responding to requests. Very sorry about posting this one, hopefully nobody else experienced this. Figured most people didn't pay for shipping but if you did pay for the samples shipping, ask PayPal/Shopify for a refund ASAP.

Empyrean Nutrition: I saw this going around and their company looks to be out of business since 2014. If you check their Facebook page you can even see the last posts from 2014 and their webpage doesn't work anymore. It's not a fake but it's definitely not going to come. URL to avoid: http://rocketweb.wufoo.com/forms/qo1usyf02s7en6/
---
Do you want freebies like the ones mentioned in this post? Sign up for our daily email newsletter. And keep in mind, I don't ship samples, you need to sign up for each one yourself. The more you sign up for, the more you'll get.

That is all I have for the sample update today! Do you have any updates to contribute, send me an email at

[email protected]

om

– John 'Samples' Clark