Free Sample News Update: Natural Vitality, Morinda Essential Oils, Mother Nurture Chocolate Truffles, Genneve Lubricant, Badger Balm, Sekkisei Mask, Neomega Avocado Oil, All Good Lotion, Rhemu Pain Cream, Sofn'free, Tiesta Tea, PROFI Pro, TRUSS, Gaia Bentonite Dermal Mask, Shopium, Herbal Spa Candle, Joli Visage, Cozy Condoms & More
Important Note: When you buy through our links, we may earn a commission. As an Amazon Associate we earn from qualifying purchases. Content, pricing, offers and availability are subject to change at any time - more info.
Hello fellow freebie hunters,
Welcome to another freebies news & mailbox update. It's been a few months since the last update so this one is a big one. I pushed a few updates to the next update post because it was so long. The great news is that a ton of stuff came (see photos below). There is also a fair amount of samples that didn't come. But that's part of freebie hunting right? And as usual I'm doing with the Clint Eastwood theme of "The Good, the Bad and the Ugly" for this update. Let's start with the good news.
---
Advertisement
---
The Good:
Samples & Deals from November 1st through December 11th 2016: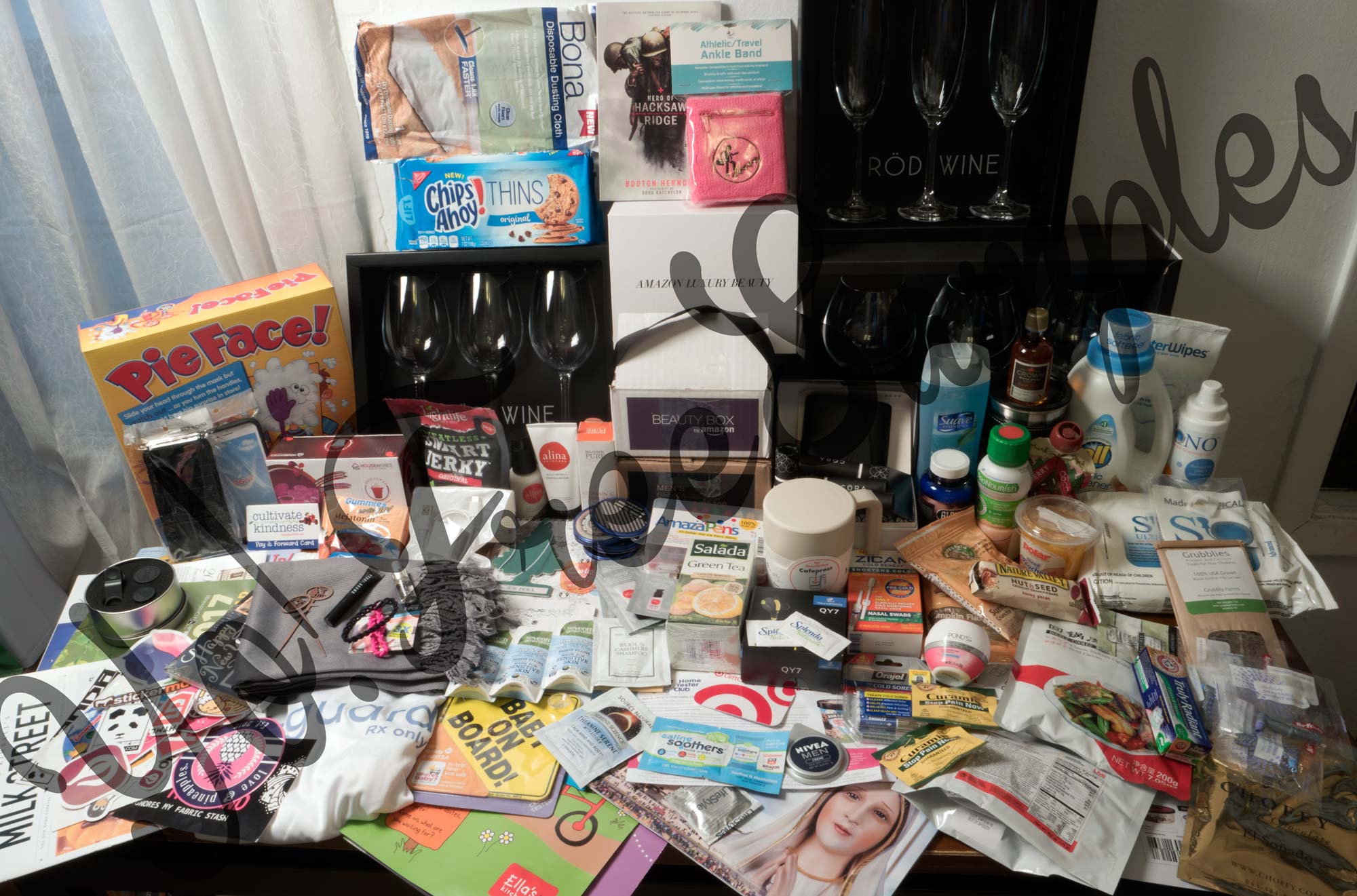 Psst.. you can click on the image above to open the image full-size in a new tab.
Samples & Deals from December 12th 2016 through January 30th 2017: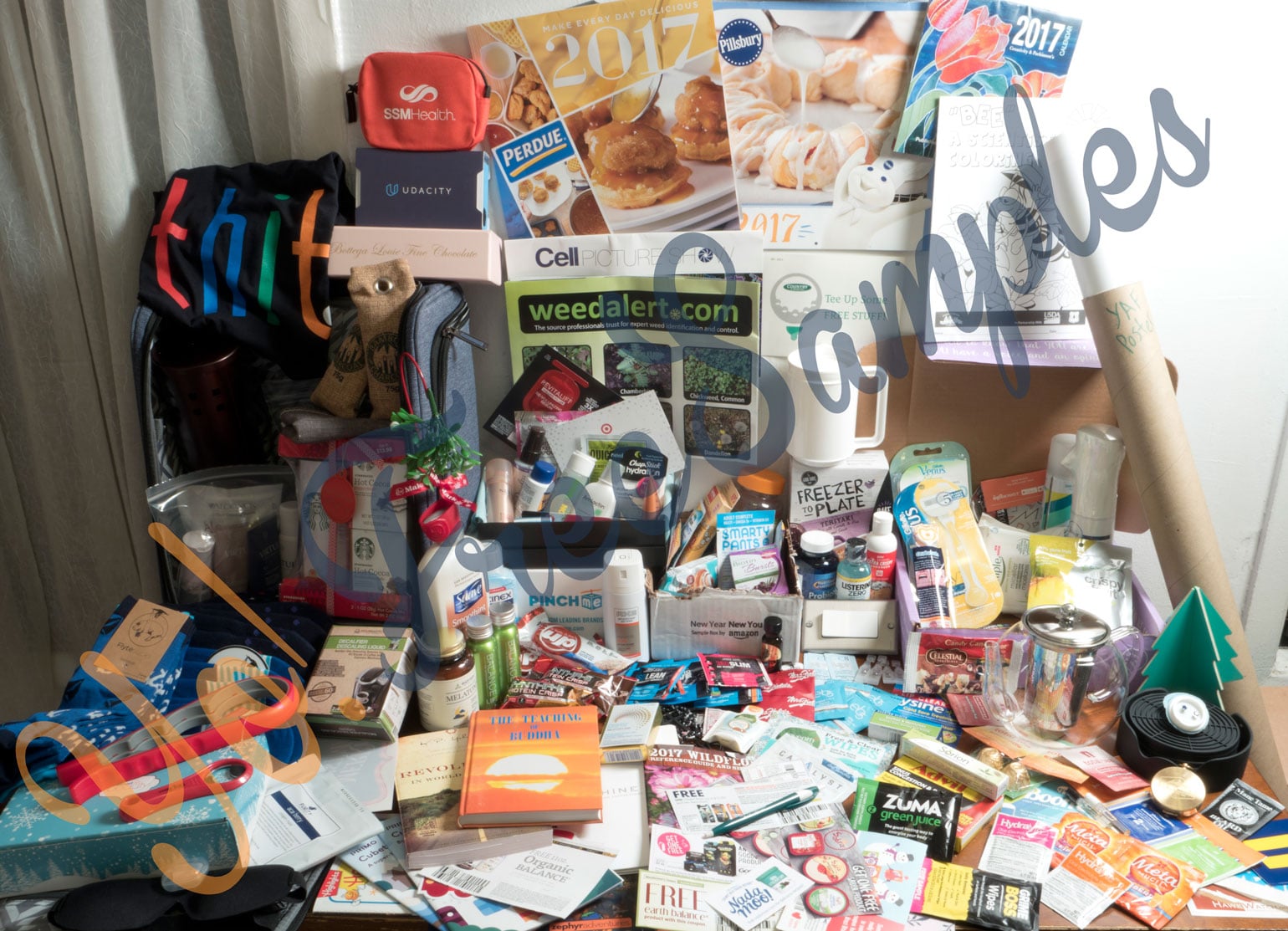 Psst.. you can click on the image above to open the image full-size in a new tab.
Samples & Deals from January 31st 2017 through April 23rd 2017: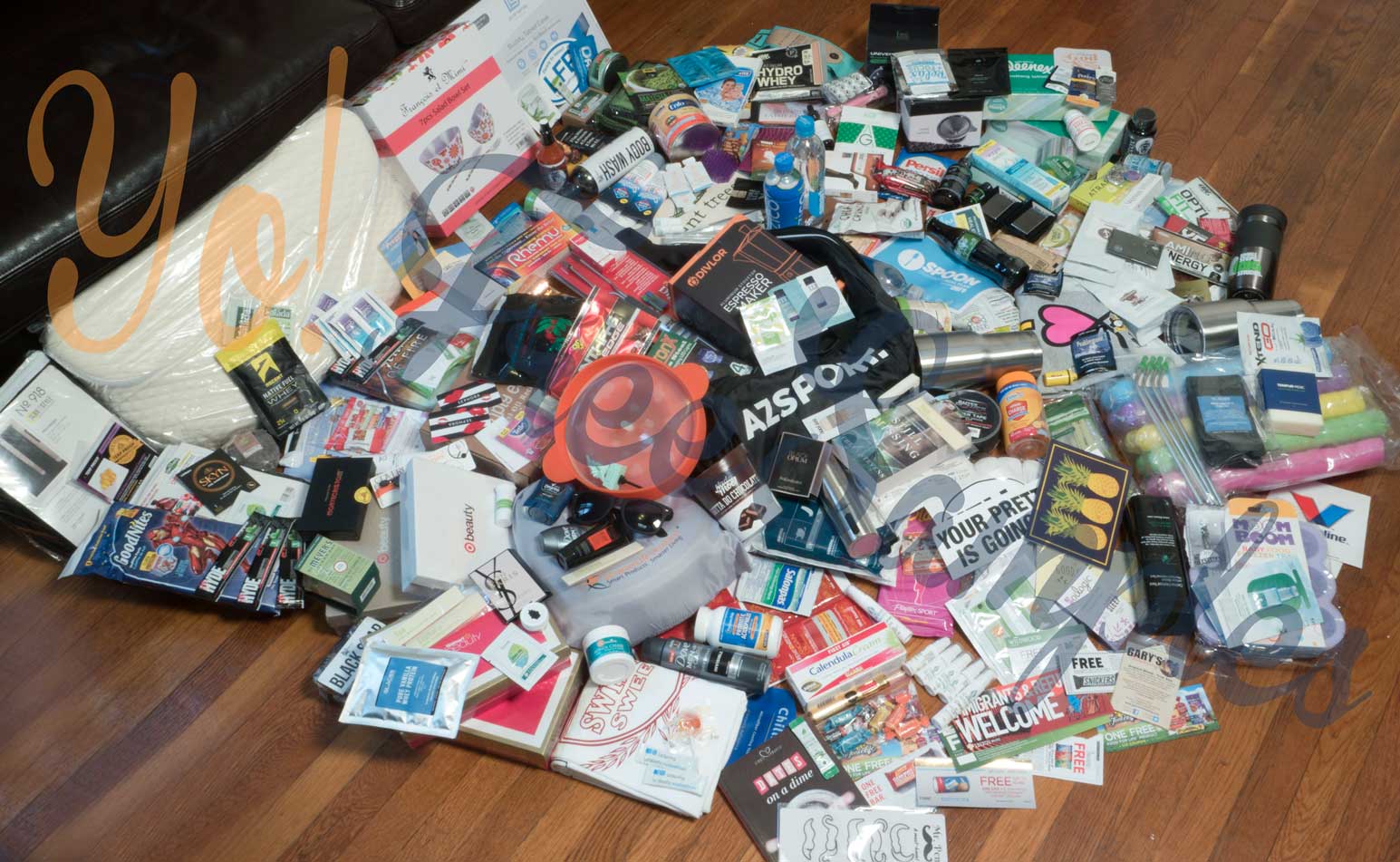 Psst.. you can click on the image above to open the image full-size in a new tab.
Mailbox Highlights:

Way Too Many: Great news, a TON of freebies came in the mail. The above photos are mostly freebies (100% free, no shipping), some of them are Amazon deals posted on here or on the private Facebook group. I've gone and verified as many as I could but definitely didn't get all of them. If you have any questions about anything in the photos just use contact us page to ask and happy to explain how I got it and from where. I'm working on doing updates more frequently so I can stay on top of these. So expect more freebie-by-freebie updates as I get on top of the samples mail constantly coming in but I just can't go through each one in this update, sorry folks!

Genneve Lubricant: This company gets funny points for their response, they included a photo with a confused woman and a glue stick. Not only that but they committed to sending out samples to everyone on the very long list. And in the meantime they included a 25% off coupon code ("happysampler") for their website and Amazon code you can get $10 off here. If you got the sample and liked it, go check them out.

MapleSoft posters: Got an email from them in Feburary stating that they: "[ran] out of printed stock. We are currently in the process of reprinting most of our posters in order to fulfill all the poster requests that we received. You will receive your poster(s) in the spring, once our new printed stock arrives." – so if you haven't already gotten it, you should soon, always good news to see a freebie is coming, even if it's later than expected.

Mother Nurture Chocolate Truffles: I wrongly assumed this was a bad offer the last update here. Well I like being wrong because it means the samples arrived. I can verify they came, see one of the above photos! They sent out an email asking people to sign up again due to the excessive demand and they shortly after sent out the samples.

Alina Skin Care: They had a trial pack a few months ago. Their communication was excellent as were their products. I hope everyone else who got one has the same opinion. And go buy their stuff in full-size & leave a great review if you got this and liked it!

Dazzle Pure Artisan Soap: This came with a notice they ran out with a coupon included, but it did come, however only for 500 folks.

Choffy Brewed Chocolate: They dropped a note to say "There was a huge response to our samples and we are little behind. But don't worry, we will get these out as fast a possible!" – and they followed through, this was a very delicious sample to verify.

Natural Vitality: They sent out an email saying they ran out of stock but were going to re-stock and ship them again. They followed through and it's still active if you want to try it out here.

Morinda Essential Oils: They sent out an email stating that their sample pouches don't meet their high standards. However, the good news is they are sending another sample which is good news.

TRUSS Professional Haircare Product Sample: This was for professionals only according to an email they sent. But they also said consumer samples were being shipped. I believe I got this in the mail but I could be wrong. Either way good news, consumer samples shipping are good!
The Bad:
Badger Balm: The good news is they shipped a few thousand of these. The bad news is they ran out and won't be re-stocking due to environmental concerns. You can still get a free one with any purchase using code "FREEBUGBALM" on their site until 5/31/17 though.

Neomega Avocado Oil: No go on this one, according to their email response "Unfortunately we had limited supplies of free samples and we had thousands of requests in a very short time." and they gave out a coupon code (no longer active) as a thank you for the interest.

Sekkisei Mask: They ran out of samples and couldn't send them to everyone, if you didn't get one by now it's likely not coming. Their website is still open but the form doesn't work, it could again in the future though, who knows.

Green Tea X50: Not sure why other sites shared this as if it was for US folks, it wasn't and I confirmed with them on Facebook. Don't expect this one.

TruEase & TruZen: These samples were meant for healthcare professionals only. So unless you are one, don't expect these to come.

All Good Lotion: I got this in the mail and it's excellent lotion. Most of you got an email that said "Due to overwhelming demand, we ran out of free sample packets." – and they offered a coupon to get 50% off like any good companies response to overwhelming freebie hunters. And the best part is the coupon is still active if you want to use it go here and use code "SWEETDEAL" at checkout!

Allen Fishing Hooks: I don't even think this got on the site because it expired so fast. Sources informed me that this isn't arriving either and orders were cancelled so don't expect this if you signed up for it.

Rhemu Pain Cream: Some folks got this for free without paying shipping, however most of you got an email asking to go back and re-order to pay $5.95 shipping. This is a common solution smaller businesses offer when overwhelmed with free sample requests. Nothing lost, nothing gained.

Ceela Naturals: According to this email they got overwhelmed by freebie sites. So we aren't going to be getting any samples from them unfortunately.

Glitch deals on Walmart: I posted a chicken broth, tampons and a few other "glitch" deals a few months back. Most of these for were 6, 10 or 12-pack items priced at the price of only one. As usual with 'too good to be true'- that was the case and everyone one got one item versus the multi-item packs listed on Walmart. However, some readers asked + got refunds and it ended up being a good deal for them. It's too late to ask for a refund most likely but if you ever sign up for a "glitch" deal in the future and this happens, just ask for a refund. I won't be posting these anymore unless it looks likely that it's a real deal that will be fulfilled moving forward.

Coupons.com Savings Submission Program: This was a great program to make up to $500 per year for finding coupon codes. Unfortunately, a few bad apples ruined it for us all and Coupons.com had to shut it down. My guess is due to fraud because they added controls to verify your identity right before they shut it down. Sad news.

Sofn'free: They ran out of stock of their kits fairly fast so most of us won't get this one. They offered a coupon for "50off" to get 50% off, it might still be active if you want to try it out. Bad news but they followed good form by offering a coupon.

Tiesta Tea: They are a small company so they didn't have enough samples for everyone according to their email they sent out. On a positive note they apologized for the confusion around their free sample page with a coupon.

M'lis Skin Care: I messed up here, this was meant "exclusively to salon's and spa's, so unless they are a [licensed] professional in that industry, they would be unable to purchase or receive any product from us." – sorry readers!

PROFI Pro Sample: Posted this then confirmed with them that it's actually Canada only. My mistake! No regrets though, I figure post a freebie first if it looks legit so more people can get it.

Lehigh Biltong: According to their email, they added shipping after the fact, so if you requested it don't expect it unless you pay for shipping. Very tempting offer.

Infinite Botanical Skincare: Never posted it here because it was New Zealand only (confirmed with them as well). If you signed up on another US site, don't expect it to come.

GoodRX: They promised the free pill boxes offer is legit on Twitter and then later they said no we never sent them, email us. If anyone got one of these please let us know. As of right now this offer seems to be a waste of time though.

Update on GoodRX/correction (5/16): It seems a good amount of people got a pillbox (and even sent pictures). Some had to ask for it but seems some got it from first sign up of the form on their website/Google Forms. So I was wrong, seems it did come for a good amount of you! I like being wrong, it means people got free stuff.

Gaia Bentonite Dermal Mask: "When we launched the sample program, we GREATLY underestimated the sheer demand to try our product. In order to avoid bankruptcy attempting to fill over hundreds of thousands of free samples, we must humbly ask you for a nominal shipping and handling fee to receive your free sample." – $5 shipping added after the fact, no samples unless you paid. Kudos to them for a good & honest response to the intense pressures of offering something for free.

Right@Home Coupons Closes Down: Right@Home (Johnson & Johnson's coupon and content center) shut down end of 2016 according to this email. Don't fret though, there are always new coupons.

Doris Wagner Beauty Samples: This won't be coming. After making the post about them they let us know that "for legal reasons [they] can also not ship into the US, Canada or Australia." – my apologies for the mistake!

Ski Utah Cardboard VR Viewer: No dice here on getting this one. According to their email, they ran out fast and added shipping. You can still get one for $5.10 shipping at the time of this writing, but who wants to pay shipping?

Live Prepared Foods: They asked to verify addresses and call you. Sounded like of aggressive selling was required to get this.

Shopium App: They sent notice they are shutting down on 6/4/17. No more free Lindt chocolate for new users (not that it worked anyways). My hunch is Coupons.com will roll out their own receipt scanning feature in the future.

Shrink App: If you weren't aware Shrink, another cashback app, shut down in November 2016. It's a tough business doing cashback for receipts it appears.

Sierra Nevada Tulip Glasses: A select few folks got this, but most of us missed it. Sierra Nevada sent a text saying they ran out of glassware fairly quickly after it started.

Sarah Lawrence College T-Shirt: All we got was the brochure, oh well. No expectations.

Blue Friday Cleanup Kit: An email they sent out explained that demand was 700 times higher than expected so they ran out within an hour. Not a surprise but just don't expect it.

Rich Honey T-Shirt: They had to increase demand to 20,000 then 30,000 shirts to meet the demand of the freebie hunters. I saw a few people claim to get these but I never got one which is why it's in the bad category and their reply to email wasn't a working mailbox anymore when I went to check in on it.

Lavilin Underarm Deodorant Cream: They sent an email letting us know that they "have completely run out of stock and will not be able to fulfill your free sample request." – but at least they included a coupon which is always a good idea.

Charlotte Tilbury The Gift Of Goddess Skin or The Gift Of Magic Skin Care Samples: Got this email from them stating they sold out of samples. Oh well, next time.
The Ugly:
Herbal Spa Candle: This was a clear fake, it had the spammy pop up asking for help which is a clear sign it will likely never come. On top of that the URL it's hosted on is suspended due to lack of identification of the domain holder, URL to avoid: http://beautyherbalspa.com/ – kudos to that host for shutting them down.

Black Seed Herbal Essence: Another day, another fake Facebook freebie over. I've covered this one again but it did the rounds on other freebies sites again so I wanted to point it out, again. They also introduced a new fake freebie URL so now there are 2 of these scummy fake freebie pages to avoid. It's a scam because it asks you to "help" after you enter your personal information, I explained on Reddit here why it's a scam if you want more information about why it's a scam. URLs to avoid: https://s3.amazonaws.com/blackseed/freebie.html and https://www.facebook.com/blackseedherbal/app/190322544333196/

Let's see if we can report them off Facebook and make the internet a little safer. If you have a moment go here: https://www.facebook.com/blackseedherbal/ and hit Report Page, then say it's a scam.

Corkscrew, Wine Holder, Wine Mug from Wine Making Society: Here are 3 more Facebook fake offers that just keep coming back. These are fake because they have the infamous "scam popup" that appears when you sign up. If you have a moment, report this page as fake too. Maybe someday Facebook will do something about these fake pages created to exploit their users. URLs to avoid: https://www.facebook.com/WineMakingSociety/app/190322544333196/ and https://www.facebook.com/WineMakingSociety/app/203351739677351/ and https://www.facebook.com/WineMakingSociety/app/128953167177144/

Joli Visage: This was a popular one and nothing Joli Visage did was ugly, they communicated clearly that they were overwhelmed and it was a glitch in their system. What was ugly, was people threatening them according to a follow-up email they sent out. It's ugly when people feel entitled to get samples to point of threatening companies. It's understandable that times are tough but threatening a small innocent company isn't going to help anything. Don't do this folks. Freebies are a gift that costs these companies money, they are not required to send you anything, especially if you are rude or threatening about it. Please stop this ugliness if you are doing it. A bad day is a forgivable but if you do it often, stop it, please. Rant off.

Cozy Condoms: This was going around a bunch of other sites so I called it out in a separate post as a fake freebie here. In short, it's fake and it has the pop up. It's also from Malaysia so it never was likely it would be a US-friendly sample anyways.

Le Blance Linen Wash & Others From Chicago Fabric Yarn & Button Sales: Another Facebook page with the pop up. And they have a ton of offers for mitts, linen wash and even Halloween stickers. All fake. Looks like they stole a real companies name too unfortunately. Report this page if you have a minute. Here are the URLs to avoid: https://www.facebook.com/chicagofabric/app/128953167177144/, https://www.facebook.com/chicagofabric/app/190322544333196/, https://www.facebook.com/chicagofabric/app/208195102528120/, https://www.facebook.com/chicagofabric/app/153284594738391/ and
https://www.facebook.com/chicagofabric/app/291529690876818/

Dino Wars T-Shirt: This was going around a few other websites and I made a separate post about reasons why it's fake here. In short, it's fake and it's not even a real company.

Puff Candy: It's as easy as taking candy from a baby to put up a website offering free candy. FreePuff.com sounds like a great and trustworthy website until you dig in and see it's a money making scheme at best and a phishing operation at worst. This website submits their form to get free candy without any information which is always a red flag that they just want you to see the next page, which is full of affiliate co-registration crap offers (the ones that send you down endless paths of yes/no offers and say you need to buy home insurance 6 to 11 times to get the freebie). Stay away from this one. It's been around for years but I ran into it again recently so wanted to address it. URL to avoid: http://www.freepuff.com/

Digilake's Coffee Cup: The spammy pop up strikes again, don't ever "help" if you see that popup. URL to avoid: http://www.digilake.com/free-coffeecup.html

Ringtonica Flashlight Carabiner: You don't even have to enter anything on this page to get the spammy pop up. This is a fake folks. URL to avoid: http://ringtonica.com/free_flashlight_carabiner

Petrix Free T-Shirt: As far as I can tell nobody ever got a free t-shirt from this site. On the page they say if they don't have coverage in your area that they "will hold your order and ship it as soon as we have distribution in your area" – but seriously who can't ship to your area with USPS? This site also seems to be an SEO scheme to help other freebie sites and it has ads on it. Nothing adds up here so marking this as an ugly scam unless proven wrong. URL to avoid: http://petrix.com/shirt/

FREE $60 Coupons From < insert big name company here >: Scams, all of them. Kroger, Dollar General, etc. They are all survey scams or worse. Don't ever enter your information in anything that looks like this on Facebook. You should never have to take long surveys to get a coupon, why would a company try to slow you down from buying? If you ever aren't sure about a coupon or offer, ask the company directly. For example Kroger called out their $60 coupon scam on Facebook here. You can also contact us here and I'm happy to investigate any offer for you.

Naturale Bisou Body Lotion: This is a verified fake now (domain doesn't work anymore and nobody got it). More info about why it's fake here.

L'Occitane Lavender Hand Cream Sample: This is totally and utterly fake (mentioned this before here). Other websites keep sharing it, but it will not come. Please other freebie sites, stop posting it. URL to avoid: http://aromasamples1.s3-website-us-east-1.amazonaws.com/

Essoula Comfort Gel: This isn't fake but I've never gotten in the mail so marking it as "really old, expired or never comes". Looks like a real company because it has multiple listings across the internet for their LLC business formation. URL to avoid: http://www.essoula.com/registration.html
That is all I have for the sample update today! Do you have any updates to contribute, send me an email at freebie-updates@yofreesamples.com
– John 'Samples' Clark