Important Note: When you buy through our links, we may earn a commission. As an Amazon Associate we earn from qualifying purchases. Content, pricing, offers and availability are subject to change at any time - more info.
Key Takeaways
Is TopCashBack legit? Yes, it's 100 percent legit. Not only has the company been offering cashback bonuses to users since 2005, but it's one of the best-known cashback-type websites around.
How do they make money? TopCashBack, unlike nearly every other similar site, does not earn its money from commissions or "share" commissions with you, the user. Instead, they give you 100 percent of commissions, and they get paid via advertising on their website, partnerships with retailers, affiliate links, and direct bonuses from their partners in special situations.
How much can users save? According to the company, the average user can snag about $350 annually in savings. Compared to similar websites, that's a significant amount. Overall, reviews of TopCashBack are overwhelmingly positive, and everyday users tend to say they save that much or more per year.
How does it work? You sign up and download their app. After that, when you spot an offer you want to take advantage of, click on it, and the app sends you to the retailer's site to make your purchase, where you'll get the advertised cashback between 60 and 90 days of your purchase.
What's the catch? The catch is that all those great discounts and savings you get from TopCashBack are for online shopping only. There are no in-store deals of any kind.
Another less significant disadvantage is that the site offers no signup bonus of any kind. Users who are accustomed to receiving huge bonuses when they join other cashback sites don't like the no-bonus aspect of TopCashBack.
Important Numbers
TopCashBack is one of the old-timers of the cashback niche. The UK-based entity has been in operation for 17 years as of 2022, boasts more than 11 million users, works with more than 4,500 retail establishments in the U.S., and gives 100 percent of its commissions to users.
---
Advertisement
---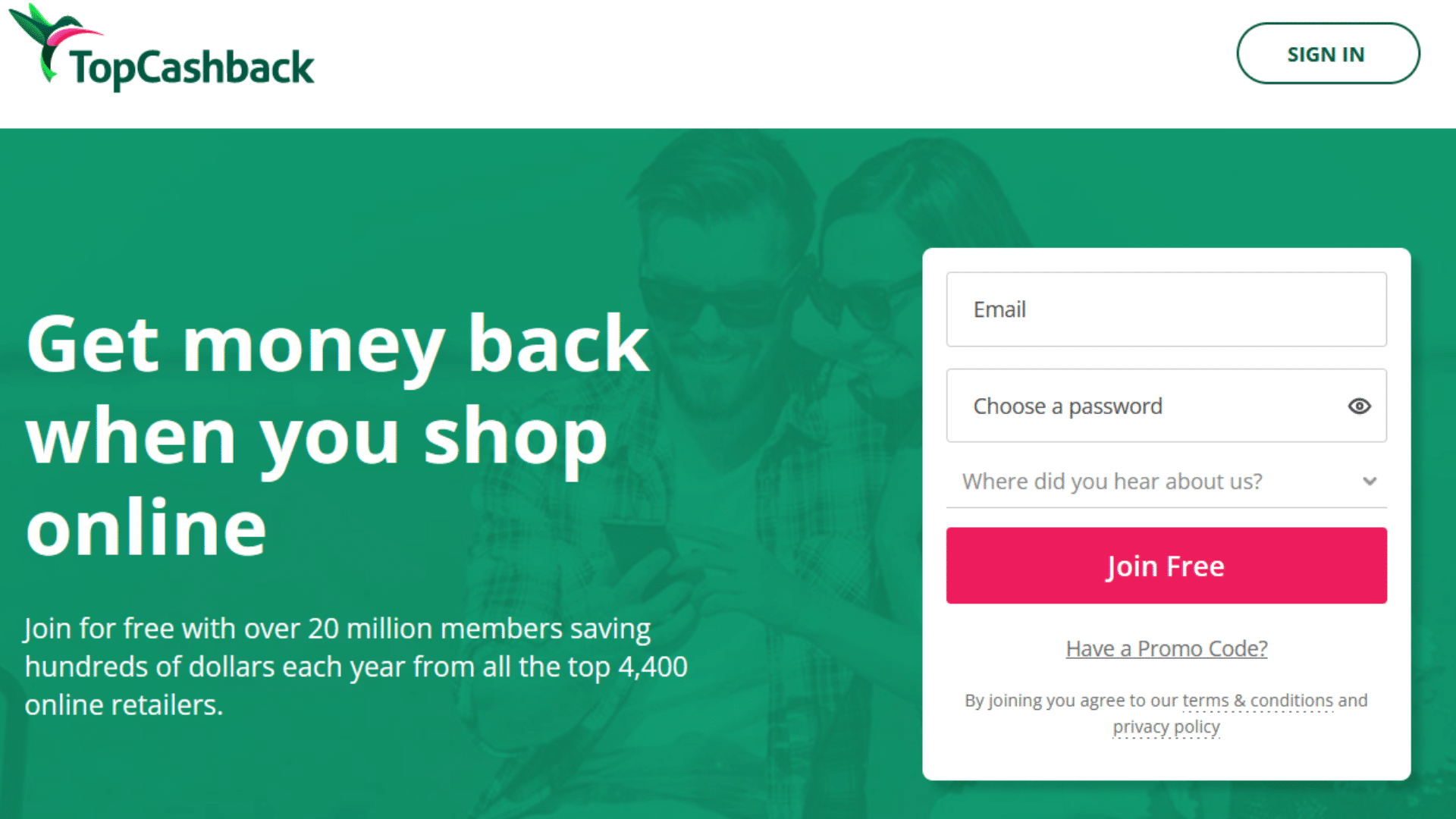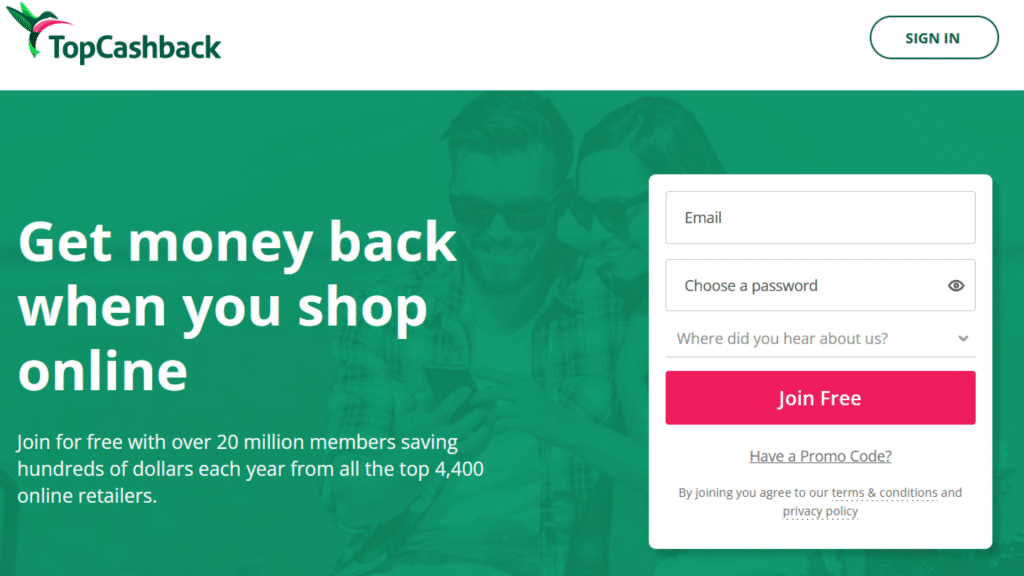 Login to the website, and you can immediately download the TCB app. Provide a valid email address and create a password. Now, you're a member and are ready to search for cashback offers.
If you see a listed cashback offer that interests you, click on it. The TCB app will send you to the seller's website, where you can shop just as you always do. In the background, the TopCashBack app tracks your activity to credit your cashback into your TCB account once you pay for the item.
You will always know the exact amount of potential savings before making a purchase. There's no guesswork.
Notice that everything is online. There are no in-store deals or offers. If you don't do a lot of online shopping, the site is probably not a good match for you. For people who routinely buy items online, it's a great way to get higher cashback rewards than on most other, similar sites.
Special Payouts & Coupons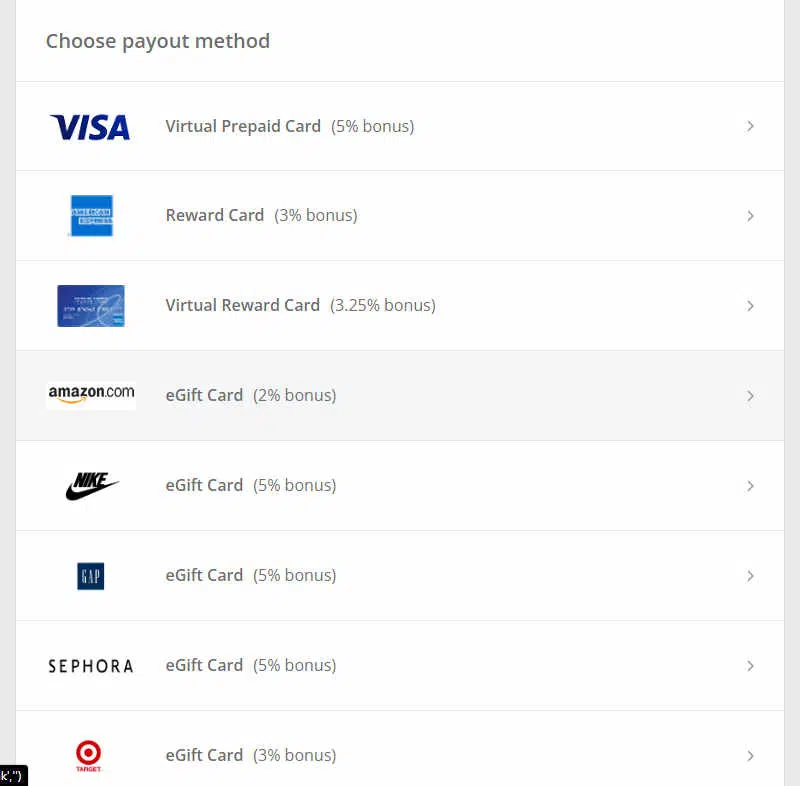 You can pump up your payout total by using particular payment methods. For instance, if you use Visa or American Express, TCB gives you between three and five percent extra. Note that these specials typically happen during holiday months and not year-round. If you shop on Amazon, you get 8 percent, or up to $15 of your purchase price back. TCB runs seasonal special for Walmart shoppers, usually during holiday season.
Shoppers can also use coupons when searching for cashback offers on the TopCashBack website. You can redeem the coupons when shopping, and it's okay to use them in conjunction with the cashback amount. Some coupons are stand-alone, meaning there is no cashback amount offered. You get a dollar amount or percent off a specified item.
Alerts & Referral Bonuses
If you don't want to miss out on offers, consider downloading the TCB extension for your browser. Then, if you forget to visit the TopCashBack website first, the app will alert you when you visit a partner's store. The alerts are a smart way to make sure you know about all potential deals.
Also, when you refer someone to the TopCashBack site and sign up, you will get about $15 when that person earns their first ten dollars in bonuses by using your unique link.
Pros & Cons
No cashback website is perfect. Even though TopCashBack is unique in giving 100 percent of commissions to users, it has its unique mixture of benefits and drawbacks, including the following:

Pros
Cons
Customer Service
Besides its listed help page on the main website, the company is known for its attentive customer service team. If you have an issue with a payout, they work hard to resolve it.
Waiting for Payouts Expect to wait up to two weeks to get credit for purchases in your TCB account. According to TopCashBack owners, there's a lot of time involved in cycling the discounts from the original purchase through to your cashback balance.
Higher Rewards
Compared to its rivals, TCB pays generously and regularly. In addition to receiving 100 percent of sales commissions, users have the chance to earn extra by referring others to the site, using coupons on designated items from TCB partners, and paying with Visa or American Express.
No Signup Bonus Unlike almost every other cashback website, you won't get zillions, thousands, or even hundreds of "points" for signing up. The company says it focuses on giving you 100 percent of commissions it gets on sales items, so they don't need to boost your account total with day-one bonuses. There are promotions to get products for "free" after cashback for new users which can net you $10-$30 depending on the promotion so this is actually kind of like a sign up bonus.
Lots of Retailers
As noted above, there are in excess of 4,500 retailers for U.S. users to choose from. The company is constantly adding new sellers.
Multiple Payout Methods
If you want cash, TCB sends the money to your ACH designated account or PayPal. If you want an Amazon gift card, you can choose those methods as well and capture an additional 2.5 percent of your total payout.
Recent TopCashback Promotions
FAQs
How do you find cashback deals on the site?
You can either search for items right on the TCB website or wait for an "alert" from the app when you start shopping at a particular retailer.

You must enable browser alerts to get this service, but it does a great job of helping you avoid missing out on a good cashback deal on items you're going to purchase anyway.
Is there an average bonus amount?
If you want a ballpark number, expect to get between three and five percent cash back on purchases you make through the TCB app.

If you have a family and do a lot of online shopping, four percent of $5,000 annual spending comes to $200. That does not include any referrals or coupon-based savings, which could up the amount you save.
Is TopCashBack completely free?
Classic accounts are free and most popular among most users. The company offers another "enhanced" version called "Plus," for users in the UK only, for a small annual fee of about $7. Members who have Plus accounts get higher cashback rates, higher referral bonuses, and many additional promotional offers, coupons, and deals. 
TopCashBack is an excellent way to earn up to several hundred dollars per year in cash or gift cards for consumers who frequently shop online. The app is easy to use, and there are well over four thousand retailers in the network. Note that there is no signup bonus and payouts take about two weeks to hit your account.