Here is the latest sample update for this week. I hope you all had a fat mailbox full of samples and a happy Mother's day this past week. As usual I'm sticking with the "The Good, the Bad and the Ugly" theme for this update. Let's start with the good news.
The Good: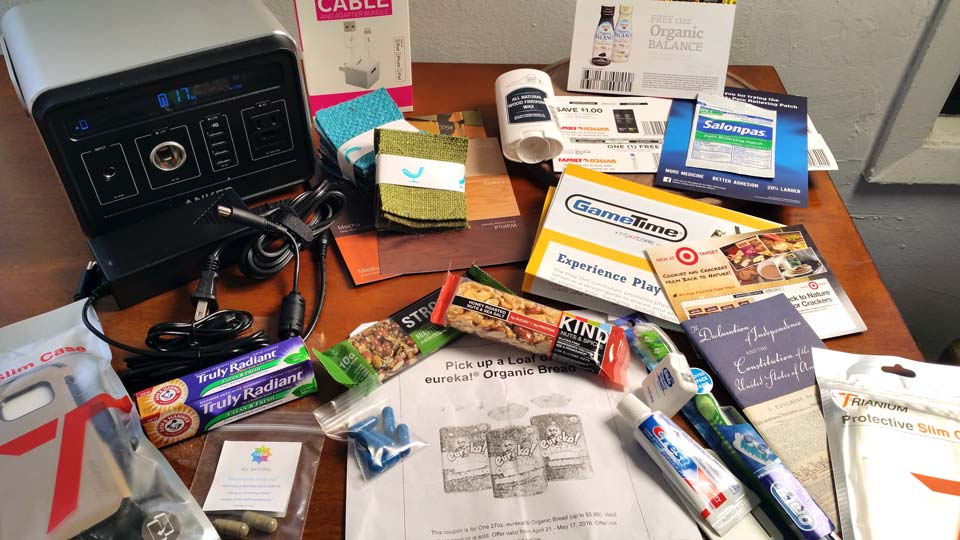 Freebies received: Here is the list at random, I'll link to the ones I know are still active, otherwise assume they aren't active but feel free to email me if you have any questions. The big box is from the Anker promotion, it's the powerbank, not a defibrillator! Then the cable in the back is from the Francois Et Mimi products email list, the Gametime poster, Salonpas pads, The wax stick is a late delivery from the Arousing Appetites promotion, the Family Dollar coupon is from last month's Facebook promotion, Truly Radiant toothpaste with toothpaste from my recent Dentist trip (they count as freebies!), Napz sleep aid, 2 cases from short-lived Amazon multi-use codes, Kind Bars, GMP Liquicaff Energy Samples, Constitution and Declaration of Independence Booklet, organic Protein Shake coupon, a Eureka bread coupon from Mom's week (got a few more things but didn't print them too), color swatches from Joybird, a Back-To-Nature Target free product coupon and what is missing is an LEDNut light that I got from an Amazon review-for-freebie exclusively for our Facebook group (which rocks).
Aero Fulfillment: This arrived after writing this, it was the Sensi-Stop Strips.

I got a second order delivery email from Aero Fufillment, I didn't order another "CSSS 2ct Samples" (whatever that is), but a second one is coming. Yay?

Antioxidant Natural Sunscreen SPF 30 Oil-Free Face Lotion: This has been shipped according to this email: "As the weather heats up, it's time to slather on the right sun protection. Your complimentary sample plus a coupon will arrive by mail in the next few weeks so be sure to keep an eye out." – shipping samples is always good news!
Fake offers: in the last sample update I asked you to report a page with a fake offer, while the page is still up, we took down on of the posts! And it looks like Facebook is reviewing the page still but either way, one post gone is good news, thanks to everyone who reported the page.
The Bad (Not Coming):
Betsy's Best: If you haven't heard from them yet, well bad news: "Sorry, but it means you will not be getting a sample. We had over 12,000 requests within minutes and completely ran out." but the good news is they said they will have more samples in 2017.
3 Lip Smacker Balms: If you haven't gotten any sample notices, well, also bad news, it won't be coming because "Signups exceeded supplies, as stated upon signup" but at least they mailed out a coupon, but my hunch was their supplies were very low anyways and they just wanted our emails, well played Lip Smacker, well played…
Cambridge Sound Hat: This most likely isn't coming, they asked to be removed from the site.
The Ugly (Fakes):
Optimum 15% Vitamin C Facewash: I posted this but saw it going around the other sites again. You get another "Can you help us?" form pops up after you sign up for this one. Definitely not going to be mailed out. URL to avoid it: https://s3.amazonaws.com/optimumfacewash/index.html
Cammile Castor Oil: Another fake offer to avoid, the spa isn't just handing out expensive essential oils of that size. It also has a "Can You Help Us?" after you sign up (with more information than usual for fake offers). URL to avoid it: http://salonanddayspa.org/freecastoroil.html
That is all I have for the sample update today! Do you have any updates to contribute, send me an email at freebie-updates@yofreesamples.com