Free Sample News Update: Double Decker Macara, Jamber Ergonomic Mugs, Libman Mop, Emoji Tears of Joy Mask, Skosay Sample Box, Kars 4 Kids Backpack, Black Seed Oil, Garment Bag, Foothill Farms BBQ, Total Detox Tea, Hot Cocoa Kit From Coffee By Bree, Cloud Nine Homemade Soap, Onnit Alpha Brain Instant, Denim Hat, Activating Water Essence, Ice Ball Maker, Evil Energy, I Spy Mr. Nice Guy Magnet & Vinyl Handle Bag
Important Note: When you buy through our links, we may earn a commission. As an Amazon Associate we earn from qualifying purchases. Content, pricing, offers and availability are subject to change at any time - more info.
Hello fellow freebie hunters,
Welcome to another mailbox update, I haven't done an update in a few weeks because the samples in my mailbox were pretty light at the end of August/start of September however, it picked up at the end of the month as you can see from the photo! And as usual I'm doing with the Clint Eastwood theme of "The Good, the Bad and the Ugly" for this update. Let's start with the good news.
---
Advertisement
---
The Good:
Samples & Deals from August 24th 2016 through September 25th 2016: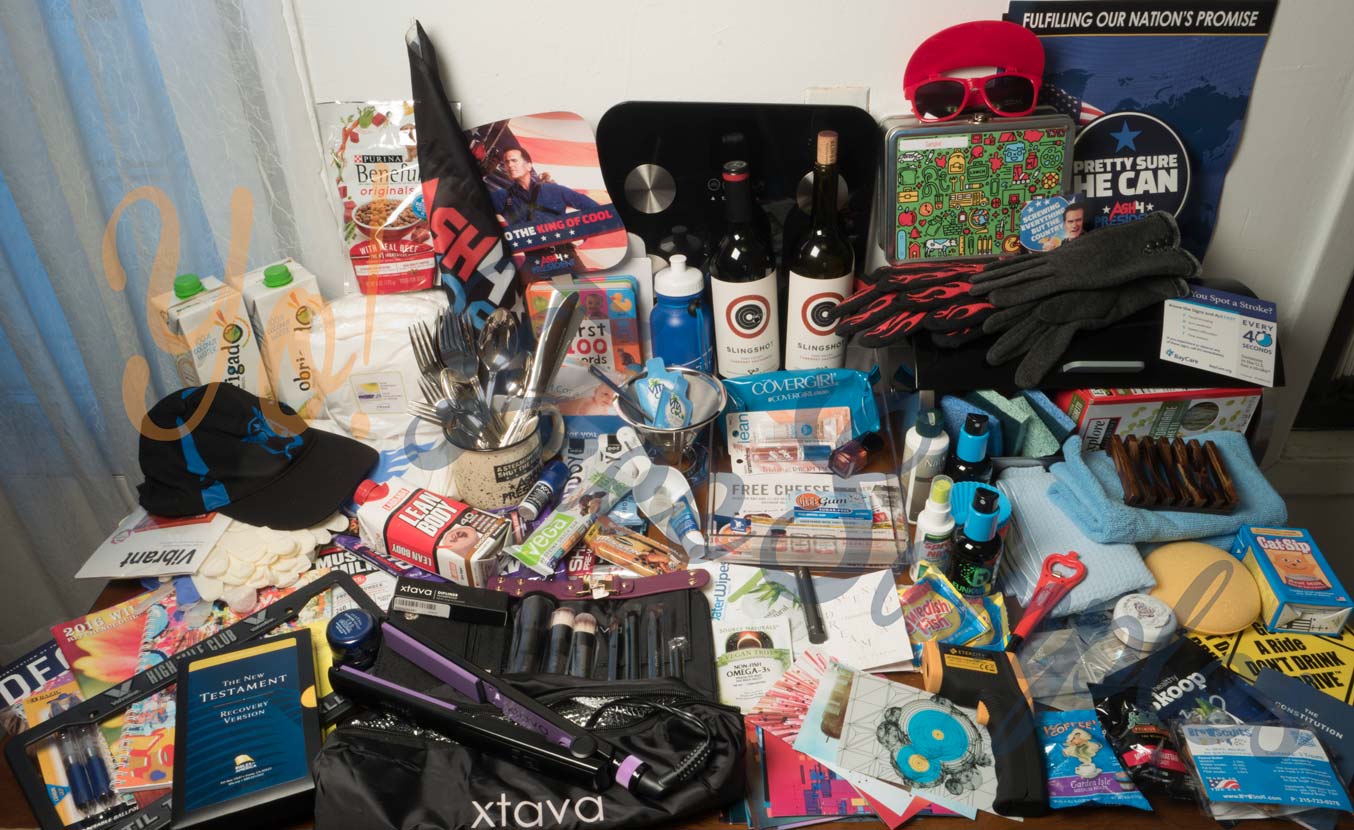 Psst.. you can click on the image above to open the image full-size in a new tab.
Mailbox Highlights:

TENA Trial Kit: I got an email that the sample kit was back-ordered here, but I already got the actual kit shortly after so it was the shortest back-order ever. Check it out in the left hand side of the freebie photo above.

Flyte Socks: This was from way back in March but they are finally fulfilling the socks! The only downside was a $7 shipping charge, but hey, it's still a sweet deal on pair (or more) of socks.
The Bad:
Total Detox Tea: Total Tea couldn't handle the heat of offering a freebie promotion to the public and they didn't factor in that for the most part: all freebies go viral on the internet. Now they know to "design" their giveaways for that. Luckily after their snarky comments in their email they were smart enough to offer a 50% off discount code (I would share it here but it expired weeks ago).

Double Decker Macara: Butter London also couldn't handle the freebie heat and doesn't have enough units to go around according to their email. They did offer a 20% off discount code as a thank you for the interest. However, if you are interested in the code check out their email.

I Spy Mr. Nice Guy Magnet: Just got an email from them saying they "will not send them to anyone who is not in the Philadelphia area." – so unless you are in the right area, don't expect this cool looking magnet unfortunately.

Activating Water Essence: By the time it reached this website the limited supply was depleted. At least they followed good apology practice for freebies and offered a discount code in their email here.

Evil Energy: Another refer-a-friend promotion ended early due to "spammers" according to an email they sent out, I honestly think it was a mix of spammers and under estimating the power of freebies for businesses. They did claim to honor anyone who got sign ups which is always good sign.

iwon Protein Chips: This was actually a contest and not a sampling program, they sent out an email saying they are choosing 500 winners. My apologies for the error on the post suggesting it was a sampling program.

Onnit Alpha Brain Instant: My job is to test freebies and make sure they aren't scams, the worst scam of all is called a negative option billing scam. Usually it involves getting a free trial or a free sample where you have to pay shipping. Then a few days or weeks later they hit you with $50, $80 or even $100+ charges to your card for more product. There are plenty of legit sample size products where you just pay shipping that I've gotten and shared, but this one didn't advertise it was a trial and I sincerely apologize for posting it. I'm not proud of how I did it but I angrily tore the CEO apart on Twitter for the misleading sample promotion that didn't disclose any future charges after and I even asked their support without a response. Expecting nothing in return, I reported them to the FTC and reversed the charge back by calling my bank, what anyone should do if they fall for a negative option billing scam. The CEO actually updated and fixed their promotion page which was a pleasant surprise. Still, I got scammed, I was too mean and I try to avoid scams as my job for you. So, my apologies for posting that one. Luckily, it ended with it being fixed for the rest of the internet.

Skosay Sample Box: This sample box looked like it turned out to have a limited supply and I got a text saying they ran out of stuck but I'm still on the list. So for most of us, we won't be getting it this time. However, this company has sent samples in the past so I'm still positive towards them despite the sad news.

Jamber Ergonomic Mugs: I got a polite email from Jamber stating "Unfortunately, we cannot give everyone a free sample pack, as these are for senior living professionals (as you noted in your website). Thank you for posting this info, though we were not ready for the traffic or requests. Although, it is exciting to see how many people want (and need) our cups." – I suspect a very small portion of you may actually get cups if you are really the target market for them but most will not. Either way, a really cool product to discover even if you didn't get one and a polite President. But overall for freebies: bad news, it's not coming.

Kars 4 Kids Backpack: I got the dreaded email (and you did too most likely) stating "We received your request for a free backpack. Unfortunately, the demand was far greater than we expected." at least it was worded politely and it was for a good cause.

Foothill Farms BBQ: I got an email asking to remove it from the website which means bad news, even if you were a food service professional, it most likely got invalidated and will not be coming.

Libman Mop: Thank you to Tonya, Katie and all the other readers who shared this news. This mop promotion was meant for a select group of people according to their email. Unfortunately for them, that threatening email sent the wrong message to interested consumers. Oh yes, they had a coupon included too.

Emoji Tears of Joy Mask: If you managed to order this one on Amazon using the code to make it free + free shipping. Well, if you missed the email or were curious: it got canceled "due to a technical error" shortly after.

Essie Nail Polish & All Toluna "Freebie" Offers: After speaking with many of you on Facebook and other places, I'm not going to post these "Toluna Freebies" in the future. Yes, I can make $2-$3 if you sign up, but I'd rather have realistic freebies. It feels like this is just a ploy from a borderline sketchy survey community that emails the hell out of you (from my first day I got like 8 emails) to get freebie sites to pawn their readers off to them for a buck. I also discovered from the limited (500~) products, they don't randomly select, they prioritize people who are active in their 'community' of survey takers. Not worth it most of us will never get it (like a contest with low chances of winning). Thanks all for feedback and listening to my rant. If you really want to see these posted still shoot me an email at freebie-update-toluna@yofreesamples.com.
The Ugly:
Ice Ball Maker: Another fake one from the "Whiskey Association", as usual with fakes it asks "Can You Help Us?" after you submit the form which leads you to Fab.com or a scammy $500 gift card offer that takes you down an endless survey path that will never net you any freebies. URL to avoid: https://www.facebook.com/Independent-Whiskey-Association-624025670941047/app/?sk=app_160430850678443

Denim Hat: What small tailor shop gives away free hats? None I suspect. And Mary's Tailor Shop is no different, unless it was run by scummy nasty scammers of course. Fill out the form to get your free Denim Hat and you guessed it, you get "Can You Help Us?". URL to avoid: http://marystailorshop.com/free_hat_sample.html

Hot Cocoa Kit From Coffee By Bree: This was supposed to be a new product launching this year. I circled back to check on it this month and well, it wasn't good. The entire website is just a "parked" page with ads on it. That means Bree never launched or worse a scam to collect personal information. URL to avoid it (not that it goes anywhere now): http://coffeebybree.com/#contact

Cloud Nine Homemade Soap: Another "Can You Help Us" fake business. URL to avoid: http://www.cl9udsalonspa.com/soap/

Black Seed Oil: This one almost seems legitimate besides the horrific artwork because you have to take a funky quiz. After taking the quiz however, you get slammed with the "Can You Help Us" page, oh you clever scammers. URL to avoid: https://www.facebook.com/blackseedherbal/app/190322544333196/

Garment Bag: Just take a guess what make this one fake. Can you help me? URL to avoid: http://hallmanstailor.com/content/spec/index.php

Vinyl Handle Bag: When you fill out the form with literally nothing and the form submits, bad sign. When it says "Can You Help Us?" even worse sign. URL to avoid: http://variouspackaging.com/samples.php
That is all I have for the sample update today! Do you have any updates to contribute, send me an email at freebie-updates@yofreesamples.com
– John 'Samples' Clark