Walmart Penny List Online
Important Note: When you buy through our links, we may earn a commission. As an Amazon Associate we earn from qualifying purchases. Content, pricing, offers and availability are subject to change at any time - more info.
What Is the Walmart Penny List Online?
Over the course of the last decade, there's been a cultural shift that altered the impact of different marketing strategies. Now, the truth is too big to ignore: deals drive sales.
---
Advertisement
---
80% of Americans say they're more likely to try a brand for the first time if they'll get a discount. 81% of us mentally center deals and promotions throughout our whole purchasing experience.
And the trend will only get bigger: Millennials and Gen Z shoppers use coupons and deal-finding tools more than older adults. Brands in every product category have taken note. Today, it's possible to find a wide swath of goods on penny lists.
What's one tragically underrated list of clearance deals? Walmart Penny List Online.
Walmart already uses its "rollback" promotions liberally. Often, the retailer sets items at the lowest price you'll find anywhere. Sometimes, that price is just one cent.
But what are penny lists? And how can this one get you the best prices at Walmart?
What is a Penny List?
A penny list is a list of incredibly discounted items at a retail store (like Walmart). In some stores, an item is automatically priced from one cent to three cents if it's meant to be unstocked.
But, if you snag one of these products, you'll often be able to purchase it at the steep discount. Because the items are supposed to be removed, employees might not show you discounted items if you ask.
Yet, you can still purchase the items in a few ways. Walmart reflects these extreme discounts in its online store when you set your location.
You can access these goods destined for un-stocking on their store site. Or, you can find clearance prices in-store when you use the app.
More Than a Penny
Some penny lists include great deals that are more than one penny. For example, the Walmart Penny List Online can be browsed here. The penny list details Walmart deals for items up to one dollar. This is one of the best and daily updated resources for Walmart deals with items one dollar or less (also known as penny shopping).
Why Go Penny Shopping?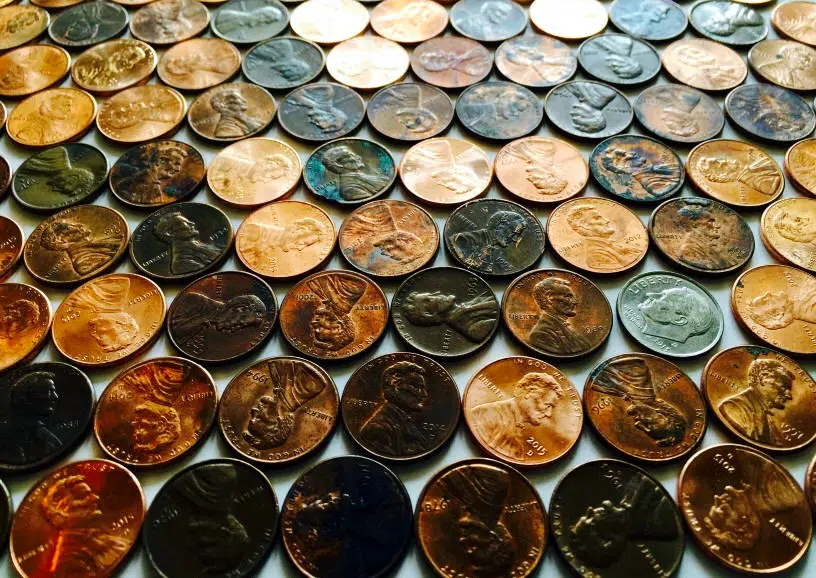 Penny shopping lets you save money on needs and things you just want. Deal hunting at local stores can net you bargains on new items. When it comes to clearance items, you'd be surprised what you can find at Walmart for just three cents.
Friendly Competition
Penny list shopping goes far beyond typical shopping. Instead, it's fun and gives people a sense of community. People enjoy helping each other find exciting deals in their neighborhoods and around the country.
At the same time, the scavenger-hunt spirit can spark a deal chasers' competitive side. If you're the first to spot the cheapest items at Walmart, you might feel a sense of accomplishment.
Donate Locally
Some penny list hunters donate items. After all, you might not get exactly what you want; it can be a roll of the dice.
Learn what your local food bank or shelter is looking for. That way, you can bring them the goods they need, but don't have time to track down.
Flip Your Finds
Finally, it's not uncommon for penny shoppers to resell their hauls on eBay. Flipping items is a great way to make a little extra cash.
Since eBay demands sellers price no lower than ninety-nine cents, it's easy to make at least a small profit. Before flipping, learn what items are lightweight enough that shipping is low-cost.
Walmart + Dollar General: Penny Shopping
Dollar General penny shopping has been popular for a while now and some would say really started the penny shopping trend. Dollar General and Dollar Tree will actually price items at one cent.
Dollar General penny deals are well known at this point. You can find dedicated, up-to-date penny lists for both stores.
Sometimes, staff may hesitate to actually sell you the one-cent product. They might get in trouble for not un-shelving the price-dropped item. But, these sales do happen.
As shoppers caught on to one-cent deals at dollar stores, some started to look for them elsewhere. Walmart was the next obvious place to explore.
Walmart Deal Hunters
While Walmart doesn't have goods that cost literally one cent, there are absolutely items for one dollar or less. Sometimes far less.
Like Dollar General, Walmart automatically price drops certain clearance items. Penny shoppers have discovered these items for as little as three cents.
Ever since Walmart became a reliable hunting ground for great deals, shoppers have shared tips. To learn how to find penny deals at Walmart, consider focusing on one of two tracks: your local brick-and-mortar store and Walmart Online.
Walmart: Lowest Prices at Local Stores
When you go penny shopping at Walmart, keep your eye out for three things:
Clearance products
One dollar items
Temporary great deals
These three types of deals will save you the most money. To set yourself up for savings success, there are a few things to do before you start shopping.
Walmart Savings Starter Pack
To start saving at Walmart, get three useful resources. Specifically, you'll want to:
Download the Walmart app
Create a free Walmart account
Subscribe to deal alerts
The Walmart app and website are critical to discovering deals. Moreover, the app makes checking prices easy, and it empowers shoppers to save in other ways.
A Walmart account is free, and it dramatically increases your savings. You can set one up easily with your Facebook or Gmail account.
Finally, deal alerts come in many forms. These can be from social media groups dedicated to savings, SMS texts about time-sensitive offers, and even digital coupons directly from Walmart itself.
Often, signing up for alerts costs nothing more than your name and email. Try a few different options. Then, stay subscribed to the ones that work for you.
Find What You Want In-Store
To find the best deals in-store, start by checking alerts. Penny shopping pros might have information about new Walmart 1 dollar items. Or, maybe they've got a scoop on exciting clearance deals.
Then, log in to your Walmart account online. Select your location. For best results, set as wide a radius as you feel comfortable driving.
Walmart App Store Assistant
When you get to the store, open the Walmart app inside. This will open Store Assistant. The Store Assistant lets your phone or tablet's camera scan items.
This feature is called "Scan and Go." If you hear about an item on clearance, but that item isn't labeled with a clearance price in the store, scan the barcode. Often, the Store Assistant reveals the true, clearance price of the product.
It's worthwhile to scan a large number of different items. While many will have scanned prices that are identical to their sticker price, others will show a price drop that nets you a better deal.
Like we mentioned previously, some items are price-dropped to three cents. This happens when corporate wants staff to remove them from shelves.
But, Walmart employees don't always remove items efficiently. Sometimes they miss things.
So, it's worth it to check for any products that have been pushed to the back of a shelf, behind other items. Also, look underneath shelves and racks.
These poorly-stowed items may be products staff hid temporarily, so they can remove them later. Scan the products and, more likely than not, you'll find these hidden items have been price-dropped to three cents.
Walmart Penny List Online
It's relatively easy to find penny deals at Walmart's brick-and-mortar stores. But, it's a breeze to score great deals online.
You can shop at Walmart virtually using the Walmart app. You can also shop the store's in-browser site.
Start your "savings search" logged into your Walmart account. If you want to remember specific deals penny shopping sites features, feel free to keep those lists open in a different tab. Once everything's open, the hunt begins.
How it Works
Start searching your deals by choosing a product category. There are eighteen categories, which all encompass sub-categories. Popular product categories include:
Electronics & Office
Beauty
Pharmacy, Health & Personal Care
Food, Household & Pets
Baby
If you're looking to flip cheap finds, try the "Toys" or "Home, Furniture & Appliances" categories. It's possible to jump on popular trends in these spheres relatively quickly.
Category Sorting in Browser
Once you've chosen a category, the default setting sorts products by relevance. Click on the drop-down menu labeled "Sort by." It should be on the right-hand side of your screen online.
Open the menu, then choose "Price: Low to High." The site will now display the cheapest items in the category.
The site may note that it's sorting results both by price *and* relevance. To change this, just click on the hyperlink text in the notification.
The products will be sorted from lowest-price to highest-price. But, some will only be available for in-store pickup.
Refine Search Results by Price
Another way to find low-priced items is to refine your search results. At the top of the display of a category's stock, there's the title "Refine by," then three drop-down menus.
Click the drop-down menu titled "Price." Then, to find the cheapest things on the Walmart website, set the minimum price as $0 and the maximum price to $1. The results will display Walmart 1 dollar items in that category–and everything cheaper than that!
If there are no items for less than one dollar, try again with a two-dollar maximum.
Find Deals Using Walmart App
The Walmart app lets you access most of the same functions the website does. The primary differences are the icons and user interface.
You can still sort categories by price on the app. And, you can filter search results by price on the app, just as you can on the website.
Savings Spotlight and Inventory Checker
Walmart highlights its biggest advertised savings with its "Savings Spotlight." The Savings Spotlight highlights the best deals in each category. It also features top overall picks.
You can view products under the Savings Spotlight when you open the product category menu. Savings Spotlight is the topmost category under "Departments."
While this feature won't highlight hidden, three-cent clearance items, it's a useful way to peruse deals quickly.
Inventory Checker
You can also use an inventory checker when you're deal-hunting on Walmart.com. An inventory checker shows you discounts on a specific item in different Walmart stores and fulfillment centers. It uses the product's SKU to seek it out across the internet.
You can use an inventory checker without an item's SKU. Most inventory checkers offer a search bar that lets you look up a type of item.
Then you can choose a specific version of that item from among the search results. This gives you an SKU to work with.
Walmart+
You can try out Walmart+ for free, for the first fifteen days. Walmart+ offers you free shipping. It also offers free delivery from your local Walmart.
Walmart+ subscribers can take advantage of benefits like:
significant savings on prescription drugs
fuel perks at Walmart & Murphy gas stations
mobile scan & go
Items, Deals, and Promotion Codes
Beyond searching for low-priced items on Walmart.com itself, there are places to find extra deals, promotion codes, and secret clearance items.
In addition to the penny list newsletters previously featured, consider browser extensions. Some browser extensions can alert you when new sales happen.
You can also discover promotion codes and deals on social media. There are subreddits like r/walmartdeals that focus on getting the most out of Walmart. Meanwhile, explore general deal-hunting subreddits like:
r/frugal
r/deals
r/couponing
r/refferalcodes
r/giftcardexchange
Facebook groups can be another source for surprising savings. Walmart Coupon Deals & Savings Sharing is a public group with over 45,000 members. All the coupons and deals are Walmart-centered.
You can also discover groups with a local savings focus by searching for "savings" or "coupon" group, then the name of your city.
Finally, some YouTubers share their penny shopping secrets. Check out videos with titles referencing "online deal
Maximize Savings
You'll get the most out of the Walmart penny list if you combine it with other strategies. Coupons and cash-back apps can increase your total savings.
You can also save more when you use a Walmart gift card. You don't even have to purchase one. Savvy shoppers can earn Walmart gift cards with games, apps, and free contests.
Get Free + 1¢ Finds Today
The Walmart Penny List Online is a great, oft-updated resource for Walmart deals. And, it's not the only deal-finder in our arsenal.
If you like one-cent items, why not take the hunt further? Score some freebies today!
So many companies offer free samples, cash-back coupons, contests, and sweepstakes. Peruse everything on offer in one place: right here at Yo! Free Samples. Sign up for our newsletter and you'll never miss an opportunity to save.