Best Online Stores Like Amazon (Amazon Alternatives)
Important Note: When you buy through our links, we may earn a commission. As an Amazon Associate we earn from qualifying purchases. Content, pricing, offers and availability are subject to change at any time - more info.
Key Takeaways
Amazon is not the only online platform for purchasing goods.
Some stores offer specific product lines, while others are more general.
Certain stores are cheaper as they sell directly from the supplier to the consumer.
Most stores/platforms have a loyalty program.
Many stores offer free delivery over a certain purchase amount.
Megastores, like Amazon, provide us with a golden opportunity to shop from the comfort of our sofas. The convenience factor is not the only advantage of these online shops, as some items may not be available except through online purchasing. Although Amazon has a monopoly in online shopping, many other competitive online stores exist. 
---
Advertisement
---
General Store Alternatives To Amazon
The most significant benefit Amazon provides is the range of products and services advertised on its site. No matter what you need, Amazon most likely has it on its platform, from furniture to gardening. However, there are a plethora of other online platforms offering everyday products, including:
eBay
Own products/Third-party products: Third party
Loyalty program: eBay Bucks Rewards Program
Delivery options: Flat rate and calculated amounts
Website: https://www.ebay.com/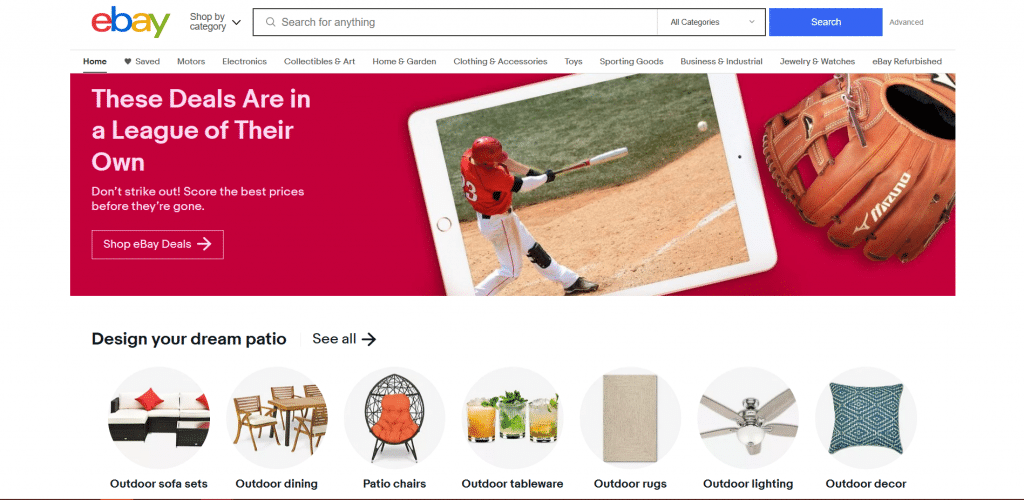 Established in 1995 in San Jose, California, eBay Inc. caters to a wide range of users with a vast product range and ranks 2nd place behind Amazon in popularity.
eBay owns nothing of what it sells but acts as a "bridge" between third-party sellers and consumers.
Some products on eBay are available for direct purchase, while others need to go through the auctioning process.
AliExpress.com
Own products/Third-party products: Third party
Loyalty program: Points and coins
Delivery options: Some free shipping on selected items to the USA
Website: https://www.aliexpress.com/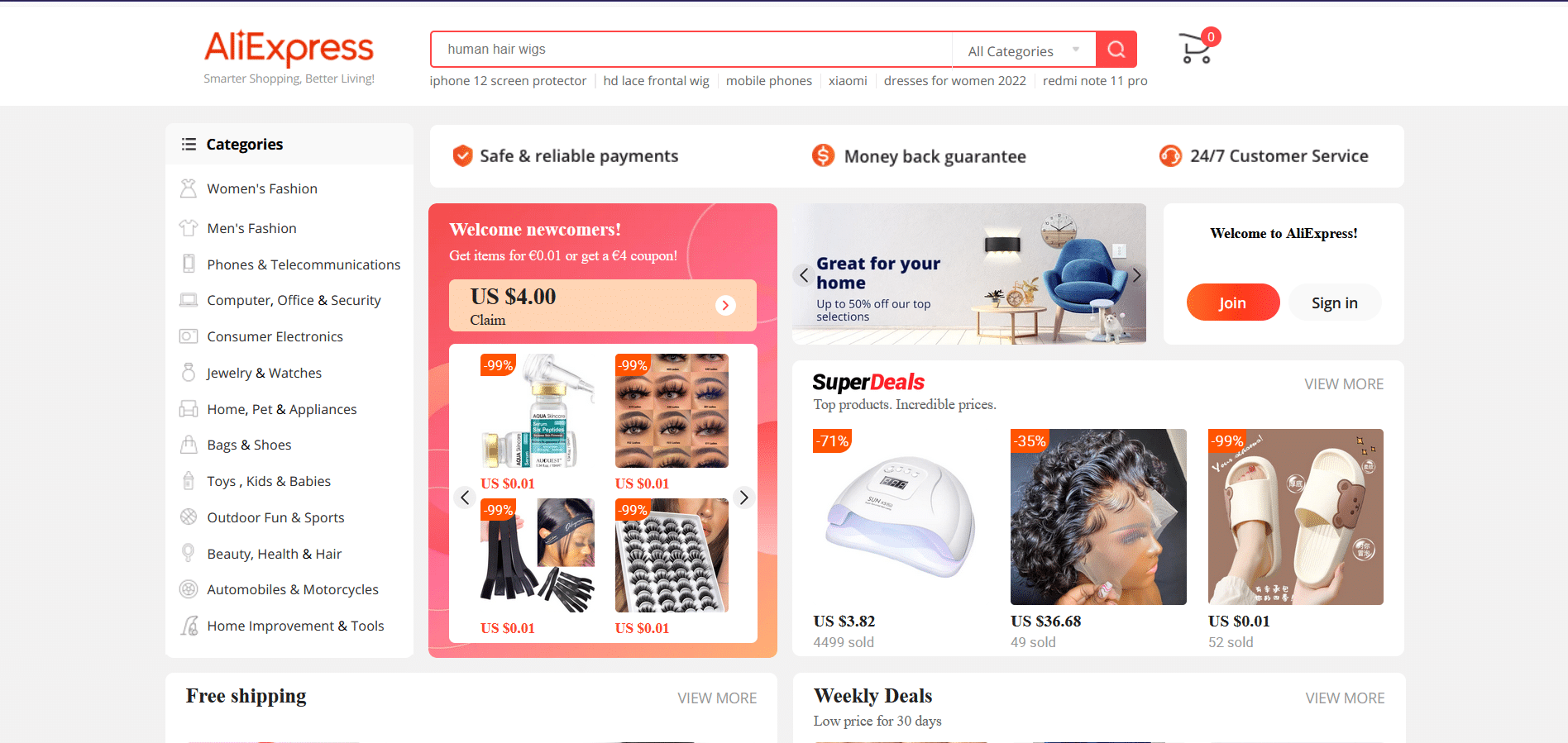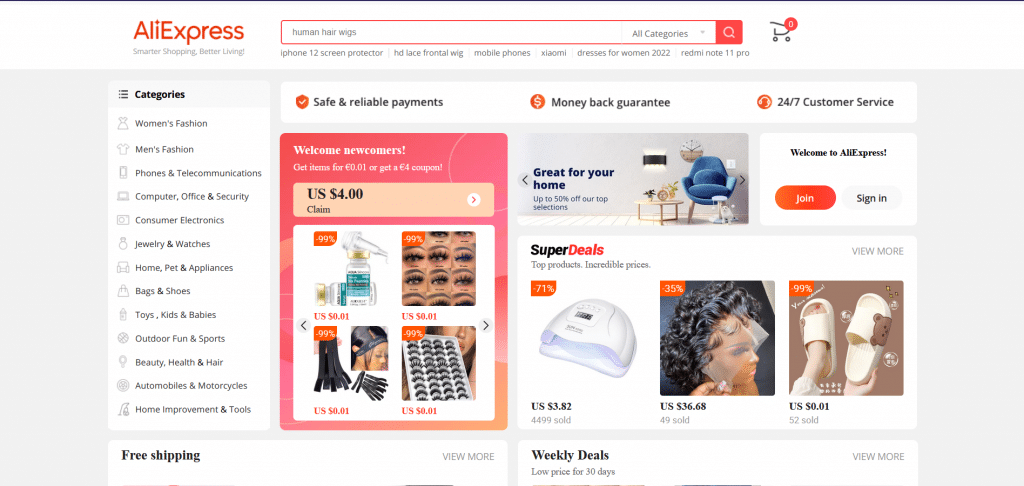 Beginning in 2010 by the Alibaba Group, AliExpress is a collection of small businesses from China and the surrounding areas.
The most significant feature of AliExpress is low product prices by selling directly from the supplier to the consumer while eliminating the "middle-man."
Aside from a tremendous range of products, AliExpress offers buyer protection by withholding payments to vendors until the consumer gives the "okay;" and offering full refunds for orders that don't arrive.
Facebook Marketplace
Own products/Third-party products: Third party
Loyalty program: Facebook loyalty program
Delivery options: Third-party companies (at the buyer/seller's expense)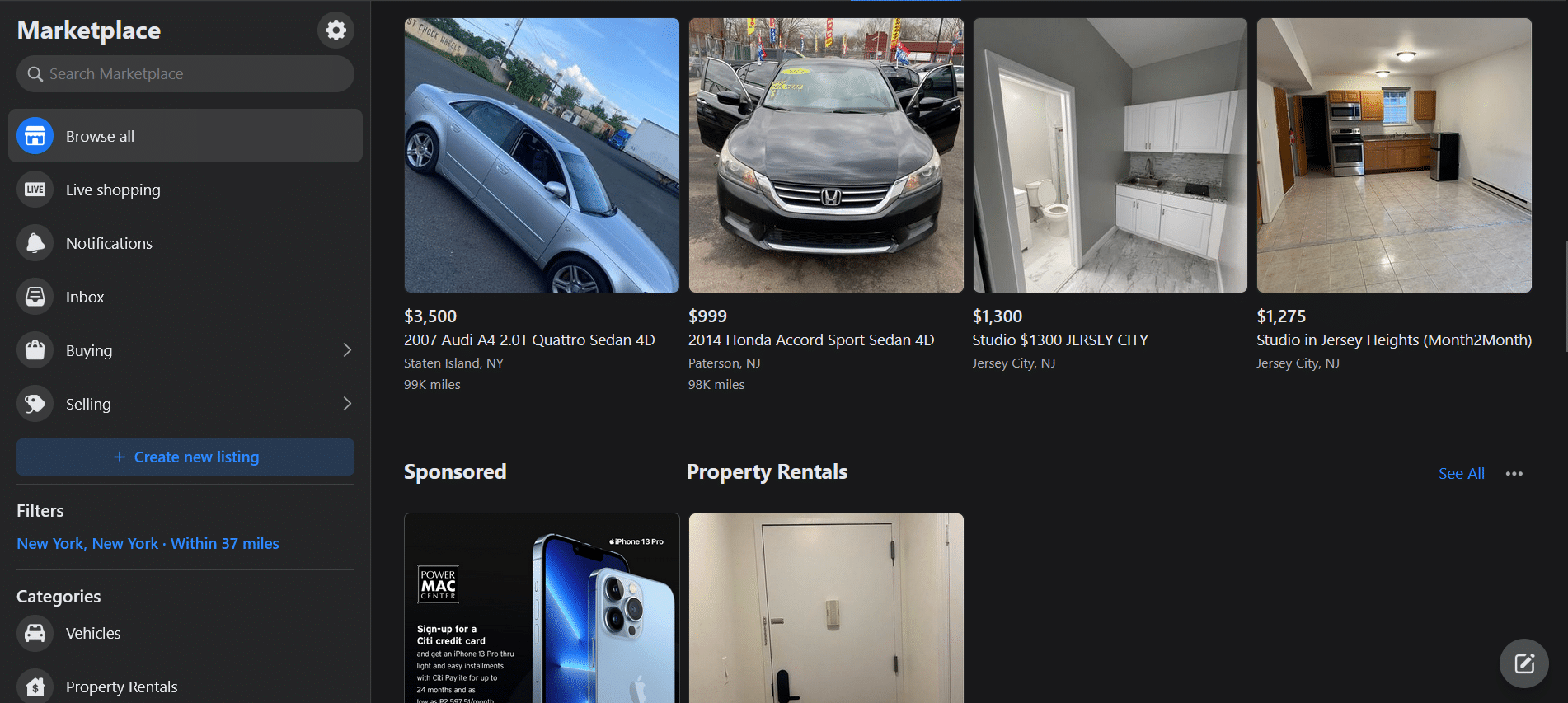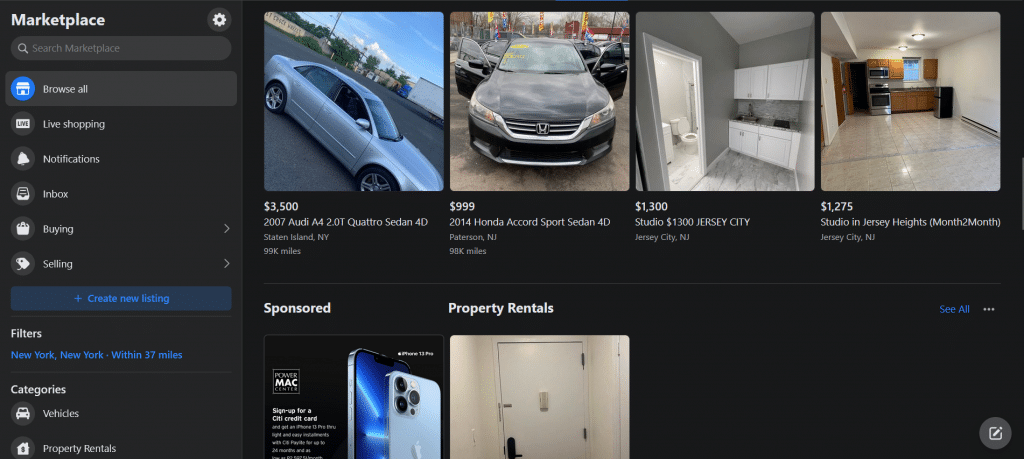 Many local Facebook groups and Facebook Marketplace are also places for people to sell their wares/services.
Facebook groups and the marketplace span various interest groups, from second-hand goods to hand-crafted items.
Transactions are at the discretion of the seller and buyer, but Facebook recommends either a cash payment or using PayPal or Facebook messenger. Facebook takes a 5% commission on items sold.
Overstock
Own products/Third-party products: Third party
Loyalty program: Club-O membership
Delivery options: Free delivery for members or purchase over $45
Website: https://www.overstock.com/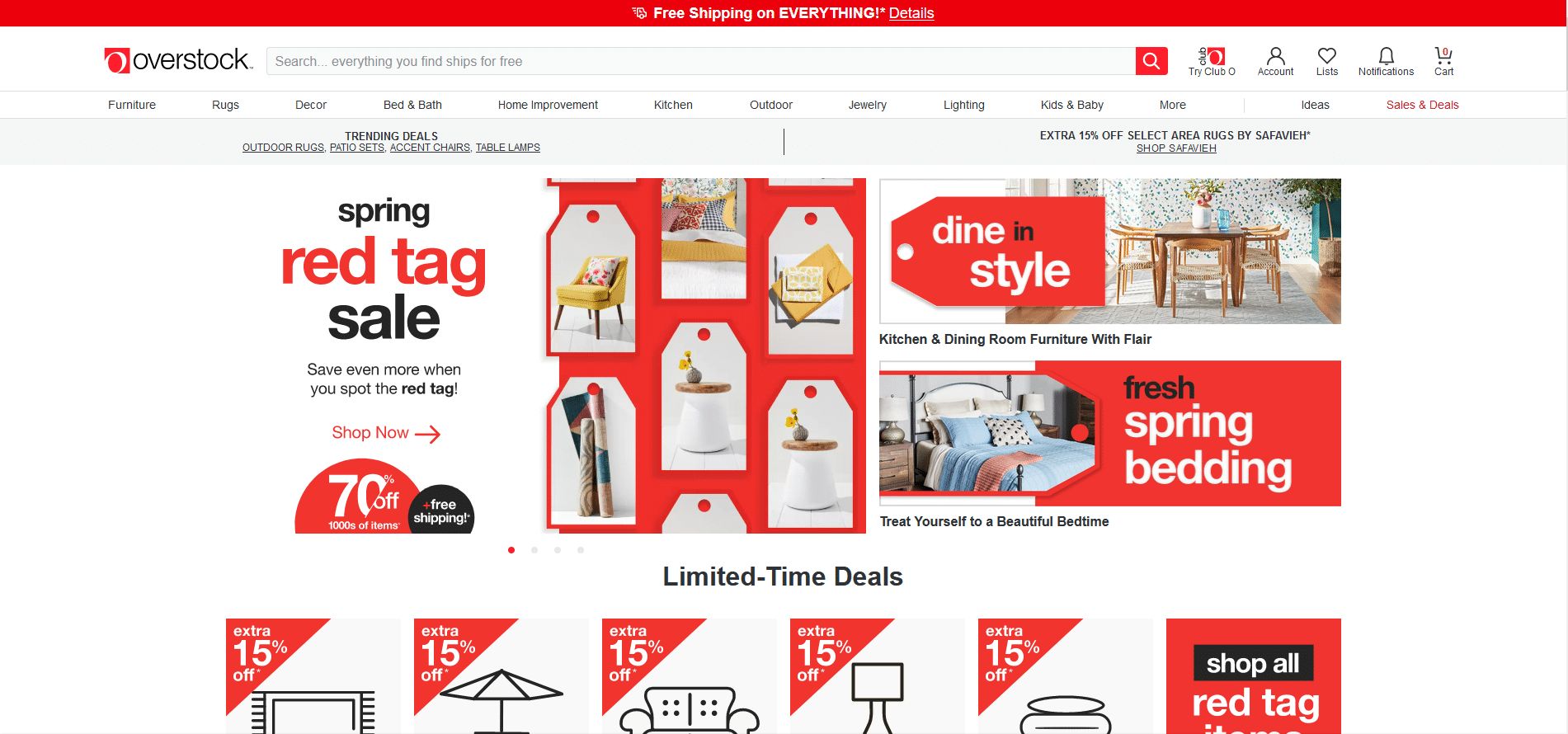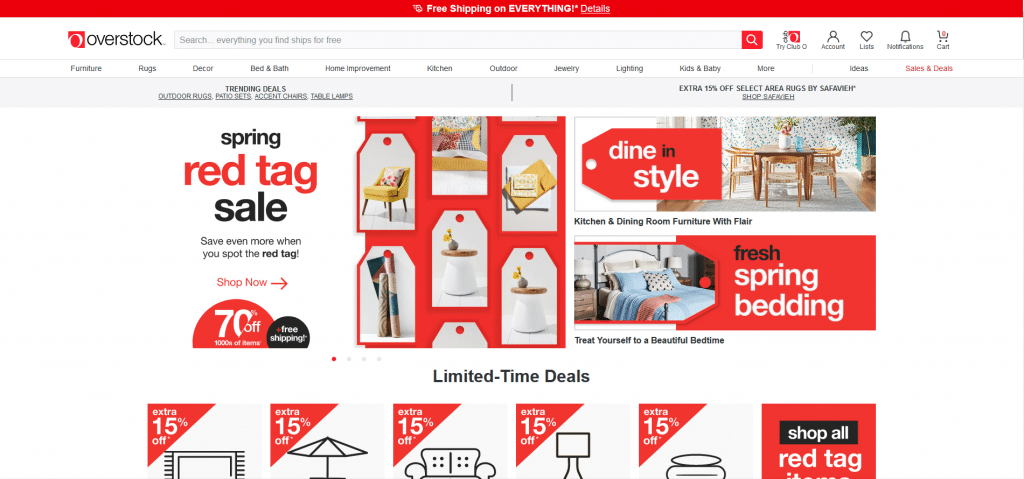 Overstock began as an e-commerce website for other struggling sites and as a place to sell surplus goods in Midvale, Utah, in 1999. They have also added new items to their catalogs.
Although they focus on furniture and home decor, Overstock provides a range of other items, like, jewelry, baby products, and sporting goods. Artisans who sell goods on the Worldstock program receive up to 60% of the revenue.
Overstock features competitive prices, up to $40 rewards for reviewing items, and membership includes 5% back in rewards.
Target
Own products/Third-party products: Both
Loyalty program: Target Circle Benefits
Delivery options: Free 2-day shipping (on purchase of $35 or more)
Website: https://www.target.com/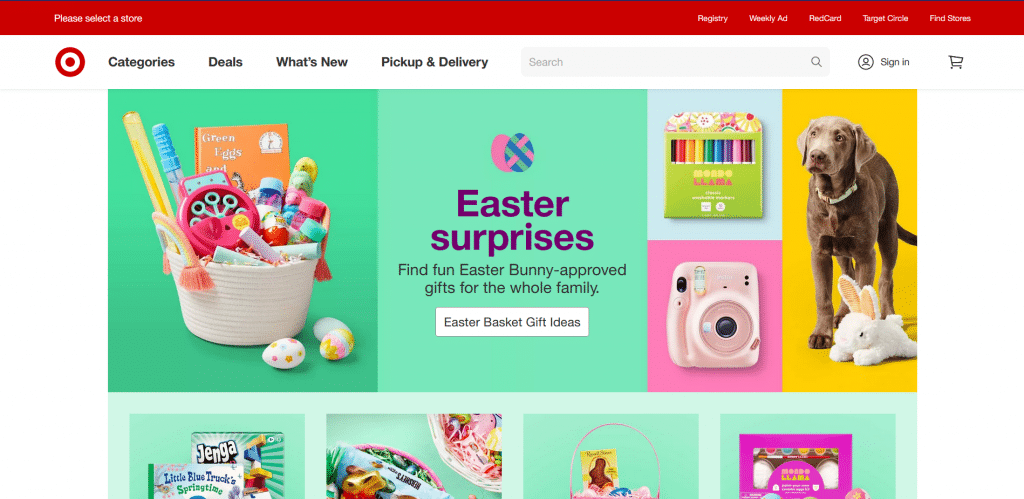 Target first opened its doors in Minneapolis, Minnesota, in 1962 as the Dayton Company and is one of the most popular general-store Amazon alternatives. Although their prices are a little bit higher than Walmart and certain other general stores, the quality product they sell is one of the best.
Although most of the products sold belong to Target, Target Plus allows 3rd party retailers to sell their wares on Target.com.
Target also has the added advantage of brick-and-mortar stores located in all 50 states, where you can "pop-in" if you need to/collect purchased items.
Bookstore Alternatives To Amazon
Some stores forgo selling general products and focus on niche markets; below is an example of an online bookstore.
Barnes & Noble
Own products/Third-party products: Own
Loyalty program: Barnes & Noble Membership program
Delivery options: Members receive free shipping (select items) and free shipping at $35 or more
Website: https://www.barnesandnobleinc.com/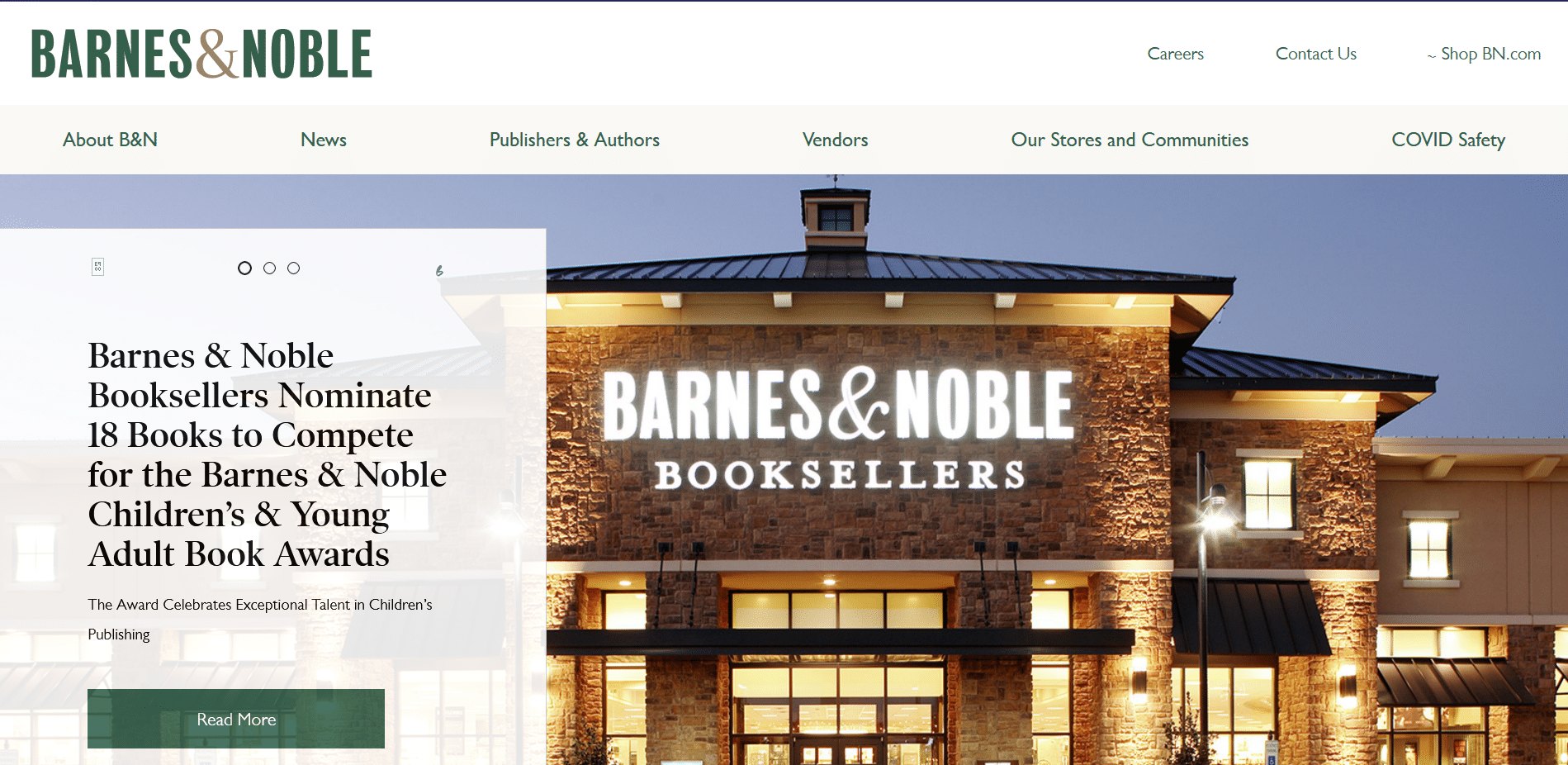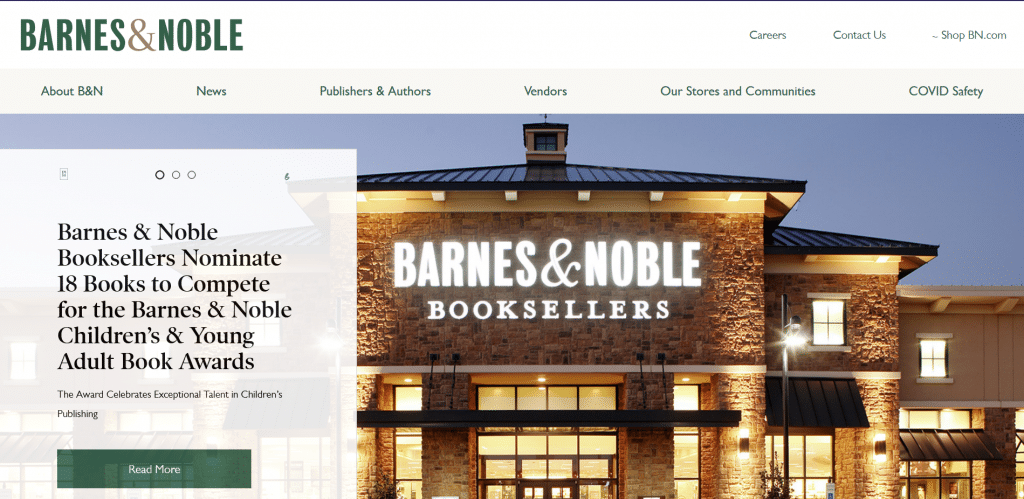 Although primarily a book retailer, Barnes & Noble sells eBooks, magazines, toys, games, and other entertainment products.
Barnes & Noble is the largest book-selling company in the US, with around 600 stores across all 50 states. Their membership program provides up to 40% discounts on selected items.
Electronic Store Alternatives To Amazon
Below are some stores that specialize in electronics.
BestBuy.com
Own products/Third-party products: Both
Loyalty program: My BestBuy Member Program
Delivery options: Free-shipping on certain orders above $35
Website: https://www.bestbuy.com/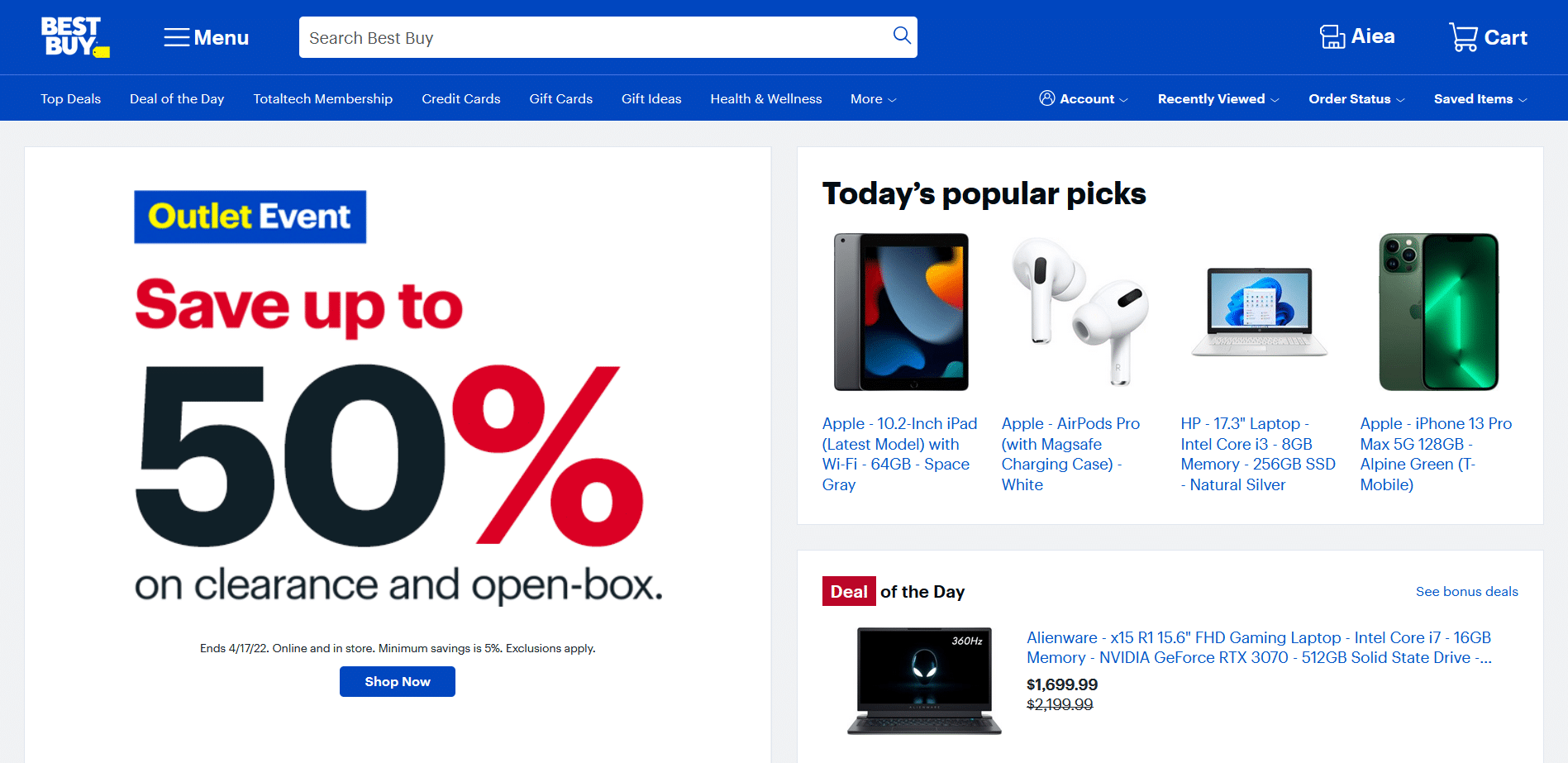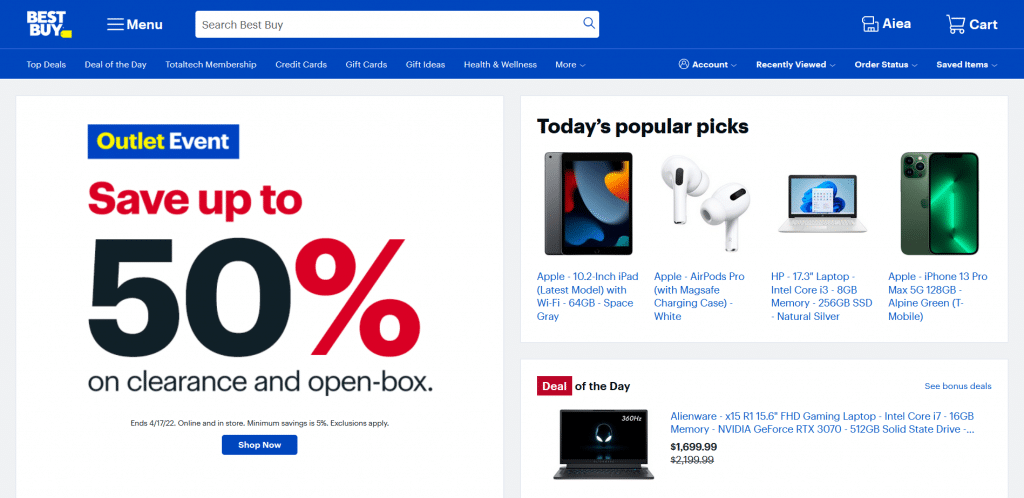 BestBuy was originally an audio company but shifted to a general electronics store in 1983.
The BestBuy Marketplace hosts many third-party companies selling various products, including cellular phones, computers, laptops, televisions, and video games.
BestBuy has the option of in-store collections/shopping as well.
Newegg
Own products/Third-party products: Third party
Loyalty program: EggPoints are earned from select items, which are used for purchases
Delivery options: Free-shipping for purchases over $25
Website: https://www.newegg.com/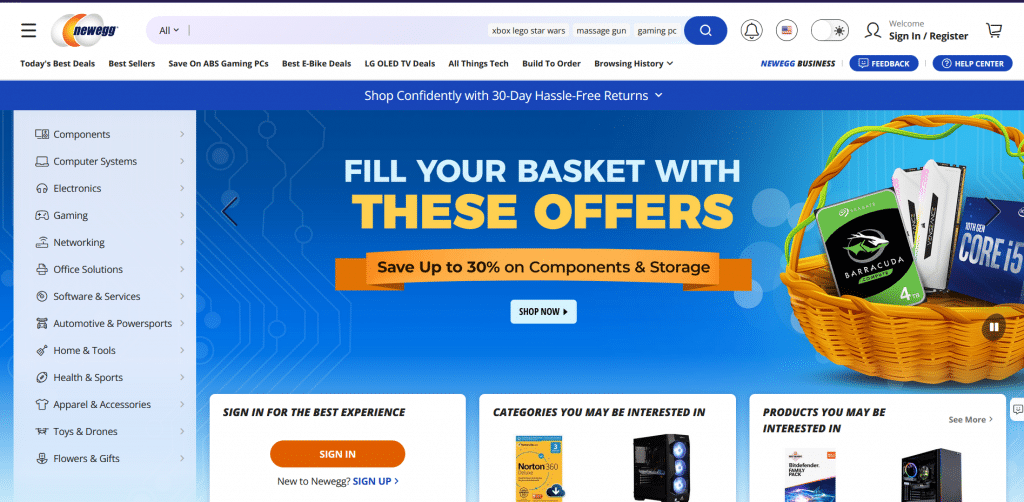 Newegg Commerce Inc. began in 2001 in the City of Industry, California. They specialize in most tech products, including consumer electronics, gaming products, PC components, and smart home products.
This company is renowned for great customer service, good deals, and efficient shipping, making them a top tech competitor in the online store department.
Related Questions
Who Should I Choose For My E-Commerce Needs?
Although Amazon and its competitors offer a wide range of products at reduced rates, the "little guy" is still the one that suffers. There is a growing trend to shift from supporting mega-corporations to supporting local, sustainable, small businesses. 

One solution is to find the product on a marketplace like Amazon and then go directly to the supplier. You will pay more for the item (most times), but they will benefit instead of a megastore.

If convenience is more important, then Amazon, or any of their competitors, will suit your needs well enough.
How Does Amazon Compare To Its Competitors?
With all the competition on the market, it's challenging to think that Amazon is still "on top" of the e-commerce empire, but how do they fare against their competition?
The table below compares Amazon to some competitors.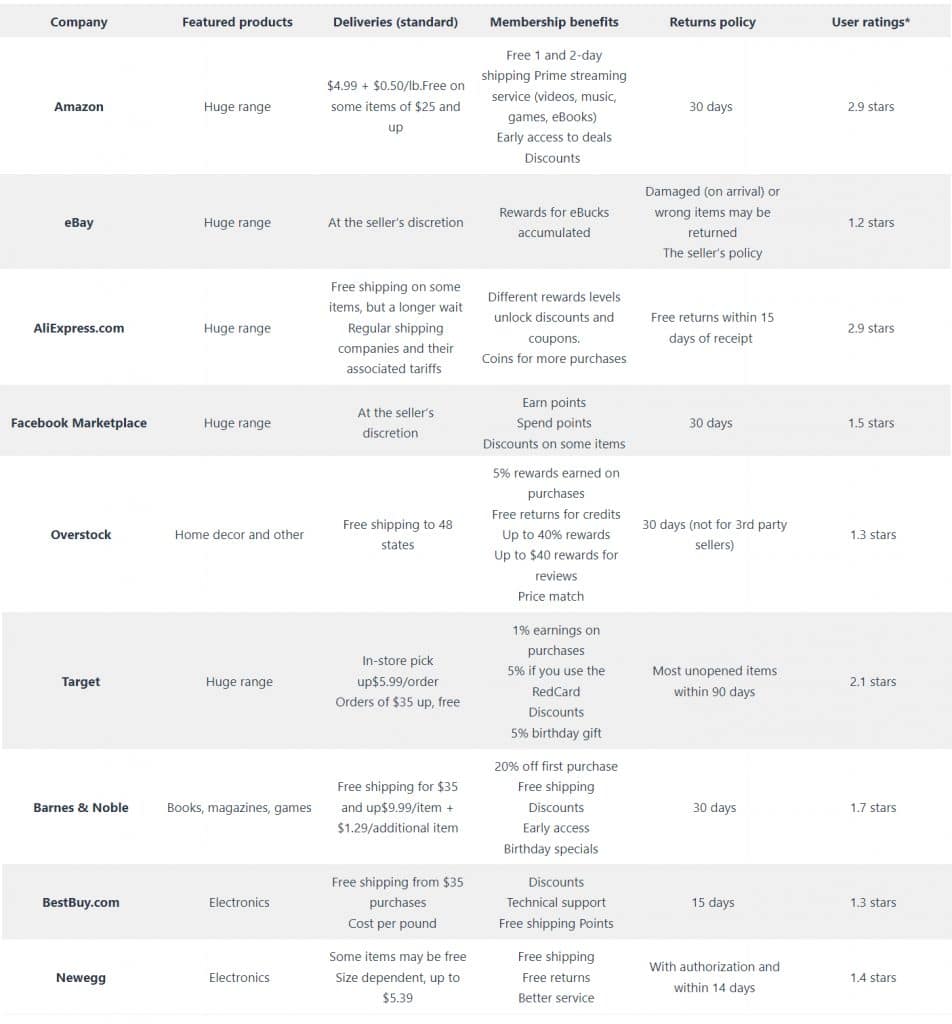 Note: User ratings are taken from https://www.trustpilot.com/
Why Should I Consider Alternatives To Amazon?
Although Amazon is in the catbird seat of the e-commerce empire, they are not everybody's favorite marketplace.
Some reasons to consider looking elsewhere for your goods include:
Amazon keeps prices low due to its size. This reduced cost results in smaller businesses struggling to compete and suppliers receiving less for their products.
Moral issues. Amazon is often at the center of controversial business practices. They are reputed to overwork and underpay staff and prevent them from joining unions.
Environmental issues. Aside from packaging (which includes plastics), which ends up in waste sites (or scattered across the countryside), Amazon contributes to climate change by not shifting to green energy.
Tax evasion. There are many rumors across news agencies of Amazon evading taxes and even acquiring tax subsidies.