List of Thrift Stores That Buy Clothes
Important Note: When you buy through our links, we may earn a commission. As an Amazon Associate we earn from qualifying purchases. Content, pricing, offers and availability are subject to change at any time - more info.
Key Takeaways
Thrifting refers to shopping in a thrift store, garage sale, or flea market for gently used products at reduced costs. However, the list above is most suited for simply selling your clothes online, and each Thrift store is geared for different types of apparel.
Thrift stores like Depop and thredUP favor users who want to sell unused clothes easily and painlessly compared to other Thrift stores specializing in luxury dresses and designer clothing, like Poshmark, Queenly, and Tradesy. In addition, Grailed is a popular commonplace used to buy and sell menswear with over 8 million users worldwide.
If you have a collection of vintage clothing, Vestaire collective is the place to store best to buy and sell. It contains a vibrant community and focuses mainly on vintage clothing of all kinds.
All stores mentioned in this list are popular, safe selections that could be used through their website or Android or iOS devices.
Because of the current gig economy, earning additional money on the side by performing odd jobs or freelancing has become commonplace. On the other hand, a side hustle does not have to entail delivering takeout or providing transportation. It may even be selling clothing items to thrift stores on the internet. With that in mind, what are some of the best thrift stores to sell your unwanted clothes?
---
Advertisement
---
List of 8 Popular Thrift Stores That Buy Clothes
Thrift shops are fashion's hidden gems, repurposing one person's old clothes, jewelry, or home items into something fresh and interesting for the next owner to enjoy.
They allow environmentally conscious buyers to rescue old clothing from landfills and provide smart shoppers the opportunity to build savings or seek down rare products. Consignment or thrift businesses are now simpler than ever to use—for both buyers and sellers—thanks to the development of online retail.
These online consignment companies have something for everyone, from high-end operations to low-budget closet cleanouts. Starting with Queenly, here's what value they bring to your unwanted clothes.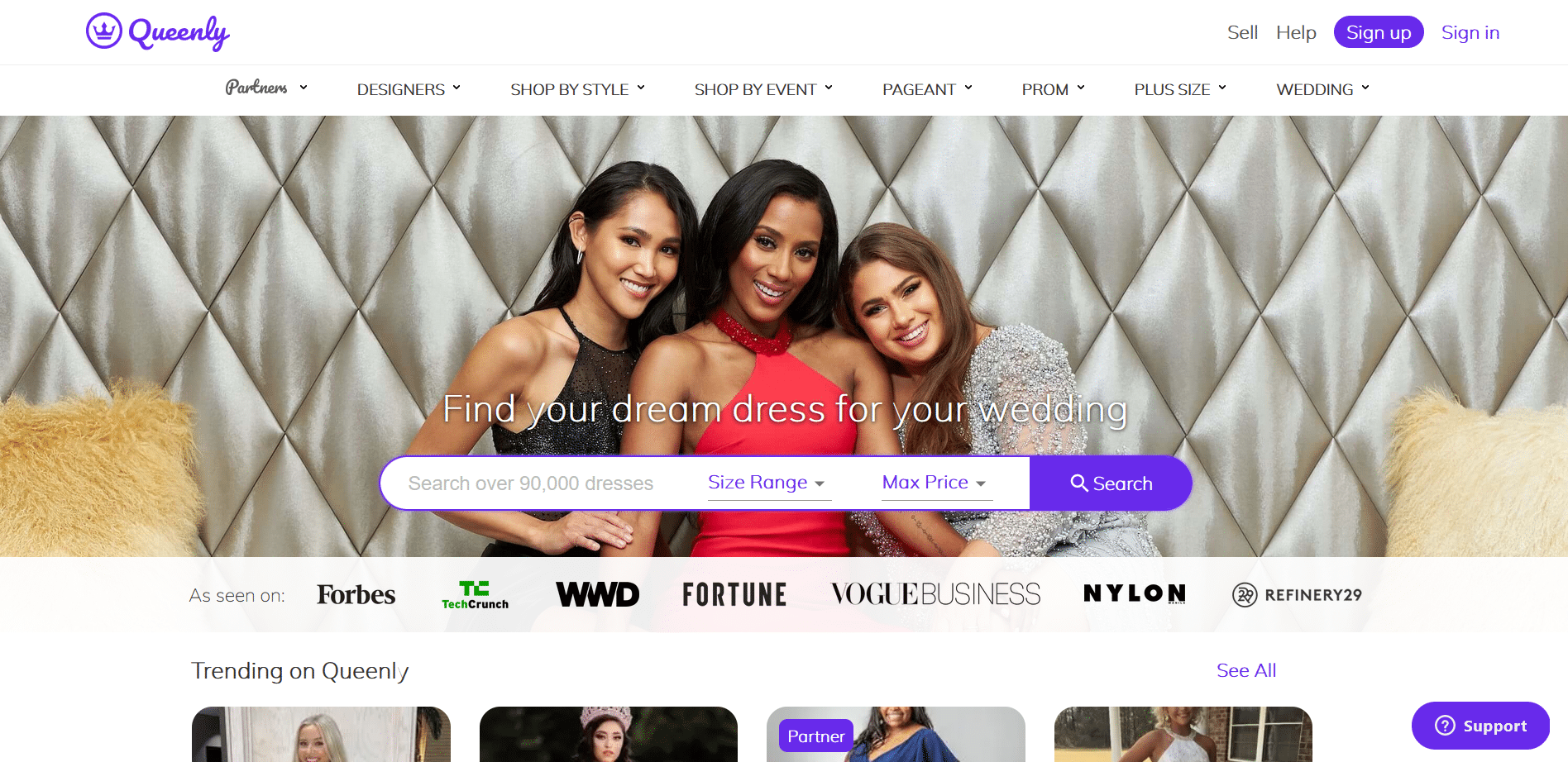 Google Play Rating: 3.9 of 5 stars ⭐⭐⭐
App Store Rating: 4.7 of 5 stars ⭐⭐⭐⭐
Queenly, specializing in formalwear such as cocktail dresses, evening gowns, prom gowns, and more, was launched in 2019 to purchase and sell formalwear in all sizes and price ranges.
Today, the website and app function as a marketplace for people to sell previously worn formalwear and a platform for small companies to sell their inventory. Dresses that cost less than $500 are shipped directly to purchasers, while those that cost more than $500 are forwarded to Queenly for quality control.
Finally, the Queenly app allows users to advertise items for sale, and the site offers a pre-paid shipping label. When an item is sold, the site receives a 20% commission. Buyers have three days to accept an item, while seller revenues are paid out three days after delivery or acceptance. PayPal, Venmo, CashApp, and Zelle are all acceptable payment methods.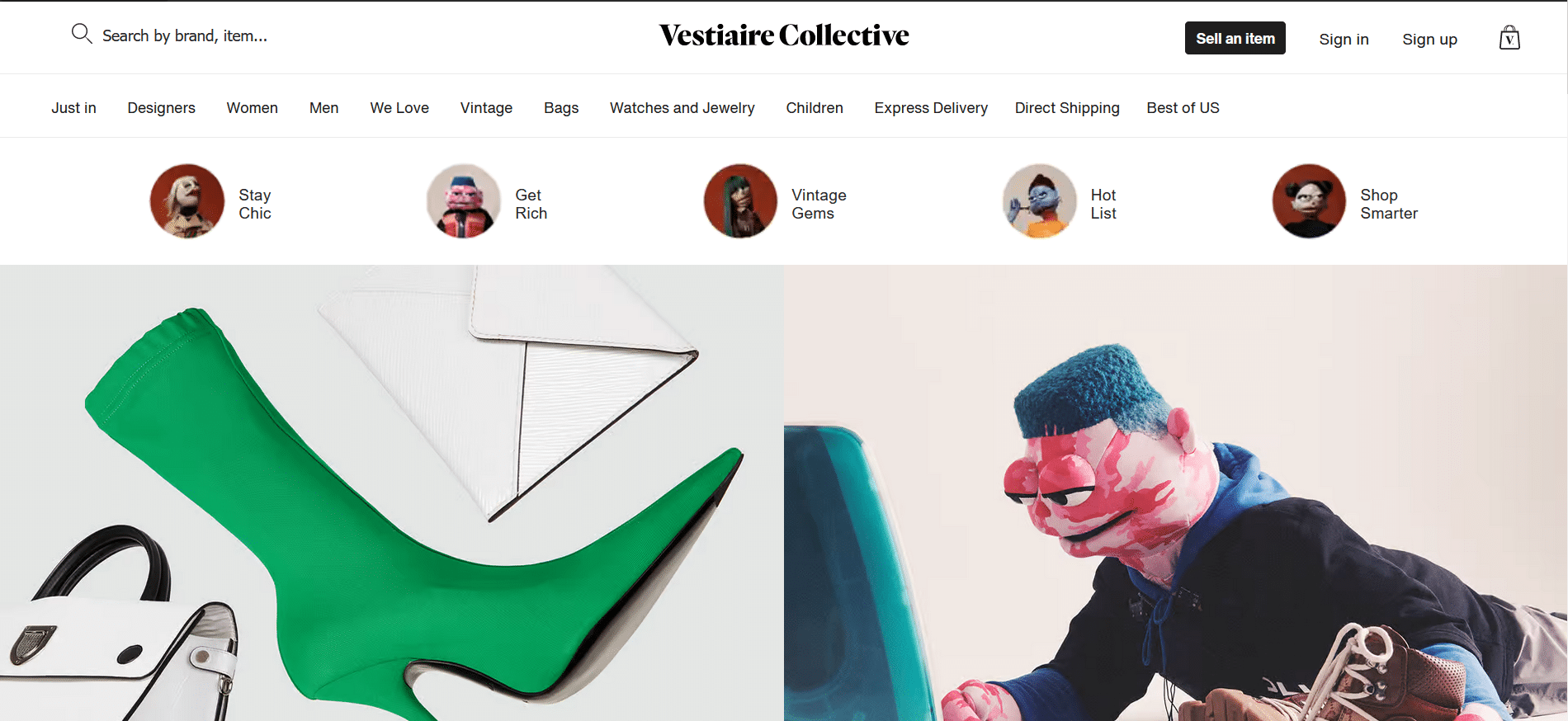 Google Play Rating: 4.0 of 5 stars ⭐⭐⭐⭐
App Store Rating: 4.6 of 5 stars ⭐⭐⭐⭐
Vestiaire Collective, known for its extensive inventory of Louis Vuitton, Hermès, Céline, and other designer labels, is an excellent site for both buyers and sellers of luxury clothing. Vestiaire Collective, unlike many other consignment sites, allows sellers to set their own prices for the products they're selling.
The marketplace is unique because of its lively activist community and rare, desired inventory of over 2 million items, with 120,000 new listings added every week.
Your items are listed on the site after submitting three to five images, descriptions, item conditions, and an asking price, similar to how eBay works. Vestiaire also provides sellers with advice on how to price their things effectively. Whether you're shopping for shoes, luggage, sunglasses, or ready-to-wear, plenty of designer jewels are to be discovered.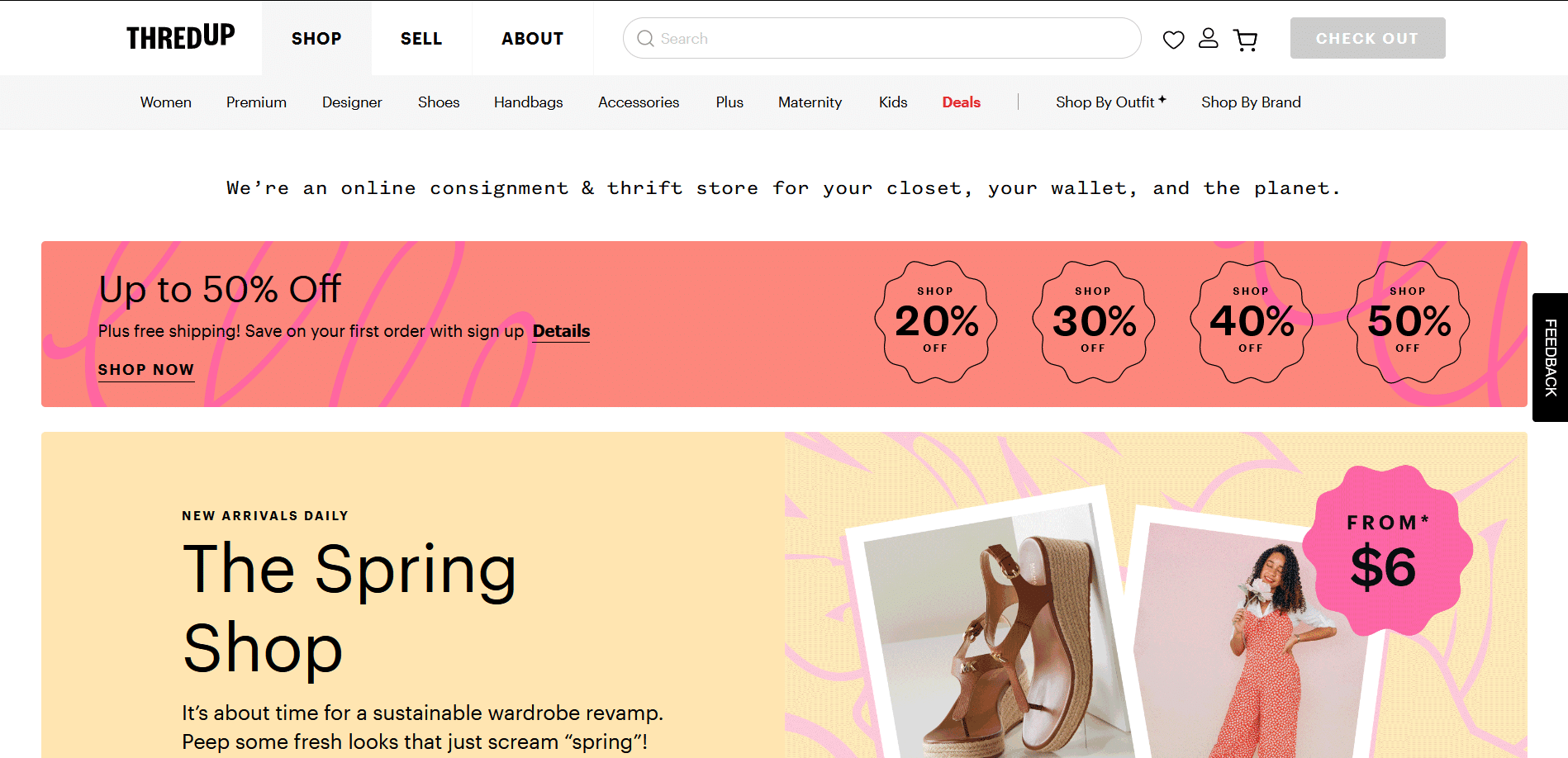 Google Play Rating: 4.2 of 5 stars ⭐⭐⭐⭐
App Store Rating: 4.7 of 5 stars ⭐⭐⭐⭐
ThredUp accepts bulk submissions and takes care of photographing and selling each item for sale, making the environmentally aware firm a popular alternative for individuals wishing to get rid of huge amounts of worn items. ThredUp, which launched in 2009, describes itself as the "World's Largest Consignment Store," with millions of items for sale at any given moment.
The brand emphasizes thrifting's significant environmental benefits to educate consumers and provide a sustainable choice for purchasing and selling. Order a closet cleaning package, including a big shipping bag and a pre-paid label, to sell on ThredUp. After filling the bag and sending it to ThredUp, each item is subjected to a 12-point check.
ThredUp will take pics and post the item online after it is judged suitable for resale on the marketplace. Sellers are paid a portion of ThredUp's sale, starting at 5% for $5 products and growing with price, and can opt to get paid in cash or product credit once the return window on the sold item has ended typically approximately 14 days.
Overall, ThredUp is a painless option for sellers wishing to offload many products quickly, especially if they aren't fixated on obtaining a specific amount of money. It's also a brilliant site to go to if you're looking for a good deal or want to wear more environmentally friendly clothes. However, if you're seeking top cash for certain products, you might want to check into alternative choices.

Google Play Rating: 4.6 of 5 stars ⭐⭐⭐⭐
App Store Rating: 4.7 of 5 stars ⭐⭐⭐⭐
Poshmark is one of the easiest and most efficient platforms for buying and selling used clothing online, with 70 million customers scattered throughout North America and a handy, user-friendly mobile app.
Poshmark makes selling particular things from your wardrobe a breeze—and buying name-brands at a discount even easier—thanks to its large user base and simple software. Poshmark mainly buys and sells men's, women's, and children's apparel, including beauty, jewelry, accessories, and home décor.
Simply take a few photographs, fill out the form, and choose a price to sell your stuff. Poshmark gets 20% of the selling price when your item sells; therefore, listing it is free. Buyers may search for items by category, brand name, or keyword.
Many sellers use the same names as merchants, making it simple to look for bargains on things you might consider purchasing brand new. Poshmark also functions as a social media platform: Follow "poshers" with similar likes to view new listings as they become available and connect more intimately with the secondhand community.
Users may also "like" the products that catch their attention, allowing them to return to the ad later and signaling to the seller that they're interested in perhaps purchasing anything. All orders include USPS Priority Mail postage, which costs roughly $7 and is invoiced to the customer at checkout.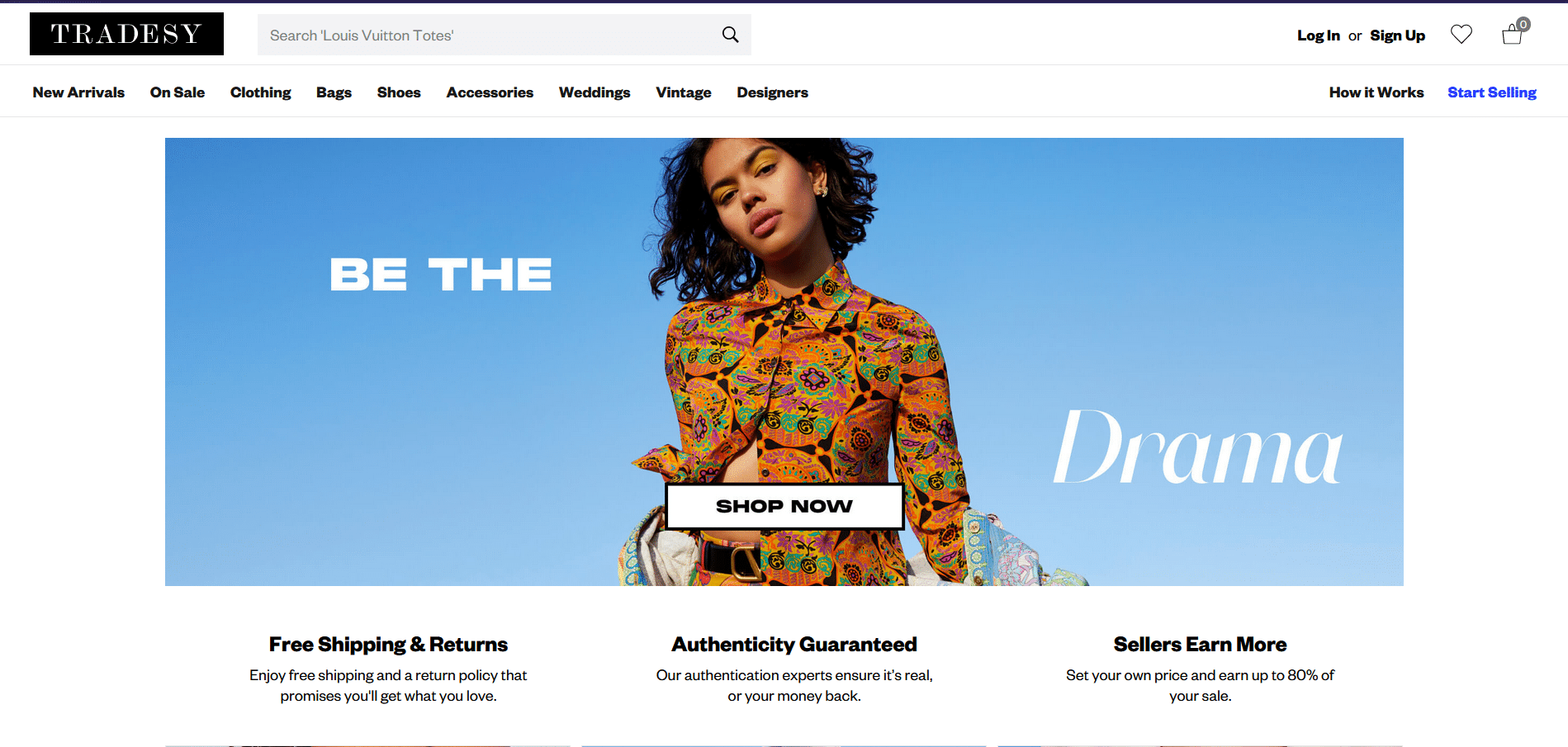 Google Play Rating: 4.5 of 5 stars ⭐⭐⭐⭐
App Store Rating: 4.9 of 5 stars ⭐⭐⭐⭐
You may believe that luxury and secondhand do not mix well. Tradesy, on the other hand, would want you to reconsider. According to the company, millions of consumers utilize the firm's marketplace to sell gently worn designer labels for ladies.
Compared to Poshmark, Tradesy is best for sellers who are content to let their things lie idle on the site, alongside competitors, while waiting for potential customers to find them organically. Poshmark, on the other hand, is for sellers who appreciate a fast-paced environment and a vibrant community.
A flat $7.50 seller charge applies to items that sell for less than $50. Tradesy charges a 19.8% fee on products over $50. Your winnings are stored in a Tradesy wallet and may be withdrawn for a 2.9 percent transaction charge. Spending your profits on Tradesy will allow you to avoid the cost.
The great news is that the buyer pays for shipping, and Tradesy offers you, the seller, a pre-paid shipping label and box in which to pack your most fashionable items.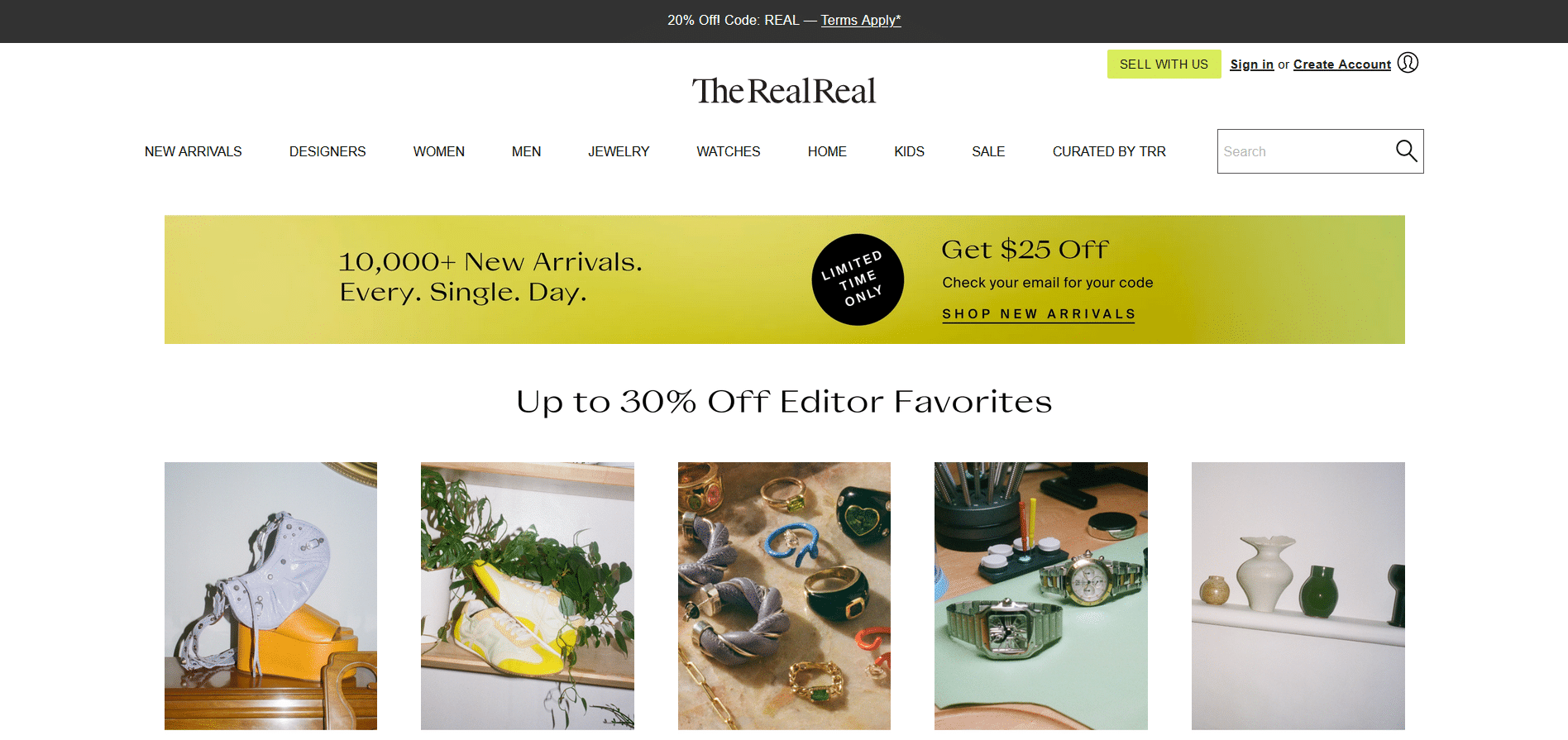 Google Play Rating: 3.7 of 5 stars ⭐⭐⭐
App Store Rating: 4.5 of 5 stars ⭐⭐⭐⭐
Another popular option for luxury goods is The RealReal thrift store, one of the top online consignment shops for labels such as Chanel, Burberry, and Hermès.
Sellers on The RealReal can order a shipping package with pre-paid stamps to deliver their clothes. In various country locations, The RealReal also provides an in-home collection of consignment goods or has consignment offices where consumers may bring their stuff to be evaluated.
Sellers are compensated on a sliding basis. Those who sell less than $1,500 will receive a 55% commission, while products with an initial resale list price of less than $195 may bring in less. If their annual sales reach $10,000, top consignors get a 70% commission.
For various things, there are also different commission rates. For example, watches with a resale list price of $2,495 or more qualify for the site's highest commission: 85 percent.
Get Paid Now is available on a limited number of goods, including handbags, watches, and men's shoes. Instead of a consignment commission, this function delivers upfront cash. The RealReal store sets the prices for consignment items to sell them within 30 days. Direct deposit is used for payment.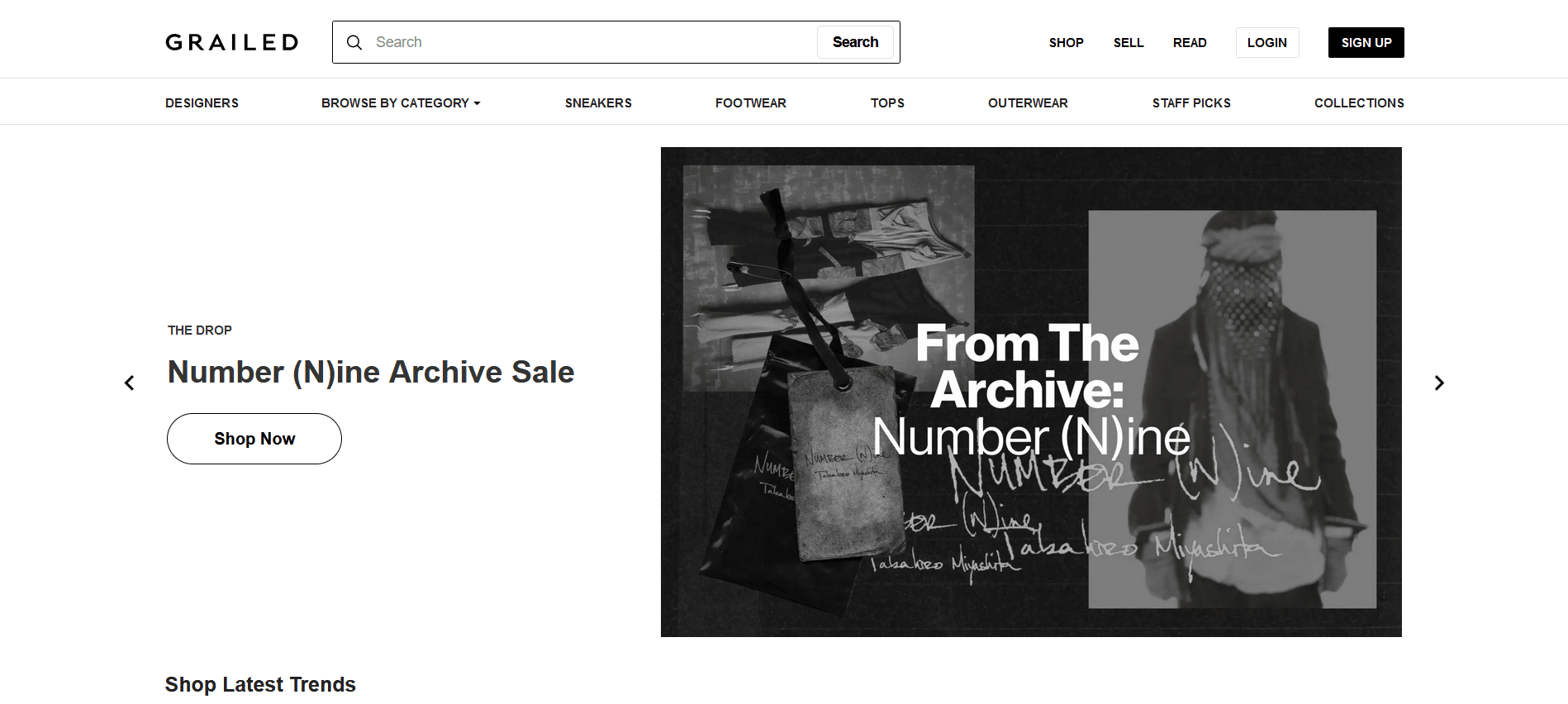 App Store Rating: 4.8 of 5 stars ⭐⭐⭐⭐
Many major online consignment businesses focus solely on women's and children's clothing, ignoring menswear. Grailed compensates for what some other sites lack by offering a huge assortment of casual and professional apparel grouped by category, designer, style, and price for male buyers.
Grailed features labels ranging from Carhartt and Levi's to Gucci and Louis Vuitton, so whether you're searching for an on-trend cardigan or want to stock up on some essentials, Grailed has you covered.
Grailed also has a lot of menswear from eco-friendly brands like Allbirds, Patagonia, and Everlane, making it simple to double down on green purchasing. You may also explore goods by style if you like a more vintage or minimalist aesthetic. Heroine, Grailed's sister site, has a womenswear section.
Grailed's consignment process is comparable to those of the other sites on our list; however, it is not as streamlined as that of thredUP and Poshmark. Nonetheless, Grailed is a simple approach to pare down your present clothing or create an eco-friendly outfit.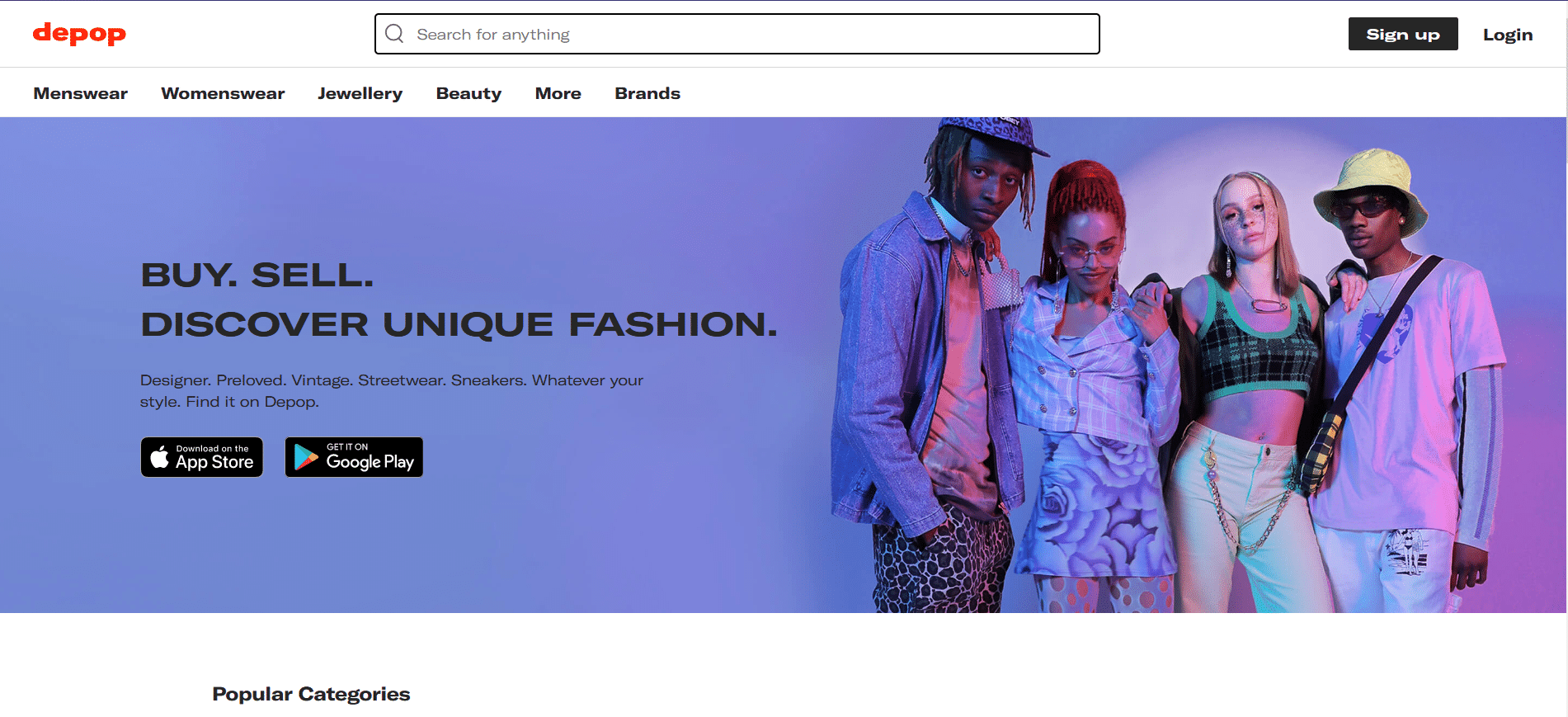 Google Play Rating: 4.0 of 5 stars ⭐⭐⭐⭐
App Store Rating: 4.5 of 5 stars ⭐⭐⭐⭐
Depop is quickly becoming the most popular app among fashion-conscious Zoomers. It's a lifestyle and social networking app and a retail shop, so it is essential to have high-quality images with innovative staging.
The software is simple to use, and you can create an account, link it to your PayPal account, and start selling clothes in minutes. You will not be charged to create a listing on Depop. Instead, when your item sells, it takes a 10% cut. You may also select your preferred shipping method.
Depop offers low-cost shipping labels that you can purchase or have customers pay for. Alternatively, if you want, you may manage all aspects of shipping on your own. Depop offers buyers a new approach to identify and purchase daily or antique items using hashtags and social media connections because it is an app-based community rather than a standard online store.
The site also allows merchants to display their products using branded or otherwise curated photographs, making it simpler for customers to visualize objects that would otherwise be difficult to style.
Download the app, make an account, and upload photographs and descriptions of your stuff to sell on Depop. Also, if you have an Instagram or other social media account, use it to promote your listings. Otherwise, sit back and let Depop's 21 million+ users find your one-of-a-kind things.
Related Questions
What Is A Thrift Store?
Users may purchase and sell gently used apparel, accessories, shoes, home décor, and other items on online thrift stores. Each site has a distinct payment system for sellers, with rewards ranging from 3% to 90% of the transaction price.
Why Choose Thrift Over a Traditional Online Retailer?
Thrift stores frequently provide deep discounts on high-end and designer products, making thrift shopping a cost-effective option for consumers of all tastes and budgets. 

Buying from thrift stores may also assist the environment, as many of the goods sold there would otherwise end up in a landfill. Customers who purchase secondhand intentionally reject fast fashion, which frequently uses unethical labor methods and poor environmental standards to keep costs low.
Why Are Thrift Stores Popular?
The United States' population rose quickly in the late nineteenth century, and businesses began to mass-produce clothing. People were buying more outfits than they required and discarding the remainder. As a result, individuals began to shop at pawn and thrift stores, which became venues to buy old clothing and other products at affordable costs.