Have Fun Without Spending Money – List of 17 Free Things to Do
Important Note: When you buy through our links, we may earn a commission. As an Amazon Associate we earn from qualifying purchases. Content, pricing, offers and availability are subject to change at any time - more info.
When we think of things to do, we automatically think of the cost. What can I do that is in my budget? From the city park downtown to visiting your local arts district, to a scenic drive or outdoor adventure, there is always something you can do with friends, whether it's at home, downtown, or outdoors.
---
Advertisement
---
Entertainment doesn't always have to cost money. There are plenty of places, like a farmers market or hiking trails, that have free admission. Take a stroll through your town and find a hidden gem, or take a bike ride to a riverfront park. There are plenty of parks and museums that offer special events or temporary exhibits that feature local artists. Whatever you end up doing, there are endless options when it comes to free things to do.
Free Things to Do – Having Fun Without Spending Money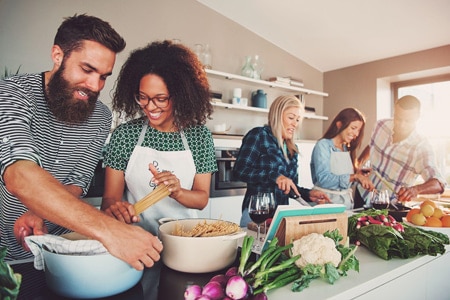 What do you have around the house? When most of us think of being housebound, we tend to groan. It seems so limiting not to be able to go out. However, it doesn't have to be. If we change our thinking, we can have as much fun if not more in the comfort of our own homes.
1. The "Got No Money" Party. If you want to entertain, but are low on funds, throw a "Got no Money" party. Instead of going out, host a party at your own place. Invite your friends over for the night with the only caveat being that they can only bring drinks/food from their own house. The same applies to activities and games.
2. Binge Watch. This can be a new or favorite television series or a group of movies. People often do this with Netflix or any streaming service. If you don't have a streaming service, many providers offer a free trial which you can take advantage of. Just ensure to cancel it before billing if it's not in your budget. You can also exchange movies with friends.
3. Find a Local Hiking Trail. This is a great way to get some exercise and observe the beauty of nature. It is a great way to be alone with your thoughts and unwind after a chaotic workweek. Just make sure to dress appropriately for the weather, bring a lot of water, and sunscreen if necessary.
4. Have a Picnic. Instead of doing the same old thing, try having a picnic in a park or outdoors. You need to make a meal anyway, and sometimes a change of scenery is a nice change.
5. Declutter or Clean Out the Garage. While it may not be fun, the result may be enjoyable. We all have spaces that are overrun with garbage or could use some reorganizing. It is a good idea to go through each room in the house to see what is not necessary anymore or to discard things no longer in use.
In the end, you can choose to donate any items you don't want anymore or have a garage sale. Some people donate the money from their garage sale to charity, while others will treat themselves or their families.
6. Redecorate a Room. Sometimes refreshing a space can be fun as you can see how many design ideas you can come up with. You can move around existing furniture to create a new space or bring in items from around the house.
7. Watch the Sun Rise or Set. Nothing is more spectacular than watching nature in all its beauty! This is a great way to end a hike as well.
8. Play Minute to Win It. Invite friends over or play as a family. This game can be played against the clock with items that are found throughout your house. For ideas on what games you can do, Google it. This game will have you laughing for several hours as you watch people compete for first place!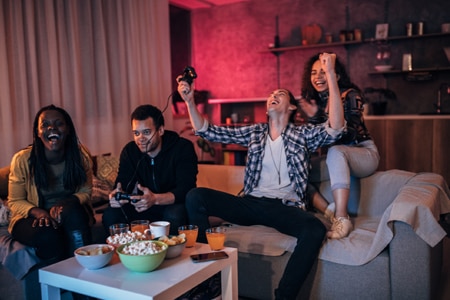 9. Check Out Community Sports or Activities. Visit your local recreation center or park and see what activities they have to offer. There may be things you can participate in, or opportunities to referee, be part of the audience, or even coach.
Depending on your age, there are also senior centers available well with numerous activities that can be done to pass the time.
10. Have a Cupboard Potluck. Go through each of your cupboards and decide what recipes you can do with what you have available. Challenge your friends to do the same thing and hold a potluck dinner at someone's house.
11. Do a Self-Guided Walking Tour. Google Maps contains interesting places that are near you. Check it out and plan a walk that takes you to these locations. This will allow you to experience new places, get exercise, and do a walking tour.
12. Go Garage Sailing. It doesn't take money to look. Also, some cities have free weekend giveaways where people place all the things they no longer need on the curb. People go around and see if they can use what they find. It is a great way to repurpose what we don't use, to get rid of our junk, and to make someone else happy.
13. Beautify a Park with Friends or Neighbors. There may be a park or an area close to you that could use some love. Organize a park beautification party wherein people go with gloves and a trash bag to clean up the mess. This will give you some exercise, and the satisfaction of tidying up a place that everyone enjoys.
14. Read a Good Book. Do you have a great book that you've been meaning to read, but haven't had the time for? Now is your opportunity to grab a good, steaming cup of coffee, maybe a few snacks, and curl up for a good read. This is great for rainy days.
15. Go Swimming. If the weather is warm (and depending on location/time of year), visit a public pool and go swimming for a bit. Many communities have a public pool and may have free-swimming lessons as well.
16. Leave Romantic Messages Around the House for Your Partner. This is a great romantic game to draw people closer. One or both people create a list of things they love about the other person. Then, they place them on paper or index cards.
The cards are then hidden throughout the house or in various locations so that your partner must go on a scavenger hunt just to retrieve them.
17. Plan a Romantic Dinner. Romantic dinners don't have to be extravagant. They can be made with anything in your house, or you can try a new recipe. Nothing tells your partner that you appreciate them more than a nice, leisurely, romantic dinner for two.
From the action-packed adventure with friends to the quaint, cozy meal for two, there are many free things to do. They are fun and can create a great bonding experience. Life doesn't have to be limiting or expensive. Learn to create memories at home. You will cherish them for years to come without spending a dime.