Does Chipotle Take Expired Coupons?
Important Note: When you buy through our links, we may earn a commission. As an Amazon Associate we earn from qualifying purchases. Content, pricing, offers and availability are subject to change at any time - more info.
Key Takeaways
Chipotle doesn't pride itself on taking expired coupons. In fact, the official Twitter page has stated that the company will not accept expired coupons. However, expired coupons may still be accepted by the computer when scanned.
It's against the company's official policy to take expired coupons, so you may be rejected if you point out that it's expired. The manager of the store is the one who chooses whether or not to honor your specific coupon. Only certain coupons will continue scanning past the expiration date.
With all of that said, several store employees online have mentioned that their locations take expired coupons and don't make a big deal about it.
Chipotle's Coupon Policies
Chipotle is one of the most popular fast food restaurants in the world. Blending delicious Mexican cuisine with the convenience of a Subway-style bar, their business model has earned them success throughout the US, the UK, Germany, and France.
---
Advertisement
---
Chipotle often runs promotions like their "buy one, get one burrito" offers. Certain promotions will continue to register in the computer for several days after the expiration date. Basically, if you don't mention that the coupon is expired, then the computer won't either. You'll still get your discount!
Of course, the official upper management does frown on this. A Tweet from the official Chipotle company account informed a customer that they do not accept expired coupons. If a manager doesn't want to accept your coupon, they can easily point to this as justification for their choice.
Another answer was offered on a Reddit thread. On the thread, the original poster asked whether Chipotle would take expired coupons. They explained that they'd used coupons a few days past expiration before. They wanted to know whether there was an official "grace period," and whether they could use their handful of coupons that had expired the previous month.
The responses indicate that it's really on a location by location basis.
Some insights:
The original poster updated to say that their expired coupons did work, and that they were accepted by the computer.
One employee said that their location always honored expired coupons.
Another employee said that at their location, expired coupons would cause the staff to get points off during an audit. However, they did note that their location seems more strict than others.
So there's no guarantee that your coupon will work. And you're not technically supposed to use it. But the computer won't know the difference. Worst case scenario, you just end up paying full price.
Chipotle Promotions
Chipotle runs new promotions and deals every month. Sometimes they have special weekend or holiday deals. They also often run the same promotion twice. So if your coupon is expired, you can check to see whether there's a current code instead!
Chipotle doesn't make it very easy to find their current coupons through their website. But during March of 2022, some of the available coupon codes include:
Free guacamole with any online purchase
Up to 25% taken off your total order by using a coupon code
3% given back if you buy gift cards for Chipotle online
Official coupons are sometimes difficult to come by. Rather than running dozens of digital promos for the masses, Chipotle focuses mainly on their Rewards program. As a Rewards member, you earn points that can then be redeemed for free food and upgrades.
Just a few examples of the current Rewards offers include:
Free guacamole and tortilla chips with any online purchase by newly registered Rewards members
10 free Rewards Program points for every $1 spent by registered Rewards members
Free chips and salsa as soon as you earn 325 Rewards points as a registered member
Free chips as soon as you earn 250 Rewards points as a registered member
Free items from Chipotle worth $20 for people who redeem 5,000 Rewards points
Free bottled drink for people who redeem 600 Rewards points
That doesn't even get into all of it. There are also ways to get a free kids' meal, free queso blanco dip, free protein upgrades, a free quesadilla, and free bundles of items worth $35. So if you want to make the most of available Chipotle offers, it's definitely a good idea to sign up for the program and start earning.
Frequently Asked Questions
How do you sign up for Chipotle Rewards?
The Chipotle Rewards program is available through the Chipotle website or through the App Store for your phone.

When you go to the sign up page, you will be asked for some basic information:
Your first and last name
Your email
Your phone number
A password

You can also choose whether to receive promotions via text. Optionally, you can input your birthday. You'll be sent special birthday promotions on your big day!
New members receive a free order of tortilla chips and guacamole after making their first purchase. For every dollar you spend, you'll earn 10 points. You can then cash in those reward points for free goodies!
How does Chipotle's catering service work?
Chipotle's catering service has certain advantages over simple delivery. For one thing, you can order a huge quantity of complex food. For another thing, you can schedule to have your food delivered at a certain time. There's no option to schedule basic deliveries; they'll all be sent as fast as possible.

Keep in mind that to use Chipotle's catering, you have to place your order at least 24 hours in advance.

When you browse the catering section of the website, you'll see several pre-built spreads. For example, you can purchase a vegetarian spread or a meat-packed spread that both feed at least 10. For massive events, you can order catering service that feeds up to 200 people!

Another pre-built spread involves basic burritos packed into a box. It's the most affordable and the simplest to unpack. If you want to pay a little more per person, you could order the Small Get Together spread.

If none of those appeal to you, a little more scrolling will show you the option to make your own. All options feed a minimum of 10. You can choose a single meal for affordability, a double meal for popularity, or a triple meal for a ton of variety.
You'll then build the spread with your specific desired ingredients. You can also order mass quantities of chips and dip to feed up to 15 people.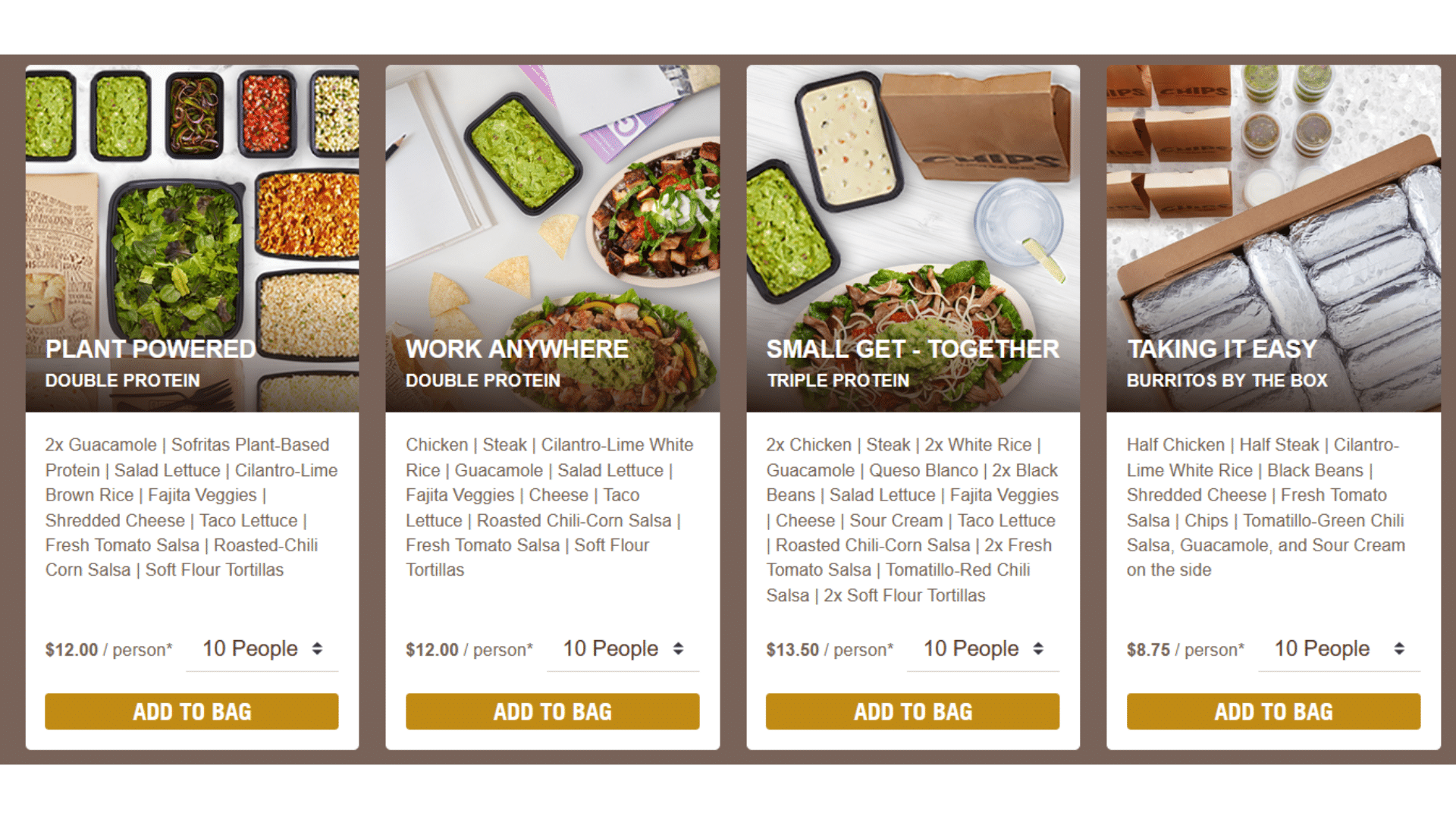 Is it possible to cancel an online Chipotle order?
Canceling an online Chipotle order isn't easy. The faster you do so, the better your chances will be.

The main issue is that Chipotle works to fulfill online orders as quickly as possible. That means that as soon as the order is placed, the restaurant crew has it in the queue. Depending on how busy it is, they may start preparing it right away.
If you've placed a direct online order through the Chipotle app or the Chipotle website, then you can contact the company's Customer Service team about the cancellation.

If you ordered through a third party like Doordash or Uber Eats, you'll need to cancel through their service. In this case, it's possible that you will be subject to a cancellation fee. Chipotle doesn't have anything to do with the cancellation fees set up by third parties.