Buying A Grill? This is the Best Time to Buy One
Important Note: When you buy through our links, we may earn a commission. As an Amazon Associate we earn from qualifying purchases. Content, pricing, offers and availability are subject to change at any time - more info.
Purchasing a new grill is similar to buying a bikini. You will be able to get the same gorgeous item at a fraction of the original cost if you buy it during a winter blizzard. In the case of a grill, it's much easier because as long as you know what model you want and aren't in too much of a rush, you won't need to wait until a blizzard and will have plenty of opportunities to get it with a great discount.
---
Advertisement
---
Key Takeaways
Know what you want long before the discount periods so that you can quickly pounce on any specials and get the model you want.
Grills are priced higher during peak grilling season, which is April to the end of July.
Prices on new grills are usually lowest from September through to the end of the year.
Monitor stores that stock the grill you want and let them know that you are interested in display stock. They may need the additional floor space taken up by grill displays at certain times of the year and might be more willing to negotiate discounts.
If you find a great deal, remember that a grill is a large item, so don't forget to factor in delivery costs.
Read on for the 11 best times that you will be more likely to score a good deal on a grill or jump ahead below:
The Best Time To Buy A Grill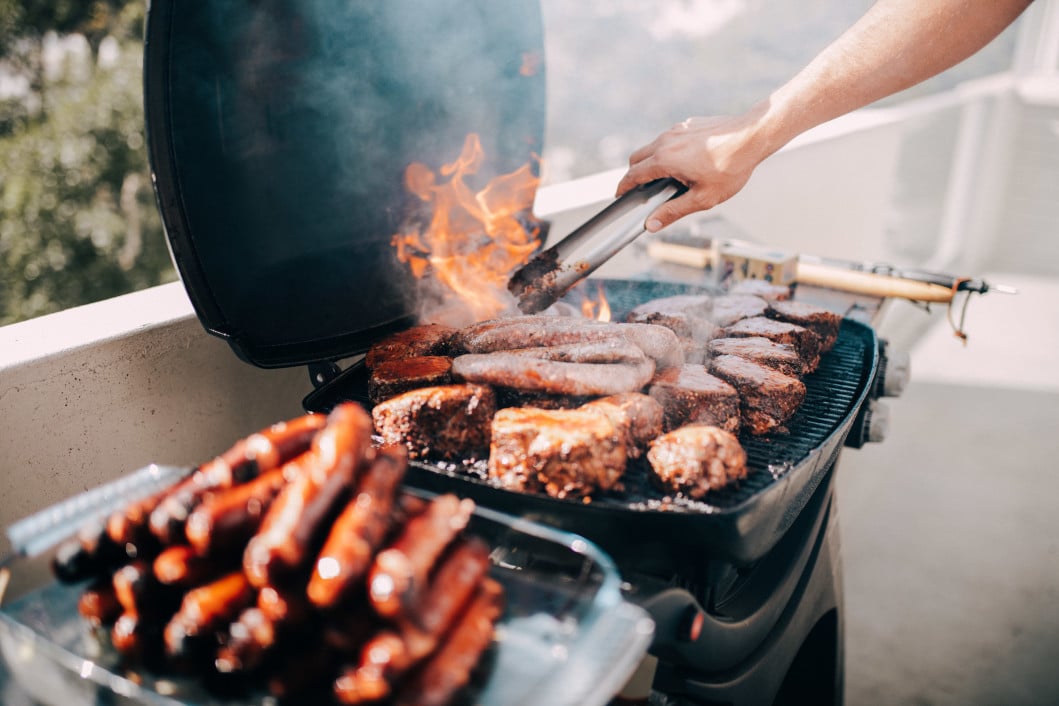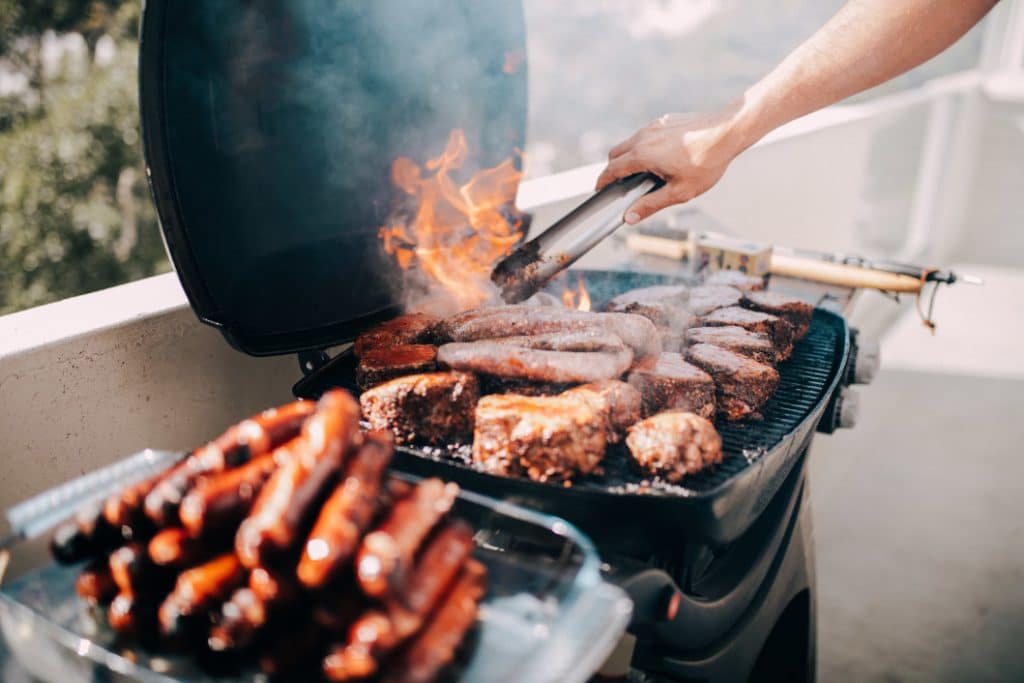 What could be better than summer days filled with family, laughter, and the smoky aroma of meals prepared on an outdoor grill? Outdoor cooking appliances can be costly, but if you know what you want and are prepared to wait, chances are good that you can save a significant amount of money on your next grill.
Start shopping long before you need a new grill. Unlike cell phones or computers, modifications or upgrades made on grills from one season to the next usually don't significantly alter how a unit performs. So purchasing a grill unit on an end-of-season sale doesn't usually change much except the price.
Know what features you specifically want so that you don't get tempted to buy on promotion only to find that the grill you purchased doesn't have the specific features you need.
Grills are long-term appliances that, with good care, should last for many years. If you have to keep replacing your grill every few years, the money you saved getting a bargain will quickly be lost.
If you don't have space to keep your new grill undercover, also budget for a weatherproof cover. This will keep your grill protected and make it last longer.
Let's go through some times when you are most likely to get a great deal on a grill.
Low Season – August to March
Demand for new grills begins to fall towards the end of summer and will hit its lowest point at the end of fall. Fewer people plan outdoor holidays trips or backyard barbeques at that time, so if you can wait, get one when demand is low.
The best months are usually September and October because stores will be keen to clear out their leftover stock.
Labor Day Weekend Sales
Date: Labor Day 2022: September 5th
Labor Day is not only at the perfect end-of-grilling season period when the demand for grills will naturally be declining, but retailers are also eager to out-compete each other. After the 4th of July barbeque peak, most stores are keen to move as many items from their outdoor and camping sections as possible.
Retailers often begin to slash their prices to get the last of the summer stock out before the end of the season.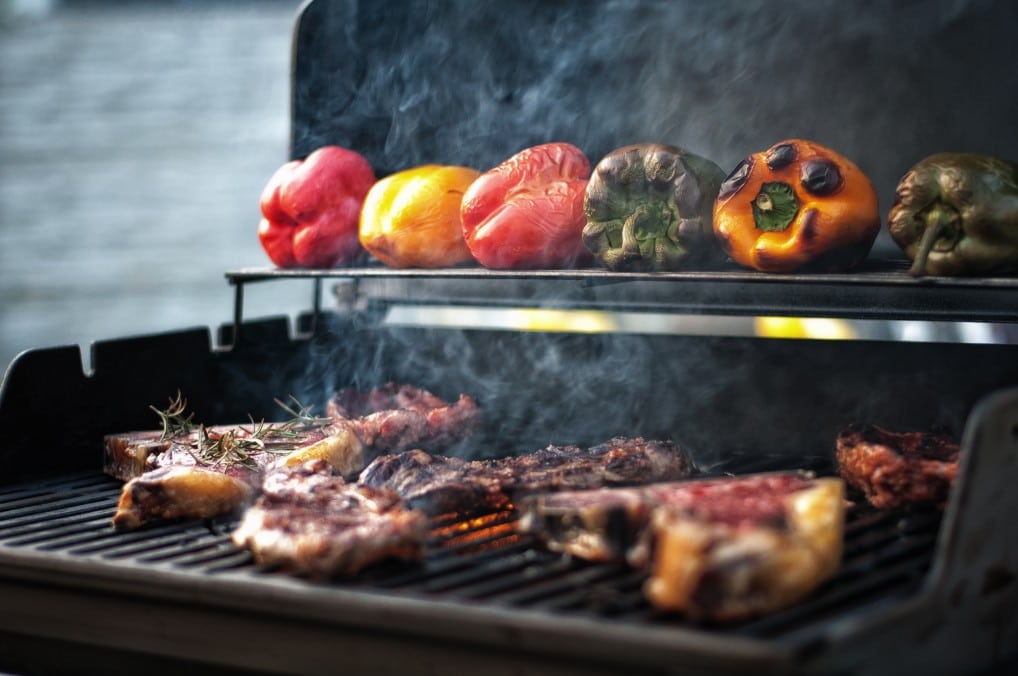 Memorial Day Sales
Date: Memorial Day 2022: May 30th
Memorial Day is widely considered to be the unofficial start of summer, and if you need a grill for the coming hot summer days, it may be one of the last opportunities to get one at a discounted rate. As everyone starts coming out of their winter cocoons and embracing the warm summer days ahead, the demand for grills will sky-rocket.
Fortunately, many stores cash in at the start of summer by offering great deals on seasonal products like grills, gazebos, patio furniture, lawnmowers, etc. When shopping for a grill during Memorial Day weekend, the trick is to shop around and find the model you want at the lowest price.
There will undoubtedly be plenty of floor models on display in all stores so you can get a good feel for the product. Once you know what you want, go check out the deals at other merchants.
If there isn't enough discount on the item you want, try to negotiate free delivery or assembly as part of the deal. After Memorial Day weekend, stores are eager to show positive sales on their turnover sheets, so store managers are often open to some flexibility in other areas.
Black Friday Sales
Date: Black Friday 2022: November 25th
Black Friday offers new grill shoppers a double bonus because not only is it low-season for grilling, but retailers are all eager to attract as much footfall as possible. Of course, you may need to go early to get the exact grill setup that you have your eye on, as numbers are often limited.
Amazon Prime Day
Projected / Tentative Dates: July 18th & 19th 2022
The giant online retailer Amazon held its first annual mega-sale in 2015, and it has become a phenomenon ever since. This two-day sale event takes place in summer, and the tentative dates for 2022 are Monday and Tuesday, 18 & 19 July, but these have not yet been confirmed.
To cash in on the sale, you must be an Amazon Prime member, which usually costs $14.99 per month or $139 for a year. If you are not a member, check if the 30-day free trial membership is available. Time it right and sign up in the period that will cover the Prime Day sale.
Amazon Prime Day can be an excellent time to buy a new grill as many items are significantly discounted during the massive two-day sale.
Store Clearance and End of Season Sales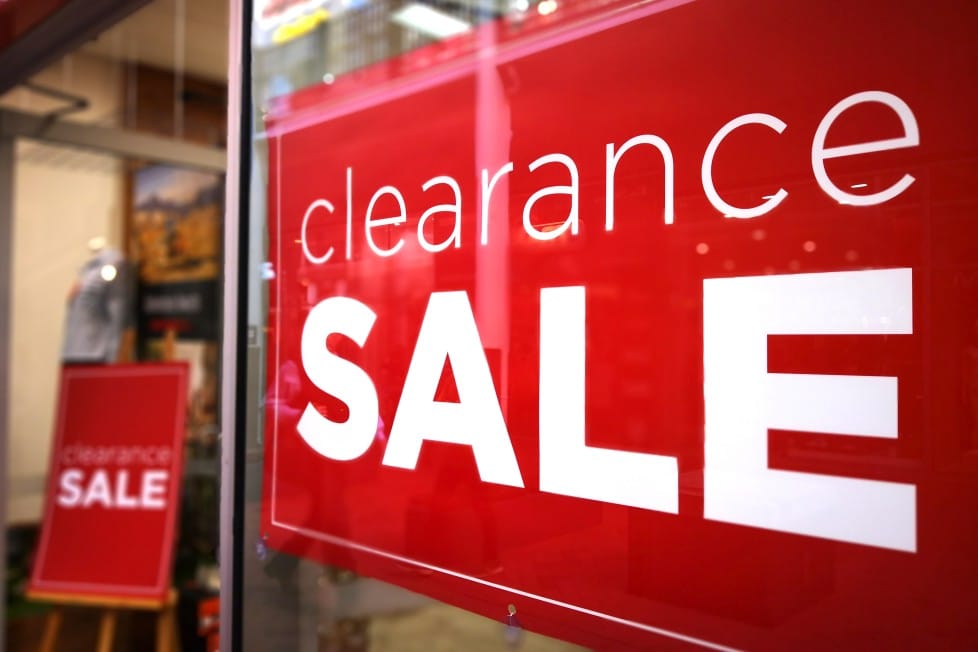 Look out for sales and clearance promotions at your local stores, as you never know when these may happen. Although July is typically one of the worst months to buy a new grill, keep a lookout for 'flash sales' on grills after the 4th of July holiday weekend.
There are outstanding deals to be had as retailers realize that they are getting dangerously close to the end of peak grilling season.
Also, be aware of local store clearance sales, closing down, or store relocation sales. Be ready to take advantage as soon as a retailer needs to move large items to clear space.
Brand Promotions
Manufacturers use brand promotions to promote their products and drive footfall. Stores often have brand giveaways, competitions, or extra perks, like free assembly or delivery, along with promotion specials. The aim is to raise brand awareness, so this can be an excellent time to get a good deal on your next grill.
One cautionary note with promotions is that it is easy to get roped into the hype and end up buying a more expensive model than you had intended. Know what you want before you go, and check if the extra promotional items thrown in will be worth any additional outlay for a better model.
Floor Model Clearances
Keep in mind that retailers usually need to move their display grills shortly after Independence day to make way for seasonal items like leaf blowers and back-to-school displays. If there is a grill that you are interested in on display, let the salesperson know. Give them your contact number so they can let you know immediately if they need the space.
Keep in mind with floor models that they have some slight scratches or marks, but this is not usually extreme as they would have needed the items to look as pristine as possible for customers. Also, if you do notice any scratches or slight damage that you can live with, use it to negotiate a further discount!
Check that the warranty on a floor demo item is unaffected, and don't forget to check much the delivery fee will be.
Overstocked Items During Peak Season
The absolute worst time to buy a grill is immediately before the 4th of July, as demand for grills will be sky-rocketing. However, some stores may have overstocked, which you can use to your advantage. So long as you know the regular price of the grill you want, you will easily be able to tell if you are getting a bargain or not.
Although peak periods like July are not usually the best time to buy a grill, you may find that some retailers have bundled specials to lure customers. So while you may not get the best price for the grilling unit, it may come with some neat additional items like a free cover and grill tool kit, which you would have had to buy separately.
Buy Directly From The Manufacturer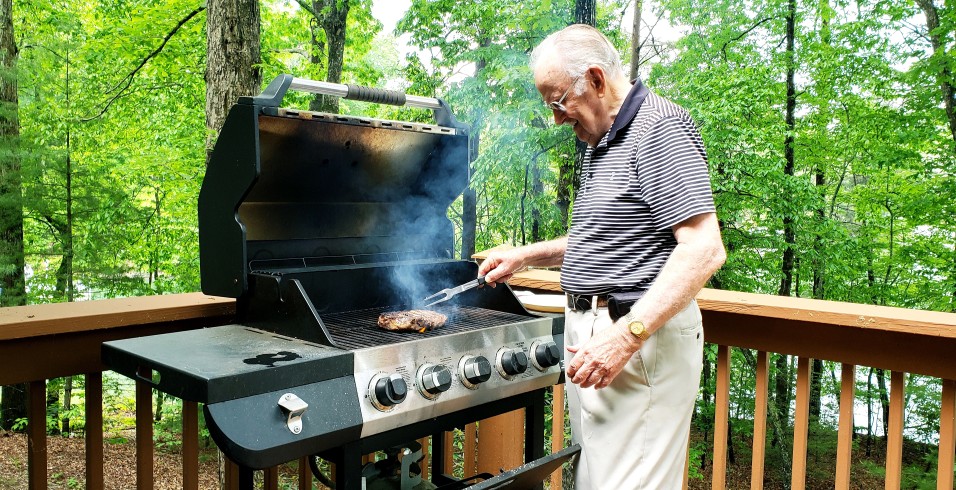 Online shopping has opened endless possibilities. By all means, go and look at grill displays and get a sense of how a particular grill feels firsthand, but once you have chosen one that you love, go home, compare prices and see if you can save by going direct.
Most top grill manufacturers have websites, and most offer specials on various models at different times. If you know the brand and the model you want, there are plenty of ways of finding it at a lower price, and the first place to start is with the manufacturer.
Here are the websites of 5 popular grill manufacturers:
Moving Season
If you don't mind a second-hand grill, you may be able to pick up a bargain during moving season. People are more likely to move in summer when the kids are not at school, and often they get rid of the bulky items first.
Scan your neighborhood for summer garage sales and get in quick if you spot a grill you like. Just be sure to inspect it thoroughly to check that the ignition and burners are working perfectly. If the seller is moving, they may genuinely not want to transport their perfectly-fine grill and would prefer to purchase a new one at their new property.
Which Is The Best Grill To Buy?
Purchasing a grill appliance for your home is expensive, so you don't want to get the wrong type and spend your summer wishing you had selected something else. There is no one right grill, and it should be chosen according to several key criteria.
These are a few things you should have decided before you start shopping for your new grill:
Does the brand matter?
Should it be gas, charcoal, or pellet fueled?
How many people will I usually need to cook for?
Should it have a lid, be open-style, or do I need a Kamado-style grill for a broader range of dishes?
Will I need to transport my grill frequently?
Where will the grill stand when it is not being used?
One of the most accurate ways to decide on what grill is right for you is to go and look at your neighbor's grills. Ask them what they like and which features they don't need. Check which brands are holding up to conditions in your area.
Consumer Reports has a great article that gives great advice when choosing a new grill.
Related Questions
When Is The Worst Time To Buy A Grill?
Statistically, the worst time to get a good deal on a new grill is between March and June. However, if you need to replace your grill in that period, look out for specials and flash sales. Memorial Day weekend sales in May often offer great deals on all outdoor equipment, and you may be lucky.

Also, if you do need to replace your grill during the spring high-grilling fever period, shop around for floor stock. Manufacturers often make minor upgrades, and retailers need to move bulky grill setups, so they may be willing to offer some of the floor models at a discount.
Can You Use A Grill As A Smoker?
It can be tricky to use a regular charcoal or gas grill for smoking food because the lid doesn't always fit on as snuggly as you may need to smoke your food, and it can be difficult to control the internal temperature.

If you love smoked food, invest in a grill setup that specifically includes the smoker function in its list of features.