Sample News Update: Scruffy Stoner Beard Oil, Susan Posnick, Wikki Stix, TalyorMade Project (a) Golf Balls, Unbreakable Kid's Sunglasses, Vornado, Blackrock Highball Glass, WaterBottles.com, Ringtonica Flashlight Carabiner & Gamblin Conservation Colors
Important Note: When you buy through our links, we may earn a commission. As an Amazon Associate we earn from qualifying purchases. Content, pricing, offers and availability are subject to change at any time - more info.
Another week of free sample news updates fresh off the press for you. As usual I'm sticking with the "The Good, the Bad and the Ugly" theme for this update. Let's start with the good news.
The Good:
Free Samples from June 8th 2016 – June 15th 2016: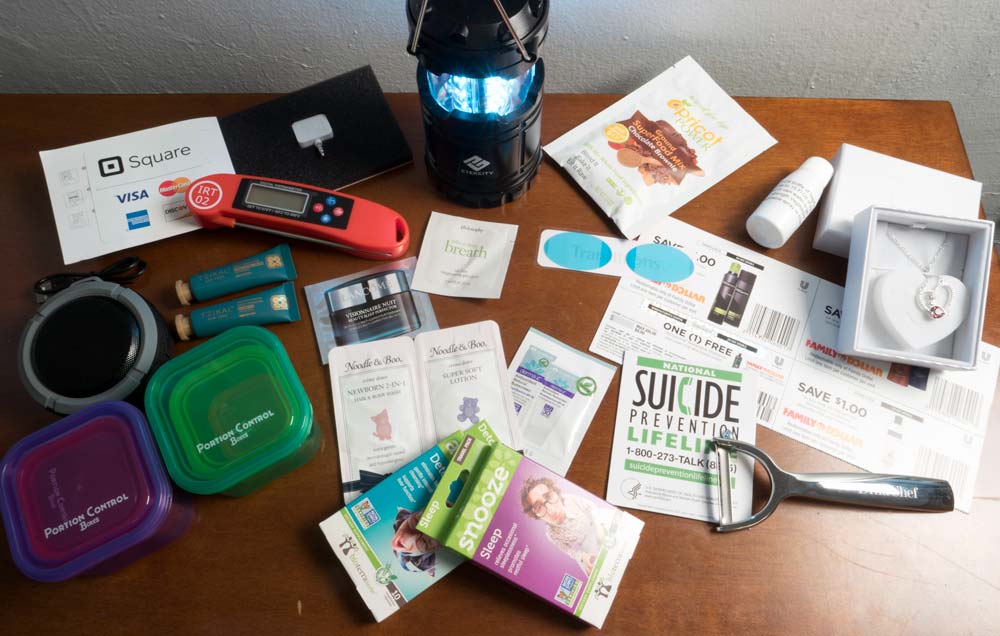 Freebies received: Square Reader (still active, but price is a little higher), Marlboro "Get Outta Dodge" Rugged Bluetooth Speaker (still active?), Apricot Power from Mom's Week (expired), Philosophy Take A Deep Breath Energizing Oil-Free Oxygenating Gel Cream (still active), LANCÔME Visionnaire Nuit Beauty Sleep Perfector (expired), T'ZIKAL Beauty's Hydrating Shampoo and Deep Moisturizing Conditioner (expired), Noodle & Boo Heavenly Skin Care Samples (expired), BioTerra Herbs Travel Pack (expired), National Suicide Prevention Lifeline Magnet (still active), VegWASH from Nutraneering Offer (expired), Pair of Transitions Adaptive Eyeglass Lens Decals (still active), Tresemme Botanique From Family Dollar's "Value Meets Beauty" Offer (expired), Austrian Crystal Heart Pendant Necklace from the Francois et Mimi email list (I'll be reviewing this too) & derma|e Firming DMAE Moisturizer (expired).
Review items received for free or nearly free: Etekcity Ultra Bright Portable LED Camping Lantern (closed for now, but you can still sign up), Meat Thermometer by Instant Read Thermometer (Review Kick), Portion Control Boxes (Review Kick) & Vegetable Peeler by DinaChef (Review Kick).
Susan Posnick: Received this email from them saying that the samples are back ordered 10-12 weeks. Good news to know they are still planning to honor the samples!
Wikki Stix: They sent me an email asking to verify my address, that isn't a bad sign, looks like they are going to be shipping soon!
Solo Eyewear: I had them in the "Bad" section last update because they missed a key date after the refer-a-friend giveaway ended. A few days after I got an email and reports of other readers getting emails with their prize being acknowledged. So, this is good news, we'll see if they miss the end of June date as promised here though: "We will follow up with you by the end of this month to provide directions to order your sunglasses." (from June 9th).
TalyorMade Project (a) Golf Balls: I got an email saying that they will be coming soon, not bad!
The Bad (Maybe / Not Coming):
Vornado: You maybe getting a Vornado, but, maybe not. An email from them said: "Thank you for signing up. Due to a limited number of samples, we cannot guarantee that everyone will receive one. If you are selected we will notify you shortly." – time will tell.
WaterBottles.com: I got multiple reports saying they won't be honoring the recent sample requests, most claimed it was a false advertisement. How nice of them. I won't be ordering any water bottles from there anytime soon with that attitude.
Bag of Dicks: I saw an email published on Reddit here, then I emailed them and got the exact same message. The key part of the message: "If you haven't gotten them by now, likely you won't at all b/c either it got lost in transit, mistakenly thrown out as junk mail, or fucked up during fulfillment due to sheer volume." – so if you haven't got a bag of dicks yet, well, you most likely won't ever get them.
Gamblin Conservation Colors: This never got posted on YoFreeSamples but it was on other freebie sites so worth the update. They posted a message where the sample URL linked to and the key part was: "We do not make watercolors; there is no free watercolor sample set." – sorry folks, this one was never coming.
Scruffy Stoner Beard Oil: This one turned from "free sample" to "contest" after getting this email the other day, oh well, I hope you are a lucky one who gets a random sample. Hopefully this company comes back with another sample that works out for their business now that they learned the power of sampling.
Lelo Hex: I'm confused after this email and this email. Wait, no I'm not, it's just another bait and switch type deal. Sign up for samples, wait a few weeks, then release only 500 samples that you have to pay for shipping on too. At least they got a bunch of good press recently, and their product seems unique. I wish them luck on their mission, but our relationship started on a lie, ugh.
Unbreakable Kid's Sunglasses: No dice, according to their email they "originally set out to give away 100 pairs but we were hit with almost 11,000 (yes, 11 thousand) requests before we could even shut down the offer. Your request was among those and unfortunately we can't give that many sets away." – at least they let us know and gave us a coupon anyways, a good attitude and clear communication is a good way to start a relationship.
MacFly Fresh T-shirt: According to their terms, the contest ended June 14th. I posted it on the site June 15th. I apologize for letting the one slip past me.
Wipe Easy Table Cloths: After posting this I realized it was a UK only offer, again, my apologies for letting this slip too. It has since been deleted from the site too.
The Ugly (Fakes):
Blackrock Highball Glass: I enter my information. I see a prompt after saying "Can you do us a favor?" – I say "oh sure, of course I'll help", then it takes me to ShoeDazzle.com, wtf? Oh, I just discovered another scum bag Facebook page running fake free samples. URL to avoid: https://www.facebook.com/BlackrockManufacturingSolutions?sk=app_190322544333196&ref=s
Ringtonica Flashlight Carabiner: I didn't even have to enter any information, because they don't even check on the form if you enter anything, why? Because it's fake and they want to send you to the next page. In this case it was to LifeScript. Not sure what LifeScript is? It's an endless hell of offers you must skip past before you realize it'll never end. URL to avoid: http://www.ringtonica.com/aps/shop_display.php?coID=215
Scroll Pen: I posted this on the site and I sincerely apologize for letting this slip, a couple hours later I posted it I realized it was a fake (servers in Panoma, other factors). It has been deleted from the site.
That is all I have for the sample update today! Do you have any updates to contribute, send me an email at freebie-updates@yofreesamples.com
---
Advertisement
---