Free Sample News Update: MomsRising Water Bottle, Ketepa Pride Tea, Cambond Bluetooth Speaker, Tulip Dental Products, CardSharp, Hollister Medical Products, FitJoy Gluten-Free Protein Bar, Kona Sticker, Force Fly Spray, Cheddar, Francois et Mimi, Solo Sunglasses & Amoretti Syrup Sample Box
Important Note: When you buy through our links, we may earn a commission. As an Amazon Associate we earn from qualifying purchases. Content, pricing, offers and availability are subject to change at any time - more info.
Hello fellow freebie hunters, here is another update on my mailbox, what freebies worked and what didn't work out so well. And as usual I'm doing with the Clint Eastwood theme of "The Good, the Bad and the Ugly" for this update. Let's start with the good news.
The Good:
Free Samples July 19th 2016 through July 26th 2016: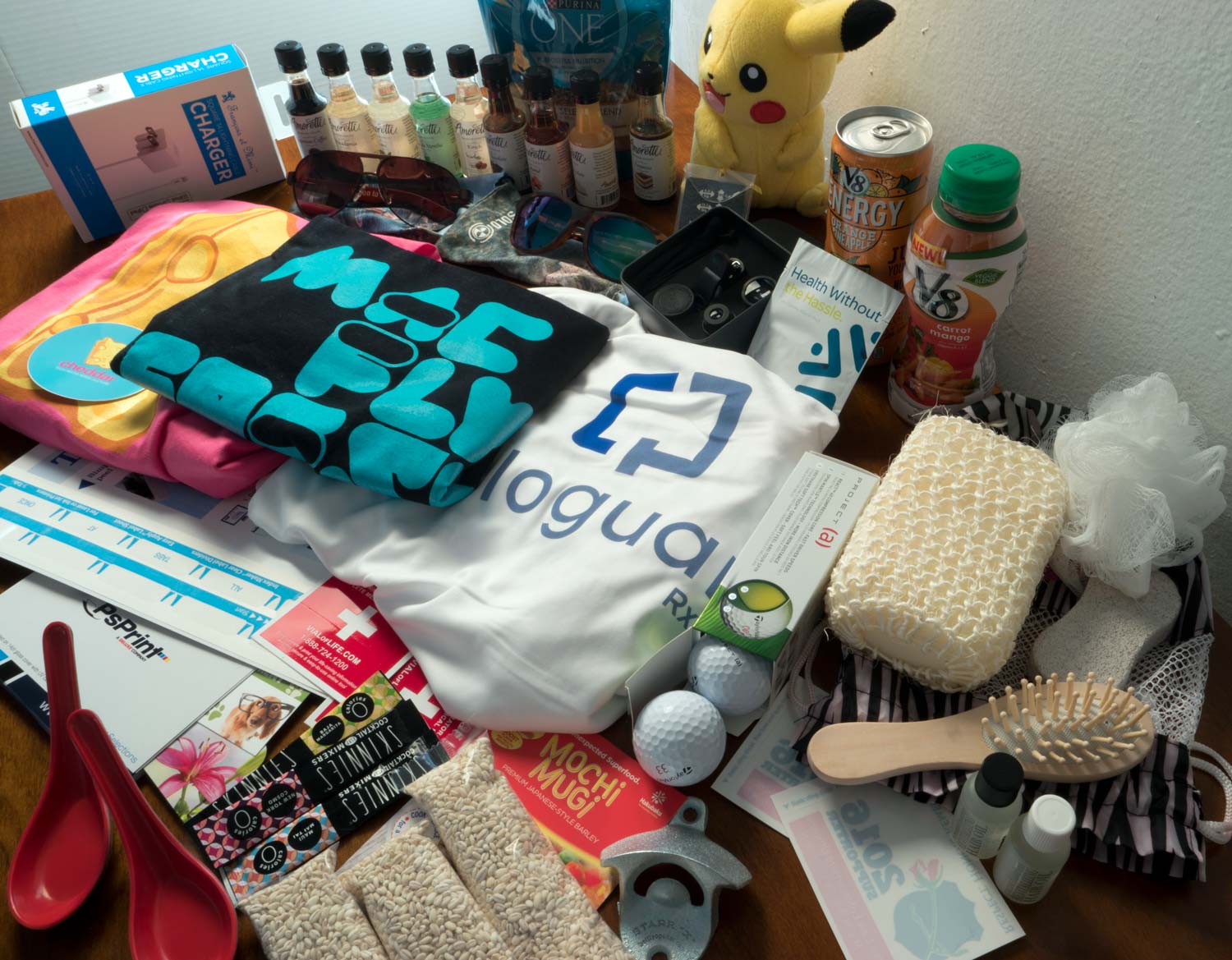 Psst.. you can click on the image above to open the image full-size in a new tab.
---
Advertisement
---
Freebies received:

Mac Fly Fresh T-Shirt: This isn't the 100% free shirt actually, I ordered the one with shipping cost only ($4~) because they were so responsive the day of the promotion with me on Twitter.
Amoretti Syrup Sample Box: I got this from Amazon and already got the $9.99 Amazon credit back. I am now a master barista/bartender for my partner, ah yeah. It's also still in stock if you are interested.
iPhone Charger: This was from Francois et Mimi's Amazon review program. An interesting note about them recently is that they are now offering Walmart discounts for reviews. It didn't seem to work for most folks I spoke with unfortunately. However, I think this is a sign to keep an eye out for more Walmart in exchange for review programs beyond Francois et Mimi.
Cheddar T-Shirt: While the promotion ended quickly because the form exposed everyone's personal information who submitted the form, this one did come for people who were subscribed to their newsletter. And might I add, the newsletter is a great business summary if you are into that.
Cologuard T-Shirt: Although it's expired, it came, and it's very very nice quality. I also left the information cards at my gym.
V8 Drinks: This came from a non-monthly PINCHme offer. They are delicious. If you aren't familiar with PINCHme yet, check out my review here.
TaylorMade Project(a) Golf Ball Sleeve: They finally came! I can't wait to use these when I go home to hang out with my pops.
Mochi Mugi Premium Japanese-Style Barley: This one expired quickly, but it also came very quickly from when it came out on July 9th.
Bottle Opener: This one is from the kick-off of the FreshCope daily instant win game. The contest is still going on and I won 2 things from it too if you want to give it a shot.
2 Sunglasses: I had to pay $7 shipping which I didn't expect. These were from a refer-a-friend promotion posted a few months ago. While shipping was unexpect it was totally worth it for the value of the sunglasses.
Spa Kit: This is from the Words, Wine & Women refer-a-friend program. Great kit and a great site too!
Pokemon Plush: This was from my first attempt at using TopCashBack. They run lots of 'new members only' freebies and I couldn't resist this one. I'm happy to report I got 100% cashback too.
Avery Tabs: These finally came. They were ordered many months ago.
Mobile Phone Macro Lens: This was from the kick-off of the Marlboro Capture The Unknown daily instant win sweepstakes. Also still going on and I won a prize from that as well if you want to try entering daily I've been reposting it daily in the newsletter or you can try it here.
Skinnies Drink Mixers: I got a second set of samples, not sure why but other folks did too. Nothing to complain about here…
VitaFive Gummies: This was from the week of wellness "SamplerApp" event.
PSPrint, Vial Of Life & Memorial Fund: These were 3 separate freebies, nothing crazy useful here but wanted to just name them in case you were wondering.
Soup Spoons: This wasn't free. It was from a limited time Amazon deal where they were priced at $1.71, they are a few cents cheaper now and you can score them here with free shipping (without Prime too I believe).

ACLU Cards: Shipped and coming in 1-2 business days.

FitJoy Gluten-Free Protein Bar: They just sent out an email to enter your mailing address. If you scored one of these be sure to check your email now. After entering my address it told me "We'll be mailing out your free bar next week!" – not a bad shipping time compared to most freebies!

Ketepa Pride Tea: These were from May 18th or so. If you ordered them check your email, I got a shipping notice a few days ago!
The Bad (Maybe / Not Coming):
Azo Cranberry Gummies: I received this email from them here telling us there was a glitch in their system that let a bunch of us know that we got the freebie and it's on the way. So in short, it's not coming but they gave us a $2 off coupon!

Force Fly Spray: It's a good thing you ain't a horse because this horse product isn't coming for you! According to their email "Due to the overwhelming response, supplies of the 4 oz. sample of Pro-Force Equine Fly Spray have been exhausted. But, you can still click here to get $20 in money saving coupons from the Force Fly Control line made for horses."

Cambond Bluetooth Speaker: I received this badly worded email from them the past week. Not sure how to read this one as it's so hard to understand but from how they are handling communications I've got a little less confidence it'll be coming. On a positive they said they will be reviewing applications in the coming weeks but don't hold your breathe.

Kona Sticker: Not coming. Also according to their email: "Unfortunately, due to the demand of free merchandise we have to change our polices" – this change? To charge $2.50 per sticker in the future.

Hollister Medical Products: They emailed me politely asking to be removed from the site which I did and that they "don't have the resources to handle this volume." so don't be expecting these ones!

MomsRising Water Bottle: Not coming. This was only for 50 people from a 2013 offer. And this was their email explaining it: "In late May you filled out a form on our website to request a free water bottle. I'm writing to let you know that the link was not provided by MomsRising and that the water bottles are no longer available; they were offered in connection with a giveaway for the first 50 participants who posted pictures of a completed National Women's Health Week BINGO activity card back in 2013, and were all awarded to entrants at that time. You may have noticed the "Thank you for submitting your photo and playing Healthy Moms BINGO with us! To receive your free water bottle, fill out the form to the right." language when filling out the form . . . that's what that was about! The form you filled out was only supposed to be made available to those first 50 people, and was never intended to be publicly accessible except to users who submitted photographs to us back in 2013. For that reason, we are unable to send you a water bottle at this time."

Tulip Dental Products: I received this email from them here telling us they are working on shipping the prizes to those that earned it in the comings weeks. Then things soured to bad when I clicked on the brush that was 'on them'. I went there and it required credit card information and it set you up for a re-billing program ($0 the first month, $12 after bi-monthly). Sneaky and not so cool if you don't pay attention. Bad karma for them.
The Ugly (Fakes):
Gasp! I didn't find any verified fakes the past week. Although my gut says the CardSharp offer going around is fake, I'm waiting to hear back about it from the producers of CardSharp but so far have heard nothing back. URL if you are curious: https://docs.google.com/forms/d/e/1FAIpQLSdkFA-GTXpvMHws5tBX6rzzRrgO9N7mb7ZE4s0jTngSNi857Q/viewform
That is all I have for the sample update today! Do you have any updates to contribute, send me an email at freebie-updates@yofreesamples.com
– John 'Samples' Clark