Free Sample News Update: SmartMud Masque, Wink Naturals, AsakoRainyDay Ready Meal, Tiger Nuts, Copenhagen Bottle Opener, Superior Glove, Yellowberry, Tecnu Bites & Stings, Toki Hot Sauce, Kai Meal Shake, Miniature Water Cooler, Matrix Of Life Coffee+Tea, Sharpie 24-Marker Set, GoodRx Freebies, Asako Detox Foot Pads, Zecuity Migraine Kit, Travel Sewing Kit, Digilake Pencil & More
Important Note: When you buy through our links, we may earn a commission. As an Amazon Associate we earn from qualifying purchases. Content, pricing, offers and availability are subject to change at any time - more info.
I hope you all had a great July 4th. I took a little hiatus from the sample update for the holiday but now I'm back! And as usual I'm doing with the Clint Eastwood theme of "The Good, the Bad and the Ugly" for this update. Let's start with the good news.
The Good:
Free Samples June 23rdth 2016 through July 18th 2016: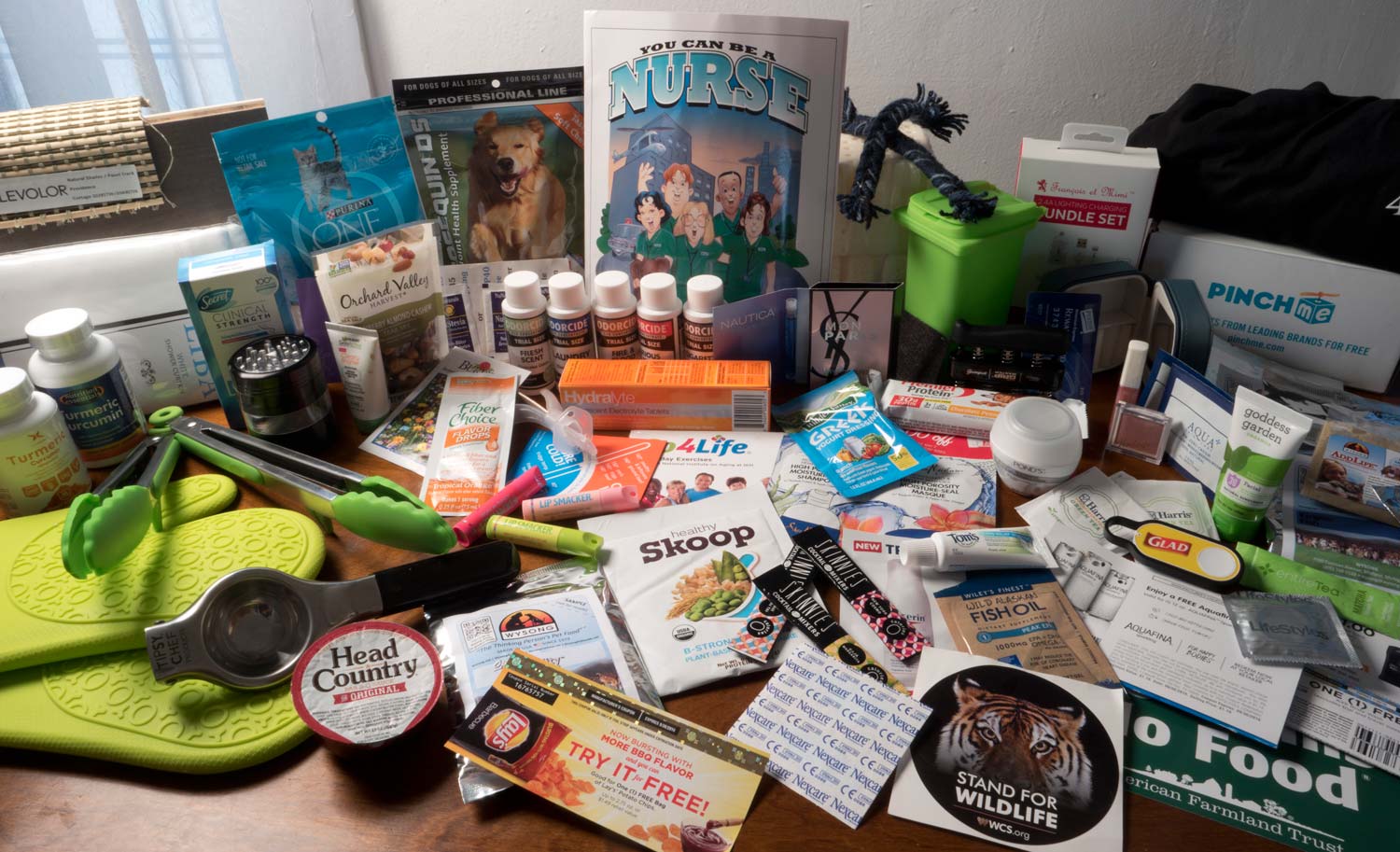 Freebies received: Tons of them. If any questions about what a specific one was or how I got it, feel free to shoot me an email and I'm glad to explain. However, keep in mind most of them are expired as this is a "post-game" style update about getting free samples in general.
Copenhagen Bottle Opener: I got an email 4 days ago stating it's arriving in 1-2 weeks. If you ordered one, keep your eyes on your mailbox!
GoodRx Freebies: They just informed me that they are shipping the pillboxes within a few weeks and their phone wallet offer is indeed real (posting shortly after this update).
Lip Smackers: If you read this previous update (in the bad section) you'll remember I spoke with them on Twitter to confirm if you hadn't gotten an email about a sample shipment, you wouldn't be getting one. Well surprise, surprise, it looks like a ton of people actually got them including myself (included in the photo in this post). Awesome change of events, I hope you got them too.
Miniature Water Cooler From Camel Hump Day: If you sign up for this one before it expired, you'll be waiting a bit longer for the water cooler. I got the recycle bin already (in photo) so it looks like the water cooler is the delayed item, but, it is coming!
Incense Zen: Some lucky folks got their Incense Zen according to Reddit, must be part of the lucky 100 people that got it in time.
Words, Wine, Women Prizes: If you referred enough people to earn a prize, check your email for a form to verify your address otherwise you won't get your hard earned prize.
The Bad (Maybe / Not Coming):
Kai Meal Shake: I got an email from them stating that With that huge demand, we regrettably ran out of samples., oh well, at least they gave us a coupon.
Wink Naturals Sleep Products: This one isn't coming unless you take a next step (and even then you only "may" get selected) by filling out this survey. Their email stated We only have a limited supply of samples to send out, and we have a few interns ready to go through and find the homes who would benefit most from our sample.
Tiger Nuts: A bunch of websites posted this one, it didn't smell right so I asked them. They confirmed this offer wasn't meant for the general public, so don't expect any samples. See their confirmation here.
patchology SmartMud masque: Sad news for masque lovers everywhere, they sent me this email here to let us all know none of the samples are being fulfilled. However, they get serious brownie points for that 50% off coupon, most brands should offer a deeper discount like patchology did after getting overwhelmed by sample hunters because we are so discount conscious.
Tecnu Bites & Stings: They were kind enough to let us know that This offer is ONLY for medical professionals and anyone who came from your site will not receive any free samples. – I removed the offer from the site as per their request too. Not sure why other major sites like MySavings, etc have it on their site still. I guess they don't care about the actual companies or the sample hunters like us who will never get this one.
Zecuity Migraine Kit: If you were looking forward to that free eye mask and earplugs in the kit, well, it's not happening. The FDA has suspended them from selling or marketing their product due to "adverse skin reactions" – yikes. See the letter here. And thanks to Katie for the heads up.
Yellowberry: I got an email from them that I won my reward for sending 16 people their way. Oh, I just have to spend at least $32 on their Kickstarter. That was NOT clear from their promotion page at all. Their teenage CEO might be revolutionizing the bra industry but she clearly doesn't know how to set promotional expectations.
Superior Glove Cut-Resistant Work Gloves: I got an email saying Unfortunately, based on the information you provided*, we can't send samples to you at this time. – not surprising but just sharing if you signed up. It's not going to come unless you are a larger business.
Asako Detox Foot Pads: I got an email saying Unfortunately if you are receiving this message, you were not drawn as a winner – so if you signed up you from this site, you most likely missed out on this freebie too.
The Ugly (Fakes):
RainyDay Ready Meal: No business address. No business email. No company or real human name listed anywhere. Website is months old. No samples are coming (most likely). URL to avoid: http://rainydayready.net/pages/request-a-free-sample
Digilake Pencil: Another "Can You Help Us?" affiliate spam form pops up after you fill this out. URL to avoid: http://www.digilake.com/free-pencil.html
Sharpie 24-Marker Set: This one was sent to me by a concerned reader and I can see why. As a general rule anytime a URL has ".com" (or ".net", etc) in the URL twice, you should insta-run away. This is a classic tactic used by phishing scammers to confuse people to think it's really on a companies website, at least they didn't ask for a password. Also another red flag, bad grammar. URL to avoid (and I highlighted both .com's for you): http://www.sharpie.com-marker.com/
Toki Hot Sauce: Something doesn't smell right here. Google Forms on their own are sketchy without something else to cross check it again. This form included a website, www.tokihotsauce.com in the form, which isn't a valid website anymore. My hunch is this was just an old offer and the company went out of business. Either way, it's not a real offer anymore without anything backing it up, so avoid this form: https://docs.google.com/forms/d/e/1FAIpQLSeJLn3-R740HTeNDlhVqCRvckzj-bKfniG0n_uhVMaJDroONA/viewform
Matrix Of Life Coffee+Tea: It looks like a legit offer (http://www.matrixoflife.com/free-coffee-tea-sample/), but then you go to their homepage (matrixoflife.com) to see a bare bones website with a very notable post linking to SexySpirits.com. I think a reasonable person wouldn't be expecting anything from this one.
Travel Sewing Kit: Why would a small shop with a non-existent physical address on a country road offer free samples you ask? They wouldn't, because, uh, they don't have an actual address that existed ever. Their form also submitted without checking if you entered anything at all too, let's call this URL fake so you don't waste your time: http://hallmanstailor.com/content/speciality/index.php
L'Occitane Lavender Hand Cream (again): This was going around freebie sites again, even larger ones which was surprising. It's fake people, come on. After you sign up it sends you to an affiliate link for JustFab (they earn money from it). And the company is based out of Seychelles (the new Nigeria of scams!) too. If that isn't enough, it's hosted on Amazon EC2 which is a scammers 1st choice. 3 strikes and you are fake. Avoid this one. URL to avoid: http://aromasamples1.s3-website-us-east-1.amazonaws.com/
That is all I have for the sample update today! Do you have any updates to contribute, send me an email at freebie-updates@yofreesamples.com
---
Advertisement
---