Will Michaels Take Expired Coupons?
Important Note: When you buy through our links, we may earn a commission. As an Amazon Associate we earn from qualifying purchases. Content, pricing, offers and availability are subject to change at any time - more info.
Key Takeaways
All coupons from Michaels have strict expiration dates.
Michaels does not honor expired coupons, but new coupons are always available.
You may be able to stack coupons and discounts at Michaels if you do some planning ahead.
Do you love making crafts? If you do, then you probably can't resist frequent visits to Michaels.
---
Advertisement
---
Michaels craft stores are really popular, and you can find them just about anywhere in the country. Plenty of Michaels shoppers like to save money, which may make them wonder if it's possible to use expired coupons from the retail giant.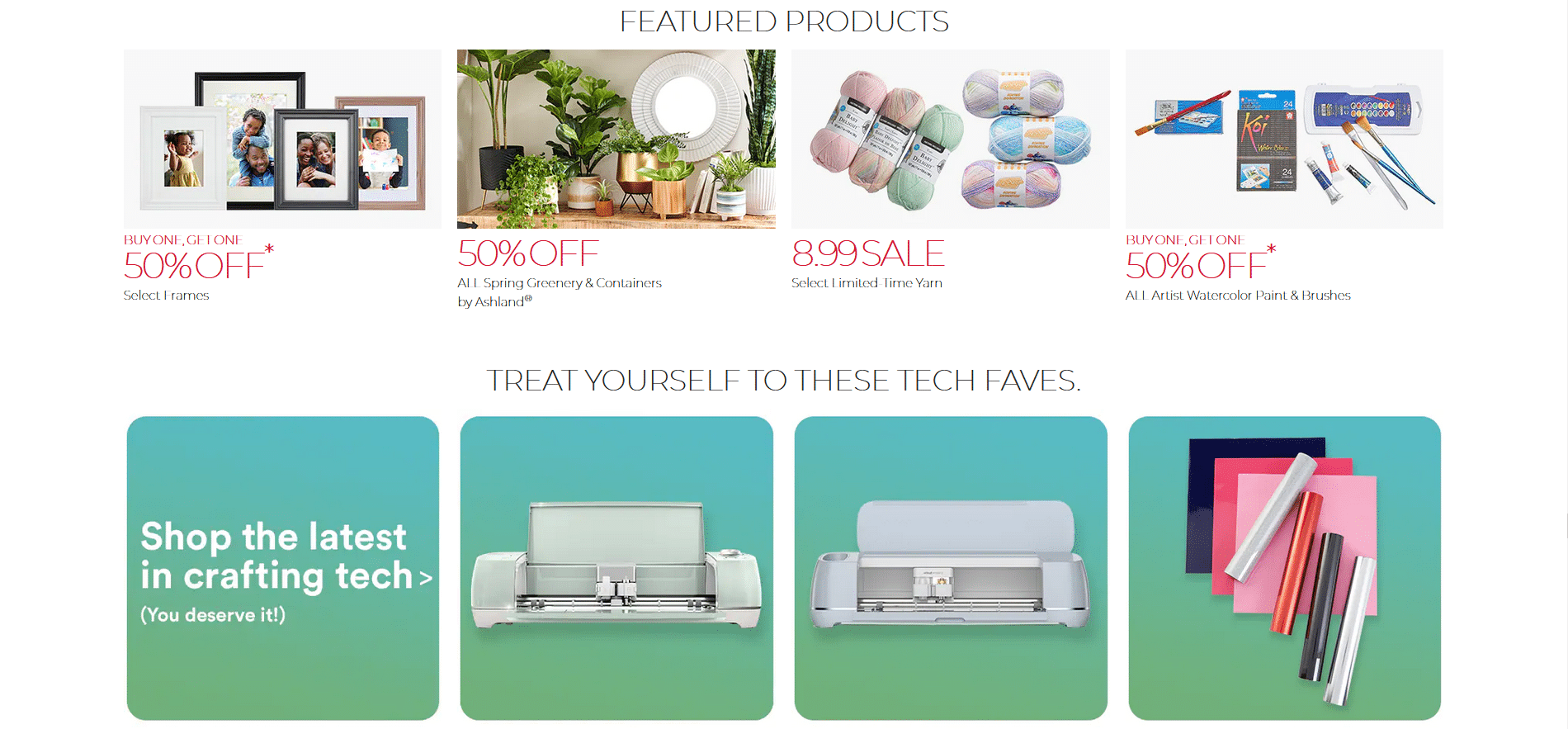 Unfortunately, expired coupons typically are not accepted at Michaels. The good news is that this craft store offers many coupons on a regular basis, so if one coupon is expired, chances are good that you can find another one that is still valid.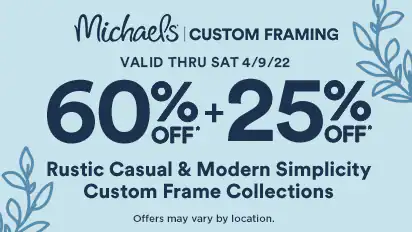 With coupons from Michaels, it's really not that hard to save big money on things like craft supplies and home décor. On top of regular sales and discounts, the retail chain also floods its customers with coupons. This means that it is possible to score merchandise at deep discounts, sometimes even 90-percent off the original price.
Of course, if you are determined to get the best deals at Michaels, you need to know which of their sales offer the best deals, how to stack coupons and be able to identify which products are most likely to get the best markdowns.
Does Michaels Price Match?
Here is one super-easy way to save money at Michaels. The store pledges to match the price of an identical item for sale by a competitor. Even better, they will beat that price by 10 percent. All you have to do is bring along a printed advertisement or photograph to prove the lower price that you found somewhere else.
Just keep in mind that if you do ask for a price match at Michaels, you won't be able to use any coupon with the transaction. This means that it is imperative to do the math to make certain that the price match plus 10-percent discount actually will give you the best possible deal.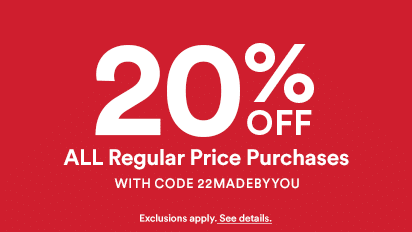 One of the most frequently seen coupons from Michaels is the one that gives you 20-percent off all regular price purchases. If you are not certain how to get one, just download the Michaels app on your tablet or smartphone. The app has a "Coupons" feature that will give you immediate access to all valid coupons. The 20-percent off regular price purchase coupon is pretty much always there.
To use this coupon, just show the barcode on your smartphone when you check out at the register. It's also possible to enter a code at the Michaels website if you prefer to shop online.
As always when using coupons, make certain that you read the fine print. Coupons from Michaels generally have exclusions on things like Cricut-branded products, custom framing, items that are already on sale and others.
Can You Get a 40-Percent Off Coupon?
Michaels used to offer 40-percent off a single regular price purchase coupon more frequently, but they seem to have cut back on its use in more recent years. That means that it makes sense to use that 40-percent off coupon if you ever see one.
These coupons most often arrive in a mailer, and it's likely that other coupons will be included as well. If you don't get flyers from Michaels in the mail, then contact Michaels Customer Care on their website to add yourself to the mailing list.
Use Your 20-Percent Off Coupon on Several Items
One of the things that distinguishes the 40-percent off and 20-percent off coupons is that the 40-percent discount usually is only good on one item. The 20-percent discount can be used on multiple items. If you have several regular price products that you would like to buy, then that 20-percent off coupon is definitely your best bet.
This lets you save your 40-percent off coupon, if you get one, to make a larger purchase like that craft supply storage system that you've had your eye on.
You Can Use More Than One Coupon
Let's say that you've found your 20-percent off regular price items coupon in the app, but also have a coupon that will give you 40-percent off a purchase of cardstock. Michaels allows shoppers to use both of these coupons in a single transaction, but it's important to realize that the savings won't be stacked.
In other words, you'll get 40-percent off on all of the cardstock that you buy, but you'll get 20-percent off on all of your other regular price items. What you don't get is 60-percent off your cardstock.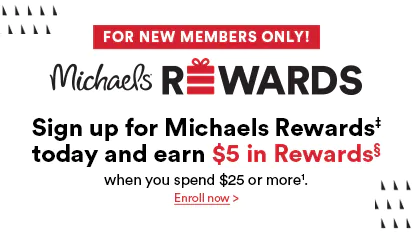 Michaels Rewards is a loyalty program that might be unlike other rewards programs of which you might be a member. That's because you won't earn points that are dependent upon the dollar amounts of your purchases. Instead, you'll get rewards for buying promotional items. However, these promotions aren't always specific items. You may see offers that give you a five-dollar reward when you spend a certain amount of money, like $25.
If you have the Michaels app, which just makes sense if you're a regular shopper there or want to be, navigate to the "Weekly Ad" section and then "Michaels Rewards." This will show you what's available right now.
Rewards flyers typically are found in the front of the store too so that you'll know how to earn rewards when shopping at a brick-and-mortar location.
Rewards vouchers are sent to you via email. Think of it as a store credit that you can use on your next visit.
Members get additional perks like being able to make returns without receipts and invitations to special events. You'll also get priority notifications about upcoming sales.
If you really love bargain hunting, then a Michaels Rewards membership is essential. You can actually stack your Rewards voucher with coupons, giving you even more bang for your buck.
The Best Sales at Michaels

Throughout the year, Michaels offers special sales and discounts on certain merchandise. Knowing when these items are likely to go on sale is a wonderful way to stretch your dollar at the craft store.
In January, Michaels is looking to get rid of all of its leftover Christmas items such as décor, floral, yarn, ribbon, crafts for kids and more. At the same time, you'll find good deals, like 60-percent off the regular price, on all organization products. January also is the month when Michaels has its yarn stock-up event with prices of 55-percent off.
February is when the retailer usually runs a seven doorbusters for 70-percent off sale. Products that are discounted may include strung beads, spring floral, photo keepers, ribbon, wrapped canvases, scrapbook albums and frames.
April brings the Lowest Price of the Season Event that features between 50 and 70 percent discounts on shadow boxes, storage, floral and beads. Spring Black Friday also happens in April. At this sale, you could score as much as 70-percent off on spring décor, scrapbooking supplies, craft storage and floral items.
Michaels marks the unofficial beginning of summer in May with the Red, White and Blue Sale offering 50-percent off all summer-themed décor and floral while July signals the Semi-Annual Clearance Event. With 70-percent off floral, baskets, yarn, art supplies, frames and more, this is a sale that's not to be missed.
Another Lowest Price of the Season Event happens in September and promises discounts on fall floral, beads, shadow boxes and frames and wrapped canvases. If you love Halloween, make sure that you drop in on the Mega Monster Sale for half price seasonal décor.
November is the month during which Michaels starts celebrating Christmas. Expect the Holiday Home Event to get you half price on all things Christmas such as baskets, lanterns, garland, ribbon, floral and décor.
FAQs
Does Michaels take expired coupons?
Historically, Michaels' cashiers have not been permitted to honor expired coupons. The good news is that this retailer is always offering coupons, so you can find at least one that will probably help with your purchase.
How can I make sure I'm getting all Michaels coupons?
You can take steps to make sure that you're as in-the-know as you need to be. Download the app for immediate access to coupons, then visit the Michaels website to sign up for emails. If you aren't getting flyers via snail mail, contact Michaels Customer Care to get signed up.
When can I get the best discounts on holiday décor?
Michaels usually has a fantastic ad for Black Friday. If you want to score an inexpensive Christmas tree and all of the ornaments it will hold, this is a great time for getting that done. You'll probably find 50-percent off Christmas items sales in November, and shopping then will give you the best selection. If you want to go even cheaper, wait until after Christmas, and especially until January, to score 70-percent or more off of your Christmas-themed items.