List of Stores with Trade In Programs
Important Note: When you buy through our links, we may earn a commission. As an Amazon Associate we earn from qualifying purchases. Content, pricing, offers and availability are subject to change at any time - more info.
Key Takeaways
Retail trade in programs are a greener way to get rid of the things that you no longer use or need.
Many retailers are willing to accept a surprisingly wide variety of items.
When you need to upgrade your tablet or smartphone, a trade in program can help you save money.
Why Look for Trade In Programs?
If you are like most people, then you probably have a sizable collection of old electronics collecting dust around your house. From cell phones and tablets to desktop computers, you're probably stymied by the thought of what to do with all of those seemingly useless items.
---
Advertisement
---
You might also be bothered by that pile of clothing at the back of your closet. It consists of things you never wear, but some of that stuff is actually nice and in good condition. Wouldn't it be nice to get something for that clothing rather than just giving it away?
What about golf clubs or old video games? It turns out that there are trade in programs for items such as these too.
Let's explore the world of trade ins so that you can get rid of the clutter in your home, help the environment and score some nice extras like discounts and store credit.
Plenty of consumers do the majority of their shopping via Amazon, which means that you would probably love to have an Amazon gift card of your very own. Amazon's trade in program takes things like streaming media players, Kindle eBook readers, tablets, cell phones, Bluetooth speakers, home security devices, wireless routers and video doorbells.
Just visit the Amazon website and fill out an easy form with necessary details like screen size and storage capacity as well as the item's condition. Amazon makes an offer that you can accept or decline.
The company offers free shipping on all items that you'd like to trade in. Approximately two business days may pass before you get a status update after your item arrives for inspection at the Amazon facility.
Are you wary of mailing in your items? Check the Amazon website to find a list of locations at which you can trade in electronics in person.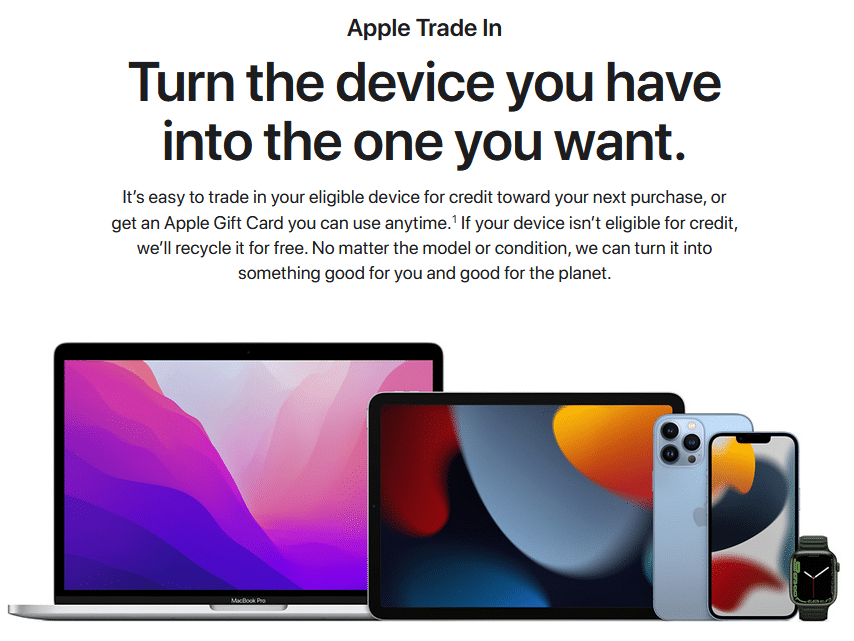 Are you devoted to Apple gadgets? If so, then this is the trade in program for you. Apple will naturally accept Apple Watches, iPhones and iPads, but they also may be accepting certain Android devices.
All you need to do is visit the Apple website, choose your device and you'll receive an estimate for trade in. Follow the easy prompts to trade in an old device in exchange for credit on a new one. Alternatively, you can select an Apple gift card.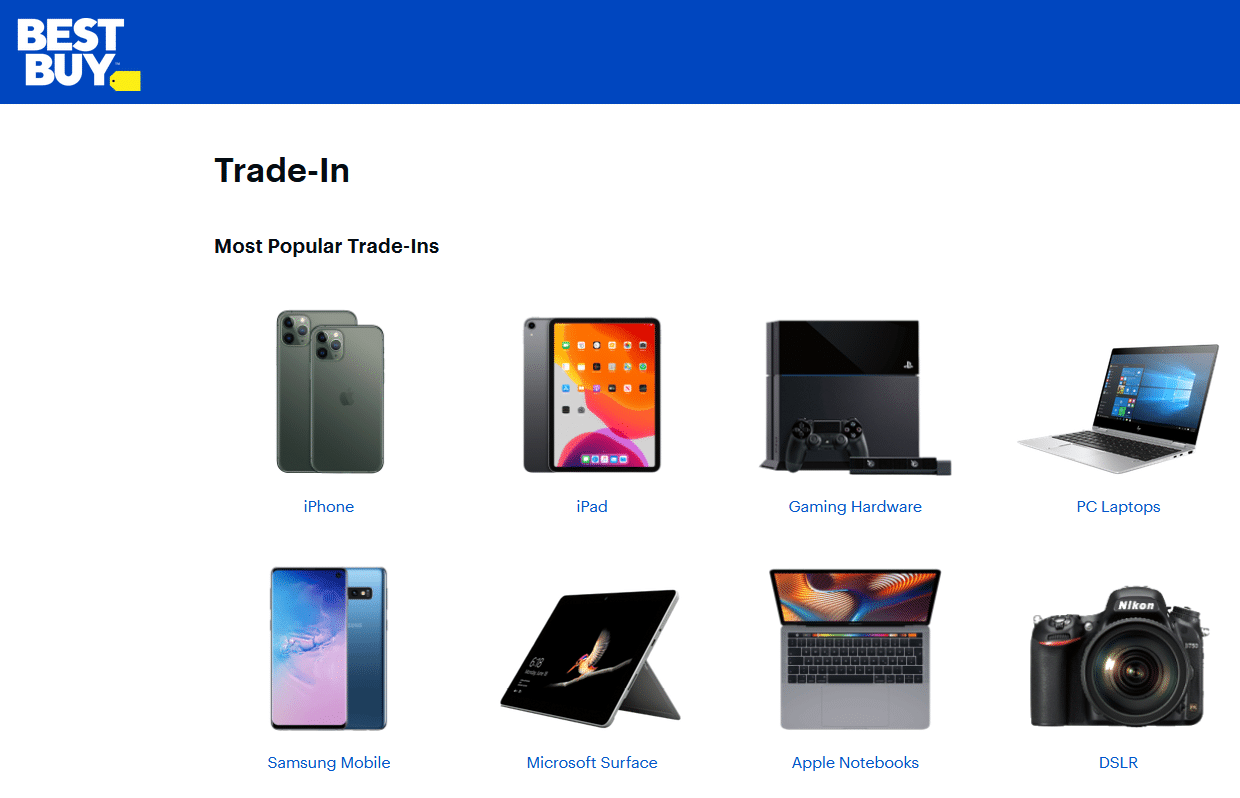 This retail chain gives you a choice. You can receive an instant Best Buy gift card if you trade an item in a store. If you mail in an item, you'll get a gift card in the mail within about seven to nine business days.
Visit the Best Buy website to get an idea of the gift card amount for which you might be eligible. All you have to do is choose a category, a model, the manufacturer and the condition of your item. Fill out the questionnaire, and the online tool provides you with a quote.
If you do mail in the item, you'll notice that Best Buy's turnaround time is a little slower than other services. However, this retail chain appears to accept a greater variety of items that includes virtually every electronic device that you can find in its stores. Examples include smartphones, laptops, wearable devices, video game consoles, video games and digital cameras.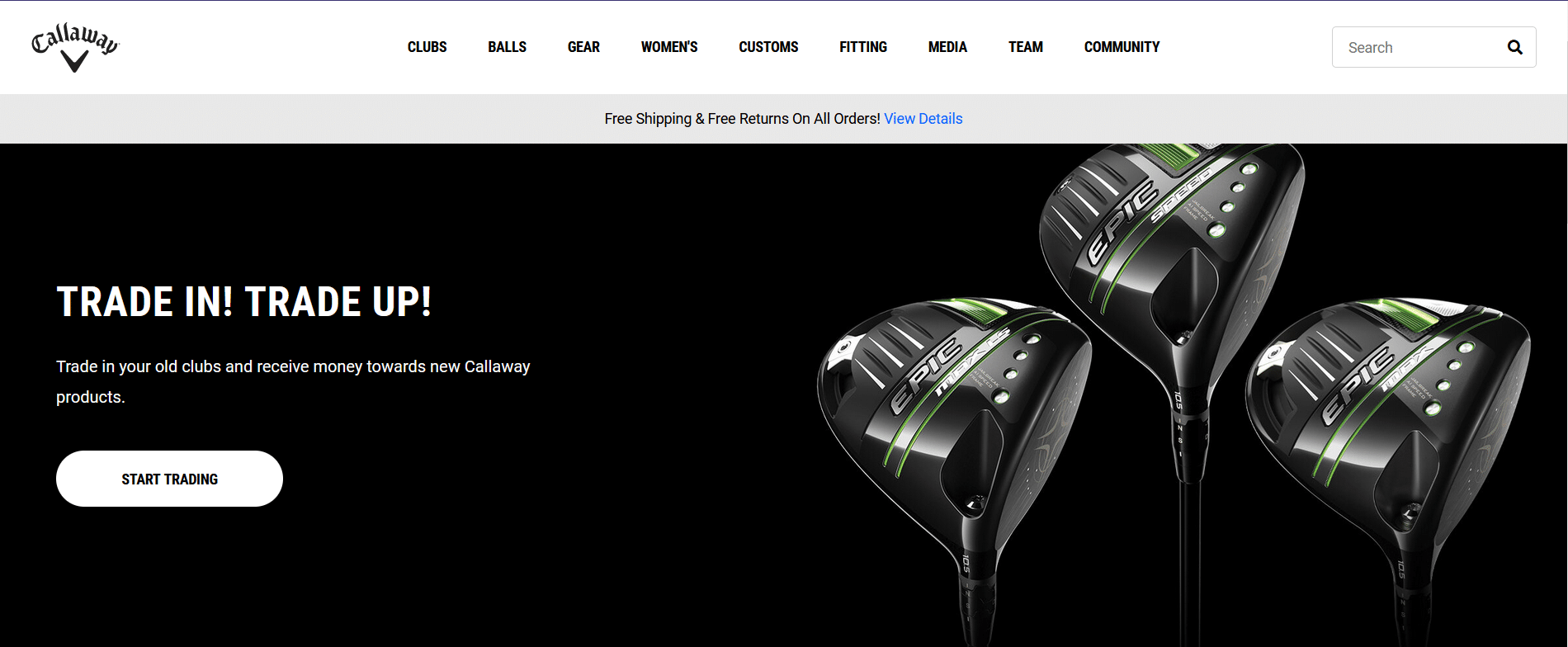 Do you have old Callaway golf clubs collecting dust in your garage or shed? If so, it's worth checking out the Callaway website. That's because you can trade in your old Callaway golf clubs on newer models. Maybe this trade in program will rekindle your love of the game and get you back out on the links.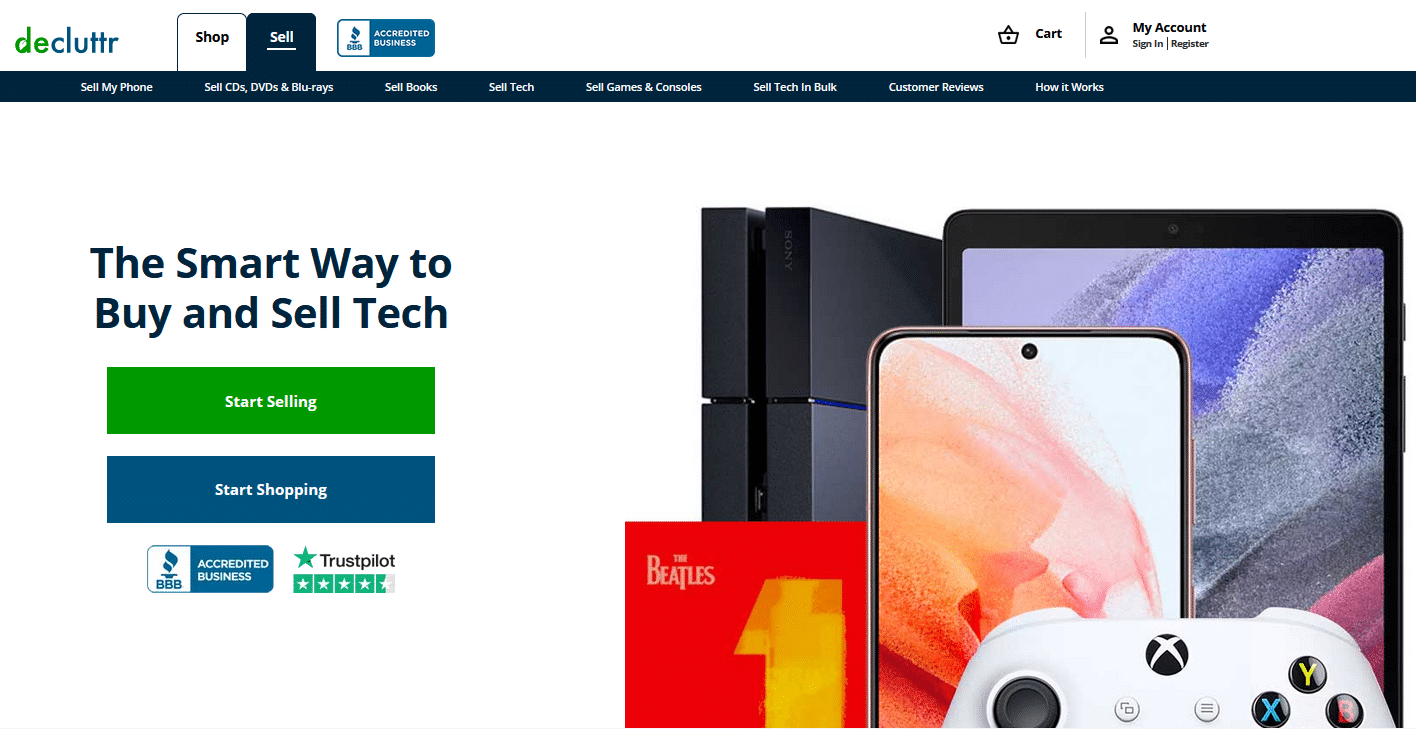 Checking out the Decluttr website is kind of a treat in itself. It offers a fast-paced bidding service that you can put to work to sell thousands of different kinds of tech items. A few examples include DVDs, CDs, books, electronics, games and LEGOs. All you have to do is fill out the form with pertinent information. Within seconds, a bid for your gadget appears on the screen. If the bid sounds good to you, just select the option to finish the sale.
This begins the shipping process. Payments through Decluttr are lightning fast, and you get to choose to receive your money through direct deposit or Paypal. There's even an option to make a charitable donation.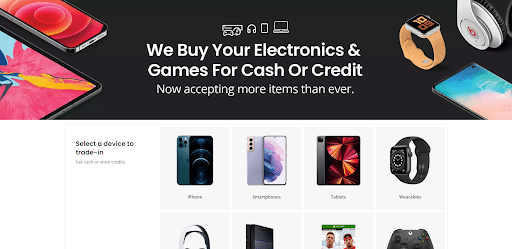 Avid gamers will love this trade in program that accepts both old video games and game consoles. In exchange, you can get cash or opt for store credit. Also accepted are electronics such as tablets and smart phones. Simply visit your local GameStop store to get started.
This website focuses on tablets, cell phones and similar devices. Begin by searching for your particular item on the website. If it doesn't pop up, this means that Gazelle is not currently accepting that item.
If you do get a hit, then you just have to answer a series of questions about your device's condition. Once you accept an offer, you ship your item to Gazelle. Any item that the service considers to be worth one dollar or more ships for free. You receive compensation via Paypal, a check or an Amazon gift card once the device is received and evaluated.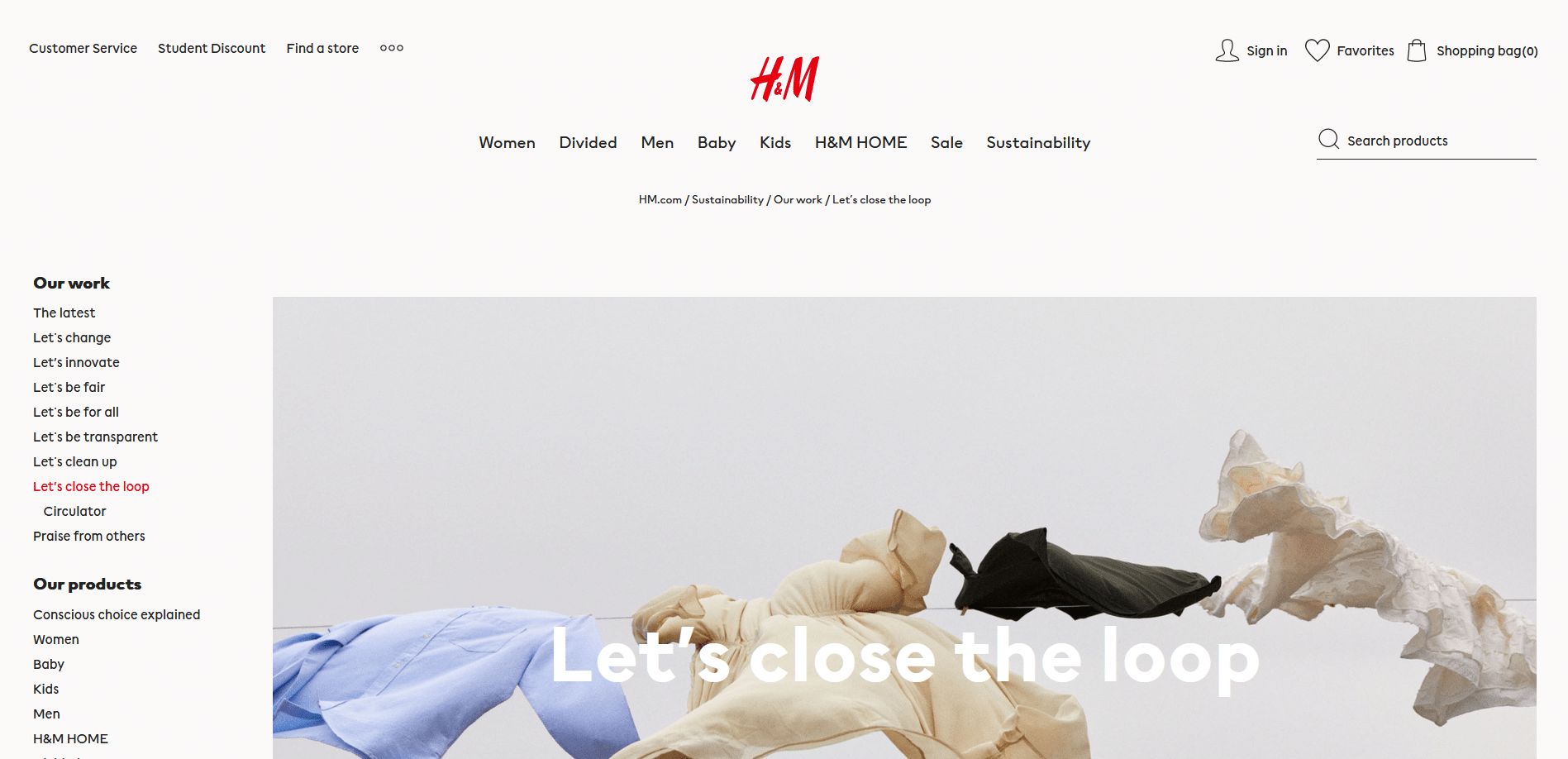 Are you looking to recycle worn clothing? H&M offers an outstanding opportunity to get rid of all of the clothes you no longer want. It doesn't matter what condition or brand, H&M wants it all for recycling, and they don't just restrict themselves to clothing. You can bring in your old sheets or that mismatched pair of socks as well.
Most H&M retail stores have a collection box near the registers. Making a donation will net you a 15-percent off voucher that can be used on your next shopping trip at the store.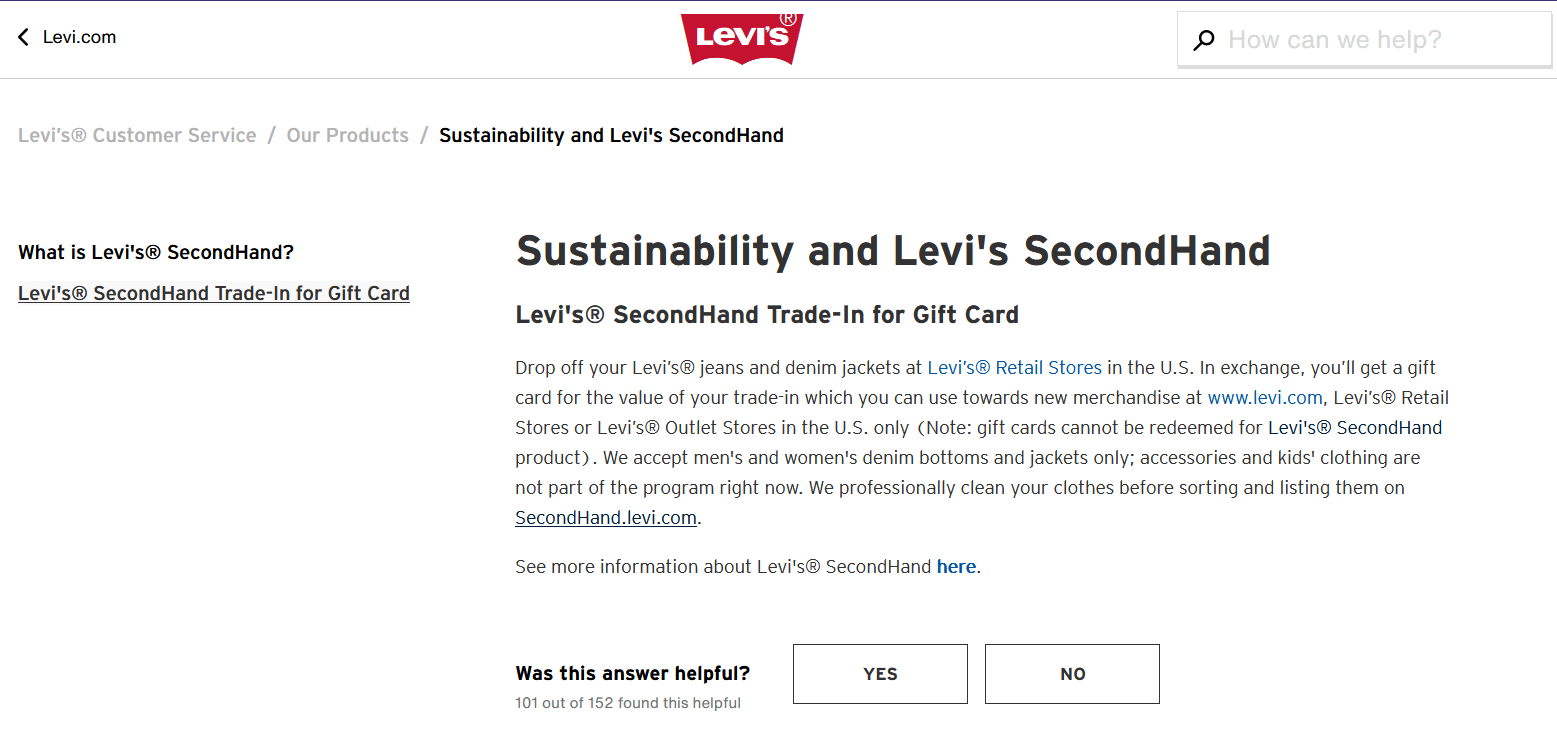 Did you know that manufacturing just one pair of jeans requires about 1,800 gallons of water? Consequently, it's critical to dispose of your used denim in a responsible manner.
Levi's now has an initiative that is designed to make jeans a little easier on the environment. Just donate your used denim items, and you'll receive a 20-percent discount on a single new Levi's item. All you have to do is visit a Levi's retail store or a Levi's Outlet location. Find the recycling box, which is made of repurposed denim, to drop off your old duds.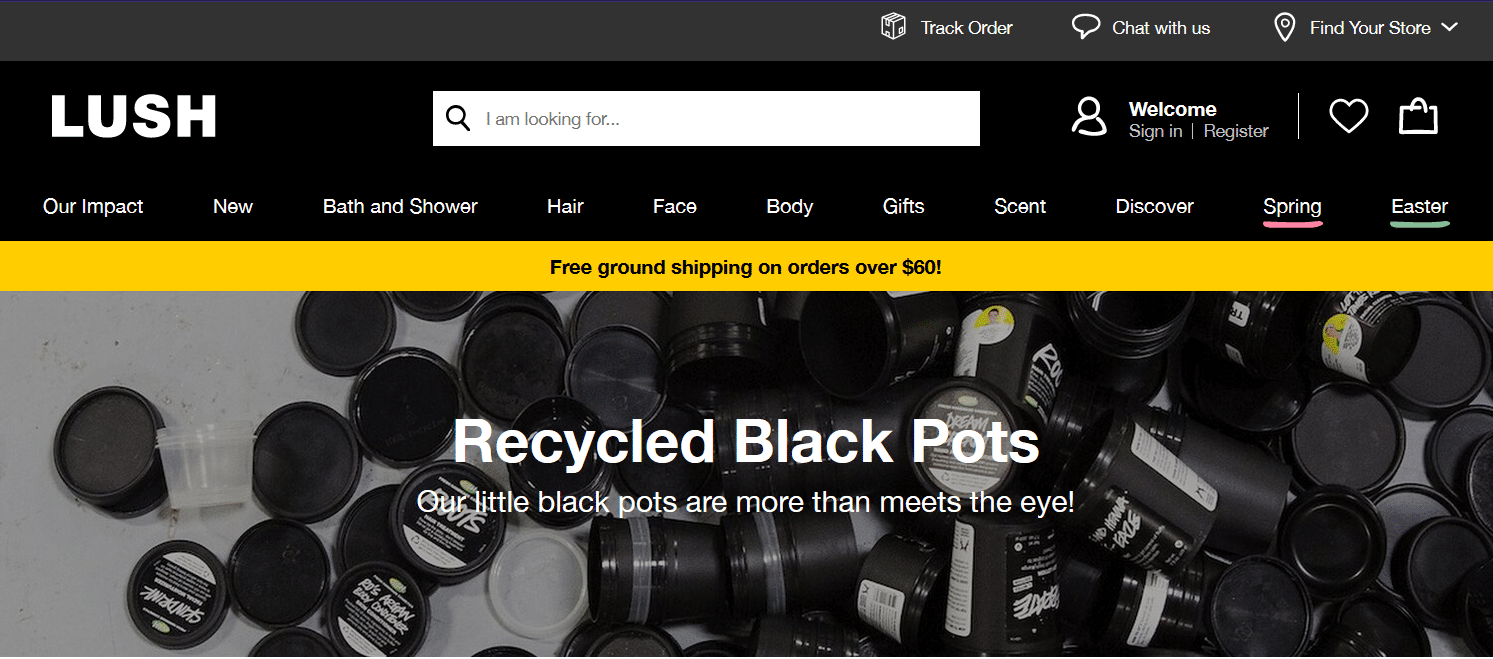 This beauty company really makes an effort to find ways to operate in a more sustainable fashion. Part of their environmentally friendly theme is using bottles and other containers that are entirely constructed with post-consumer recycled plastic and paper. Another of their innovations is to provide a free face mask to all customers who return five empty, clean containers. Returned pots and bottles are then chipped down and remolded to be used again.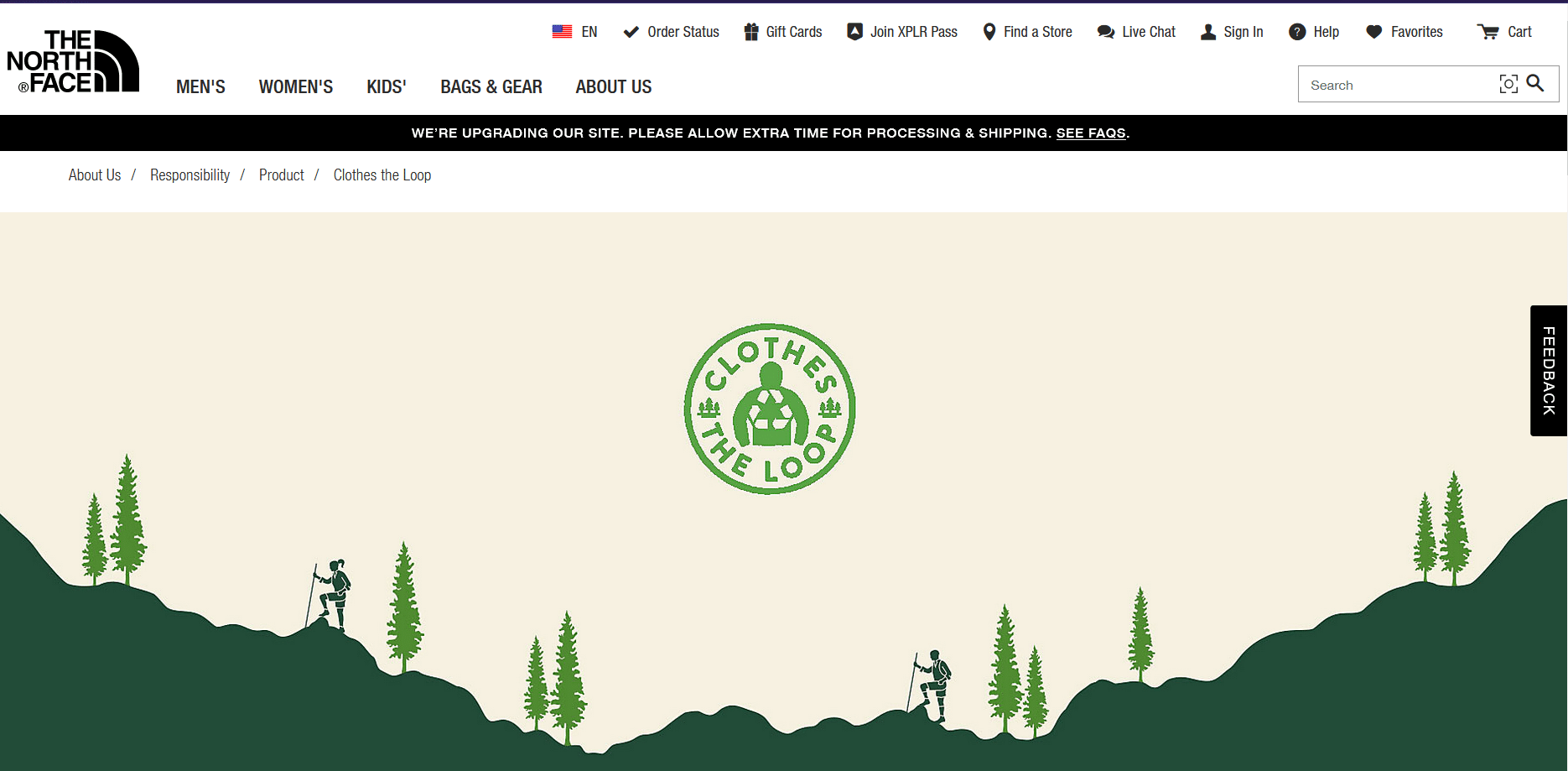 This company sponsors the "Clothes the Loop" program that encourages shoppers to drop off used clothing and shoes from any brand and in any condition. In exchange, consumers receive a coupon that is good for $10 off a purchase of $100 or more. The North Face uses donated items to benefit Soles4Souls, a nonprofit charity providing sustainable jobs and distributing shoes and clothes to people in need around the world.
FAQs
Will I always get paid when I send in a gadget?
As you prepare to send in an item, you'll have to answer numerous questions about quality, such as whether or not the screen is cracked and does the gadget still turn on. Other websites may ask the consumer to simply judge the item's quality. Sometimes, the consumer's estimation of quality and the people at the trade in program do not agree.

This means that you may not get paid as much as originally estimated. You also could get paid more if the program decides that your item is in better condition than you described. It also is a possibility that the program may elect not to pay you if the gadget turns out to be in unusable condition.
Will any devices be accepted by these programs?
This varies quite a bit. It is possible that you will go through the online questionnaire, accept an offer, send in your item and then find out that it has been rejected. This does not happen a great deal, but it does occur.

It's most likely to happen if there is a wide discrepancy between how the item was described and its actual condition upon evaluation. You may get an offer for a revised, lower payment. On the other hand, the item could be rejected. In this instance, you may have a choice between having the item returned to you and letting the trade in program recycle it.
Should I try to trade in my old electronic devices?
It's always worth a shot, especially for those items that you no longer use and will never use again. Your best option is to shop around. Get value estimates from a variety of sources to see which one is willing to give you the most in exchange. It's also smart to choose trade in programs that will give you a benefit that you'll definitely be able to use.