List of Online Businesses That Accept EBT
Important Note: When you buy through our links, we may earn a commission. As an Amazon Associate we earn from qualifying purchases. Content, pricing, offers and availability are subject to change at any time - more info.
Key Takeaways
More stores are taking part in the pilot program administered by the USDA and are expanding steadily through the states.
Instacart can connect users to multiple stores and offer delivery services to its users who need to do their grocery shopping online. However, not all states can connect to the same store.
Some well-known retailers like Hy-vee and H-E-B have supported online SNAP and EBT payments since 2020, while other stores have only participated in the pilot program early in 2022.
As a result of the epidemic, more states and shops enable customers to utilize their EBT cards while purchasing goods online for pickup or delivery. As a result, USDA's Food and Nutrition Service has expanded its online purchasing program to include a much broader range of options. That said, what are some of the online businesses that accept EBT?
---
Advertisement
---
The List Online Businesses That Take EBT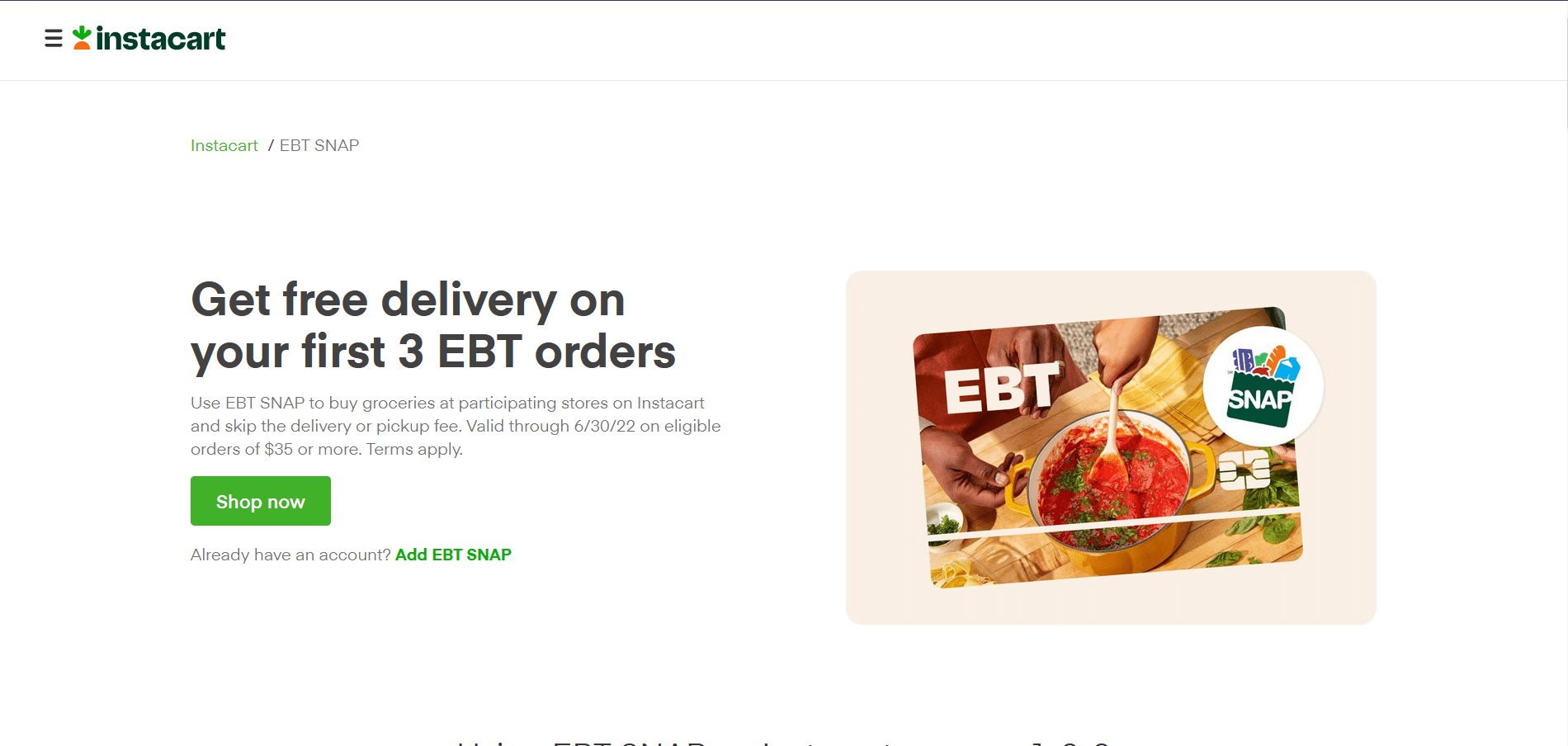 The prominent grocery delivery service has partnered with several smaller stores throughout the country to make online food shopping available to SNAP recipients. Most food delivery services, such as DoorDash, GrubHub, Postmates, and UberEats, do not accept EBT as a form of payment yet.
Late last year, Instacart began offering payment choices for SNAP EBT recipients, and the number of merchants serviced has gradually increased. Aldi, Food Lion, Publix, Stop & Shop, and many smaller businesses are now among the participating merchants. Instacart has stated that it will continue to expand the EBT online payment option to more states and shops in the future.
Non-eligible expenditures, including delivery and service fees, taxes, gratuities, and bottle deposit fees in some areas, must be purchased by using a credit or debit card when using EBT on Instacart. For $99 yearly or $9.99 monthly, Instacart offers an Instacart Express membership that includes free delivery on all purchases over $35 and additional benefits.
Customers over the age of 60 who are new to online grocery shopping may take advantage of Instacart's Senior Support Service, which assists with everything from account setup to order placement. Customers who pay for Instacart purchases with EBT SNAP at specified stores will receive free delivery or pick up on all orders of $35 or more through March.
Safeway, Vons & Albertsons Locations
SNAP EBT customers can purchase groceries for pickup or delivery at Safeway stores in Alaska, Arizona, California, Hawaii, Maryland, Colorado, New Mexico, Oregon, Virginia, and Washington, and a single shop in the District of Columbia (pickup only). To determine if your local Safeway accepts online EBT payments, go to the site's Store Locator page and click "Additional Services."
Only pickup orders in California, Colorado, Idaho, Montana, Nevada, Oregon, Texas, Washington, and Wyoming are covered by Albertsons EBT online consumers. EBT is also accepted at a few Vons locations in Southern California and Nevada.
Amazon entered the pilot program administered by the US Department of Agriculture to take SNAP EBT benefits online at the beginning of 2022. According to Amazon, customers in all states except Alaska, Hawaii, Louisiana, and Montana who have a valid SNAP EBT card may utilize their SNAP benefits on Amazon.
You may add your card details to your Amazon account or add an EBT card at checkout or in your wallet to spend your SNAP EBT payments. To use your SNAP EBT card to make a purchase, you'll need a personal Amazon account. SNAP EBT payments are not available for Amazon Business accounts.
According To Government Regulations, SNAP EBT money can only be used for SNAP-eligible food goods supplied and sold by Amazon and Amazon Fresh. By checking for the "SNAP EBT eligible" mark beside the product name, you can identify whether goods are SNAP-eligible. Alternative means of payment are required for delivery costs, gratuities, and things offered by third-party vendors.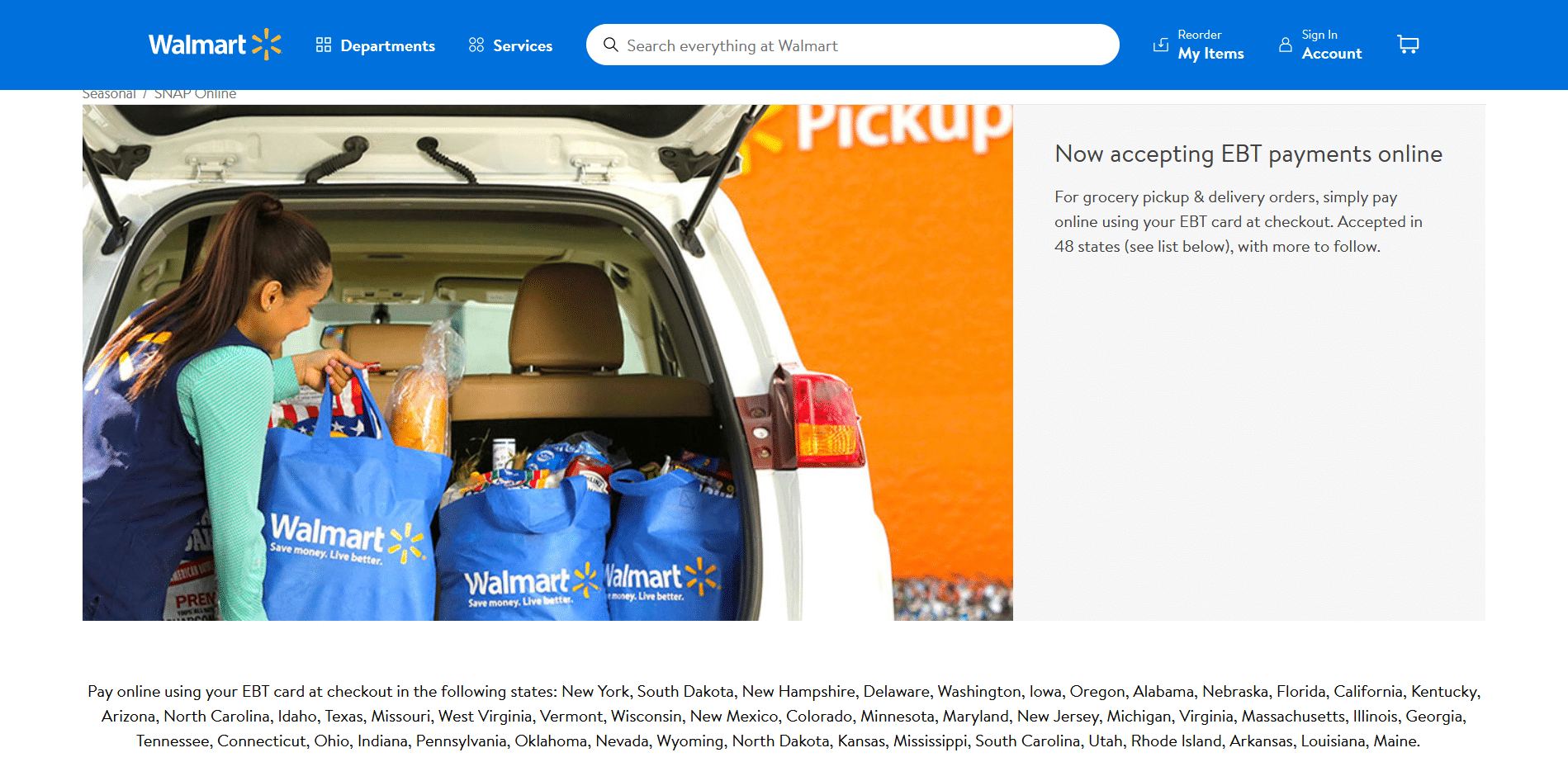 EBT card transactions are accepted at all Walmart locations that sell food and groceries. EBT users in 48 states may also pay for Walmart delivery and pickup items online using their EBT card as they would a debit card. Except for Alaska and Montana, all states accept credit card payments online; however, EBT cardholders in these states can use their cards at the time of pickup.
Sign in to your Walmart pickup & delivery account and click Payment Methods to utilize your EBT card as payment for an online transaction. According to Walmart, if your local Walmart enables EBT online transactions, you'll see an opportunity to add your EBT card to your account.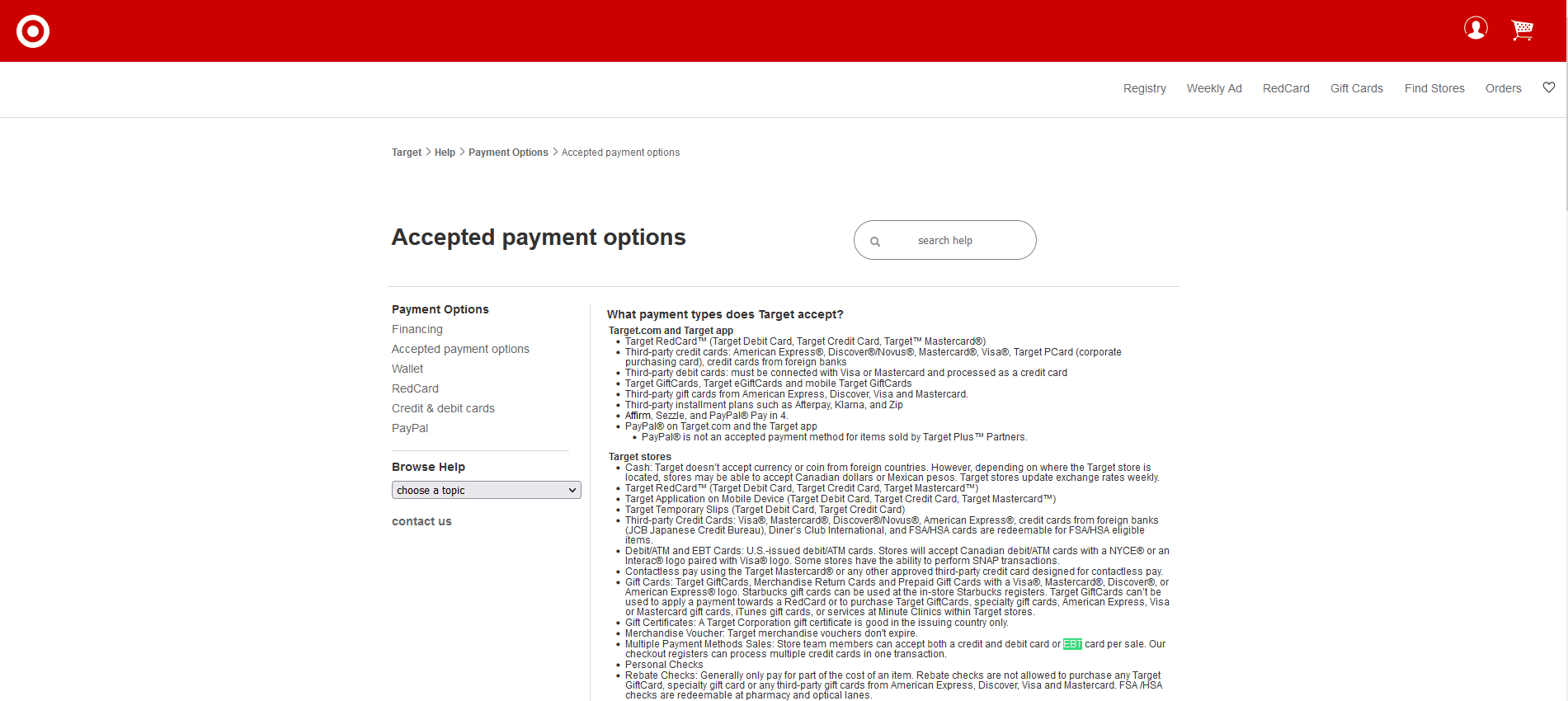 Target is a major supermarket chain in the United States that accepts SNAP EBT cards as payment at approved locations. Customers who have an EBT card can use it to buy items including whole wheat bread, fruit, vegetables, meat, cereal, canned salmon, juice, and milk at Target.
Thanks to labeling, customers can readily determine which goods may be purchased with an EBT card at most Target shops. Any extra things you want to buy will have to be paid for with a different payment method.
Most EBT goods are covered by Target's 90-day return policy unless otherwise specified. Upon presenting a receipt, your EBT card will be refunded, or you will be given shop credit or a similar item in substitution.
When you go to a cash register, separate your SNAP-eligible items from the rest of your purchases. You can pay with your SNAP card by swiping it and entering your PIN first, but your SNAP products will be processed first. You won't have to separate your products at self-checkout, and the computer will apply the discount as you swipe each item.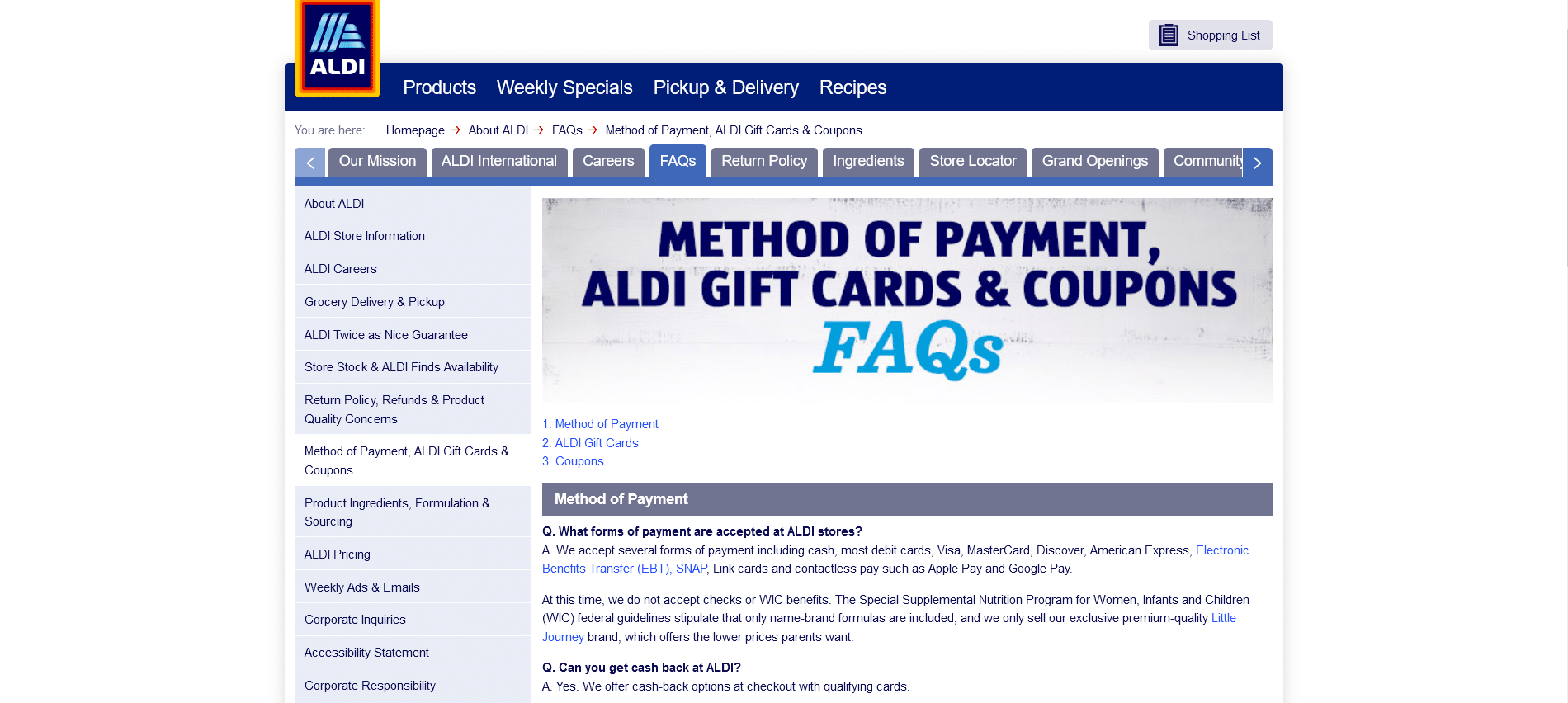 Aldi does not yet have shops in Hawaii, Idaho, Oregon, Utah, Washington, Columbia, or any of the other states included by the USDA's pilot program. However, you can shop online for EBT SNAP-eligible Aldi purchases.
Instacart accepts EBT for same-day delivery and stores pickup. For SNAP-eligible products, Aldi customers may use Instacart to conduct online orders and submit their EBT card information at checkout.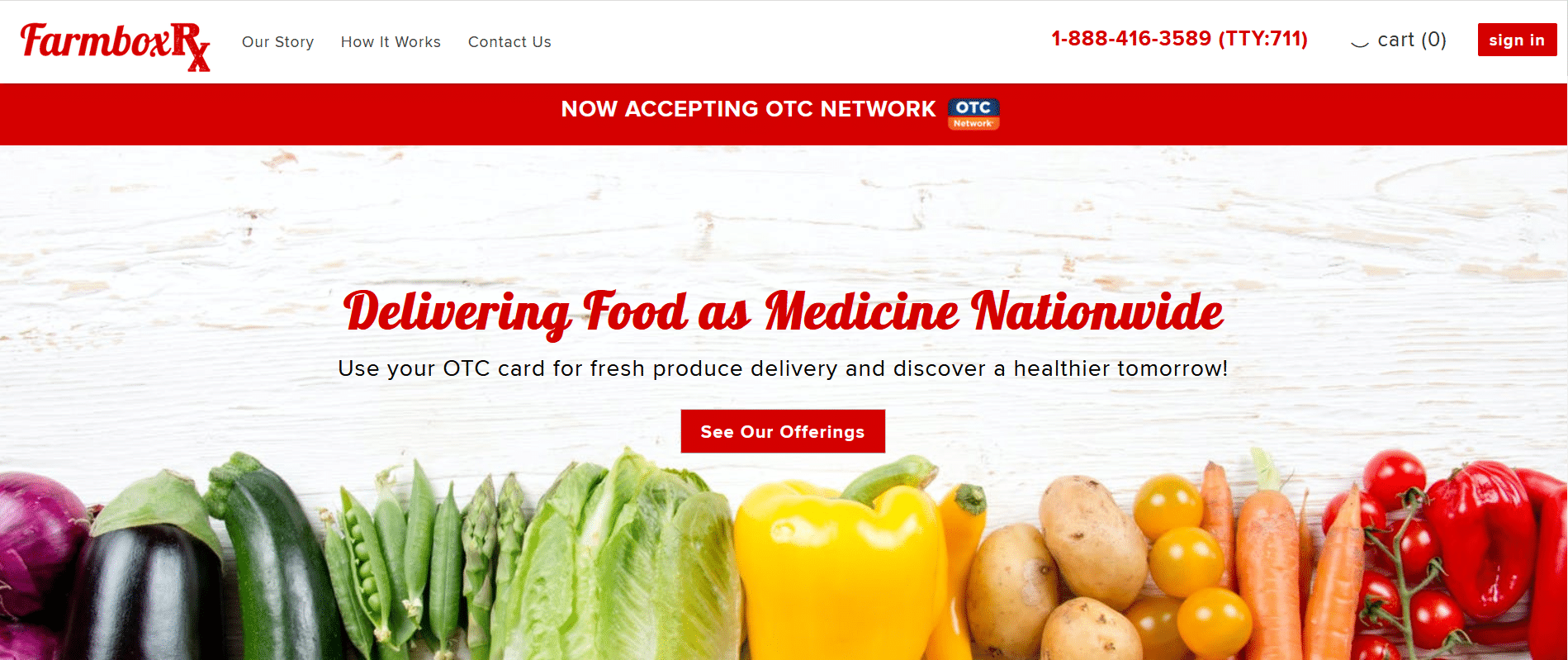 FarmboxRx, a nationwide fresh food delivery service that accepts SNAP/EBT benefits online, was added to the roster of cooperating shops this autumn. FarmboxRx is an extension of Farmbox Direct, a subscription produce delivery business that focuses on delivering fresh, healthy food alternatives to Medicaid and Medicare recipients.
In addition, the firm collaborates with several healthcare programs to make their "food as medicine" a qualifying benefit. The service uses FedEx for contactless, free delivery.
Food Lion has begun accepting EBT payments for online orders from SNAP consumers throughout the entire network. Last year, the Ahold Delhaize USA supermarket chain announced that SNAP users in its 10-state Southeastern and Mid-Atlantic market region would be able to use their food card information.
Furthermore, shoppers could use EBT as a direct payment method while purchasing online through the Food Lion To-Go online grocery pickup service. Food Lion is the second merchant to join Instacart's EBT food delivery program. In nine states, including Kentucky, North and South Carolina, and Tennessee, Instacart accepts EBT payment for SNAP-eligible products from Food Lion.
Finally, SNAP recipients who do not want to pay a higher out-of-pocket fee to have goods delivered can pick up Instacart orders at the Shop.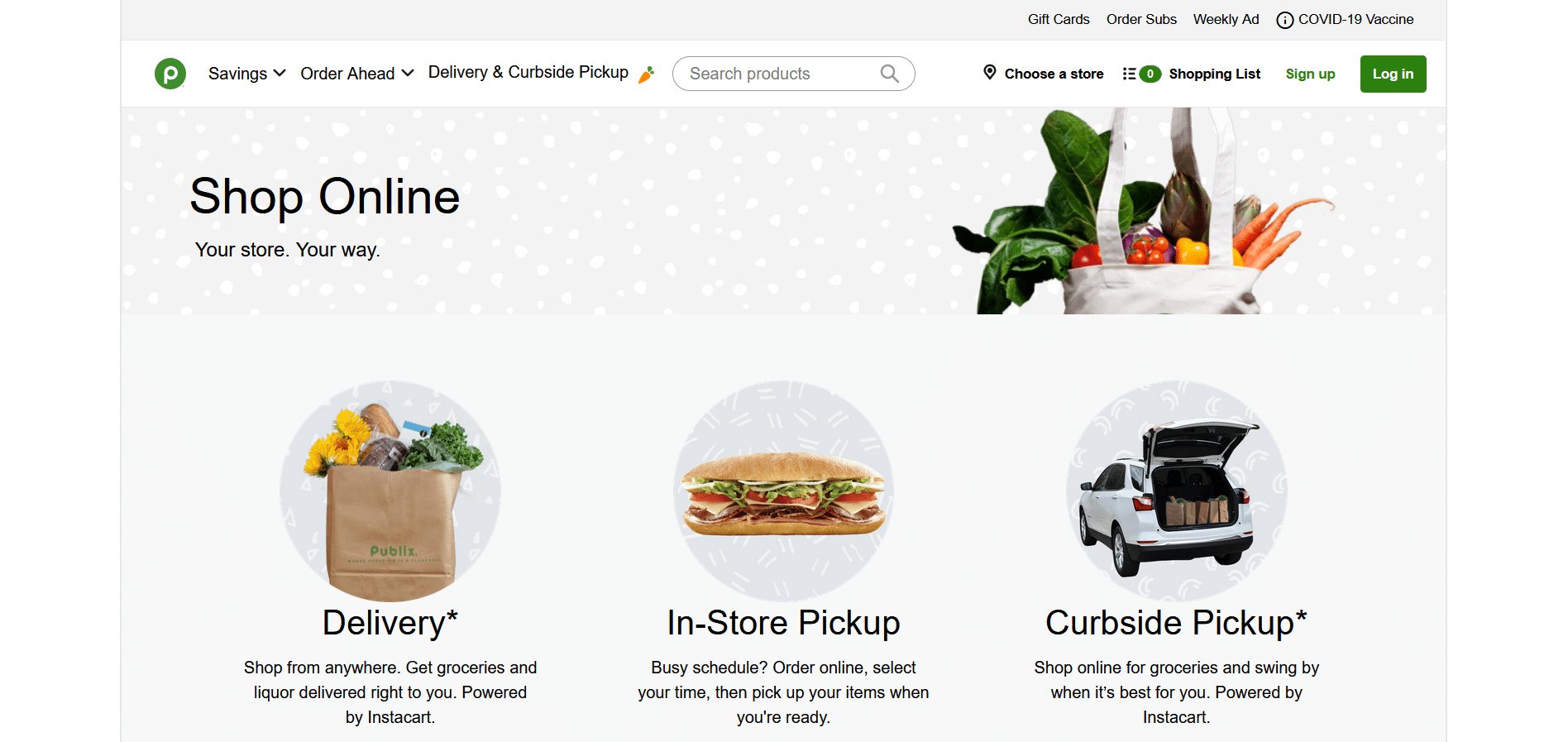 With over 1,200 stores in the Southeast, Publix is the biggest employee-owned enterprise in the United States. In Alabama, North & South Carolina, Florida, Georgia, Virginia, and Tennessee, Shoppers may now use EBT to purchase groceries online through Instacart.
If you don't see EBT SNAP as a payment option when ordering from your local Publix, try checking back — the coverage regions and list of participating locations are still growing.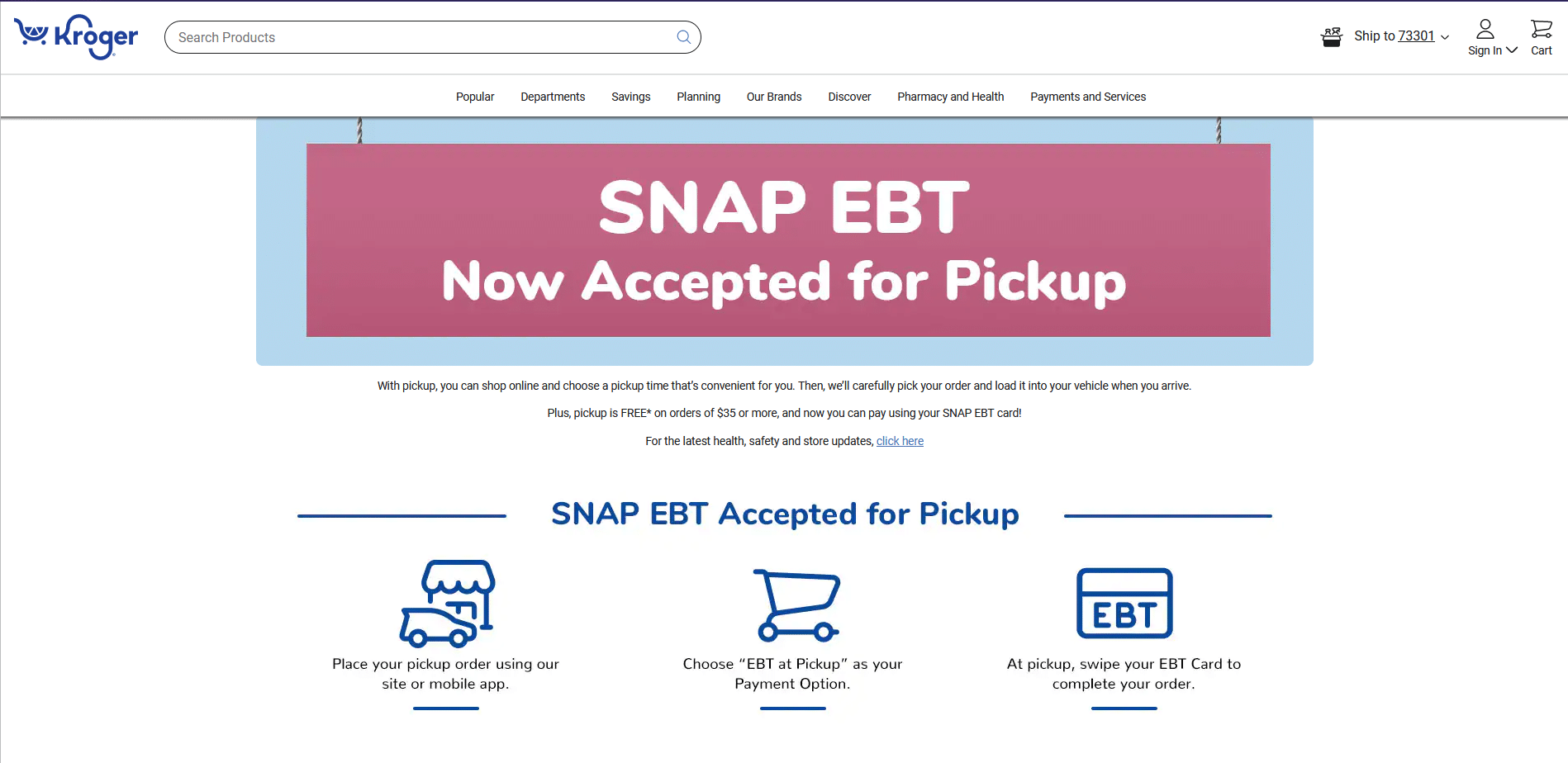 Kroger announced in April last year that it would implement a SNAP EBT payment option for grocery pickup at its shops just after the pandemic lockdowns began. The service is accessible at all locations that provide pickup and has now expanded to include Mariano's stores, which Kroger owns.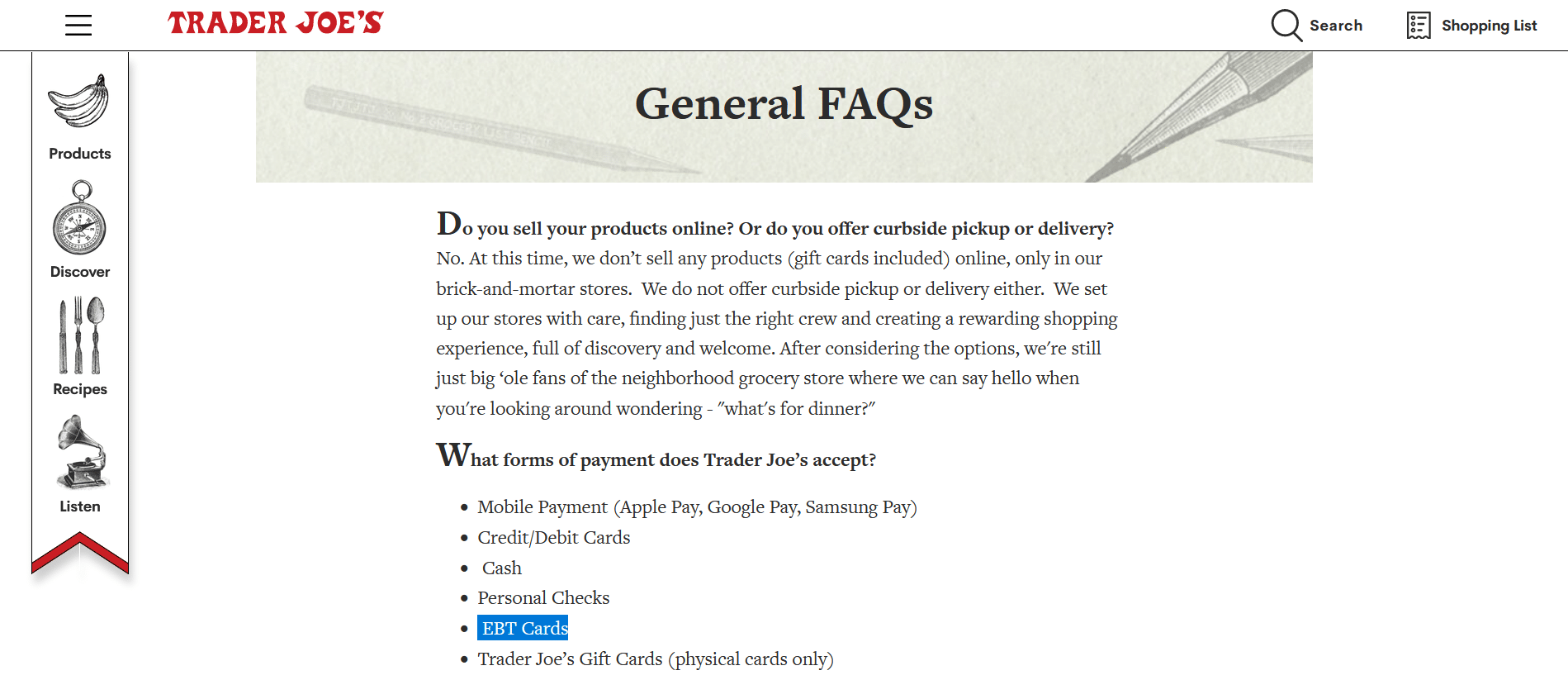 Suppose you're on a tight food budget and a Trader Joe's fan (and there are a lot of them around). In that case, there's good news for you: Americans on a tight budget who are eligible for SNAP benefits can use their electronic benefits transfer card to shop at the famous supermarket.
Trader Joe's accepts six different payment methods, including EBT cards, according to the company's website. Instead of utilizing food stamps, people now make purchases with reloadable EBT debit cards.
Most grocery shops and many other merchants that sell groceries accept EBT cards. Trader Joe's has outlets in 42 states and the District of Columbia as of March 2022. Hawaii, Alaska, Montana, Mississippi, South & North Dakota, West Virginia, and Wyoming are the only states where it does not have stores.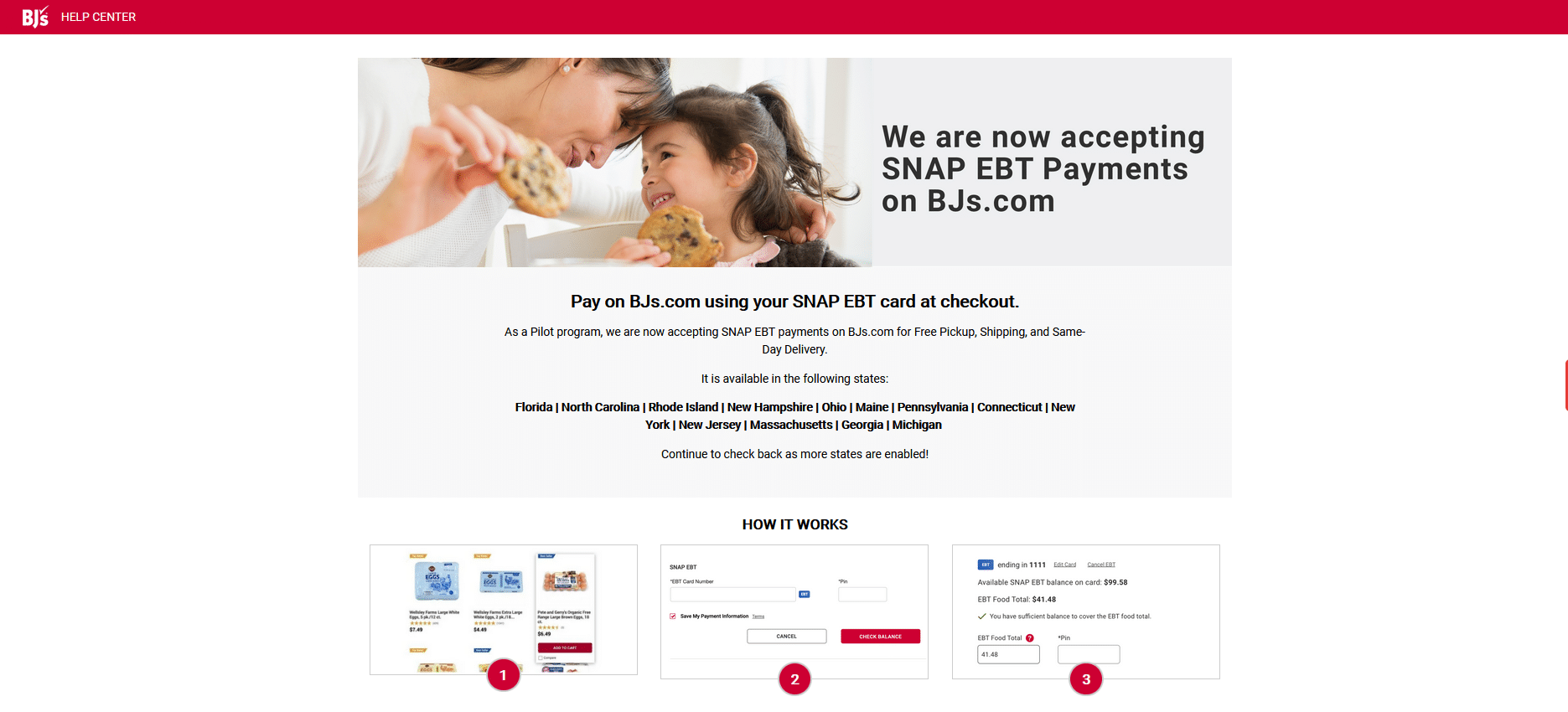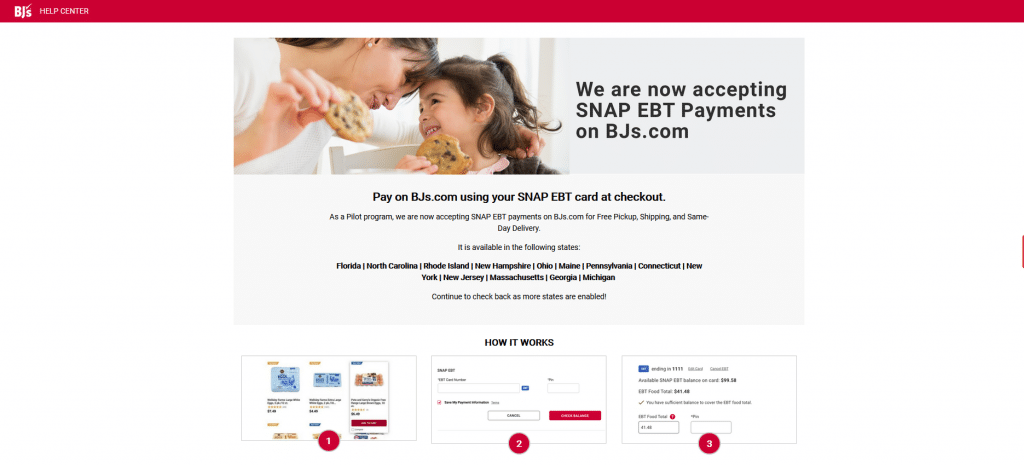 BJ's Wholesale Club is the first of the big warehouse clubs to accept EBT for online grocery orders. EBT cards may now be used by BJ's members in Connecticut, New Hampshire, Florida, Georgia, Maine, Massachusetts, Michigan, New Jersey, North Carolina, Ohio, New York, Pennsylvania, and Rhode Island to order in-club purchases, contactless curbside pickup, shipping, and same-day delivery on BJs.com.
The business aims to expand the pickup option to other states participating in the SNAP online shopping test in the following months.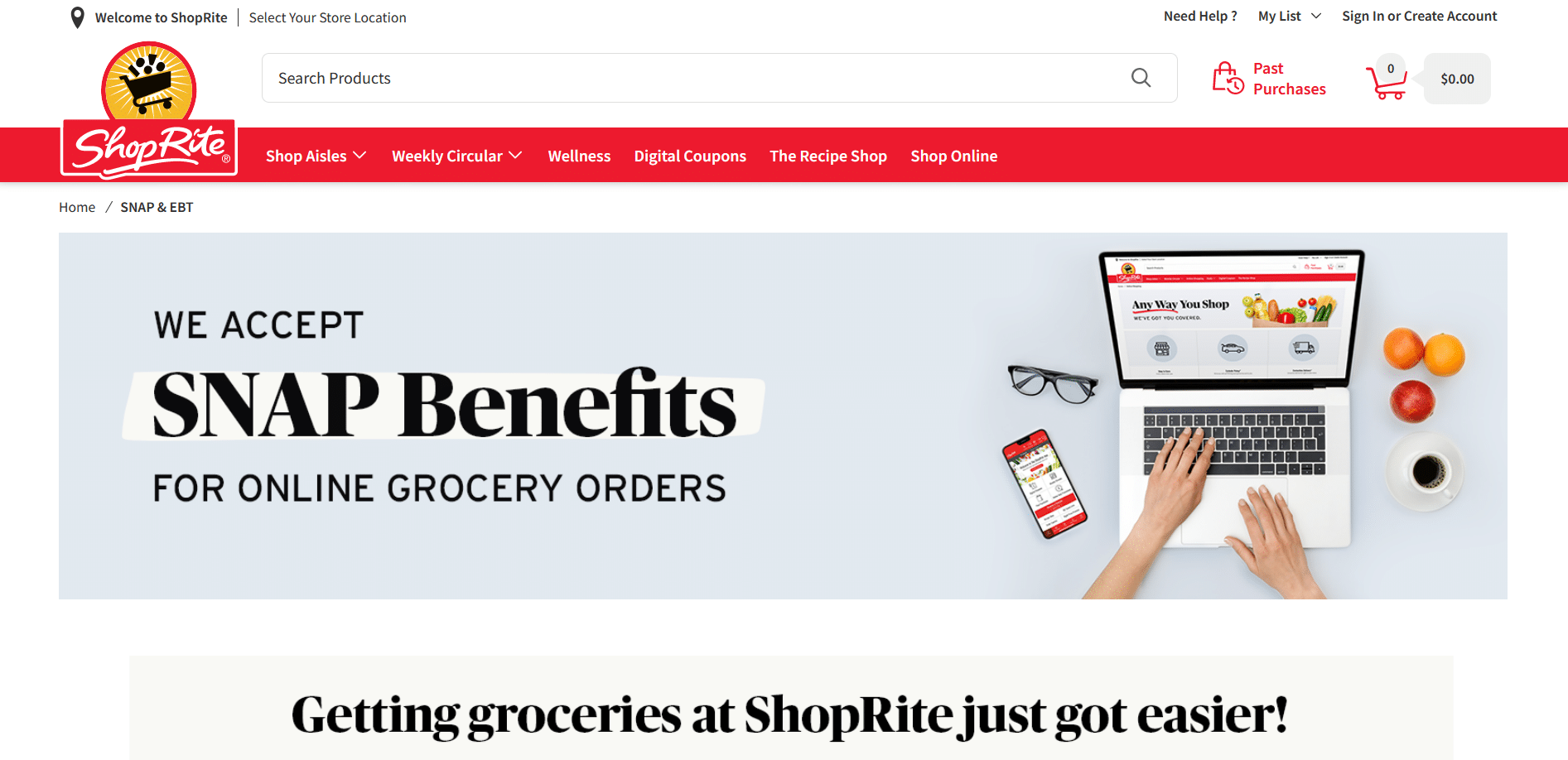 Select ShopRite locations in Connecticut, New Jersey, Delaware, New York, Maryland, and Pennsylvania accept EBT for SNAP purchases online, while certain locations may only take EBT for pickup orders. Check with your nearest ShopRite to discover what services are available.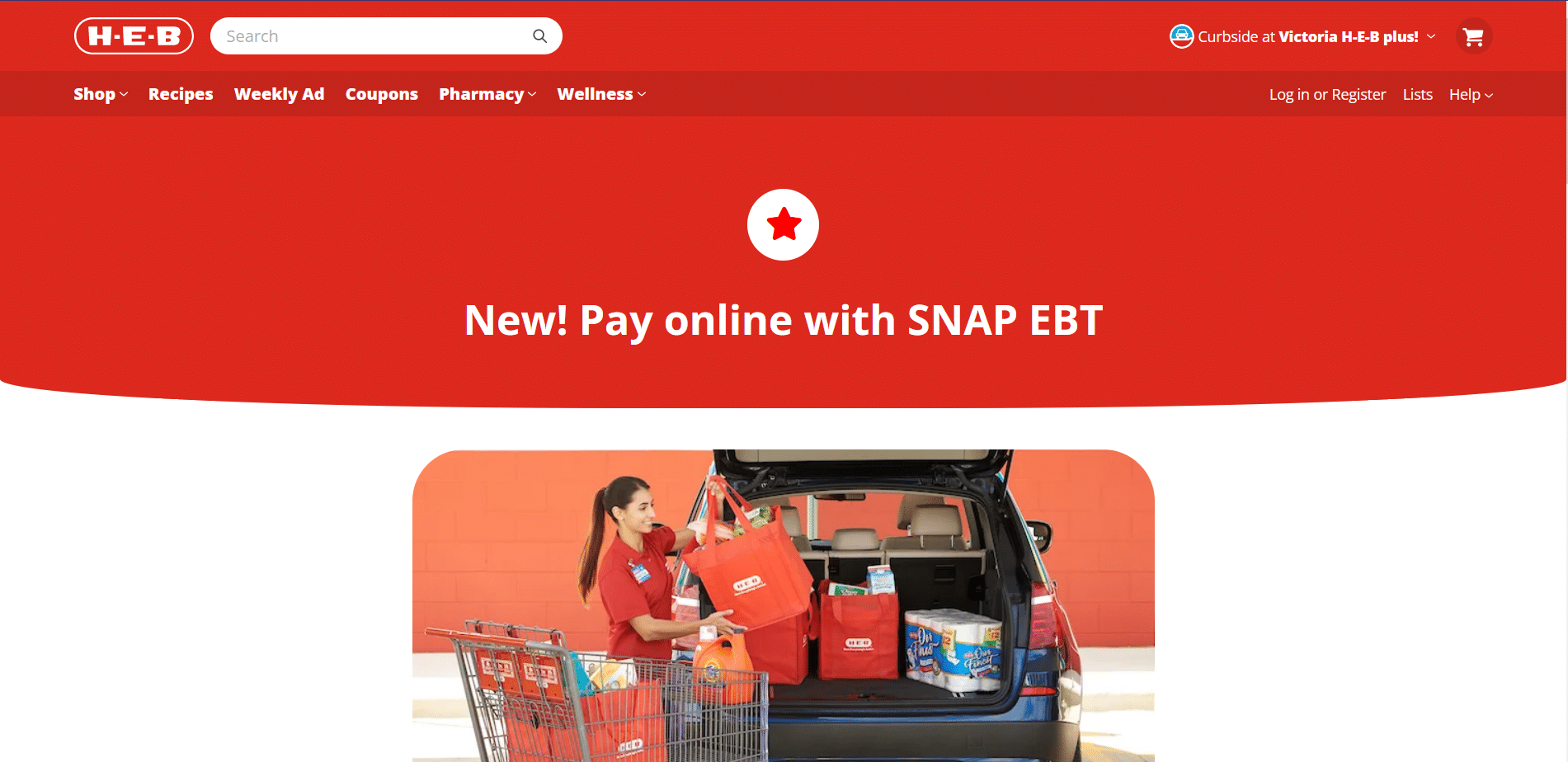 H-E-B has begun taking SNAP EBT payments for H-E-B Curbside and Home Delivery purchases directly on the My H-E-B mobile app and heb.com since December 18, 2020. Customers may utilize SNAP EBT to digitally pay for their orders for pickup at the store or delivery to their homes at all H-E-B Curbside and Home Delivery locations.
Customers must first create an account on the My H-E-B app or heb.com to access the service. They will submit their SNAP EBT and other payment information throughout the sign-up process.
Once they've completed their registration, they may make an order by selecting SNAP EBT during checkout, where they'll also be asked to input their PIN. To pay for products and expenses that are not SNAP EBT eligible, you must use a credit, debit, or gift card.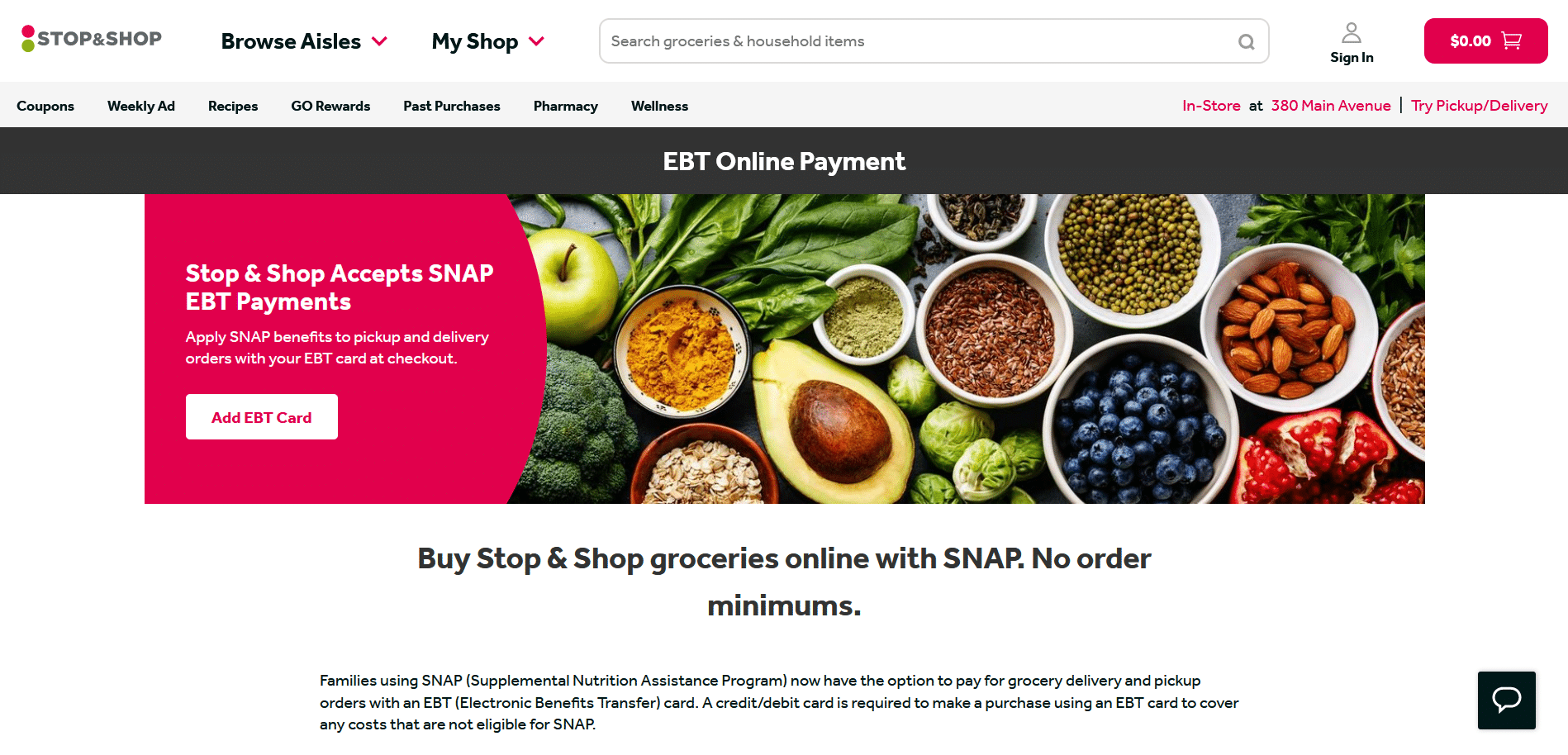 Stop & Shop now provides EBT online grocery delivery and pickup through its in-house operation at all of its stores. Shoppers in Connecticut, New Jersey, Massachusetts, Rhode Island, and New York who prefer to purchase through Instacart may also use their EBT cards to pay for Stop & Shop deliveries.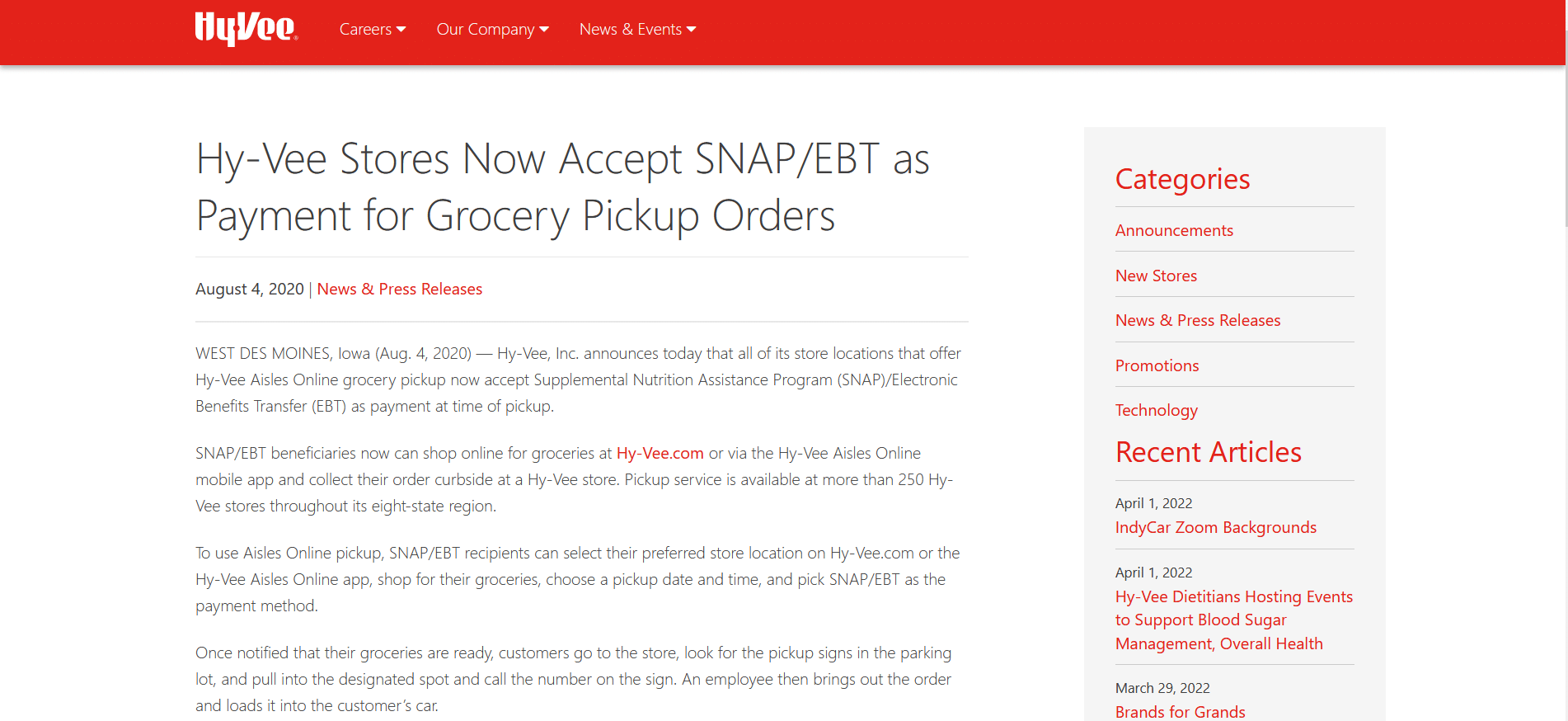 Hy-Vee, a well-known grocery store chain in the Midwest, was one of the first merchants to be admitted into the USDA trial program. Hy-Vee is now accepting EBT payments for grocery pickup at around 250 of its shops, including Dollar Fresh and Hy-Vee Drugstore locations, despite a delayed rollout. Additional alternatives might be found on the company's customer support website.
Related Questions
What Is EBT?
The Electronic Benefits Transfer, abbreviated as EBT, is an electronic system that allows a receiver to approve the transfer of government benefits from a federal account to a commercial account to pay for items received.EBT has been implemented in all 50 states, the District of Columbia, Puerto Rico, the Virgin Islands, and Guam as of 2004.

EBT will be used to provide transfer services with an EBT card that appears and functions similar to a debit or credit card but is topped-up with food stamps and cash benefits. You may use it at EBT-accepting retailers and fast-food restaurants.
What Is The Eligibility For EBT On Instacart?
The USDA administers a trial program to receive EBT benefits online, and Instacart is a part of it. Customers in all states except Alaska, Louisiana, and Montana who have a valid EBT SNAP card can currently utilize their SNAP dollars on Instacart at participating stores. EBT money must be used in the state where they were distributed. Visit the USDA's SNAP recipient page to learn more about SNAP eligibility.

If your local store does not accept EBT SNAP, check sure you have the most recent version of the Instacart app. Check back regularly if you still don't see EBT SNAP since they are working to increase participation to additional retailers.
Can You Use Coupons For EBT SNAP Items With Instacart?
Instacart currently does not accept paper coupons, such as those sent via email or found in newspapers. Instacart, on the other hand, often gives coupons and incentives to all consumers, including those who use EBT SNAP.