Important Note: When you buy through our links, we may earn a commission. As an Amazon Associate we earn from qualifying purchases. Content, pricing, offers and availability are subject to change at any time - more info.
Key Takeaways
It can be a bit of a grind to earn money on Swagbucks. That being said, Swagbucks is generally a legitimate way to earn money with your free time but don't expect to get rich or anything.
Although some believe Swagbucks is a scam, these assertions are frequently confused with survey disqualifications and scarce rewards; as a result, it is not a great job replacement. However, if you want to earn free gift cards or extra bucks by doing activities you currently do online, you should consider becoming a Swagbucks member.
Swagbucks rewards its members with "SBs" points based on Swagbucks' name. The rewards can be exchanged in various ways, including gift cards, PayPal deposits, or sent to charity.
Swagbucks offers various ways to earn points, like taking part in surveys, playing mobile games and making in-game purchases, shopping online, referring a friend, and more!
There are various methods to begin earning money online, but as you may have heard, not all of them are worth your time, particularly survey sites. With that in mind, Swagbucks, a rewards membership program, is one of the many options that offer freebies in return for completing various money-making activities. That being said, is Swagbucks a legitimate way for people to earn free money?

Swagbucks is a legitimate free online reward program that compensates you for doing specific online tasks. With a 4.3/5-star rating on Trustpilot based on more than 26,500 reviews, Swagbucks has met the expectations of most users and paid out over $500 million to date.
---
Advertisement
---
Is Swagbucks Legit: A Complete Review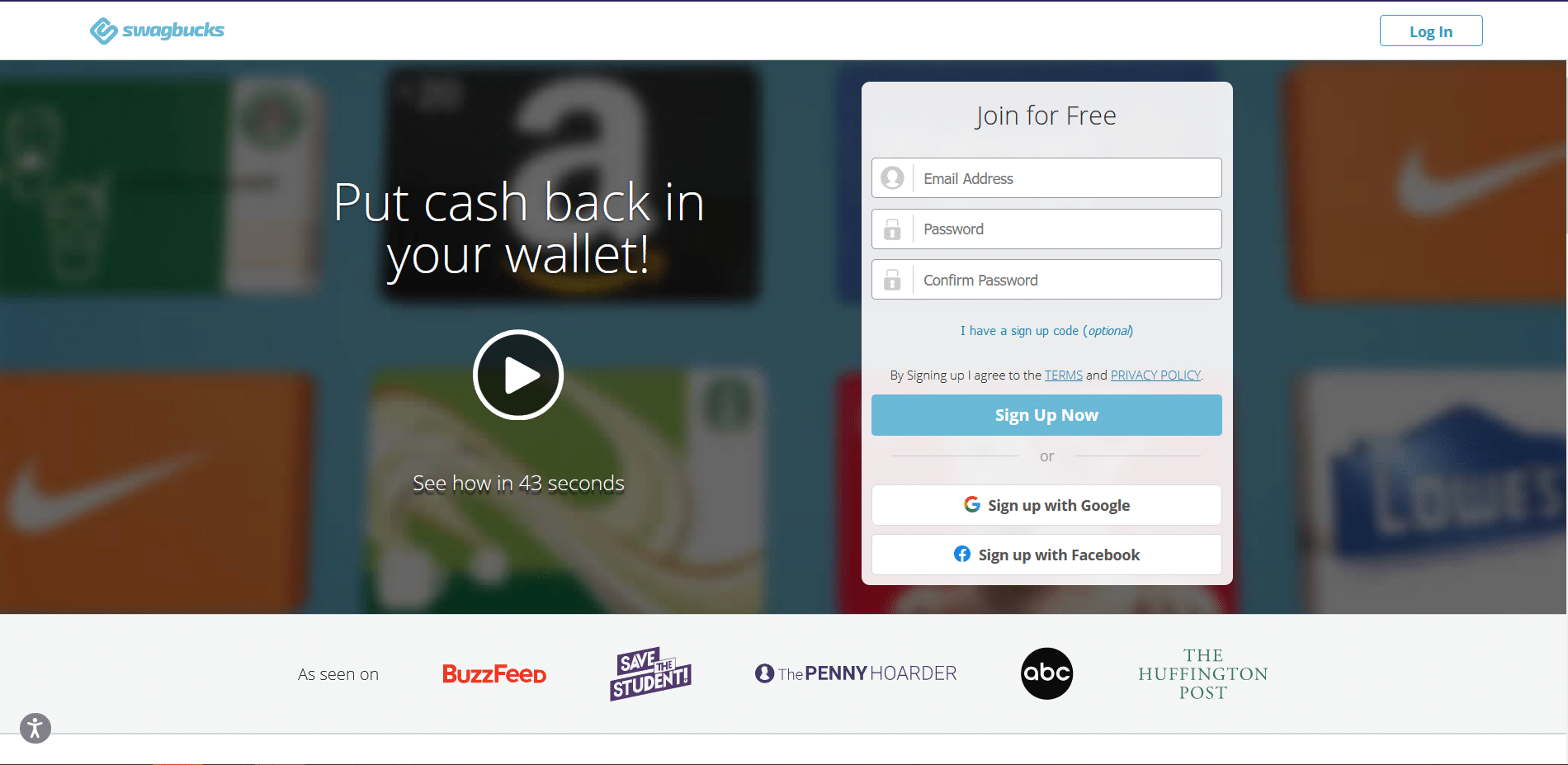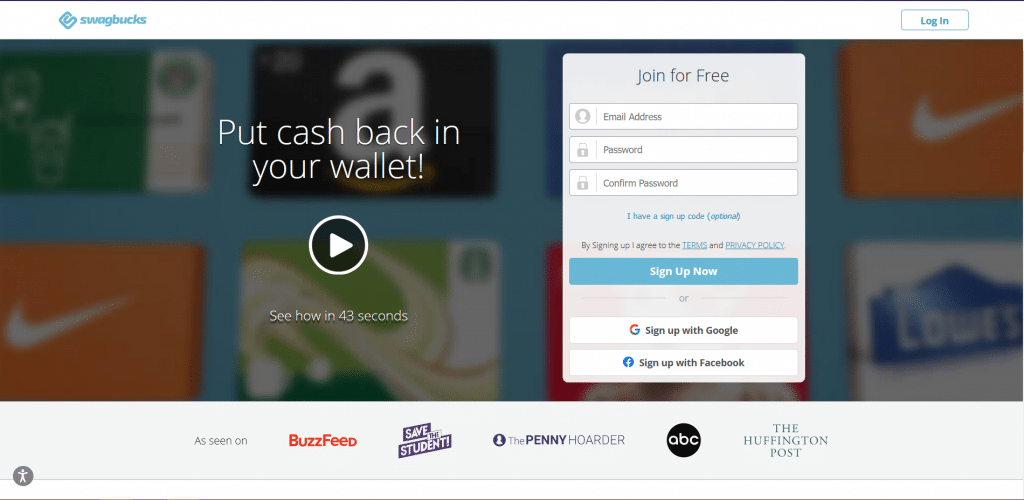 Swagbucks is an online rewards site that rewards you for doing surveys, buying, watching videos, etc. It was founded in 2008 in El Segundo, California.
Swagbucks is a gamified, arbitraged affiliate scheme on a considerable scale. It links customers to third-party services to create quality leads. Swagbucks then rewards you for answering, signing up, purchasing, playing, or watching by giving you a cut of the money generated.
Prodege, LLC, its parent business, also owns and manages comparable brands such as MyPoints and InboxDollars. In addition, Swagbucks has paid out more than $589 million in its existence. As a result, Swagbucks is a legitimate way to earn money or gift cards.
However, in my perspective, the agonizing hourly pay rate may not be worth your effort as a full-time job but instead a way to make a few bucks. That being said, let's look at how much you can earn.
How Much Can You Make From Swagbucks?
First, know that you won't get rich or even make enough money to survive off of Swagbucks. So consider it something more valuable than pocket coins.
Furthermore, to give you a sense of how much you may make, most surveys last about 20 minutes. However, you must also be eligible for each survey. Depending on the site, it may take a few minutes to fill out a form only to be disqualified, reducing the number of surveys you may do in an hour. So expect to make around 90c per hour.
It amounts to a few bucks at the end of the month. However, earnings in the double digits are absolutely achievable for the ambitious and those with plenty of time. In addition, Swagbucks offers more ways to make money than the ones listed above, including cashback shopping, grocery coupons to print, promotional offers like Swagbucks Discovery, viewing video clips, playing games, and more.
Don't worry if you're not at your computer; you can still utilize Swagbucks via their mobile app. When waiting in line or having some spare time, bring out the smartphone app and make some money. Depending on the activity, you'll need to make sure you have at least 20 minutes to spare.
When going through surveys, seek those who pay the most and require the least amount of time. Swagbucks allows you to categorize surveys, making it simple to get the most excellent deal.
Finally, you may kill two birds with one stone when viewing videos. Continue searching or conducting a survey in the front while watching the video in the background. It allows you to gain points in two methods at the same time. With that in mind, let's look at how Swagbucks works.
What Is The Process Of Swagbucks?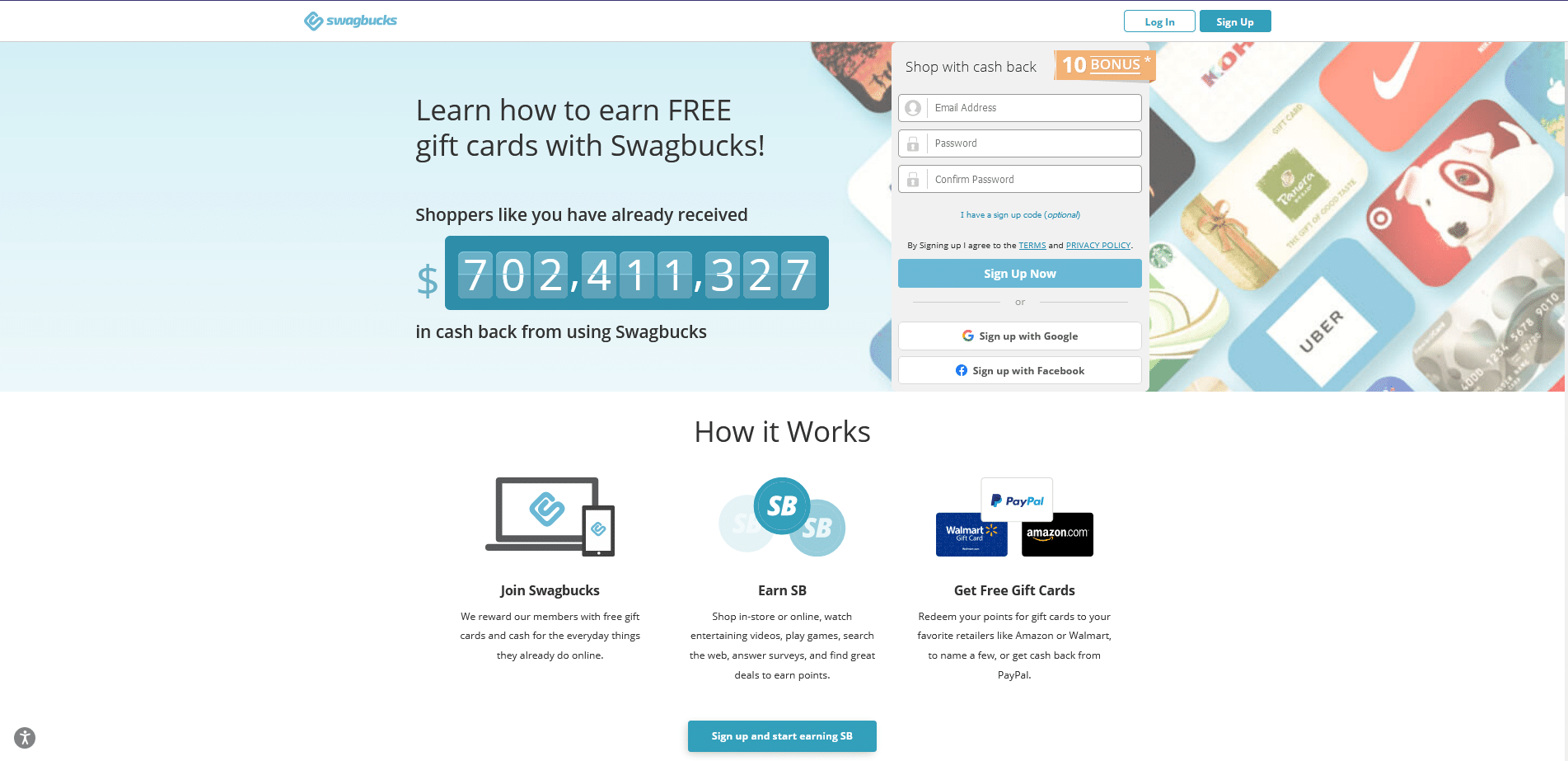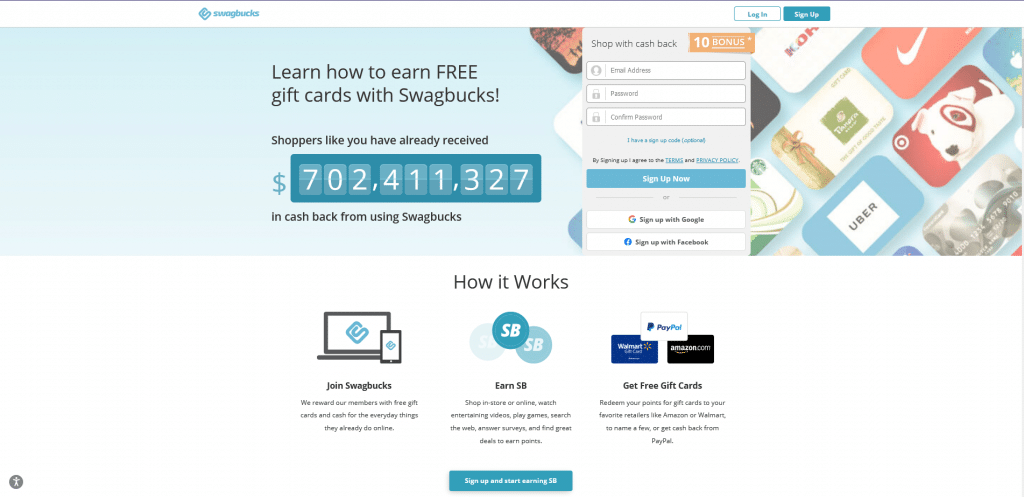 Swagbucks is free to join up if you're at least 13 years old and have an email address. The incentive scheme is based on "SB points," worth one penny apiece. SB points may be earned in various ways, including through taking surveys. The Swagbucks website makes it simple to learn about all the many methods you may earn money and displays the amount of SB points you'll receive for each effort.
Swagbucks has over 550 distinct reward choices, and you can redeem your SB points in three different ways:
First, users can redeem points for gift cards.
You can exchange points for Paypal deposits.
Finally, you can donate your points to charity.
There are "sales" from time to time when you may get cheaper rewards rates. However, 1 SB often translates to 1 cent in prizes. Charity donations begin with 5 SB points. The value of a gift card starts at $1.
If you wish to obtain your money through PayPal, you'll need at least $5, which is 500 SB points, to do so. In addition, Swagbucks has various gift card options available, including Amazon, Apple, Starbucks, and Walmart.
Methods To Earn Money With Swagbucks
Both the Swagbucks app and website are simple to use. Making an account using your email address and a password takes only a few seconds.
You may begin earning SBs once you've signed up, and 1 SB is usually worth 1 cent. Swagbucks rewards you with SBs as you accomplish activities. You can then exchange your SB points for cash via Paypal or gift cards. You may gain points in a variety of ways, including the following: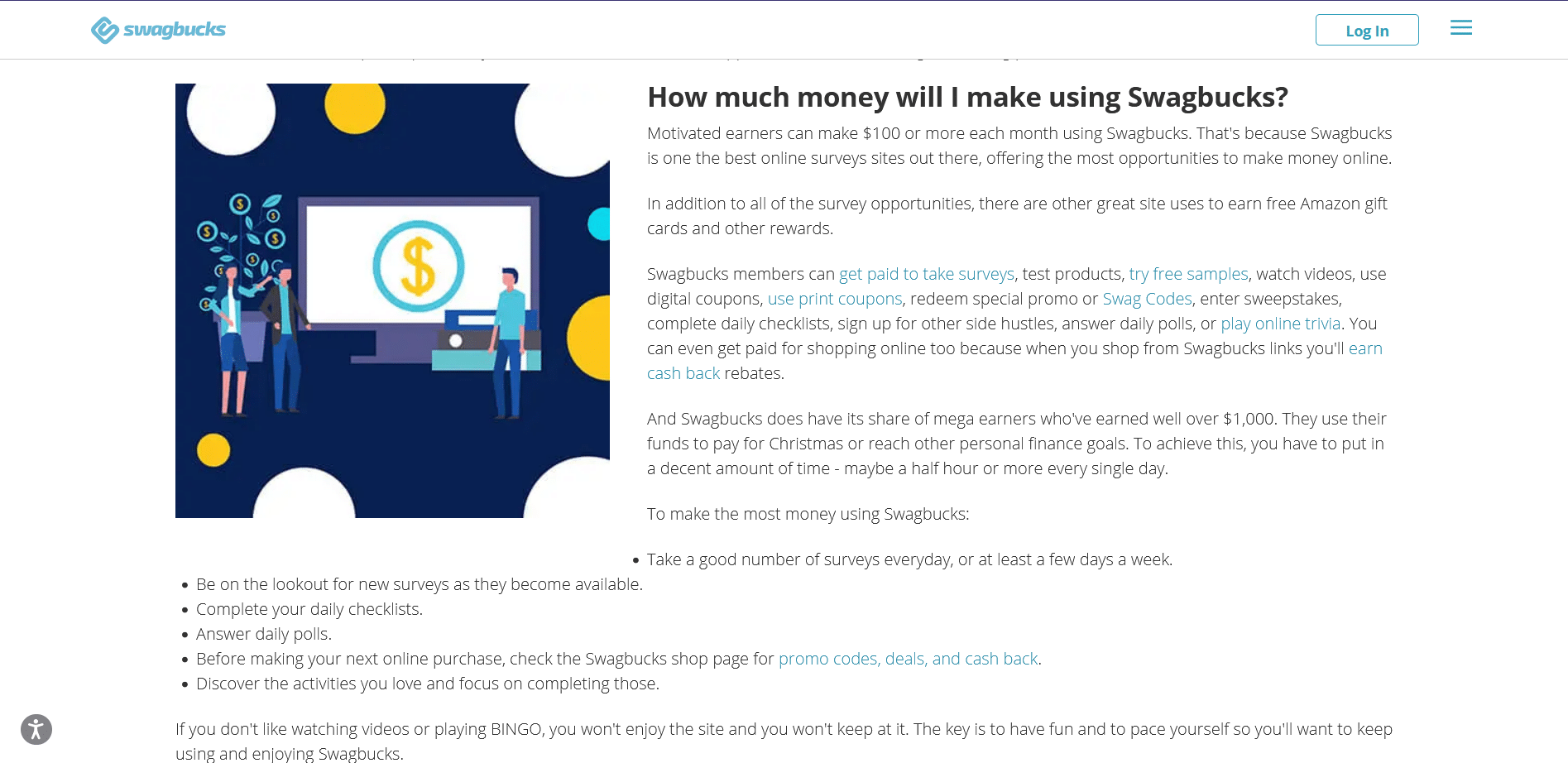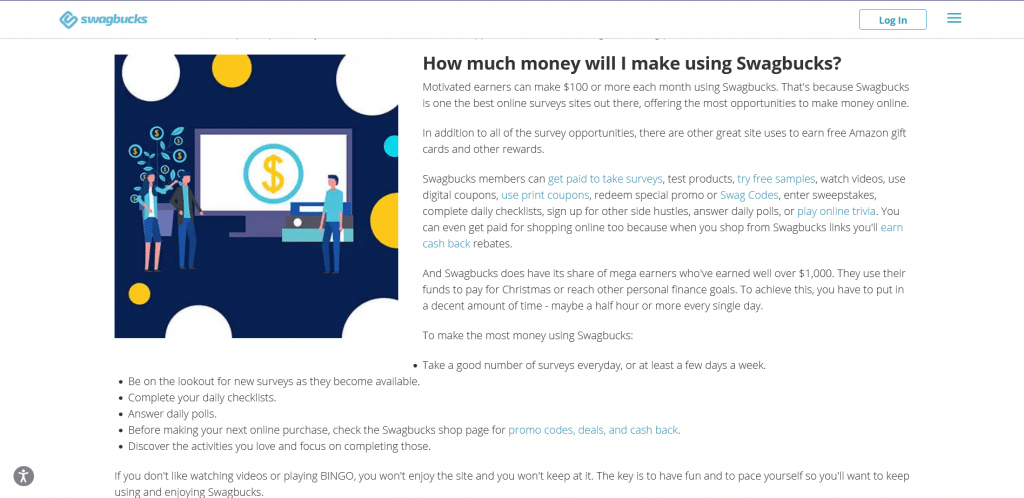 At any one time, Swagbucks advertises dozens of survey options. Determine the ones you wish to tackle depending on the length of time they'll take to accomplish and the SB prise amount.
Taking surveys is one of the most effective ways to earn money on Swagbucks. First, find the "Earn Your SB" toolbar on the left side of your screen once you've signed into your Swagbucks account. From there, select "Answer" to access various survey options.
These types of surveys include brand recognition, product appeal, advertising effectiveness, and more. Moreover, when I searched, I found that you could complete various surveys from 10 to 23 minutes and be paid from 20 to 70 SB for each survey.
The duration and subject matter of the surveys vary. For example, I've given attempted surveys on fast food, alcoholic beverages, and automobiles.
Finally, you probably won't qualify for all of the surveys, but Swagbucks tries its best to pair you with the most relevant ones so that you won't spend time on qualifying questions. Swagbucks will pay you 5 SB just for attempting if you don't qualify for a survey.
Get SB From Watching Videos
Swagbucks rewards you for watching videos. Of course, you won't make a lot of money (typically 1 SB per short video clip), but the videos cover a wide range of topics – entertainment, home, and travel — so you're sure to find something you like.
You can also get the Swagbucks app, which allows you to watch videos on your phone. Plugin your phone, ensure that you're connected to Wi-Fi, and then leave it to play movies and earn incentives while doing anything else. Swagbucks claims that viewing videos may earn you up to $90 per month.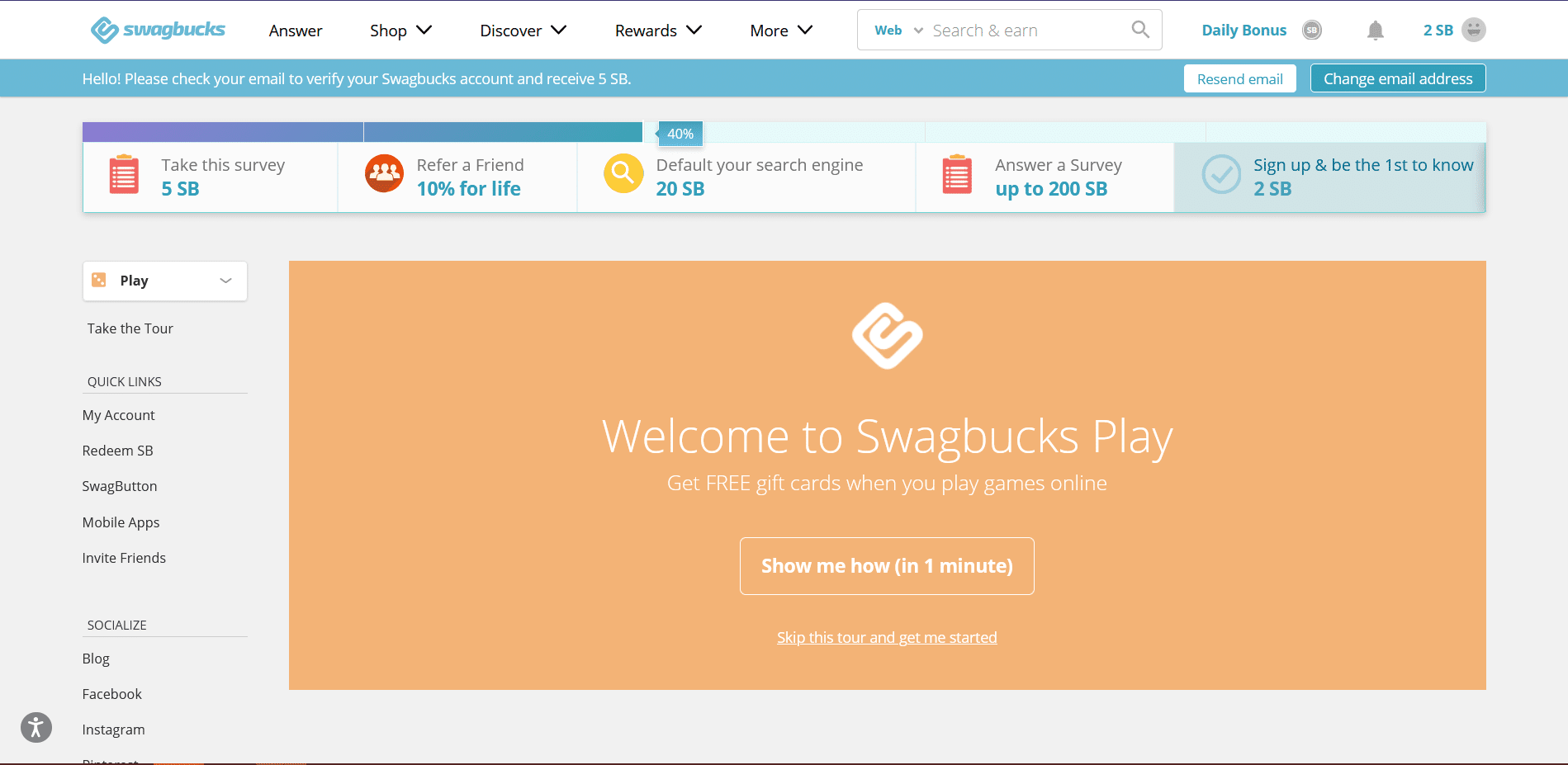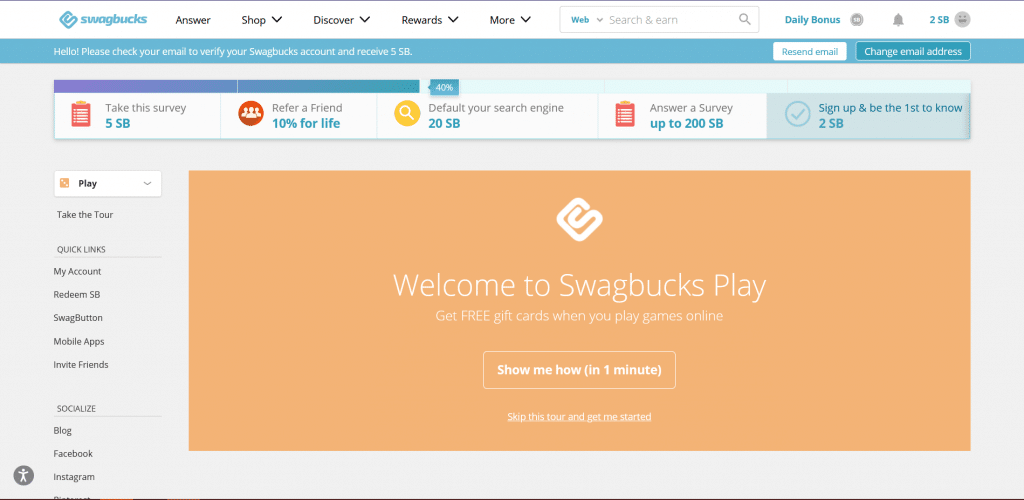 If you love playing games online, this would be perfect for you! You may earn Swagbucks points by playing your favorite games on the Swagbucks website and making any in-game purchases. As a result, you'll essentially get compensated for a game you'd already be playing. The games include Rise of Kingdoms, Gratorama, Club Vegas, Jigsaw Puzzles, and more.
Printing Coupons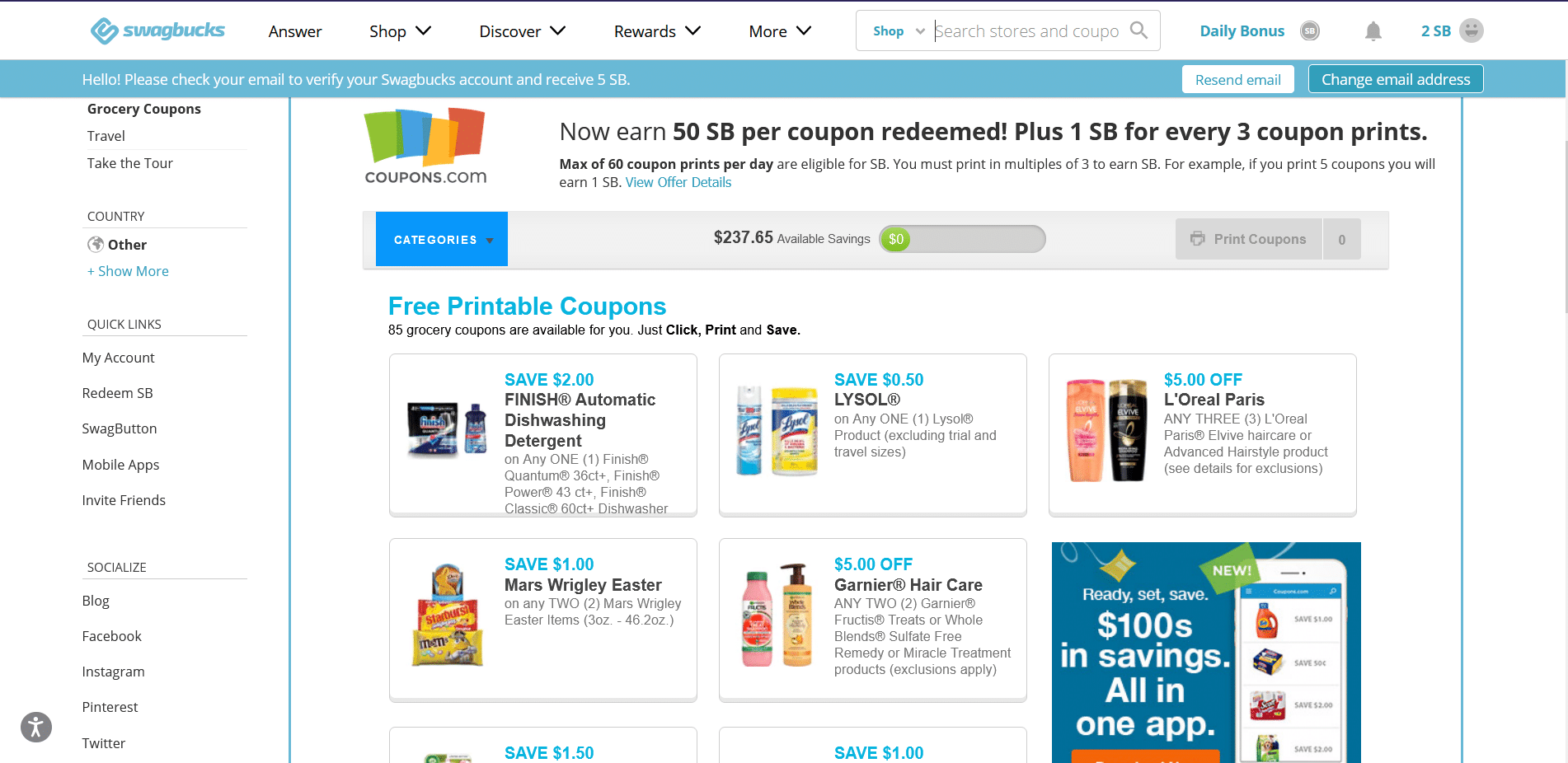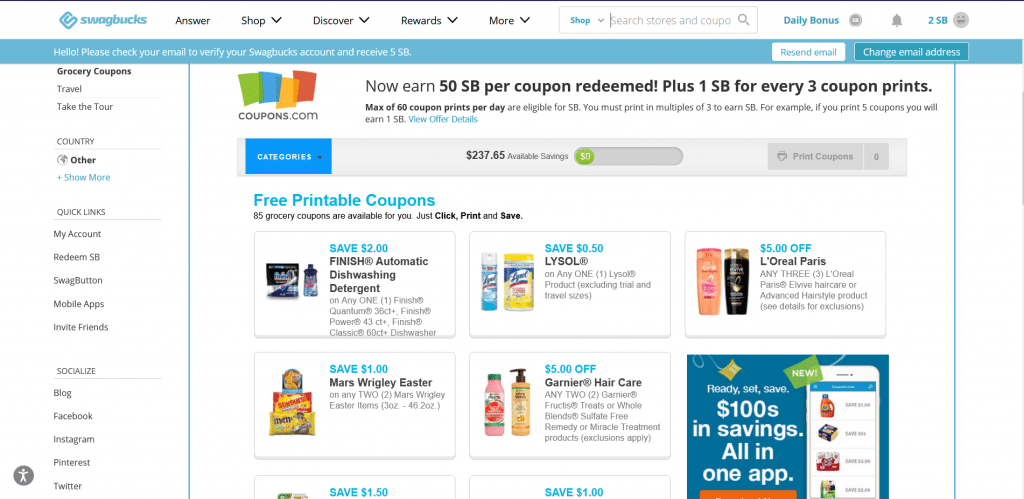 Swagbucks provides coupons to help you save money at the shop while also rewarding you with SBs for using them. So it's a double victory!
To locate these coupons, go on the toolbar to the left of the homepage and choose "Shop," then "Grocery Coupons." You'll discover discounts for entertainment, healthcare, pet care, and travel, among other categories (not just grocery).
When I went to the coupon page, I spotted $2 off Purina dog treats, 75 cents off Scrubbing Bubbles hygiene goods, and $2 off Tylenol, to name a few. After finding the coupons you want, click "Clip Coupon." When you've finished perusing through your selections, go to the top of the page and click "Print Coupons."
For each coupon you print, you'll receive one SB. (You can print as many as 50 each day.) So then, for every coupon you redeem, you'll get 25 SBs, which amounts to an extra 25 cents in cash back. Again, remember to use coupons only for things you need to buy.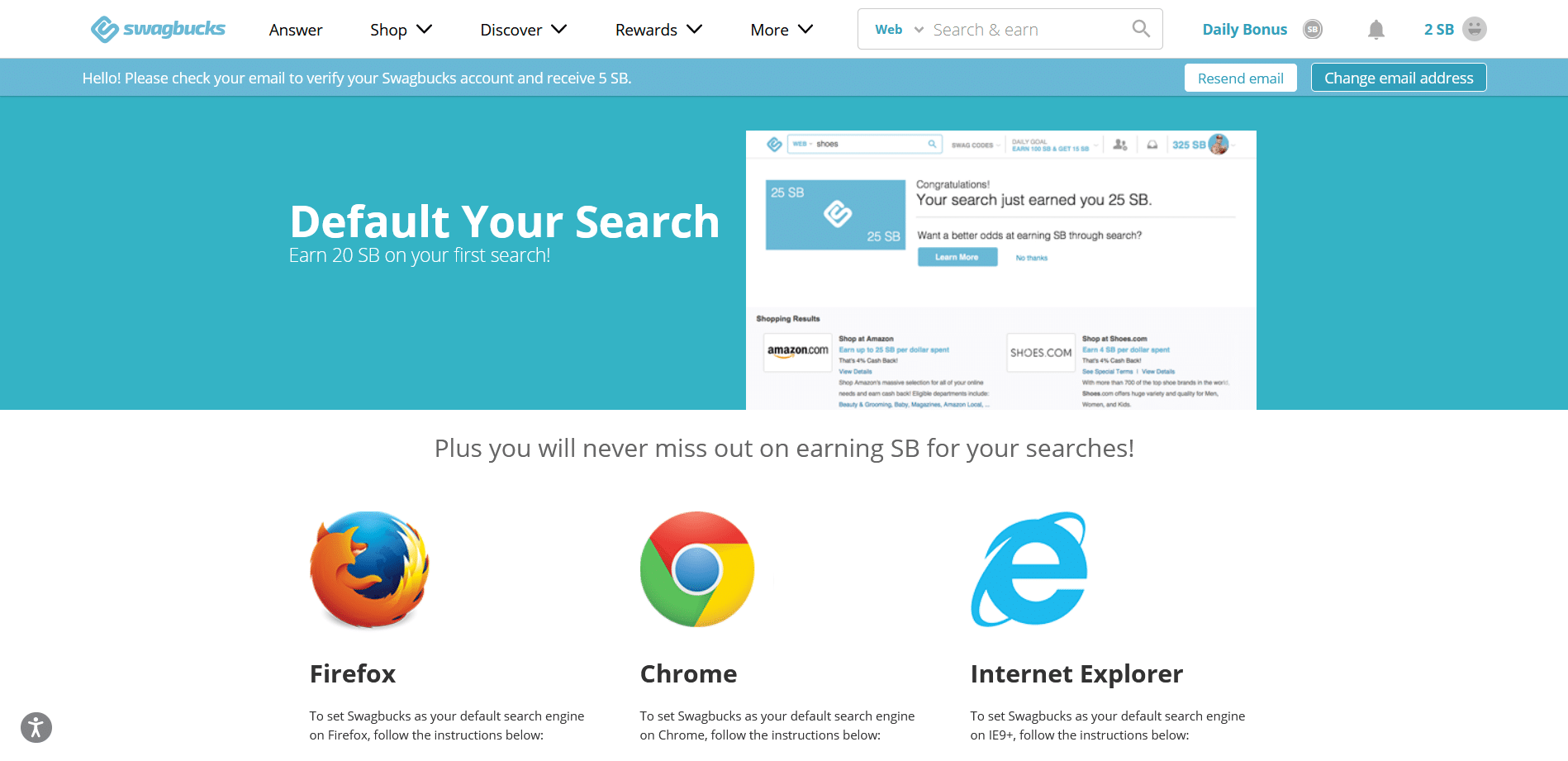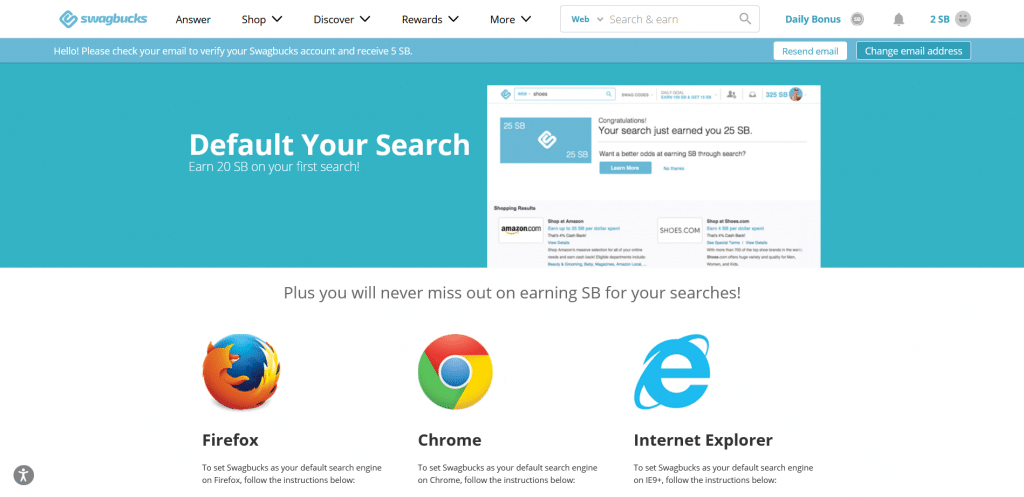 Do you want to earn a few quick points every day? Use the Swagbucks search engine, which may be found in the upper left corner of your screen and you are free to type and search for whatever you wish. Look for beautiful animals, a chicken noodle soup recipe, or the newest Real Housewives gossip. You'll be requested to input a short code after each search, and you'll receive 1 SB right afterward. Yes, you may earn money just by searching the internet.
Here's a helpful hint: Swagbucks should now be your preferred search engine. You'll receive the same results as with any other search engine (think Google or Bing), but you'll be able to earn points automatically each time you search. Swagbucks provides step-by-step instructions here.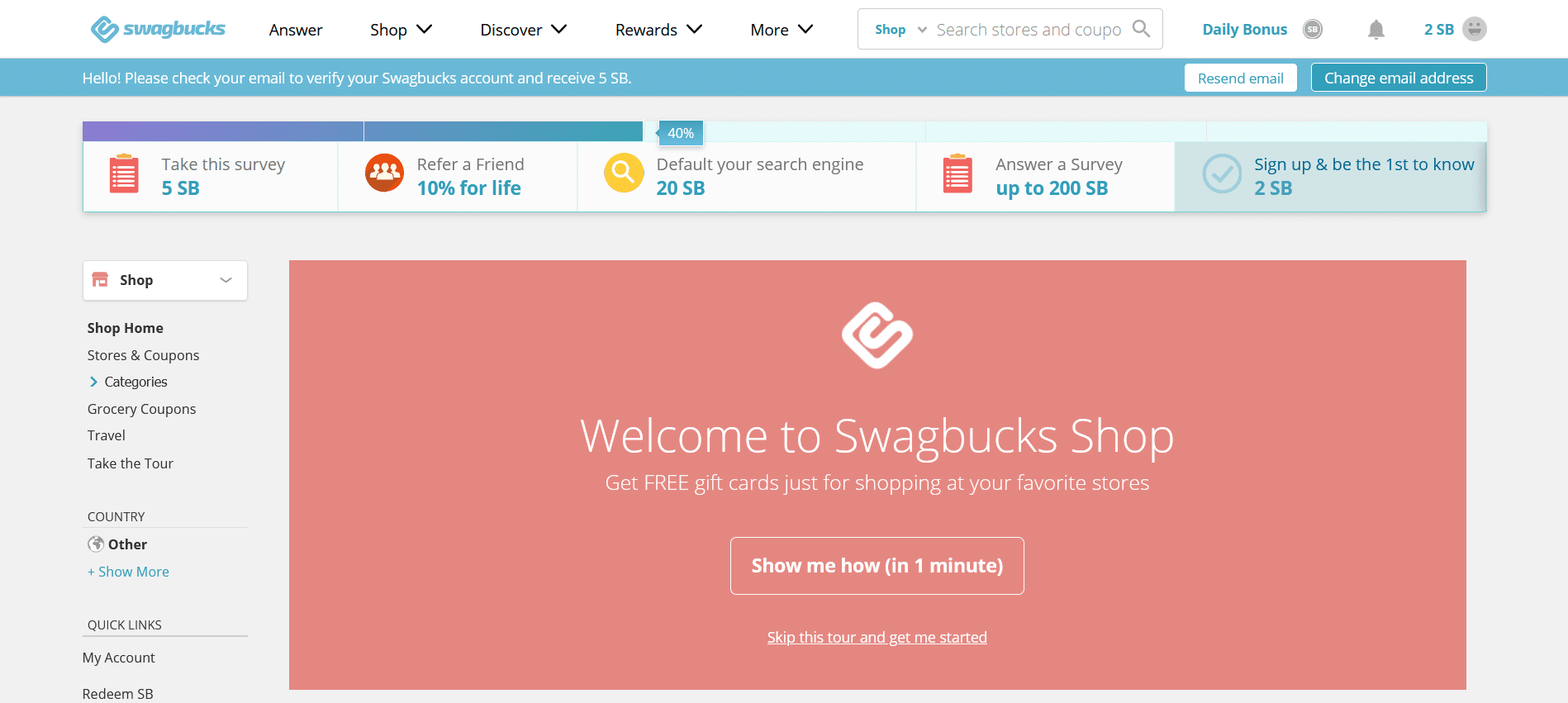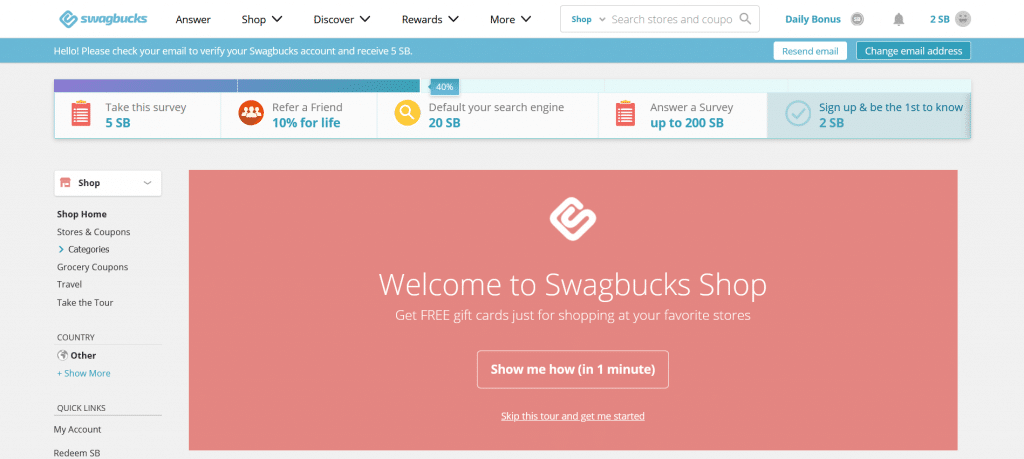 Are you going to do some shopping online? Check to see whether the store you're going to is a Swagbucks partner. You might be able to earn SBs for your purchases. Remember that Swagbucks is a full-fledged rewards system, so you may get paid to spend in addition to conducting surveys and viewing videos. In addition, when you shop through the site, you'll get cashback.
Swagbucks pays you for using its links to purchase — for example, clicking via Swagbucks before visiting Best Buy, Macy's, Home Depot, Bed Bath & Beyond, or even Uber Eats, to mention a few. (Hundreds of brands have collaborated with it.)
Swagbucks receives a referral commission from the store, just like any other affiliate program. However, Swagbucks shares a portion of your commission with you, unlike other affiliate networks. As a result, why not get some money back on your purchases since you'll pay the same amount either way? Macy's, for example, was offering 4% cash back on select item categories when I looked. That's 4 SBs for every $1 spent.
Swagbucks will also run special offers and incentives from time to time. For example, when I was shopping on the site, it provided $10 cash incentives when I spent at CVS, Disney+, and Lowe's.
You may also use the SwagButton, a free Google Chrome browser plugin. It only takes a few seconds, and it will notify you whenever you visit a site where you may earn SBs. You'll also receive 25 SBs simply by installing it.
Find & Use Swag Codes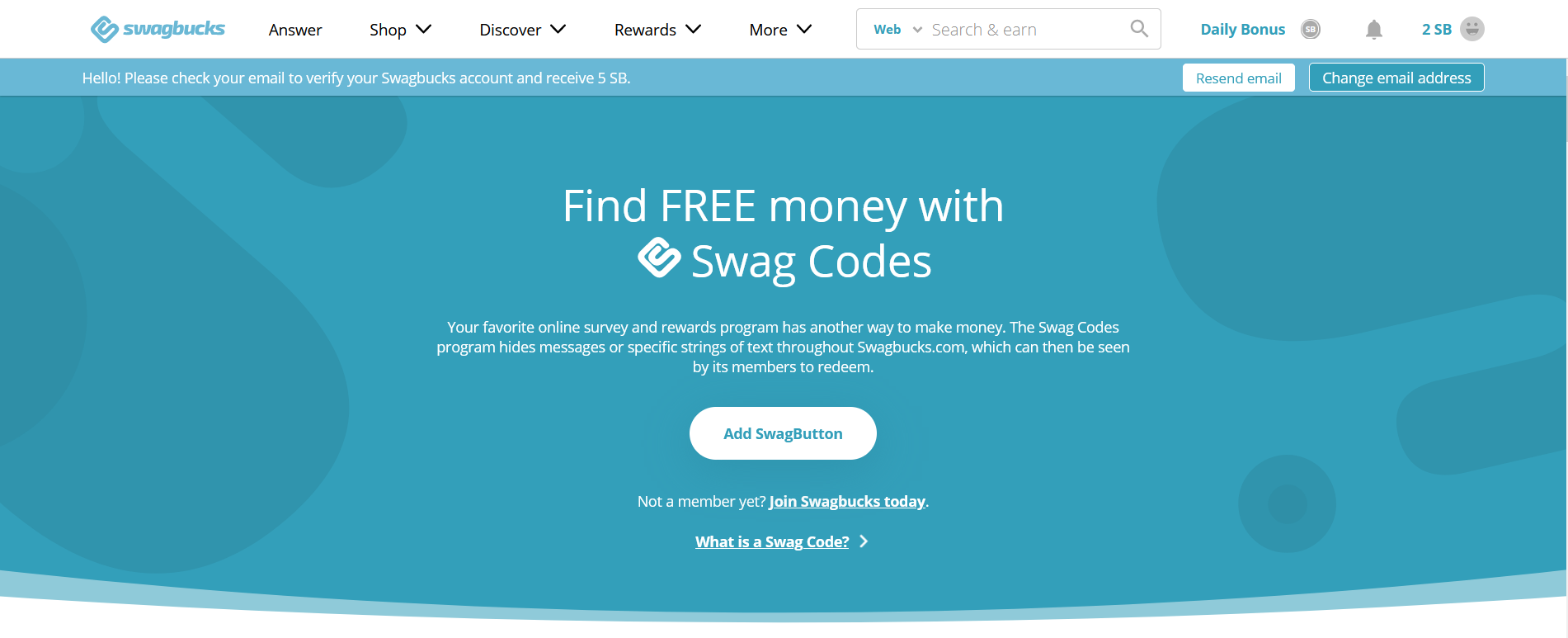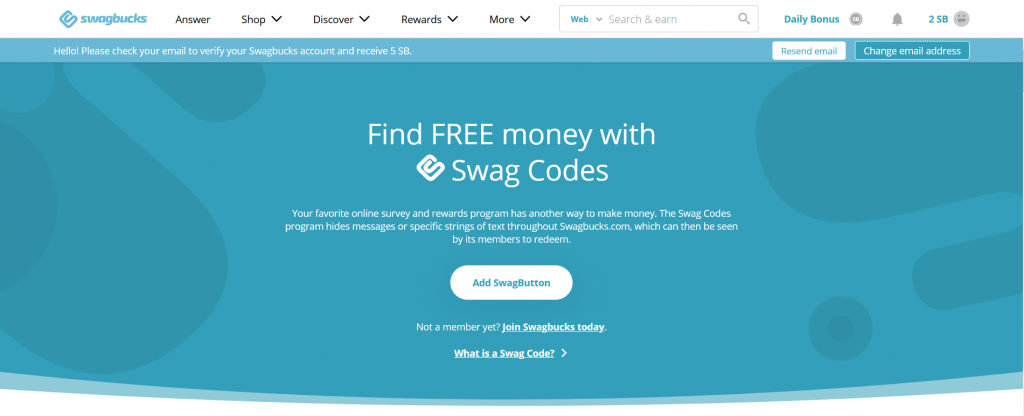 Swag Codes are an excellent approach to getting some more bonus points, and you may find swag Codes online. Swag Codes are brief word and number combinations that get you quick SBs — typically one to five — and expire after a few hours or days. They're strewn over the site and on Swagbucks' social media outlets, such as Twitter and Facebook.
You'll be alerted whenever a new code is available if you're using the SwagButton or the Android or iOS app. In addition, it should inform you where to look for it. Finally, once you have the code, go to the left-hand toolbar and choose "Promotions," then "Swag Code." You'll see a box appear where you may paste the code.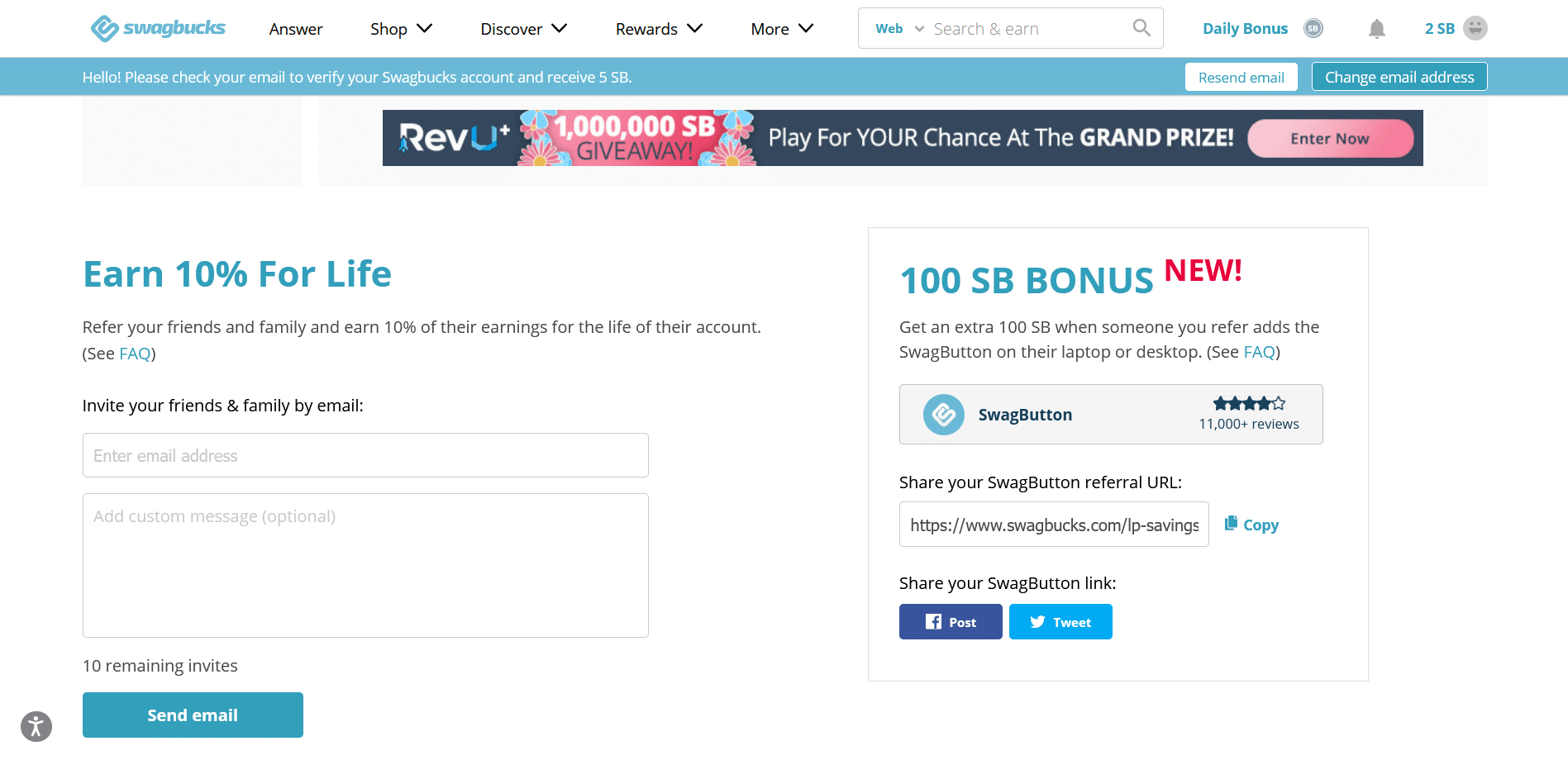 Want to tell your friends about Swagbucks? Referrals are an excellent strategy to earn a large number of SBs quickly. For example, you'll both get 300 SB if you suggest a friend who signs up and starts making money (they must earn 300 SB within the first 30 days of joining up).
Here's one of the easiest methods to make money on the site: You'll automatically receive 10 percent of their SB earnings for the duration of your friend's account. As a result, if they make $1,000 next month, you'll get 100 SB immediately.
Make sure your buddy also adds the SwagButton. Then, when they utilize your referral URL, you'll receive another 100 SB. Finally, tap "Refer & Earn" at the top of your Swagbucks account page for further information.
Related Questions
What Are The Best Paying Online Surveys To Take?
The best-paying online surveys generally take a long time to complete (40 minutes or more) or those that target a specific demographic. This is because they require people who fulfill extremely particular criteria, such as being multilingual in Korean or English, owning a pet Boa Constrictor, having stage 1 cancer, or having two or more pairs of twins or other multiples.

While it may appear to be a challenge to try and choose the best paid online survey opportunity, these surveys might be more difficult to qualify for in the first place. In addition, if you are disqualified from the survey after completing a 5-minute screener, you may become irritated.

In general, surveys that pay between $0.50 and $1.50 are more available to a larger audience and are shorter in length. But, it's absolutely a good idea to try to take as many surveys as possible, regardless of the reward level.
Who Should Use Swagbucks?
Students in college and high school and those with free time are ideal Swagbucks prospects. It's ideal for making money while doing anything else, like watching TV.

So, to make a few dollars in a month, you'll require a significant amount of time. Spending three hours per week on Swagbucks and earning less than a dollar per hour will earn you roughly $10 per month after working for 12 hours per month. Any incentives or unique offers might help you make more money.
Is Swagbucks Worth It?
Swagbucks is a good investment if you have some spare time each day and already use the internet to relax. However, making hundreds of dollars per month is more complex and may need most of your time and a bit of money because some of the more lucrative ways to earn entail shopping and trying out subscriptions.