Best Free Online Photo Editors
Important Note: When you buy through our links, we may earn a commission. As an Amazon Associate we earn from qualifying purchases. Content, pricing, offers and availability are subject to change at any time - more info.
Key Takeaways
GIMP is the only software that does not have a paid option, although you can choose to donate if you feel inclined — every other piece of software has optional payable features.
GIMP specializes in creating professional-level screen graphics for websites, books, advertisements, etc. and aims to be a Photoshop clone of sorts.
BeFunky is great for whacky editing and adding layers, backgrounds, colors, and text.
PIXLR, Adobe Photoshop Express, Fotor, Photopea, and Canva lean toward features that focus on editing only photos.
While it may be true that the camera adds a few pounds, fortunately, "what the camera adeth, the editing software can taketh away." Many free online photo editors can help you customize photos to your liking, although finding the right software isn't always easy. Not to worry, though — we've taken care of that for you!
---
Advertisement
---
There's An Excellent Free Photo Editor For Every Need
Whether you're an aspiring graphic, 3D artist, or newspaper editor, you'll have a good grasp of the power of visual stimulation. Photo editing software is never cheap, but you don't need a vacuum when a broom can do the same job, often quicker.
Many fantastic photo editing software shares the same features as premium applications. If you need to remove wrinkles, alter backgrounds, or add a specific font and color to a photo — there's a good chance that a free program can get the job done.
Adding artistic flair to photos or having someone believe your imaginary trip to the Eiffel Tower is not an unrealistic goal. In fact, we've saved you the trouble and compiled a list of the best free online photo editors that can help you accomplish your editing needs without spending a cent on expensive editors!
Photopea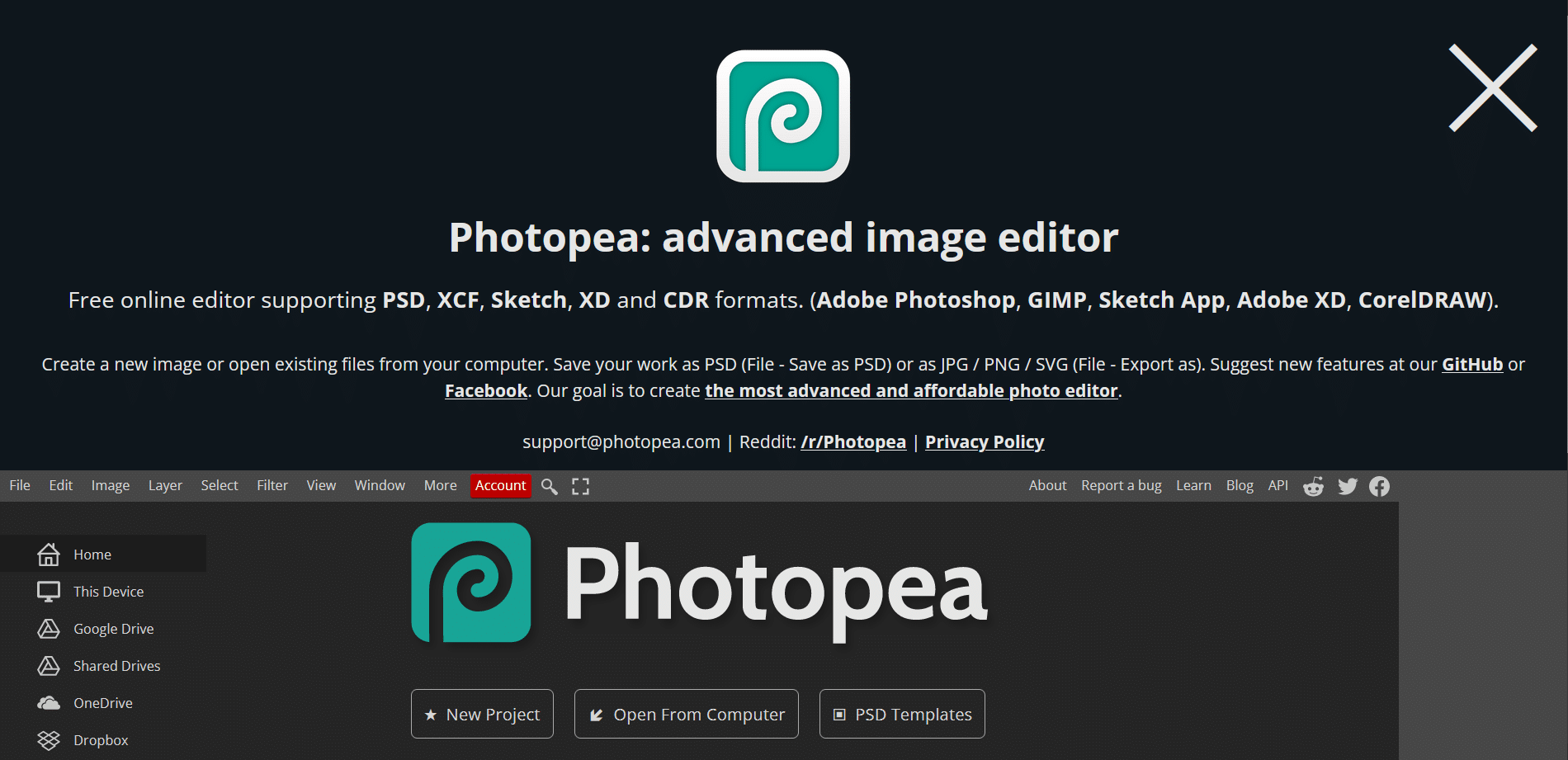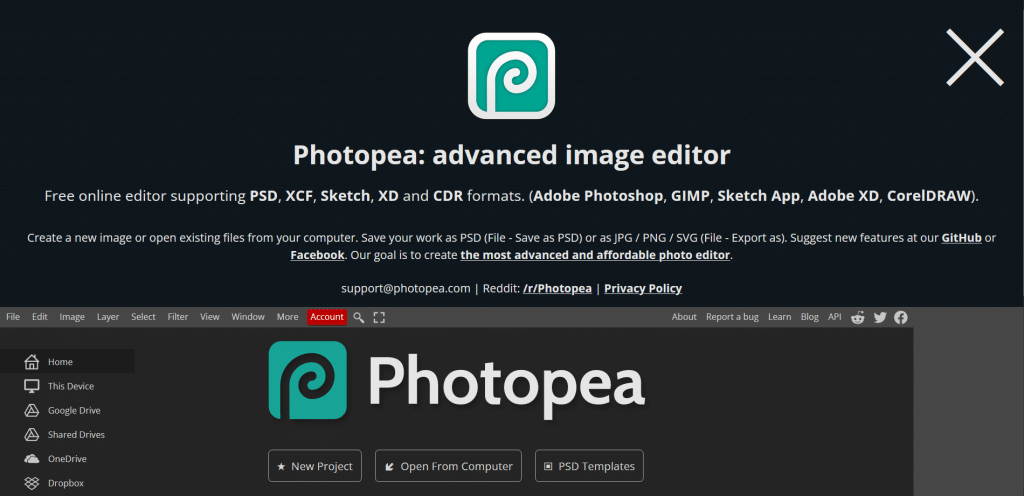 Compatible Platforms: Google Chrome, Firefox, Opera, Microsoft Edge
Supported File Formats: XCF, PSD, Sketch, XD, CDR, Adobe, GIMP, CorelDRAW, etc.
Paywall Features: Yes
Ads: Yes
Photopea is an application accessible through your browser, and it keeps all files locally and does not send data to a server. It stays afloat through advertisements, so it remains entirely free to use.
Some people believe Photopea to be a free equivalent to Adobe Photoshop with fewer capabilities, so you'll feel right at home if you have used Adobe Photoshop.
Spot healing, a clone stamp healing brush, and a patch tool are just a few of the image-altering capabilities available in Photopea. The program supports layers for masks, styles, vector shapes, select paths, smart objects, channels, and other valuable features.
Photopea remains free to use with payment options for additional features and copies. There's a 30-day free trial to take it for a test drive, or you can choose to pay for a single user, 5-person license, or a 20-person license.
Canva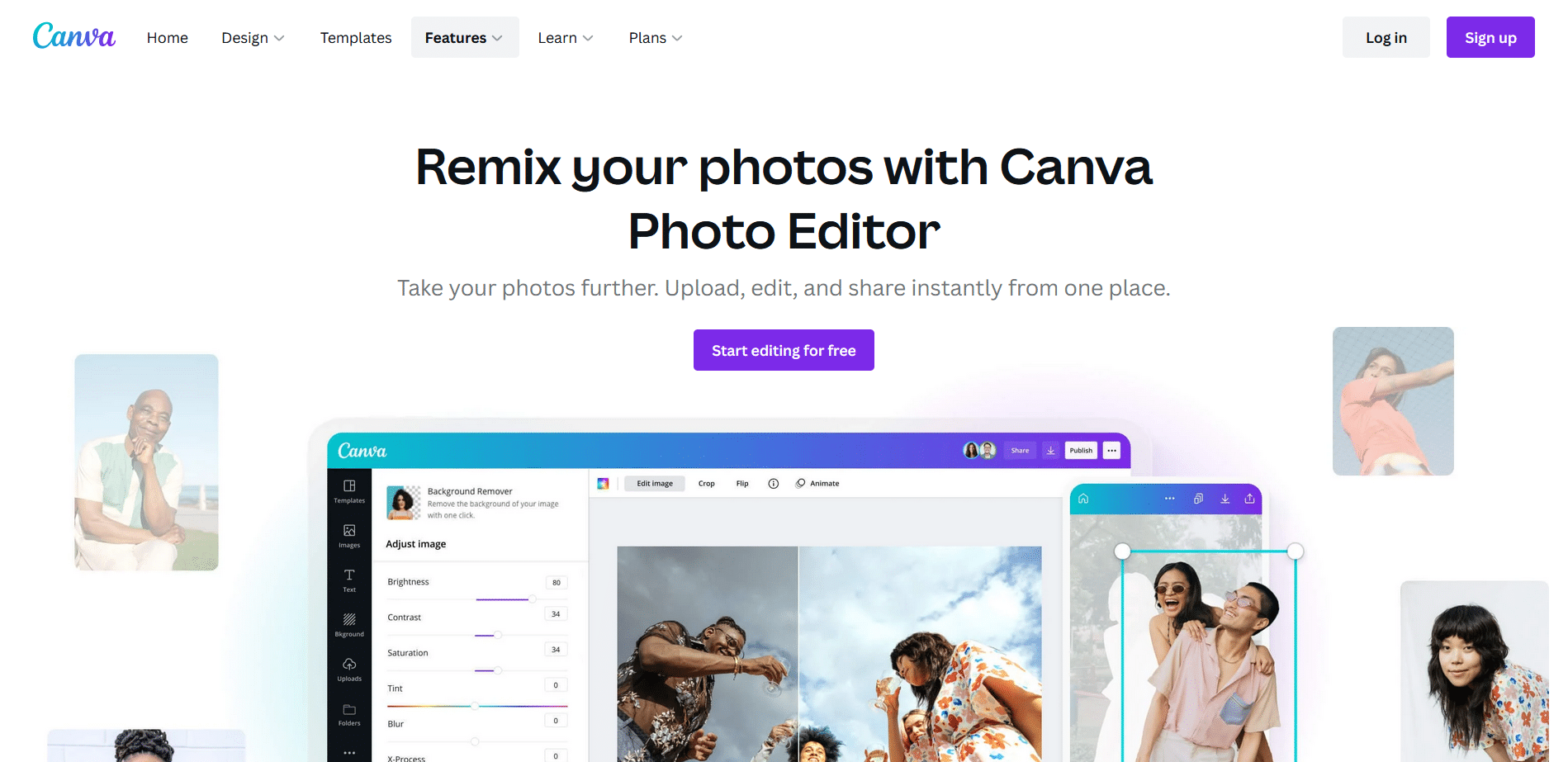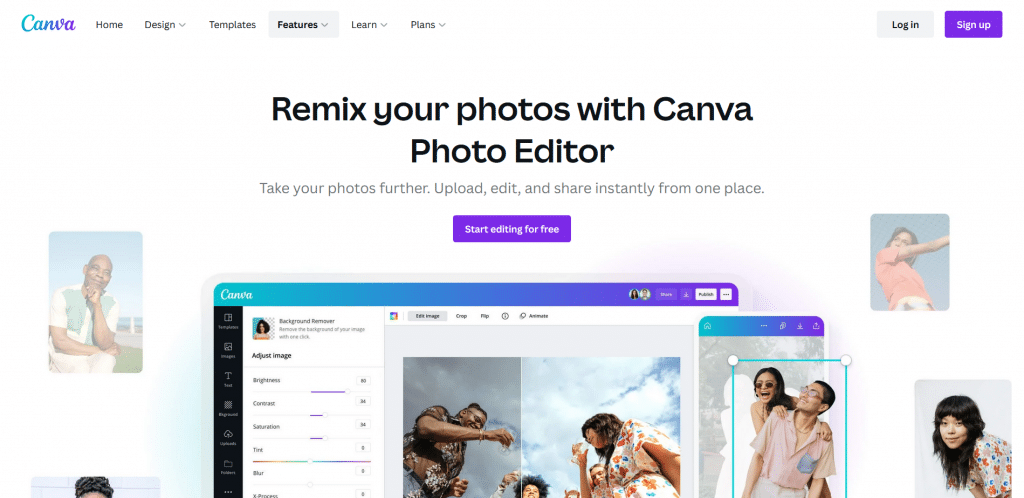 Compatible Platforms: Windows macOS and Chrome OS
Supported File Formats: JPEG, PNG, HEIC/HEIF, WebP Images
Paywall Features: Yes
Ads: No
Canva boasts unique features that make your photos pop and appear more professional. For example, the autofocus feature can bring attention to a specific image area while blurring the background. The background remover allows you to edit selfies or portrait backgrounds to suit the theme of the photo better.
Furthermore, you'll have access to over 90 million images, graphics, and stickers to enhance the appearance of a photo or add some cartoony fun! If you start a design for windows but later decide you want it presentable for Android, you can easily re-size the image without reducing any quality.
What makes Canva stand out from other online photo editors is its user-friendly controls and tutorial videos that will give you a boost of confidence and guarantee top-notch photo editing. There are how-to tutorials on making custom content, creating backgrounds, adding photo effects, frames, shadows, and the best way to design a greeting photo for the holidays!
It's fantastic for designing business cards and photos, selfies, logos, calendars, and greeting cards, among many others. Canva is entirely free to use, and you have the option to pay for premium tools if you find that you want a little more – there are payment options for monthly or yearly packages and a free 30-day premium trial if you feel like testing the waters first.
PIXLR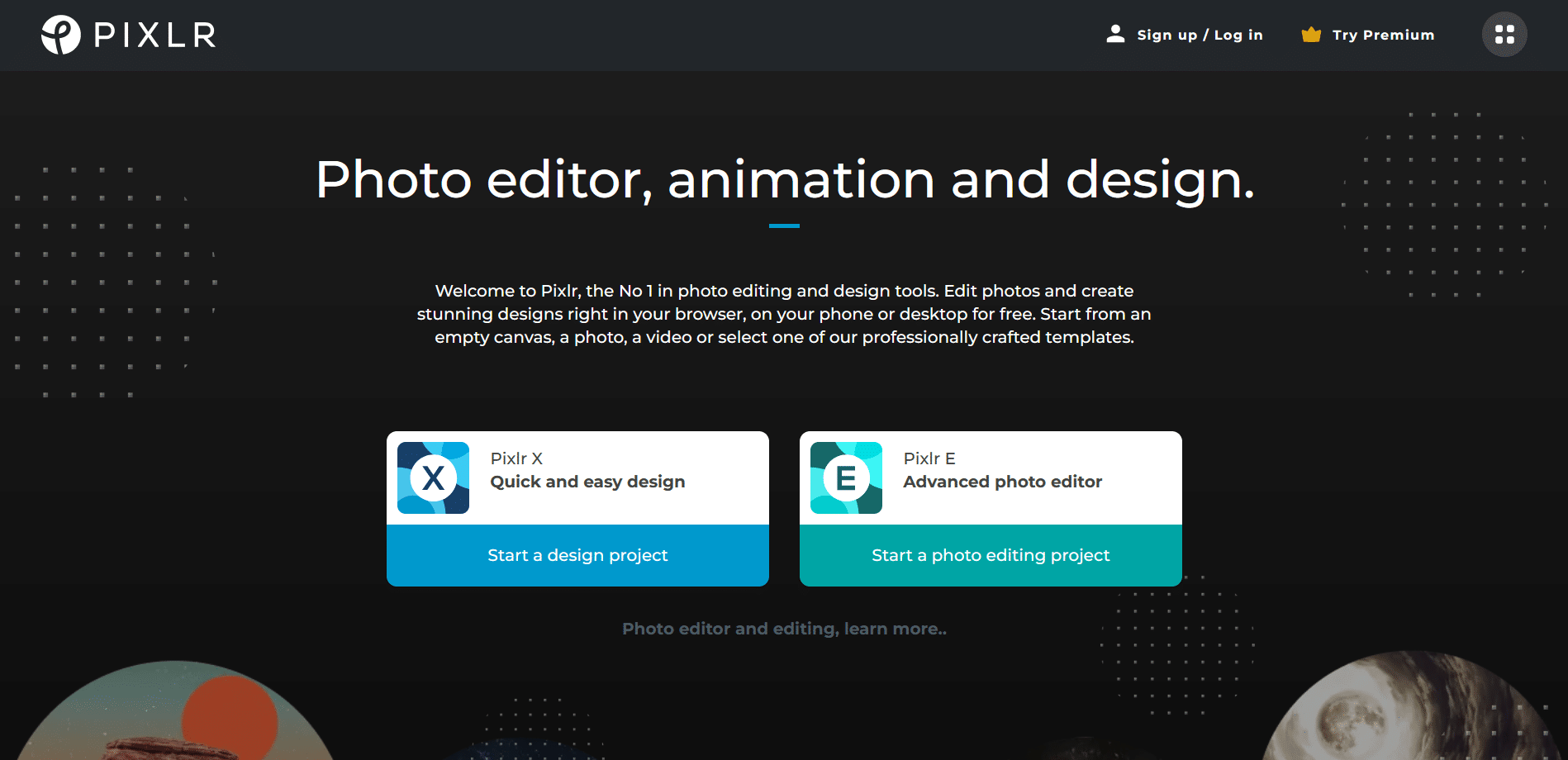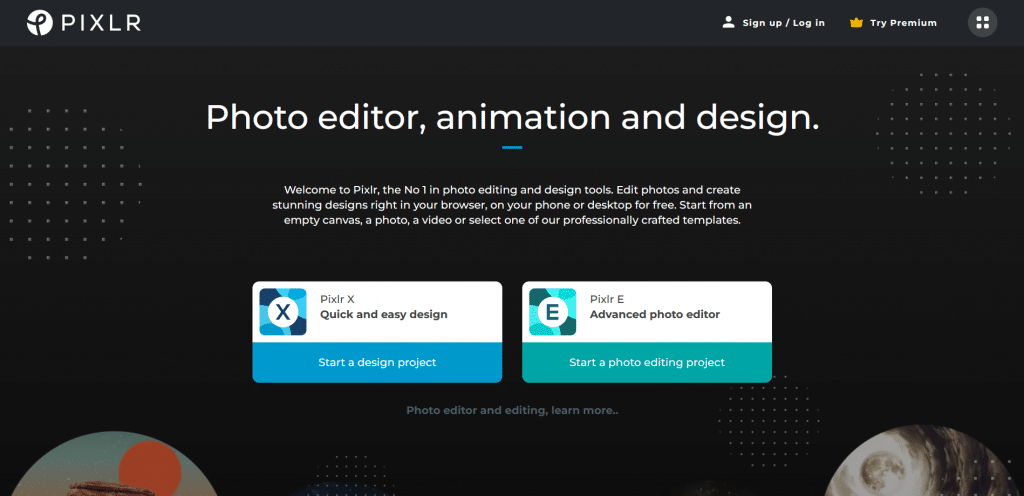 Compatible Platforms: Windows macOS and Chrome OS
Supported File Formats: Any
Paywall Features: Yes
Ads: Yes
Link: https://pixlr.com/
Pixlr lets you edit images and create outstanding graphics for free in your browser, phone, or PC — and you don't even need to register an account. Making a quick collage is easy with their pre-made online templates if you have a deadline that includes a collage presentation. You may begin with a blank canvas, a photo, a video, or one of our professionally designed templates.
Their fantastic templates are ideal for business cards, Pinterest pins, virtual backgrounds, simple collages, Roblox clothes, Twitter & Facebook covers, and more! Pixlr also helps to animate timelines or other images and a flair of creativity to your professional photo or video.
The program also has special AI-powered coding that can easily remove any background from profile pictures or selfies. Once removed, you are free to add custom backgrounds or edit them as you see fit. You can further alter the photos via their filters & effects that can add beautiful visuals to images to give them new life.
You may save or export your photographs in various popular and web-friendly formats, including Pixlr Editor's proprietary PXD file format. When you export them in PNG format, they can be transparent and high-quality.
Since Pixlr is web-based, you don't need to install it, and it works anywhere on your PC, MacBook, Chromebook, Laptop, or tablet. Remember that your browser must be compatible to use Pixlr — prominent ones like use Chrome, Firefox, or Safari work well.
There are three payment options for Pixlr — Free, Monthly, and Yearly. You have the option of a free 30-day premium trial if you enjoy using the free version and want to explore some of the more in-depth features. The free version provides editing tools at a basic level, a limited set of overlays and stickers, and it has some ads, too.
GIMP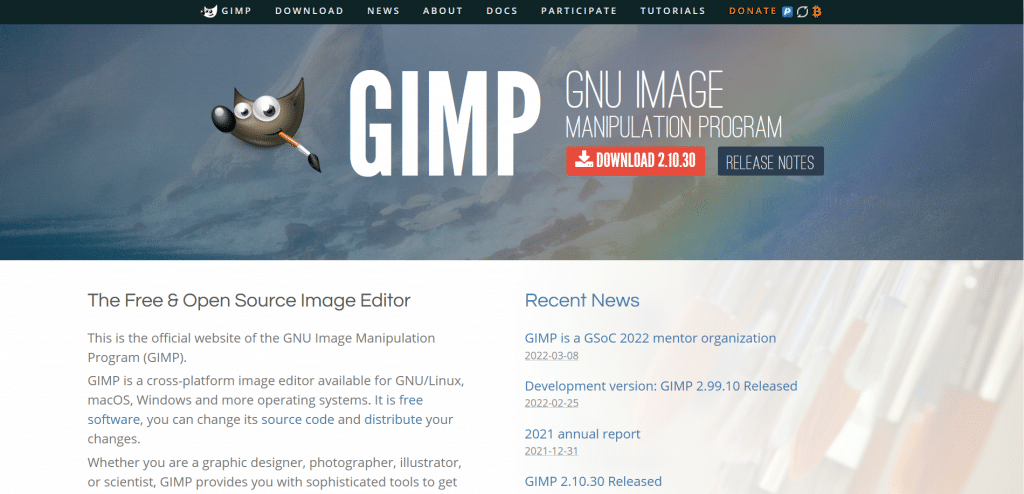 Compatible Platforms: Windows, GNU/Linux, macOS, Sun OpenSolaris, FreeBSD
Supported File Formats: JPEG, PS, BMP, PNG, XPM, GIF, MNG, TIFF, PCX, PDF, etc.
Paywall Features: No
Ads: No
Link: https://www.gimp.org/
GIMP (GNU Image Manipulation Program) is a free and open-source image editor for GNU/Linux, macOS, Windows, and other operating systems. It's open-source software, meaning you can modify it and distribute your modifications for others to enjoy.
This free program is a fantastic tool for artists that wish to alter and manipulate their high-quality images. Its graphic design elements are well-known for producing icons, user-interface components, and other graphics that transform a website from great to breathtaking! You can do follow-up with retouching, restoring, or creative composite.
GIMP offers the opportunity to work with an impressive digital toolset to get the job done, whether you're a graphic designer, photographer, artist, or scientist. GIMP's extensive customization options and third-party plugins might help you increase your productivity even further.
Furthermore, programmers will feel right at home with GIMP, as its framework for image, manipulation stems from multiple programming languages, including C, C++, Python, Perl, Scheme, and more.
GIMP has excellent color management tools for achieving high-quality coloring on digital and printed mediums. It works particularly well with other free applications like SwatchBooker and Inkscape.
Adobe Photoshop Express (PsX)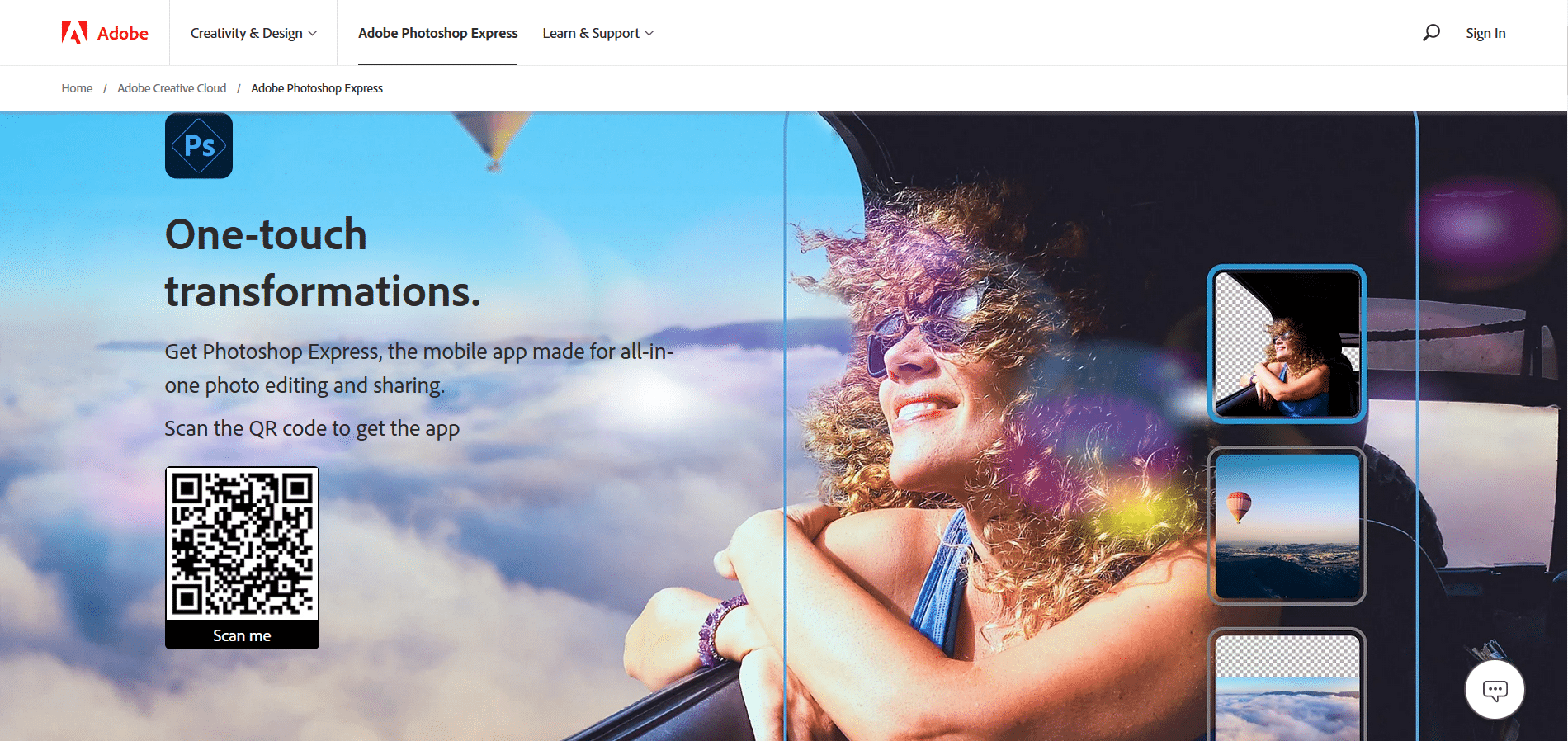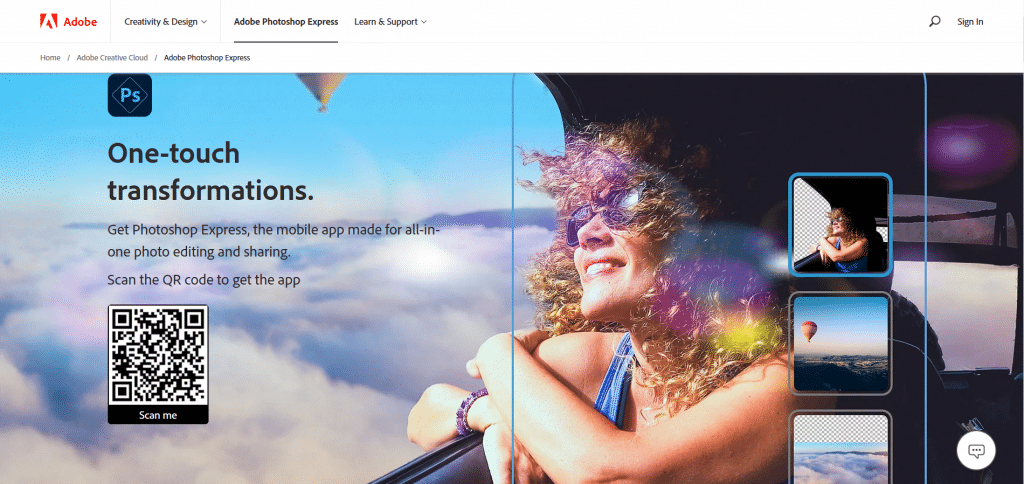 Compatible Platforms: Windows, macOS, Android, iOS
Supported File Formats: JPEG, PNG, CR2, ARW, DNG, CRW, MRW, etc.
Paywall Features: Yes
Ads: No
Photoshop Express includes everything you'll need to rapidly edit and convert photos for use on social media and elsewhere. You may also make complicated modifications quickly with the opportunity to add premium features. You may also use smart Photoshop tools to improve your images, which can handle complex jobs like cuts, de-haze, retouching, and noise reduction.
This program has you covered if you want to keep things interesting with edits, effects, and retouching. You can create collages and mix images while adding fun effects, like flowing watery on a surface. There are also solid options for enhancing the relationship between makeup and skin transfer.
Adobe Photoshop Express takes it further by enabling you to watch playbacks in a Discover feed to see how others create their art. You'll get to explore the minds of others and add to your own as you tap into your artistic talent. Additionally, you can add, edit, and remove borders, backgrounds, and layers within a photo for more in-depth work.
It's compatible with macOS, iOS, Android, and Windows systems. You must first register an account at photoshop.com, after which you will have access to a variety of free tools.
Fotor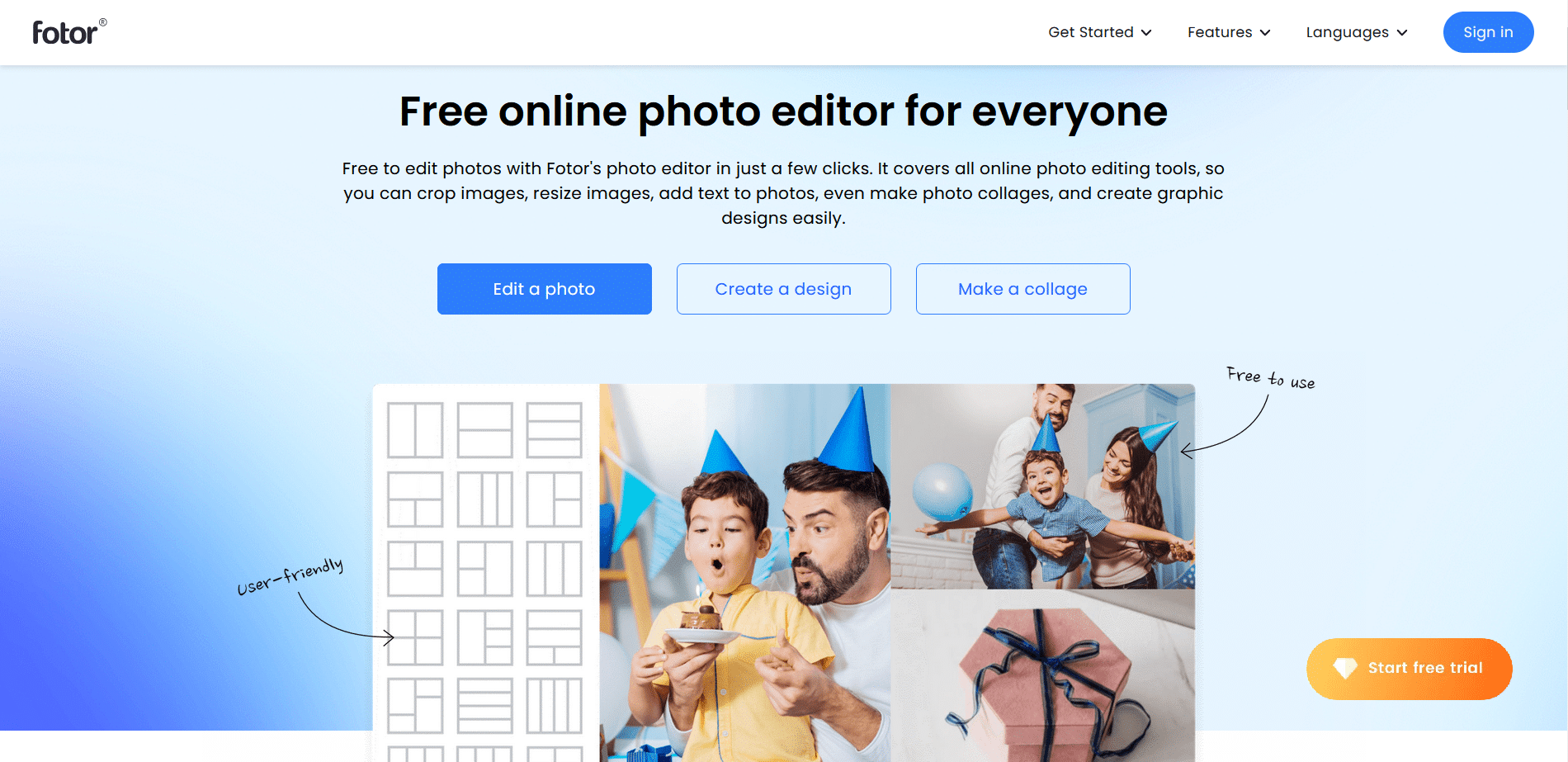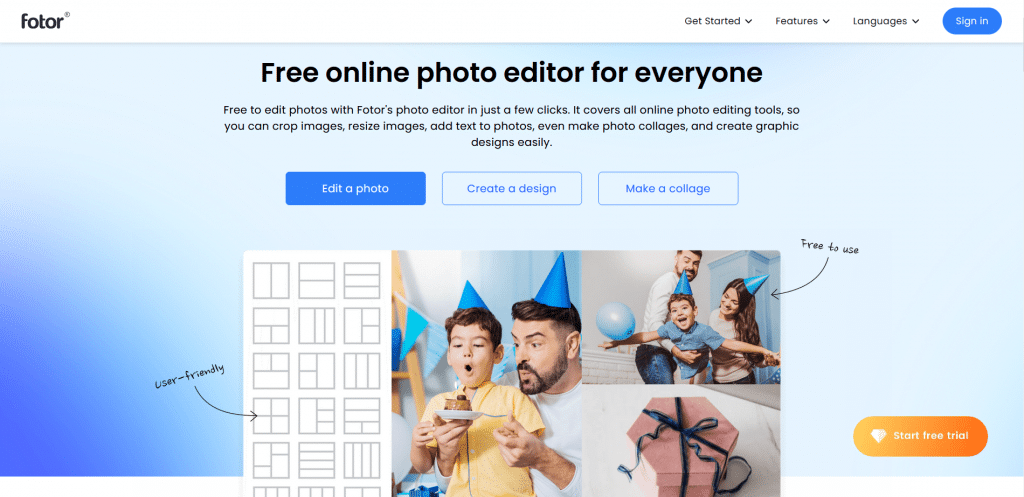 Compatible Platforms: Windows, macOS, Android, iOS
Supported File Formats: JPG, PNG, and PDF
Paywall Features: Yes
Ads: Yes
Link: https://www.fotor.com/
Fotor is a fantastic program that provides access to all internet photo editing tools, allowing you to crop, re-size, add text to photographs, create photo collages, and create graphic designs with ease. Furthermore, there are many tools to enhance and retouch photos while removing unwanted backgrounds and adding your own original artistic flair.
You don't have to be a competent editor to enjoy high-quality images with Fotor. Fotor works in real-time, identifying and fixing lighting and color, increasing details, and mending fuzzy regions for your photo with only a single click.
Whether you need to correct low lighting, a fuzzy shot, or a lack of focus, Fotor's powerful HDR effect can assist. It analyzes and transforms your image into a high-definition, colorful HDR shot using AI technology. Recreate the bright colors your eyes see by restoring the details that a regular digital camera may lose.
Fotor de-ages a photo using innovative digital technology, making wrinkles vanish in a flash! It simply takes a few seconds, and a few clicks around the areas you wish to improve, and the wrinkles will be gone before you know it, and your image will look even better!
Fotor's picture editor is robust, with support for various platforms. It includes photo editing apps for iOS and Android and applications for Windows and Mac. All of the picture editing software is available for free download. They also provide data and membership synchronization, allowing you to edit photographs from any location and at any time with only one Fotor account.
Both Windows and Mac users may benefit from Fotor's user-friendly desktop programs. Fotor also works on every major mobile and desktop platform, from Android to iOS, and has a dedicated 'Fotor for Messenger' version, integrated with Facebook for improved connection and ease.
BeFunky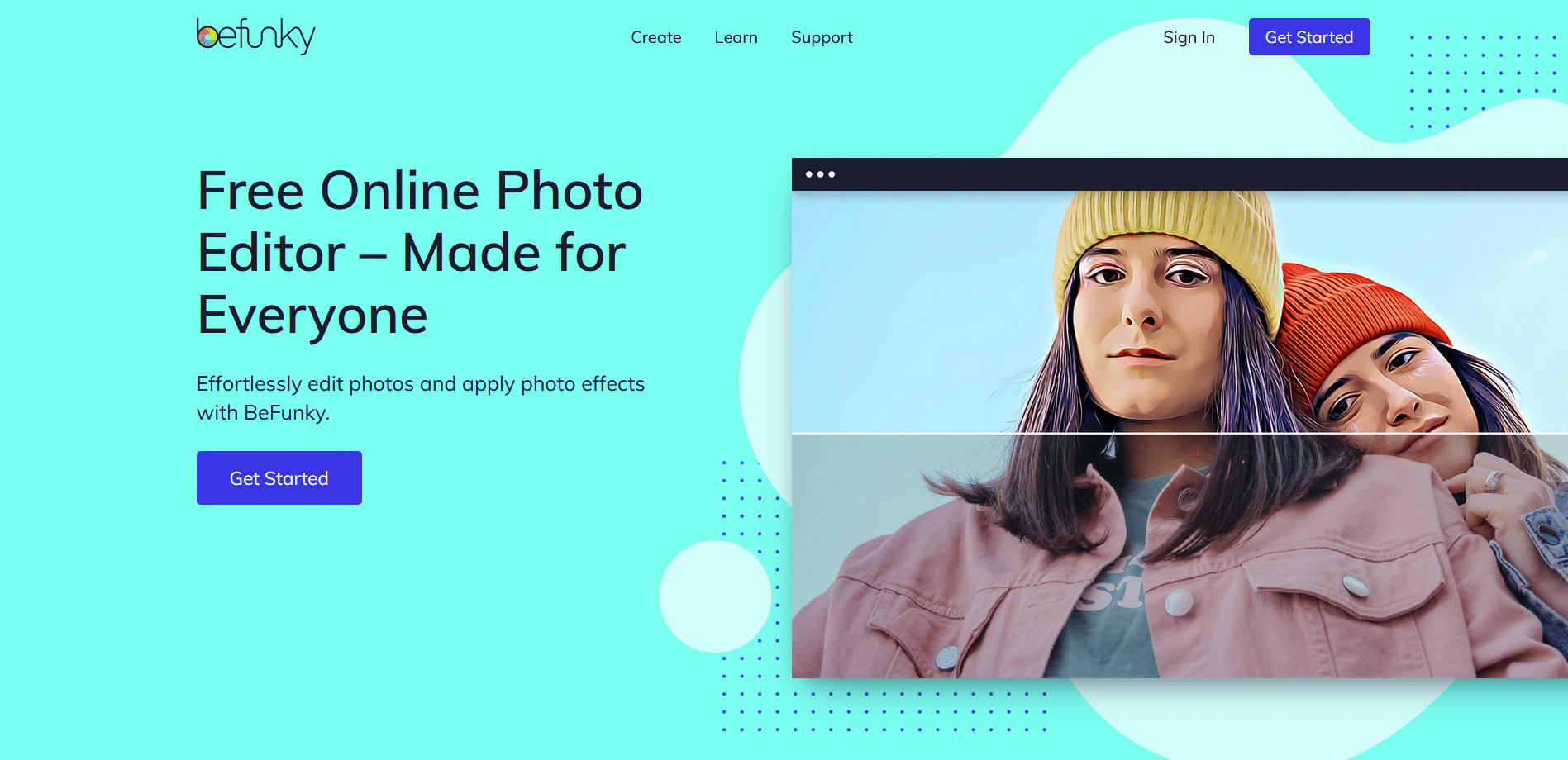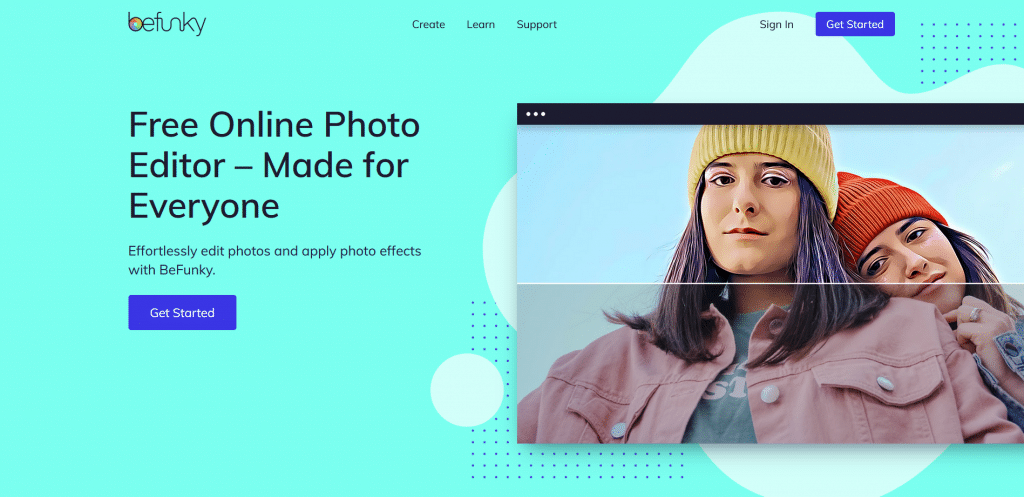 Compatible Platforms: Google Chrome, Firefox, Safari, Microsoft Edge, Opera
Supported File Formats: JPEG, PNG, PDF
Paywall Features: Yes
Ads: No
Users may use BeFunky to experiment with their artistic side by turning photographs black and white, adding a sepia tone, creating a Pop Artwork, etc. Use the Cartoonizer to transform any photo into a cartoon, or use an A.I.-powered image to paint effects to create a Digital Art masterpiece.
Adding text to your photographs is extremely simple with BeFunky. Their online photo editor comes with a library of free fonts to pick from, Google Fonts access, and the option to upload fonts from your computer! Add extra flair to your photos with our photo editor's vast library of customizable graphics, add a frame, an overlay, or any other free editing capabilities.
The color-swap feature is handy for graphic design work. You can also turn your photos into oil, watercolor, and cartoon paintings and replace colors in images. Furthermore, there's also a background remover and the option to add text to pictures and customize it with different fonts and themes.
Users can create beautiful photo edits for free or choose to pay a fee and purchase BeFunky Plus. Free users have access to all the essential tools and limited use of the Smart Editing Tools, like overlays, texture layers, and photo frames.
Related Questions
You may still have some concerns regarding these free online photo editors, so here are some more things to consider
Do These Photo Editors Work With Every Browser?
Most of these photo editors will only work with specific browsers, although the major browsers like Google Chrome, Firefox, and Safari work fine.

Ensure that your browser is always up to date, and visit the site's FAQ section to ensure it is compatible with whichever program you want to use.
Can One Photo Editor Fulfill All Your Editing Needs?
You'll find that one program may be better at removing wrinkles, while others offer more backgrounds and visual photo effects. As a result, it will be in your best interest to try different editors or even use multiple ones to get your desired photo effect.
Do Online Photo Editors Protect Privacy?
Online photo editors are typically safe and do not represent personal information threats. Misusing their customers' data will harm their reputation and make others reluctant to utilize their services.

Adobe software, for example, allows you to edit your photographs directly from your hard drive, meaning it's entirely up to you where you keep your digital photos. However, reading reviews before sharing images is still the smart way to go about it!