11 FREE Energy Saving Products Kits from Your Utility Company (Select States Only)
Important Note: When you buy through our links, we may earn a commission. As an Amazon Associate we earn from qualifying purchases. Content, pricing, offers and availability are subject to change at any time - more info.
Freebies from your local utility company? In some states, it's a definite yes! In an effort to help you save on energy costs, selected utility companies will send you free energy saving products for filling out a survey. And we're not talking about those "energy audits" where people check your home, give you a light bulb and try to sell you new windows. What we've rounded up are all the free energy saving kits we could find from state utility companies. In most cases, you need to be a utility customer – and provide your account information. Check below to see if you're in one of these states.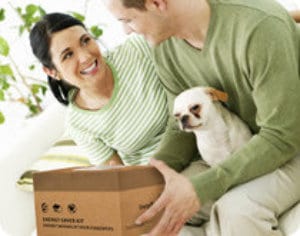 Qualified homeowners (you need to verify your address) in Oregon and Washington can receive
selected energy saving products for free
. Products vary depending on answers to a brief energy usage survey. Allow 4-6 weeks for delivery. There are also cash back programs for selected appliance purchases and home improvement products. Download the lists below:
Washington
:
https://energytrust.org/library/forms/HES_NWNWA_Incentive_Grid.pdf
Oregon
:
https://energytrust.org/library/forms/HES_DOC_Incentive_Grid.pdf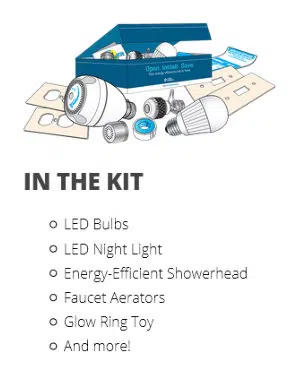 Duke Energy provides one
FREE Energy Kit
every 36 months to homeowners in North Carolina, South Carolina, Ohio, Indiana or Kentucky with children attending schools participating in The Conservation Caper and Energy Agents programs during the 2016-2017 school year. The kit includes LED bulbs, LED night light, shower head, faucet aerators and more. Even if you're not a Duke Energy customer, you may qualify for a partial kit. Fill in address and school info, provide your Duke Energy account number (there's an option for those without an account) then answer the questionnaire. Allow up to 12 weeks for delivery.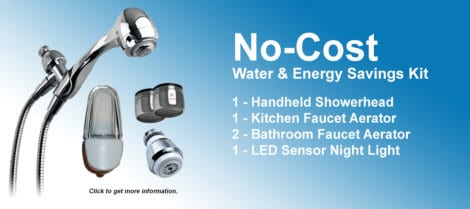 Through 12/31/2016, SDG&E gas customers can get a free
water and energy savings ki
t that includes a handheld shower head, kitchen and bath faucet aerators plus an LED night light. One per household and if you've ordered previously, it must have been 10 or more years ago. The kit will be delivered in 10 business days.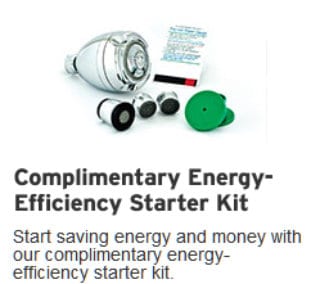 Southern California Gas Company customers can request a
free energy savings starter kit
designed to help you save water. The kit includes three faucet aerators and a low-flow shower head to help you save energy and water. You can order the kit once every three years (one per household) and must supply your account info. Offer is good while supplies last. Allow 10-12 weeks for delivery.

Take the energy survey from Idaho Power and you'll
get a selection of energy efficient products
based on your survey answers. The list includes 9 LED bulbs, aerators, shower head, thermometer, flow rate tester and other more. You must provide your account number and the kit must be delivered to an address in Idaho Power's service area.  One per household/lifetime limit. No end date posted for the program so order now!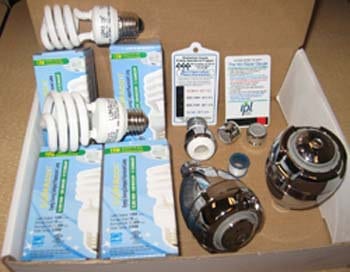 Indianapolis Power company (IPL) customers will get a
free energy savings kit
that includes aerators, thermometers, a shower head and several compact fluorescent light bulbs for completing their Home Energy Inspector. You can expect the kit to arrive in 4-6 weeks.

Maryland residential customers of Potomac Edison can now take advantage of
discounts and rebates on the purchase of ENERGY STAR®-certified CFL and LED bulbs and lighting fixtures
. There are also rebates for many other products. Download the list here:
http://energysavemd-home.com/assets/uploads/pdf/PEFE_REEP_RebateChangesChart11x13.pdf
If you schedule a
Quick Home Energy Checkup
, you can get up to $75 in energy saving products installed by an energy expert who comes to your home. Note that these inspectors are not affiliated with Potomac Edison and may try to sell you other products or programs.

Residential customers of Ohio Edison, The Illuminating Company, and Toledo Edison (FirstEnergy's utilities) service areas with a central air conditioner (window or wall units not eligible) unit in good working condition can receive a
professionally installed Honeywell programmable thermostat
(a $250 value) that can help you reduce your heating and cooling costs by up to 15 percent.

Residential customers of Met-Ed, Penelec, Penn Power, and West Penn Power are now eligible to receive an
energy conservation kit for free
. The kit includes five LED light bulbs and three compact fluorescent light bulbs (CFLs) in various wattage, a furnace filter whistle and three LED night lights. You must supply your account number. One per household only/PA residents only.

Columbia Gas of Virginia will send you a
free energy efficiency kit
to customers with submission of a home energy evaluation. If you've already filled out an evaluation, you may be able to get another kit by keeping your profile up to date. Cash back rebates are also available. Check out the rebates list here:
https://www.columbiagasva.com/ways-to-save/residential-customers/cash-back-rebates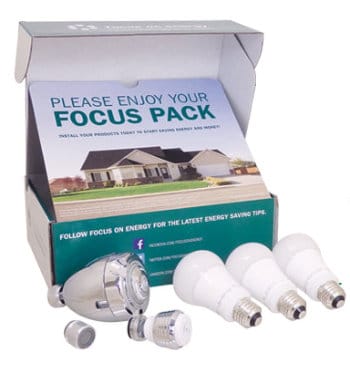 If you're a Wisconsin utility company customer, take the Focus on Energy survey then
choose one of the two free energy savings kits
that best fits your needs. There are also upgrade kits available at very low prices ranging from $3 – $8.95. The free kits contain a mix of LED bulbs, aerators, a shower head and/or power strip. You can also receive instant rebates (up to $4) for purchasing energy efficient light bulbs. More information here:
https://focusonenergy.com/residential/efficient-products-appliances/lighting-and-appliances