Free Bridal Shower Games List
Important Note: When you buy through our links, we may earn a commission. As an Amazon Associate we earn from qualifying purchases. Content, pricing, offers and availability are subject to change at any time - more info.
Key Takeaways
These games are free, easy and allow the bride to enjoy some downtime with her friends and family before the big day arrives!
Bridal shower games are great fun and are terrific icebreakers.
Select a few games for everyone at the party to enjoy, but don't choose too many; about 3 or 4 will suffice.
It is an honor to host a bridal shower, especially when you get to pick all the fun bridal shower games for the group to play. These games are exciting, but they are great ice breakers for when not everyone attending the shower knows each other. There is a very long list of amazing games out there, and we have selected the very best to help narrow down your search.
---
Advertisement
---
Free Fun & Exciting Bridal Shower Games
Let's start the wedding celebration with these fantastic free bridal shower games. In this article, we will explain the rules of each game and supply a link to free game printable lists and cards.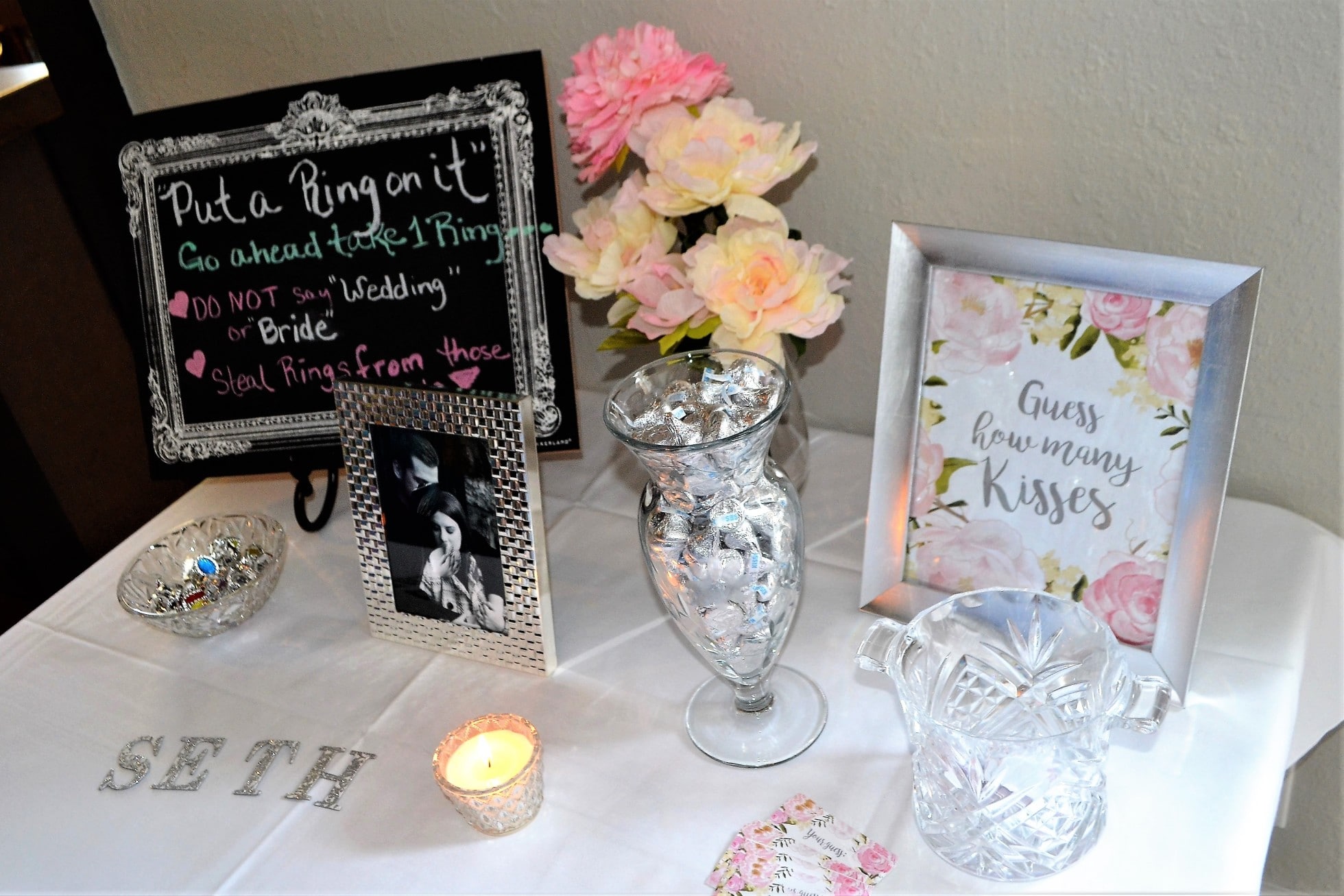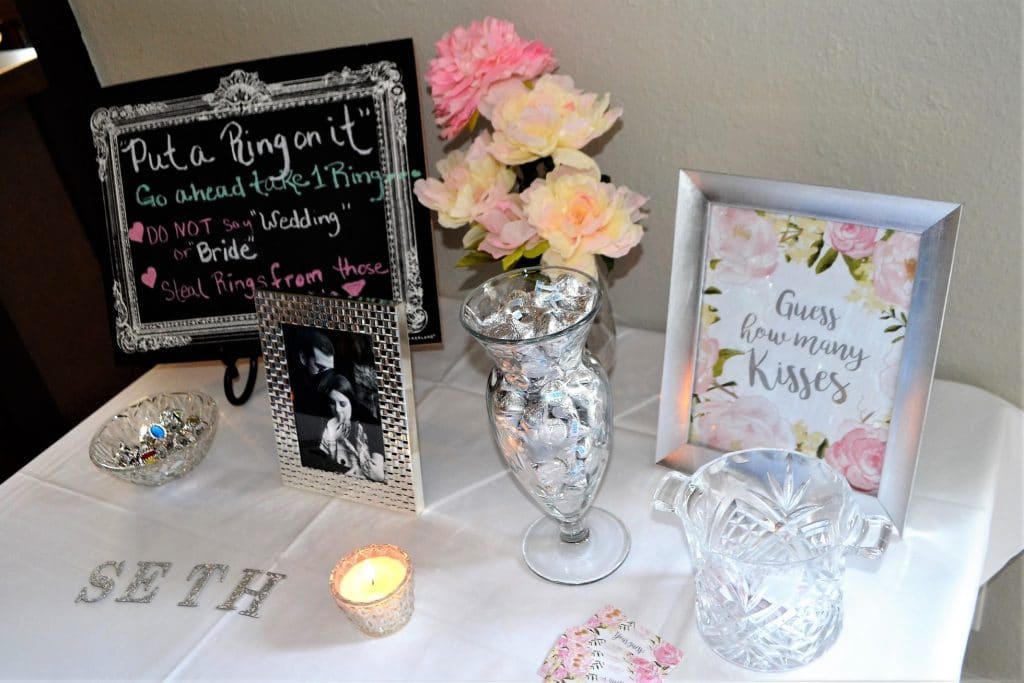 After you have selected all of your favorite games, click on each link and get printing. These games are guaranteed to make this bridal shower a special memory that the bride-to-be will remember and cherish forever!

This game requires an hour a bell for it to work. Teams are divided into two teams, and each team receives a card with various scrambled words which they have to unscramble. When a team has unscrambled all the words, they must hit the bell, and they are the winners!
All the words should be bridal-related. You can also have an individual card for each person, and the first, second, and third person who hits the bell all get a small prize. The hostess is the one who keeps the answer card to check if all their answers are correct.
Test the bride-to-be's knowledge of her future husband by asking him to answer some questions about himself. Ask him about things that she might not know about him to make it more interesting.
Then, at the bridal shower, ask her questions, and whenever she gets something wrong, she needs to do a funny action or say a funny phrase out loud. When she gets an answer wrong, someone else may try to give the correct answer, and if they are correct, they get to make up a funny phrase or action for her to do.

This game is similar to the word scramble game, but it requires you to search for hidden wedding-related words in a word grid. You can also search more fun topics like 80's movies or perhaps more adult topics that may have some laughs among your group. This is a race, so the first, second, and third person to finish their Word Search first wins a prize. It would be logical, yes?

This is a popular game to play at a bridal shower. The hostess must write a whole list of questions to which only she has the answers. This will require a bit of her background investigation, and it is usually best to ask her parents or siblings for information.
When it is time to play, the hostess will ask the question, and if you know the answer, you must put up your hand and answer it so everyone can hear. This game is very special to the bride-to-be because it makes her feel like the day is all about her. It might also surprise her how well everyone knows her and her future hubby.

This game requires the hostess to make a list of famous couples from real life, movies, or TV shows. Write the one couple's name on the left-hand side of the page and their partner on the right. Cut out each name and place it at each table setting.
When it comes time to play the game, everyone must find their couple, and for 15 minutes, everyone must move around the table and go and sit next to their "couple." This is an amazing icebreaker, and it allows the guests to know each other a little bit better.

Wedding Charades is awesome! It is fun, exciting and it is a brilliant ice breaker. This is the perfect game to play early on in the shower and requires each person to draw a wedding-related word out of a hat, bag, or box and then have to act it out.
Everyone has to take part in trying to guess the word you are trying to act out. The game ends when no more words remain.

Each person needs to have the same list with the names of different items that one would find in a woman's purse for this game. You need to go through your handbag and mark each one off if you possess the item. Each item will earn you different points, and in the end, the person who has the most points gets a prize.

Log onto a website that generates crossword puzzles and write down 15 questions about the bride and groom. Let the generator create the crossword and print out enough copies for each person attending or if you want to have two groups, only print two.
Each person or team will have 15 minutes to complete their crossword correctly, and the winners will receive a small prize.

Everyone who has played Mad Libs will know that it is a fun game. As a bridal shower game, it is the perfect way for everyone to wish the bride well on her special day. Everyone can play this game together, and we guarantee there will be lots of laughter.

Make a list containing 20 quotes from various movies, books, or TV series. Cut out each of the quotes on the list and place them all in a pretty bag or a box with a big hole to fit your hand. Pass this box around the table, and each person has to pick a quote and guess which source it belongs to.
For example, if the quote reads, "I'm just a girl, standing in front of a guy, asking him to love her," the correct guess would be Notting Hill. If you guess wrong, the bride-to-be has to dare you to do something funny.
How Old Was She?
A bridal shower should be a surprise for the bride-to-be. Therefore, this nostalgic game will require you to visit her family to get pictures of when she was little, up until her high school graduation. Each picture needs to be passed around, and everyone must write down how old she was when the picture was taken.
The one with the most correct guesses wins. What makes this game so wonderful is it takes the bride-to-be down memory lane and makes her think of everything she has done up until this point in her life and how every decision she ever made has led her up to this point where she is about to marry the man of her dreams!
The Bride's Poem
This is a funny and sweet game where a page gets passed around the table, and each person has to add one line that rhymes with the previous line. The hostess will write the opening line, and when it is the second person's turn, they need to write a line that fits the first sentence.
When done, she must fold over the hostess' line so that only her line is visible to the next person. Continue passing the page around until there is no more space on the page. When the poem is complete, the bride-to-be must read the poem out loud for all to hear.
The Wedding Night
This game is a naughty and fun one that the bride-to-be shouldn't know about. It requires someone, preferably the maid of honor or a bridesmaid, to write down everything she says as she unwraps her presents. Usually, she will say things like, "Mmm, I wonder what this is," and "ooh, I love this so much!" or, "this is the best thing ever!".
You might be wondering why someone must write down all her comments? When she is done unwrapping all her presents, she will be asked to stand, and the person who took notes will hand them to her to read.
Write the title "Things I will say to my new husband on our wedding night" at the top of the page. The bride-to-be must read the list aloud, and we guarantee you everyone will laugh to the point of tears, including the bride!
Related Questions
When it comes to a bridal shower, there are many questions on everyone's minds, especially the person planning the shower. Let's answer them together, shall we?
What Other Fun Activities Could You Do At A Bridal Shower?
Apart from the games listed, what other fun things can you do for and with the bride-to-be at her shower?
Toilet Paper Gown Competition
Divide everyone into two groups. Each group gets a chance to dress the bride in a toilet paper gown. The bride gets to choose her favorite.
Our First Married Cookbook
Ask each guest to bring a laminated copy of their favorite recipe. They need to write a small letter at the bottom with their names and dates. After the party, the hostess must have the pages bound into a cookbook for the future husband and wife.
How Many Games Should You Choose For The Bridal Shower?
Even though this is an extremely exciting time for the bride and all her friends, selecting too many games could waste time. It takes about half an hour or more to play one game. It would help if you also considered that you would need time to eat, have drinks, open presents, and relax. 

The trick is to allocate no more than two hours of the entire party for playing games and the rest of the time for other activities. A lot of planning goes into these games, and you need to print cards and all sorts of game components to play the games. Therefore, to save yourself unnecessary trouble, choose three or four games that you think the group of girls will enjoy the most.