All The Best Free Books Online Websites
Important Note: When you buy through our links, we may earn a commission. As an Amazon Associate we earn from qualifying purchases. Content, pricing, offers and availability are subject to change at any time - more info.
Key Takeaways
Open Library, LibriVox, and Internet Archive have e-books and audiobooks inspired by community-driven efforts.
Internet Archive and ManyBooks need you to have a registered account to gain access to an entire e-book, rather than only a portion.
All the e-book websites apart from International Children's Digital Library (ICDL) and Project Gutenberg have ePub or PDF e-book formats, so you need to ensure you have compatible software for your device.
If you don't mind Kindle, there are plenty of Kindle freebies every day as well.
While hardcopy books will undoubtedly retain their conservative and prominent nature, there's no denying that e-books are more convenient for people on the move or where space is limited. You'll be pleased to know we've scoured the net to find you the best free sites for books online.
---
Advertisement
---
E-Book Possibilities Are Limitless With The Internet
The pursuit of knowledge can sometimes take us to the most unexpected places, yet they are often out of reach, and getting to them can hinder our thirst for knowledge. Fortunately, there are almost endless opportunities to pick up an e-book and teach yourself a new skill or enrich your knowledge pool.
We've set up a list of the best online sources for building your e-book collection without spending a cent. In some cases, these websites even offer you the opportunity to tap into your creative self and voice an audiobook.
Most of them don't require account registration, save for one or two, and are compatible with your computer, iPhone, Kindle, and e-book reader, usually in PDF and ePub format. So, let's explore every alternative to ensure you find the best free source of knowledge for you!
Open Library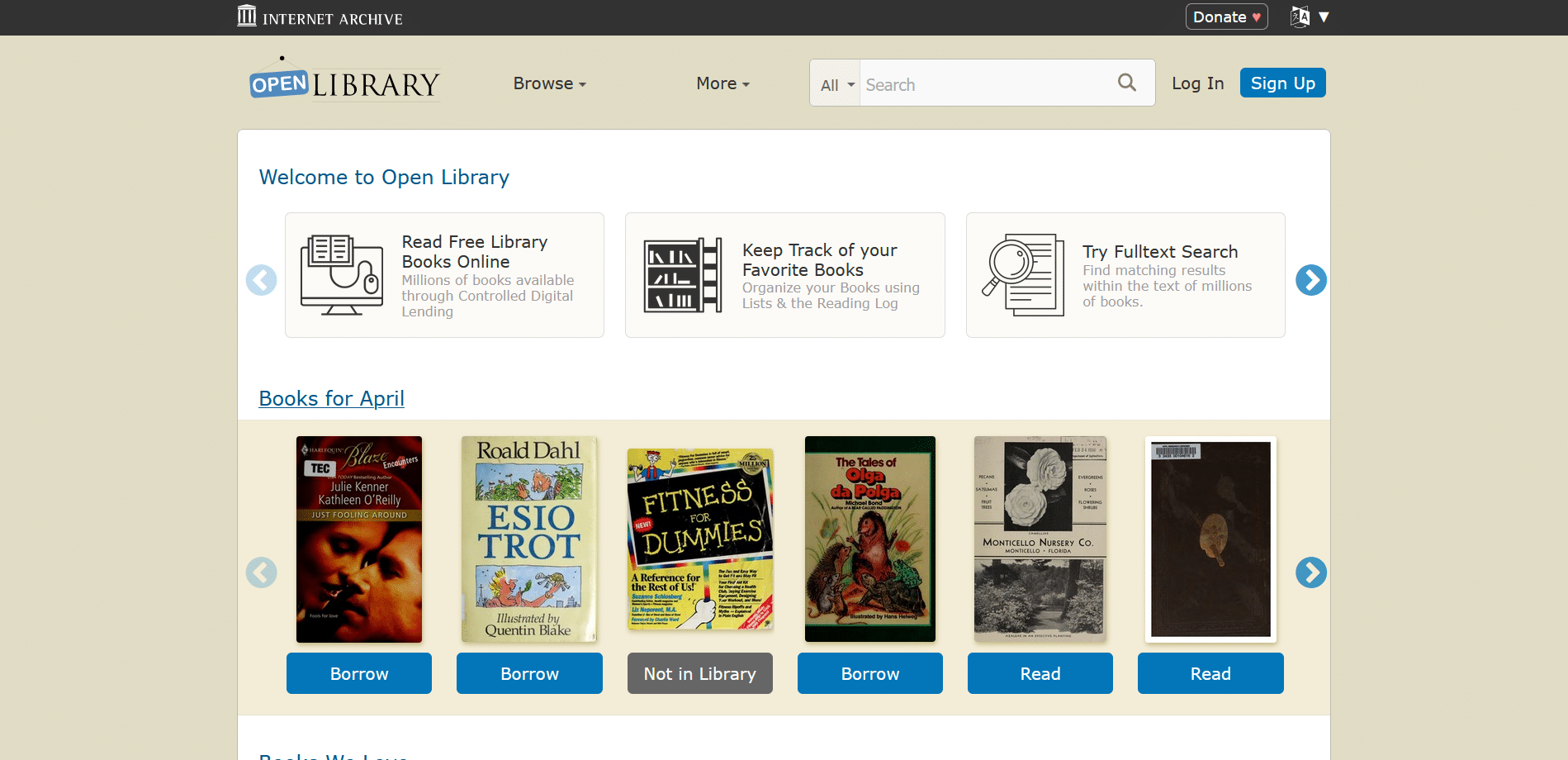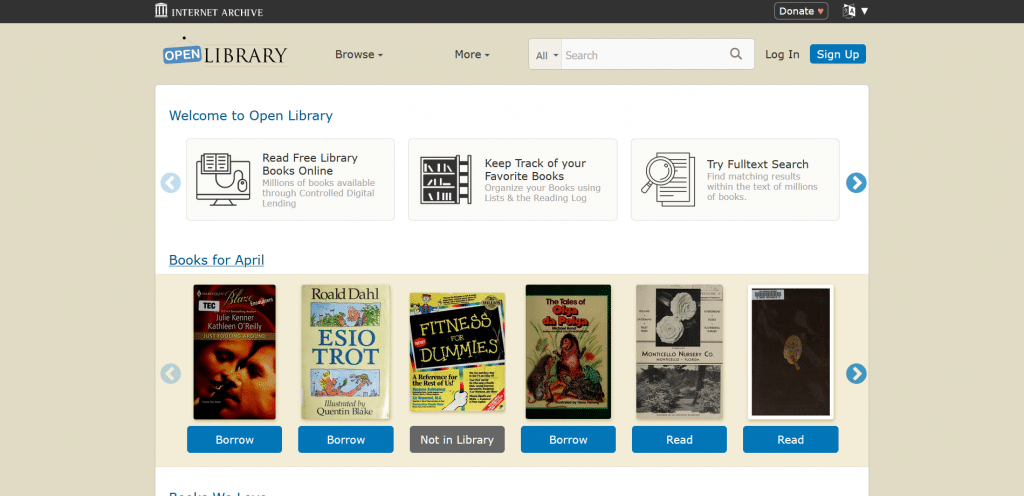 Open Library aims to make a web page containing every book ever published. Consequently, it creates a place where you can find the book containing the specific information you seek. Since it is a collaborative open-source endeavor, anyone may use and contribute to the Open Library catalog.
Account registration is entirely optional, but some features will require you to have an Open Library account. For instance, since the website is a community initiative, anyone with an account can alter book or author information.
Open Library has millions of records, of which close to 3 million books are e-books. You must remember to select the option for "e-books" when you search. Furthermore, many books are still unavailable in an e-book format, so it may not be possible to view every book in their library. Consider it more of a long-term project to provide a complete catalog in the future.
An open book "read" indicator will appear next to freely available books for reading or downloading. Registered users can borrow books with a "borrow" closed book symbol for up to two weeks.
Books with a "lock" mark next to them are exclusively accessible to blind or visually impaired persons registered with the Library of Congress's National Library Service.
If a book is accessible for online reading, you'll notice a link that reads "Read online." The book will automatically open in your browser using the Open Library BookReader when you click on this tab.
Open Library has book formats in PDF and ePub, meaning you will need software to read these two formats on your desktop, e-reader, mobile, or other devices.
LibriVox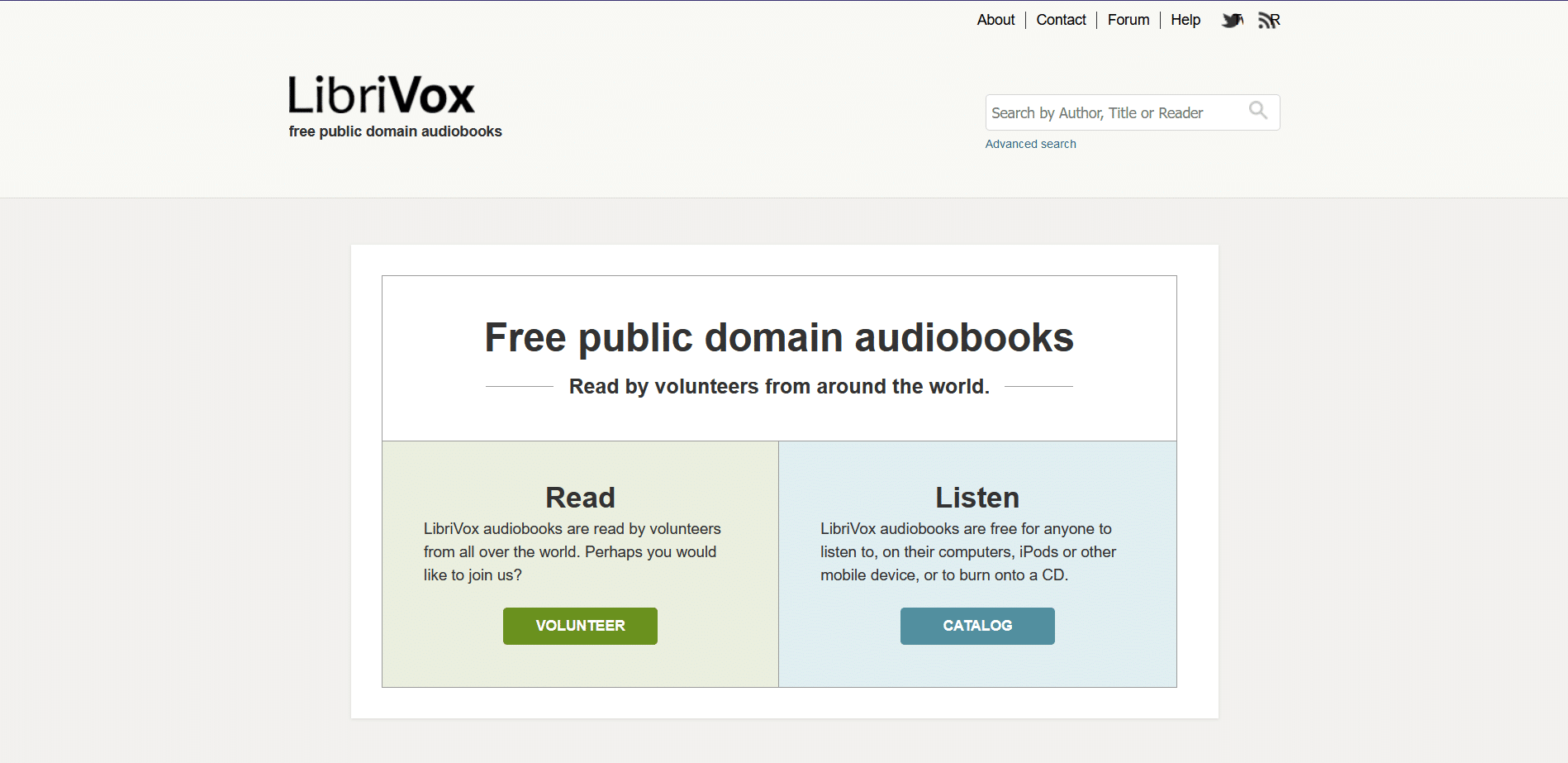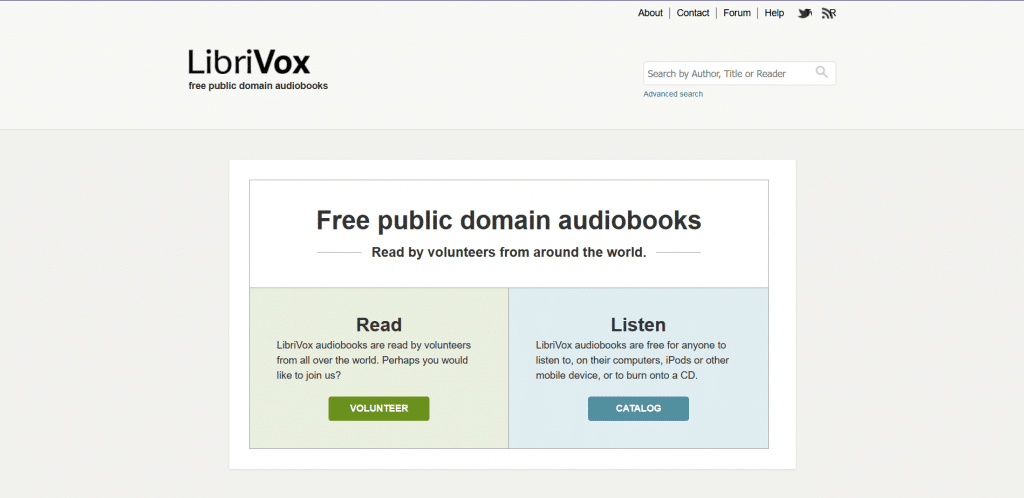 Requires Registration: No
Requires Additional Software: No
Downloadable Books: Yes
Link: https://librivox.org/
Even though the purpose of a book is to read it, LibriVox caters to those that enjoy listening to it. Volunteers at LibriVox may capture sections of public domain books into digital audio, typically mp3 format, and make the audio files freely available to the public. Afterward, it's accessible via their library, podcast, and other media platforms).
If you have a daring spirit, you can also work up the courage to make a recording of a chapter or book for others to enjoy. They have in-depth guides on producing a successful recording and what format yields the best results.
LibriVox's entire audiobook library consists of high-quality audiobooks that are free from restrictions, and you do not need to register an account. However, you will want to have an account on their forum to interact with the community.
Overall, audiobooks are an excellent alternative for people who have their hands full or expecting a long drive. Furthermore, they work wonders to entertain the minds of those visually impaired.
Feedbooks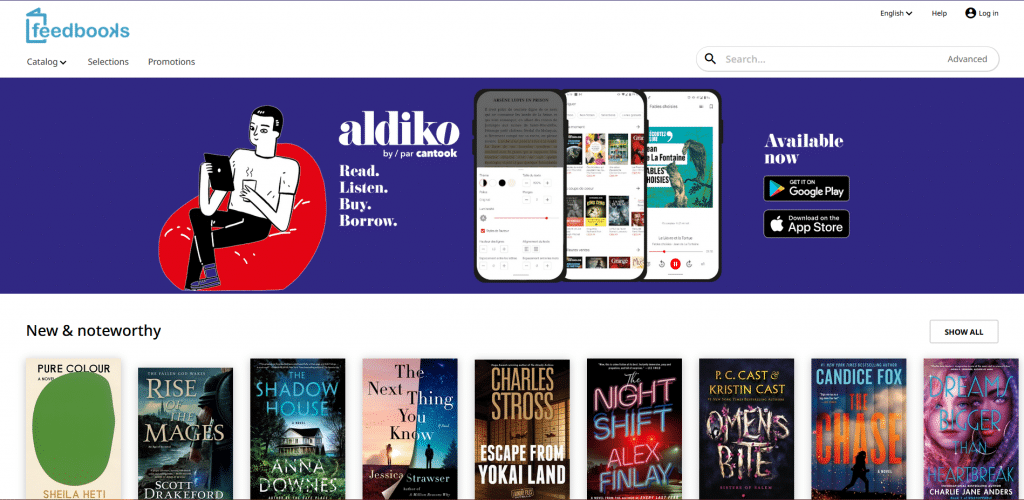 Requires Registration: No
Requires Additional Software: Yes
Downloadable Books: Yes
Feedbooks have a healthy selection of free books to download or read, from The Black Cat by Edgar Allan Poe to Alice's Adventures in Wonderland by Lewis Carroll. When you first visit the Feedbooks website, it will present you with their premium selection of books, so ensure that you click on the "catalog" drop-down arrow and select "public domain" to access their free e-books.
Their e-books download in an ePub format, so you will need software that can read ePub files. Each e-book has a description of what you can expect from each book and its format (ePub, etc.), publication date, and publisher.
You can expect to see sections for short stories, science fiction, action & adventure, mystery & detective, fantasy, romance, horror, and numerous other exciting genres to enjoy.
Internet Archive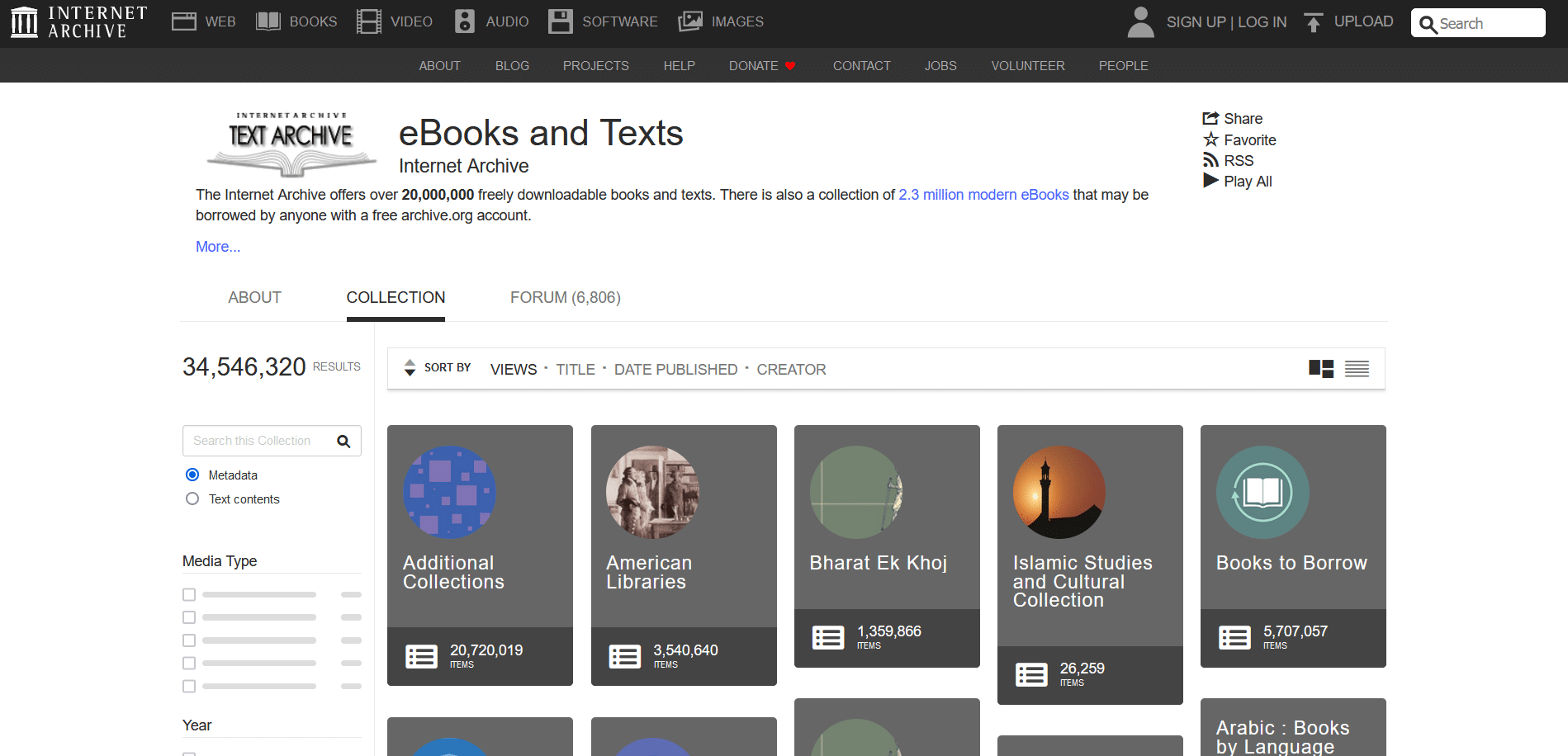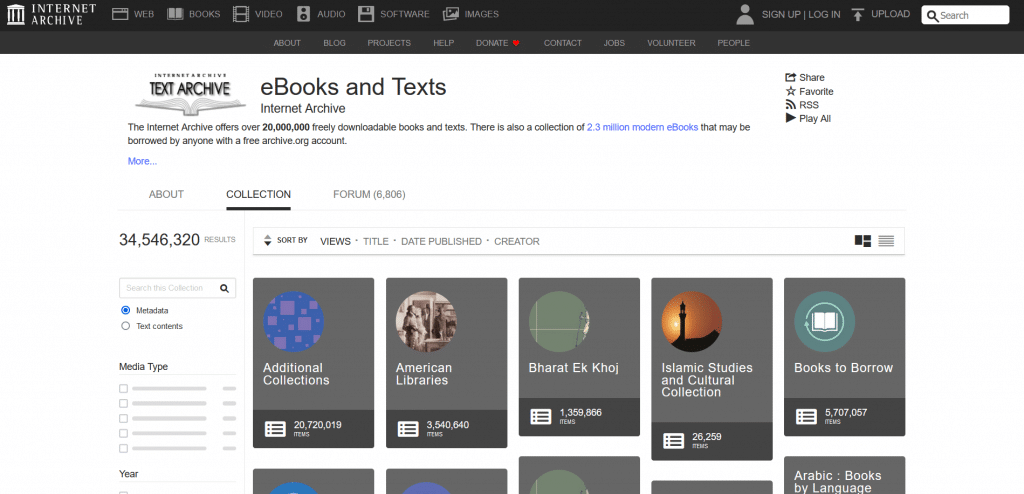 Requires Registration: Yes
Requires Additional Software: No
Downloadable Books: Yes
Internet Archive has a top-notch collection of e-books, audiobooks, videos, and even software related to e-books. They're a non-profit organization dedicated to creating a digital archive of internet sites and other cultural artifacts.
Their efforts allow free access to academics, historians, scholars, persons with print impairments, and the general public, similar to a paper library. Account registration is necessary; otherwise, you will only have access to a portion of a book you are trying to read.
They have e-book and audiobook sections for American, Canadian, and Universal libraries. Furthermore, the Community texts and the Children's Library also have their own collections.
Project Gutenberg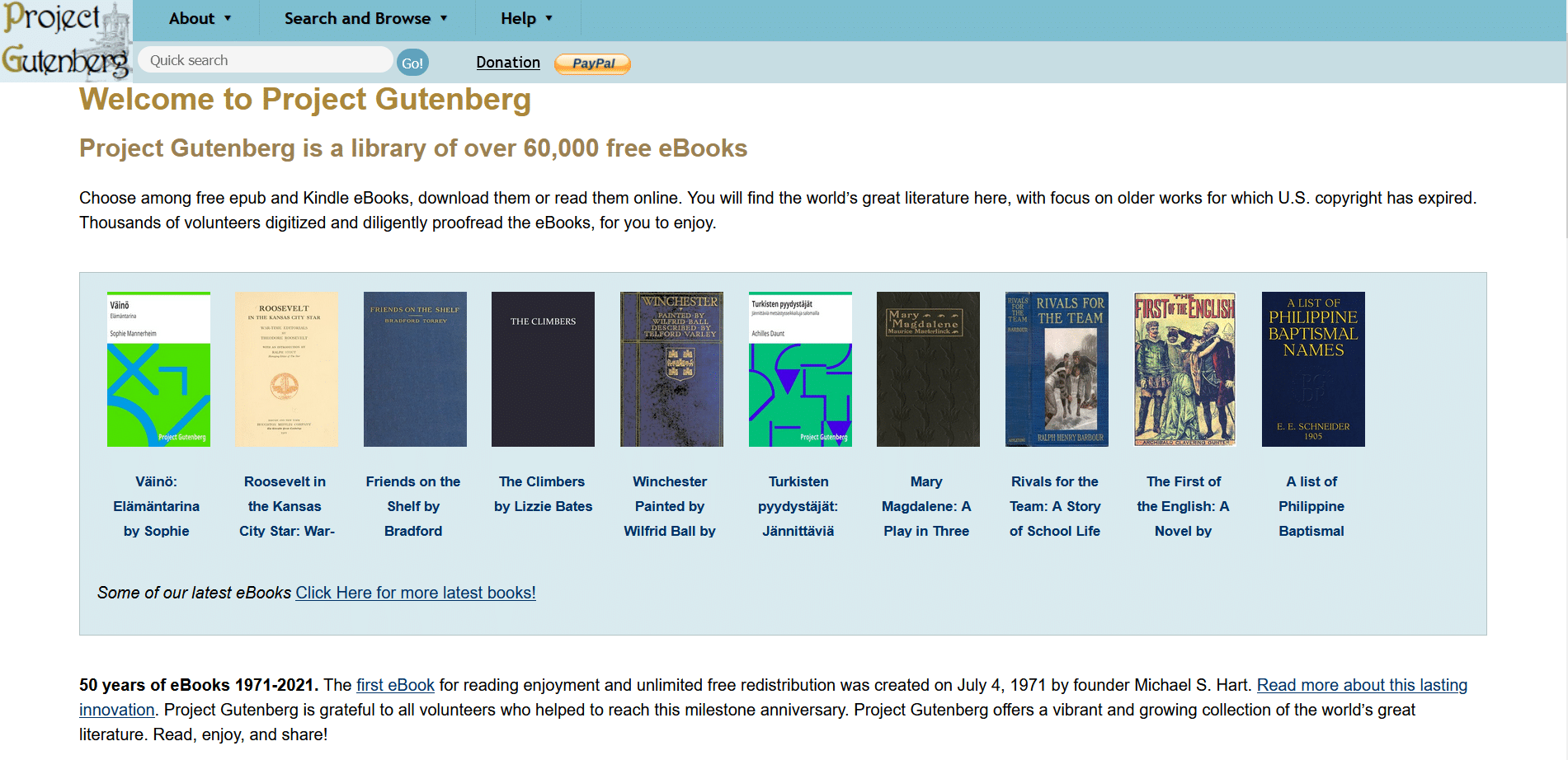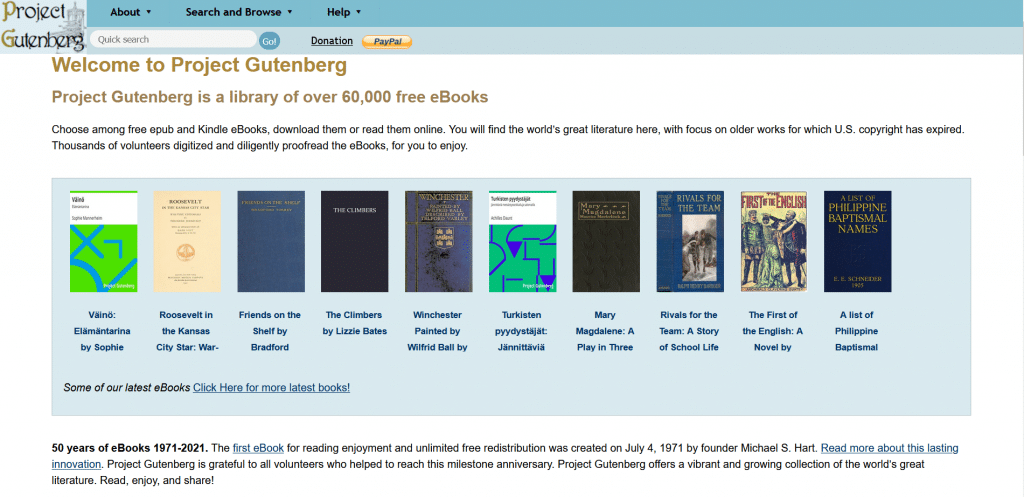 Requires Registration: No
Requires Additional Software: No
Downloadable Books: Yes
Project Gutenberg boasts more than 60,000 e-books for your viewing pleasure! Their books exist in ePub and Kindle formats, and both types are available for download or online reading. This e-book website focuses on great works of literature, particularly on older works for which US copyright expired.
Their collection of books stems from a volunteer effort to create, share, and preserve knowledge for others to enjoy. You have the option to browse books according to their authors, titles, subjects, languages, type, and popularity, among others. Furthermore, there are offline catalogs, too, if you need to do offline consulting.
You can expect to find A Doll's House: a play by Henrik Ibsen, Adventures of Huckleberry Finn by Mark Twain, and A Tale of Two Cities by Charles Dickens.
Every e-book on Project Gutenberg is free without payment, registration, or restrictions. You don't have to get your hands on any special software or browser extensions to enjoy the e-books on Project Gutenberg – they work flawlessly with regular web browsers, e-book readers, and the default applications included with your computer or mobile device.
International Children's Digital Library (ICDL)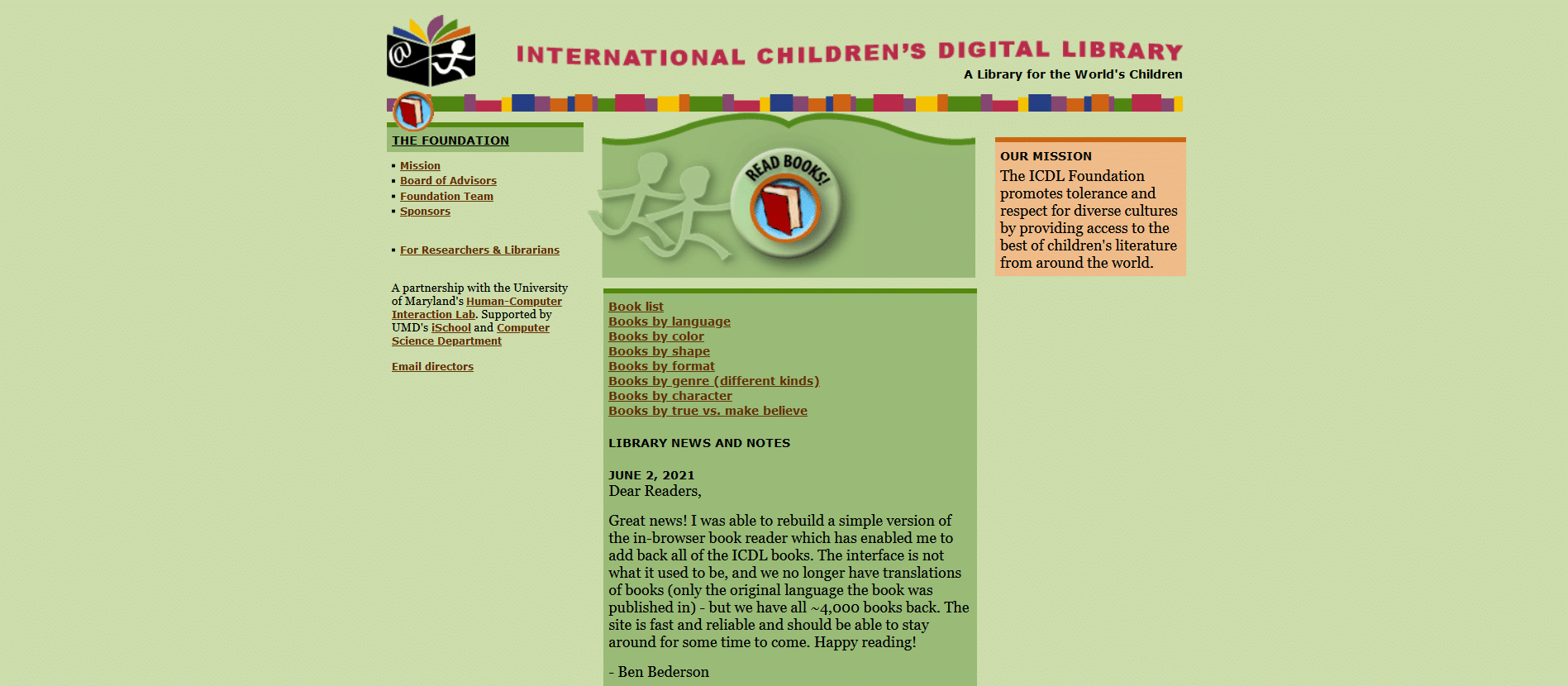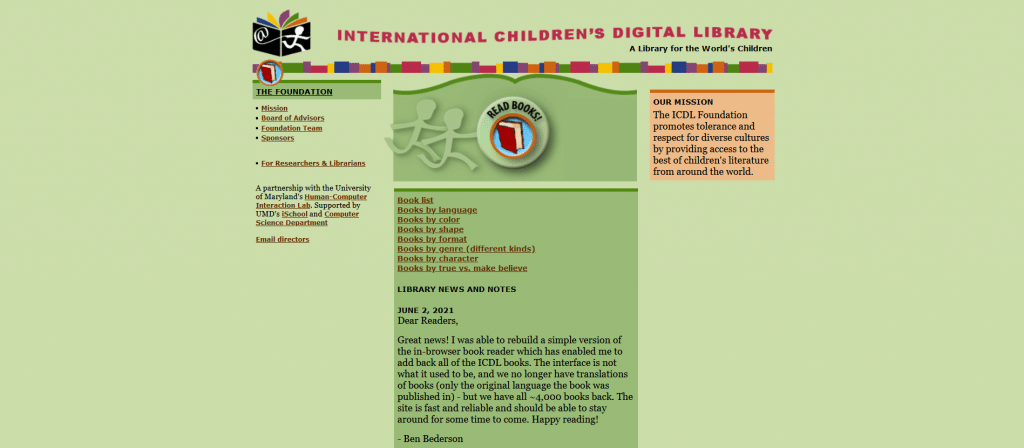 Requires Registration: No
Requires Additional Software: No
Downloadable Books: No
By making some of the most crucial in children's literature available for free, the International Children's Digital Library Foundation (ICDL Foundation) aims to assist the world's children in becoming influential members of the global community who can demonstrate respect for diverse cultures and languages and ideas.
It's not required to register for an account to access any of the books, and every book is accessible via their website without special software. However, it also means that you cannot download books from ICDL.
ManyBooks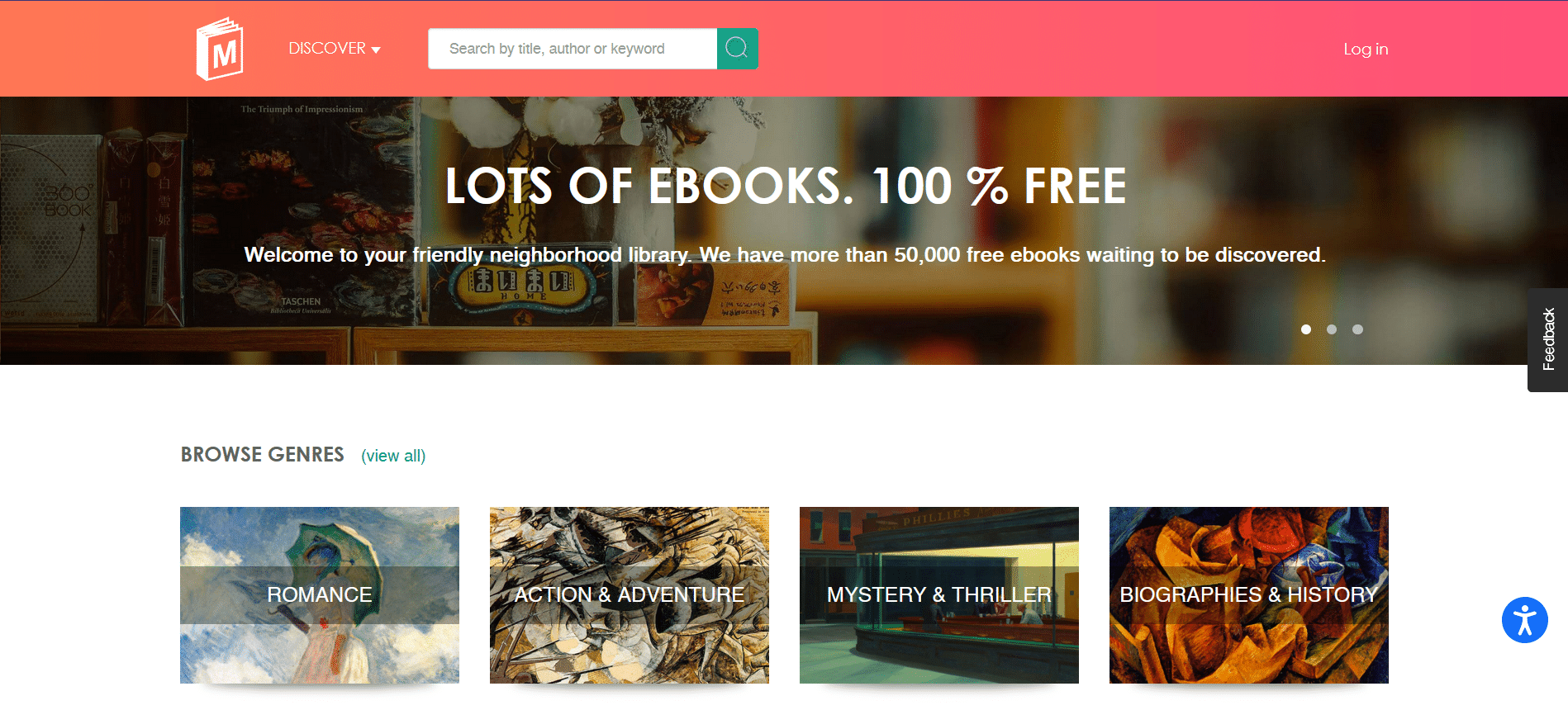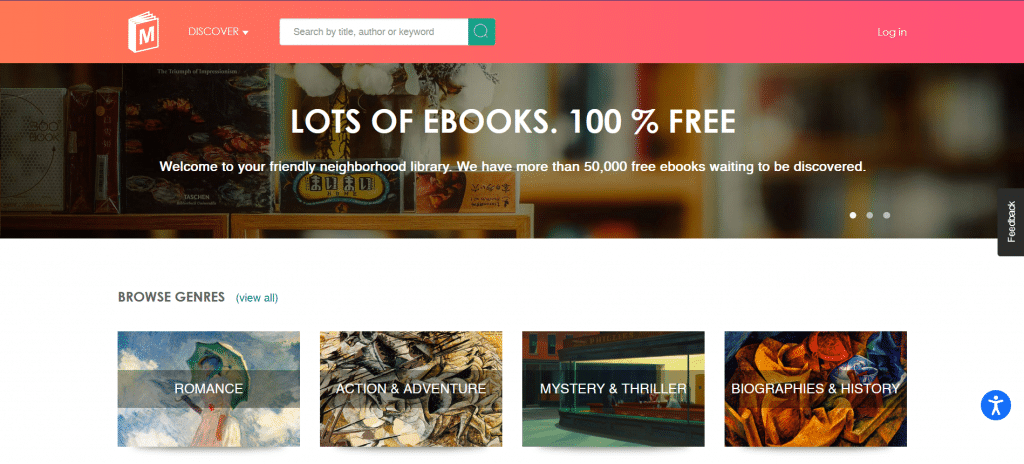 Requires Registration: No / Yes
Requires Additional Software: Yes
Downloadable Books: No
Link: https://manybooks.net/
ManyBooks is host to more than 50,000 e-books and discounted best-sellers to tickle your fancy. Their genres include exciting action & adventure novels, romance, fantasy, history & biography, mystery & thriller, and a lovely children's collection.
The e-books are compatible with kindles, iPads, and e-readers. Furthermore, you can download them in several popular formats, such as ePub, PDF, AZW, Mobi, etc. Of course, you can also choose to read the full text using their online e-reader.
You can further filter your search to your interests, up to 63 different options, such as computers, cooking, drama, poetry, politics, etc. Popular romance novels include Pride & Prejudice by Jane Austin, The Adventures of Sherlock Holmes by Arthur Conan Doyle, and The Time Machine by H.G. Wells.
It is not required to register an account to read any e-books on the website, but you will need an account if you plan to download any e-books from their library.
Smashwords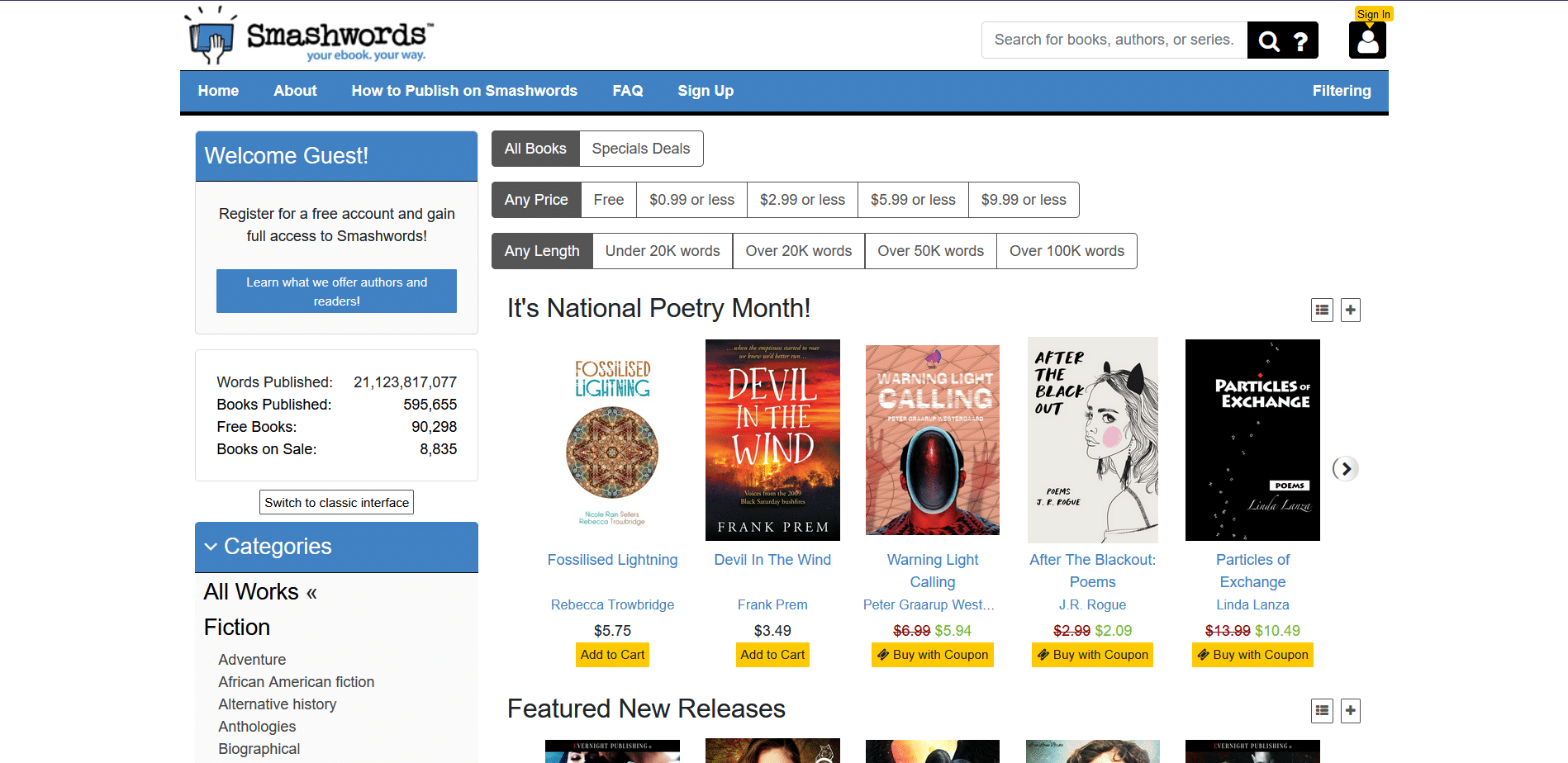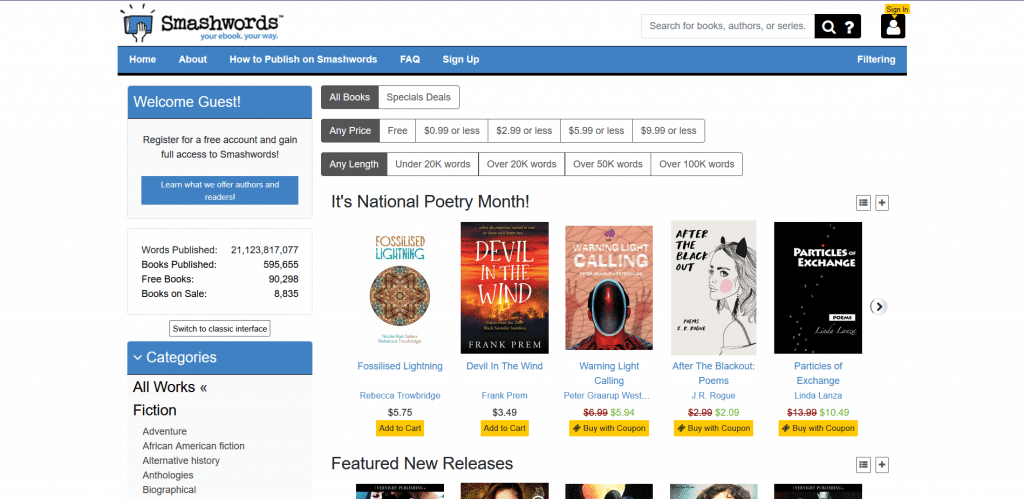 Requires Registration: No
Requires Additional Software: Yes
Downloadable Books: Yes
Smashwords offers a plethora of 595,000 different e-books and genres to consider, although they aren't all free. When you arrive at the homepage of their website, ensure that you select the "free tab" when doing your searches.
You'll be happy to find an oversupply of novels, poetry, monographs, short fiction, research reports, non-fiction, personal memoirs, essays, or even other written forms that do not have their own category.
Smashwords enables readers to discover different authors in various categories and genres. After you register, the site provides powerful search, discovery, and personal library management options. The majority of our books are reasonably priced and available in many formats. Over 70,000 of our titles are available for free.
The e-books are available for download in ePub, Kindle, Mobi, PDF, etc. They are also to anyone using a Kindle, iPad, Nook, iPhone, Sony Reader, Kobo, or their online browser. Smashwords also offers permanent access to purchased books if you ever decide to snag one on a discount if you register an account.
Additionally, the website also integrates well with Dropbox to access your books from anywhere.
Related Questions
You might still have some questions about e-books, formats, and legality, so let's cover those and get you starting your next book.
Will You Need Special Sofware To Read An E-Book?
While most e-book websites offer their books in PDF or ePub formats, some don't require the use of special software. It is usually best to select the book you want are interested in reading or downloading and seeing what options are available.

E-books usually have clear indicators of which format they support. If you require an ePub reader, a quick Google search is usually enough to find an appropriate app that will allow you to view ePub files.

Otherwise, PDF files are usually accessible with an internet browser, so you shouldn't have difficulty viewing them.
How Do I Know If My Device Can View Epub Or PDF Formats?
The best way to know is to try and open the file. If you cannot view it, your device will usually give you an error message: "you need a PDF/ePub reader to access this file."

Another indicator that your device cannot open a file is when a file you know is PDF or ePub appears without an image after you download it. Your device may ask you if you want to open it using a different program, but you won't have any luck in most cases unless another program can read the same kind of file.

If a file is compatible with your device, it will usually show the icon of that program – the most straightforward example is probably the blue "W" on the front of a Microsoft Word document.
Is It Illegal To Read Books Free Online?
You are not breaking any laws as a reader if you read something for free online. If the book is pricey and not in the public domain, however, the person who placed it online is very likely violating copyright rules.

Whether you favor copyright rules as a reader or not, they are in place to safeguard the author's rights, not restrict anybody (or whoever owns the rights to that book at that time). Writers should get a portion of the proceeds from their intellectual property. If it gets given away for free, that's money out of the writer's pocket, in a sense.

There are legitimate sites that offer free book deals; these happen with cooperation from the copyright holder. In those instances, there's no problem.