Free Bibles: How To Get Them
Important Note: When you buy through our links, we may earn a commission. As an Amazon Associate we earn from qualifying purchases. Content, pricing, offers and availability are subject to change at any time - more info.
Key Takeaways
Not everyone has money to buy a Bible, but people and places are willing to help you get one for free.
If you do not want a hard copy of a Bible, there are plenty of free apps to use to get an electronic version.
Most of the organizations that give away free hard copies of Bibles do so through donations of Bibles or money, so you might have to wait a little while.
When requesting a free Bible, you will usually need to fill in a request form.
Most places that give free Bibles do not allow you to choose which Bible or Translation you want, and some provide only the New Testament.
For any believer, few things in this world reach the importance of the Bible. However, not everyone has a Bible or the money to get one. Luckily, people, places, and apps can provide you with precisely that. Free Bibles aren't hard to get ahold of, especially in the electronic age, though if you wish to have a hard copy, some are still willing to help you find one.
---
Advertisement
---
How To Get A Free Bible
Bibles are an essential part of the Christian belief and are one of the simplest yet effective ways of "hearing God's voice," as many would say. However, not all believers have Bibles, and some can't afford to buy one.
Whether you have been struggling financially, have recently converted to Christianity, or just don't have a place to get a Bible at the moment, some people are willing to help you get one for free.
Every year some companies attempt to spread the word of God by donating Bibles to those who don't have them. Some projects have supplied thousands of Bibles. And in total, there have been over a million copies sent to those in need.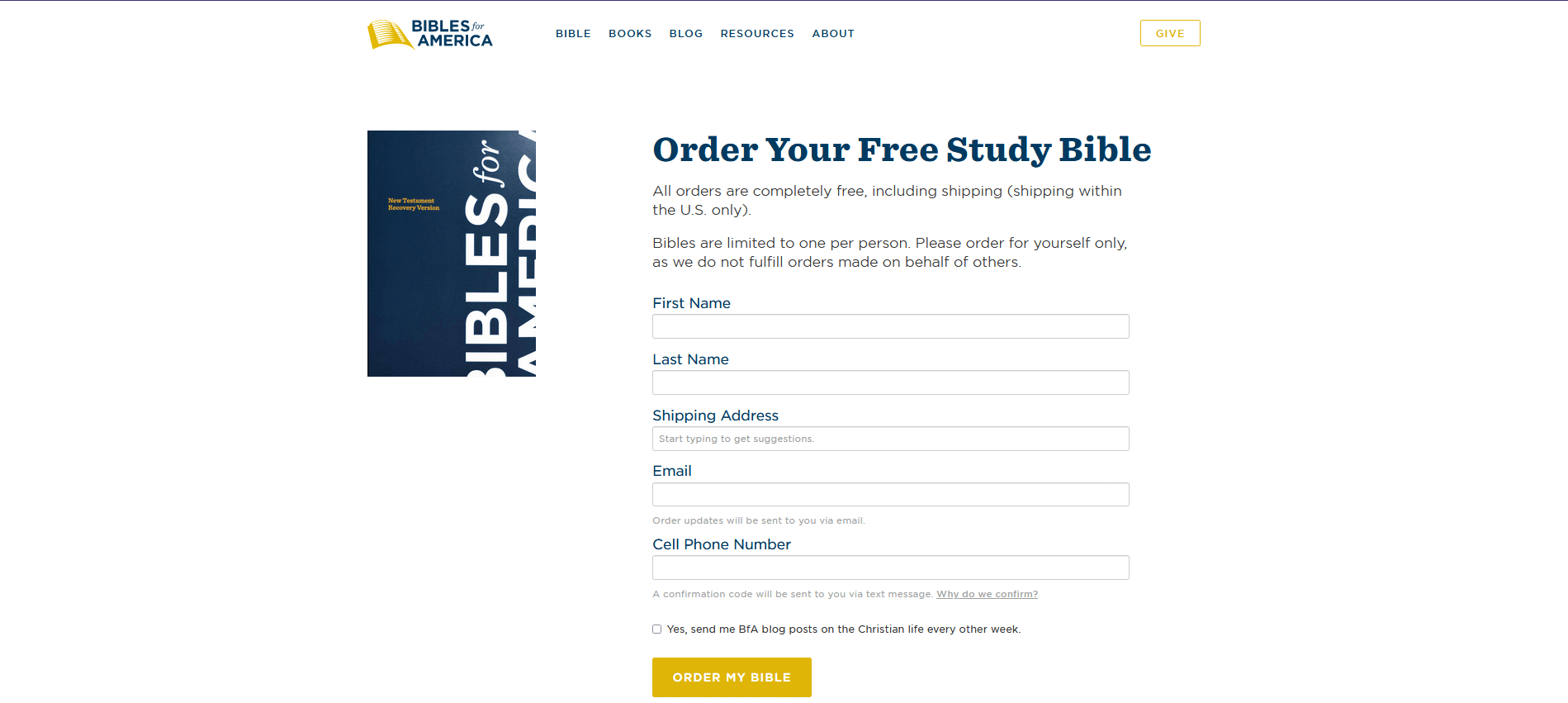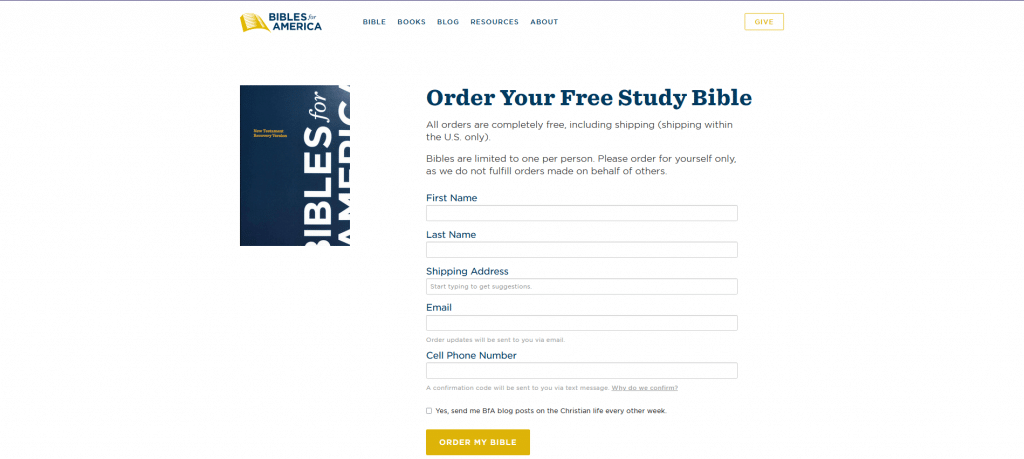 Online Form: Yes
Bible Version: New Testament Recovery Version (Study Bible)
Hard Copy: Yes
Shipping: Not Stated, USA only
Bibles For America is a non-profit organization seeking to spread the word of God by sending out free Bibles all over the US. The main office is in Irvine, California, and there is a volunteer center close by from where the Bibles get shipped out after praying for the recipient. This Non-profit organization has also sent out over 1.6 million copies of this Bible since the year 2000.
Bibles for America chooses to send out a hard copy of the New Testament Recovery Version Study Bible as they have found that it has allowed them to understand the will of God better. This Bible, since it is a study Bible, comes with extra features such as a better translation from the original Greek, footnotes, cross-references, charts, and maps.
By filling in the simple and easy-to-use online form on their website and going through the confirmation process, you will receive a Bible to help you study the word of God more clearly.
Go to the Bibles for America website to register for your Free Bible.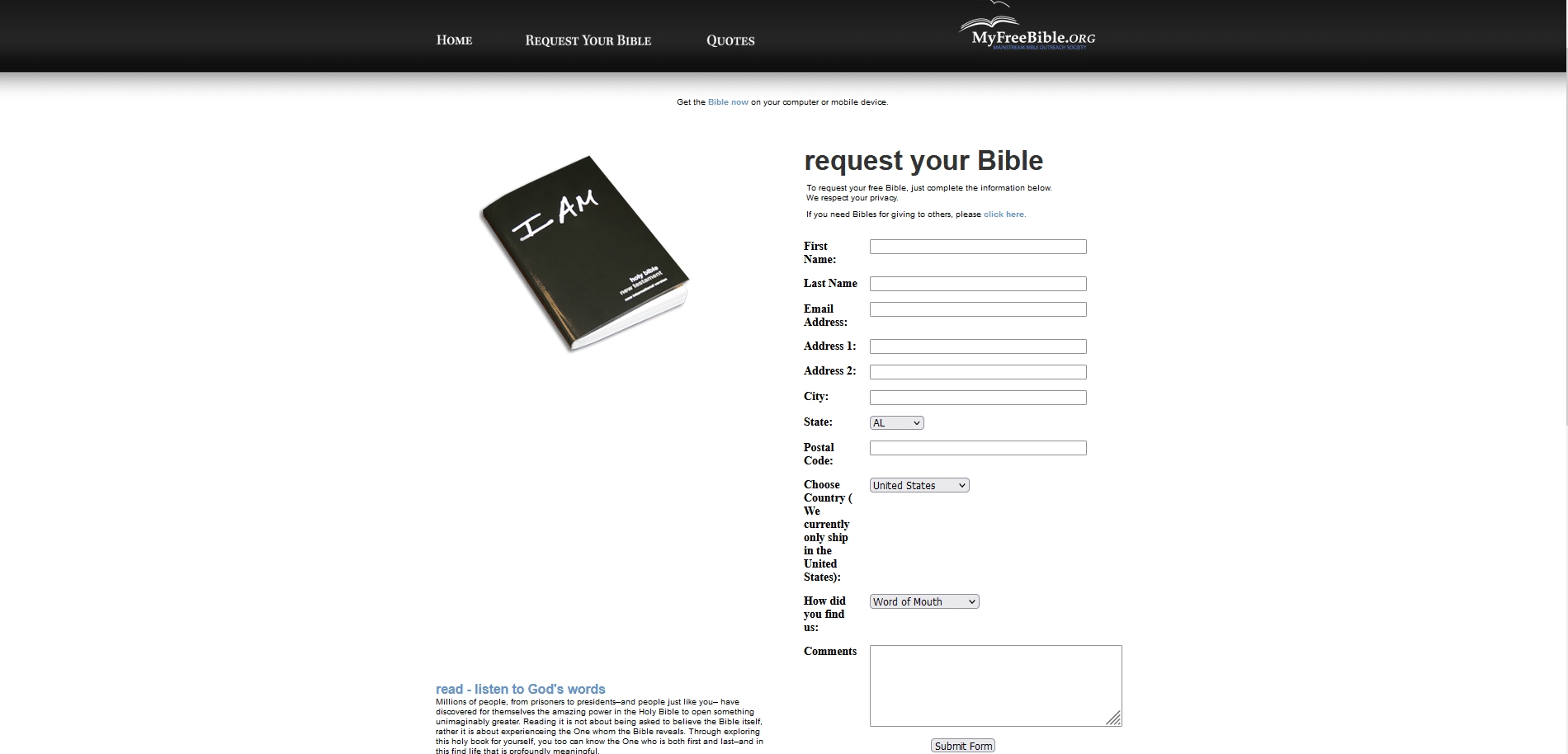 Online Form: Yes
Bible Version: NIV New Testament
Hard Copy: Yes (and digital copy)
Shipping: Not Stated, USA only
MyFreeBible.org, through its Mainstream Bible Outreach program, aims to reach the mainstream masses by giving away free New Testament Bibles of the NIV translation.
The goal of this outreach is to expand the understanding of the word of God. This goal is driven by giving Bibles to those who don't have or who previously gave up on reading it. If you have recently become a Christian and do not yet have a Bible, this organization will also help you get an easy-to-understand Bible.
There is an easy-to-submit form on the MyFreeBible.org website that you need to submit for a hard copy. However, a link also allows you to get a digital version.
To get your free Bible from MyFreeBible.org, fill in the form online.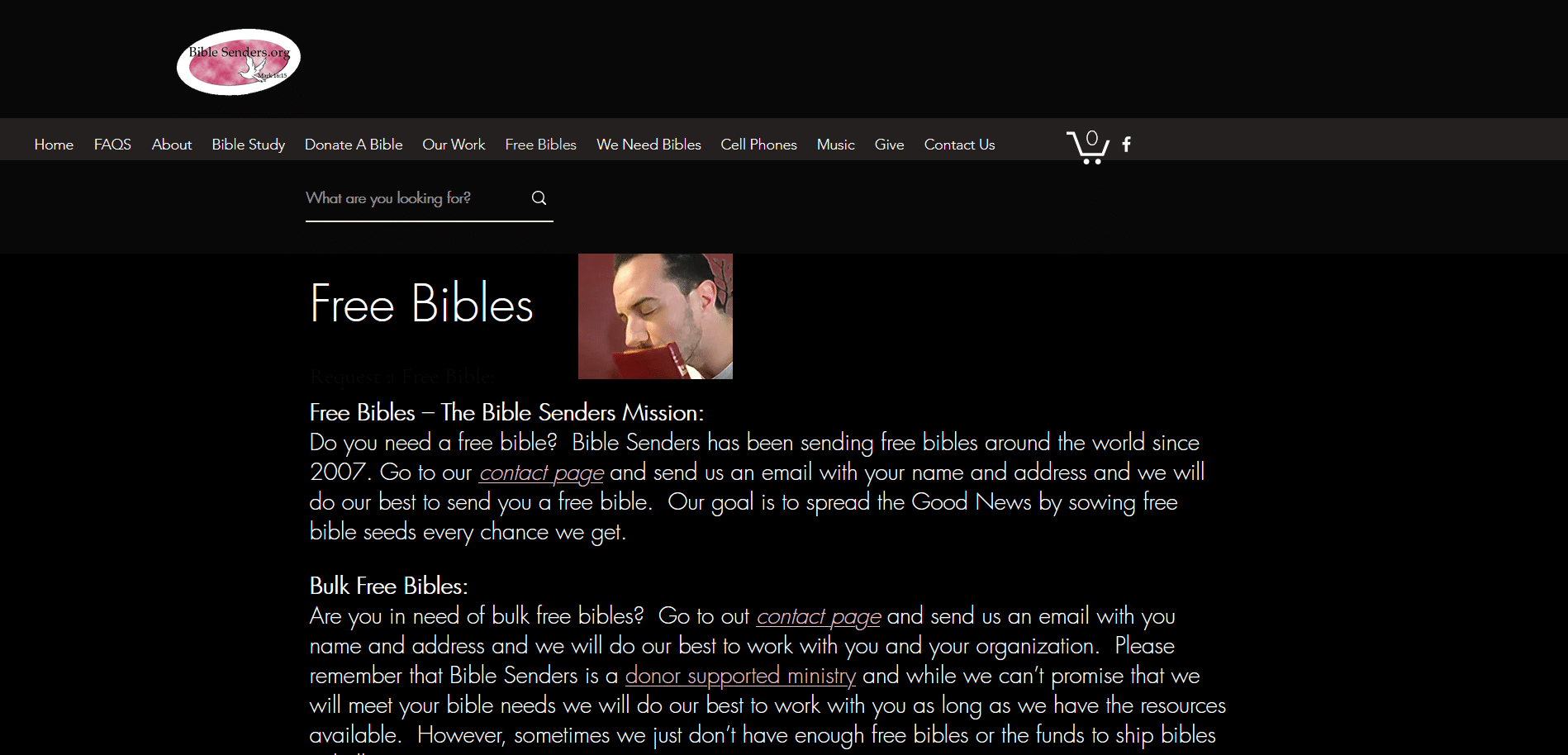 Online Form: Yes
Bible Version: All except King James
Hard Copy: Yes
Shipping: Free (sent through missionaries for global distribution)
BibleSenders.org is a non-profit organization trying to spread the good news globally by sending Bibles anywhere they can. Though the organization depends on donations for Bibles and shipping payments, there is unfortunately not a 100% chance you will get a Bible.
This organization tries its best to send Bibles to those who need them, and all you have to do is send them a message through their website. You can also ask for many Bibles if you know others who need them and do not have enough to give. Bible Senders does not distribute just one type of Bible, and you may request a specific one if you wish.
BibleSenders.org says that the receiver of the Bible does not need to pay any costs, which include shipping. Though, if you are not in the US, the process may take a bit longer as a missionary is required to deliver it.
If you want to request a Bible, visit the BibleSenders.org website and fill in the contact form.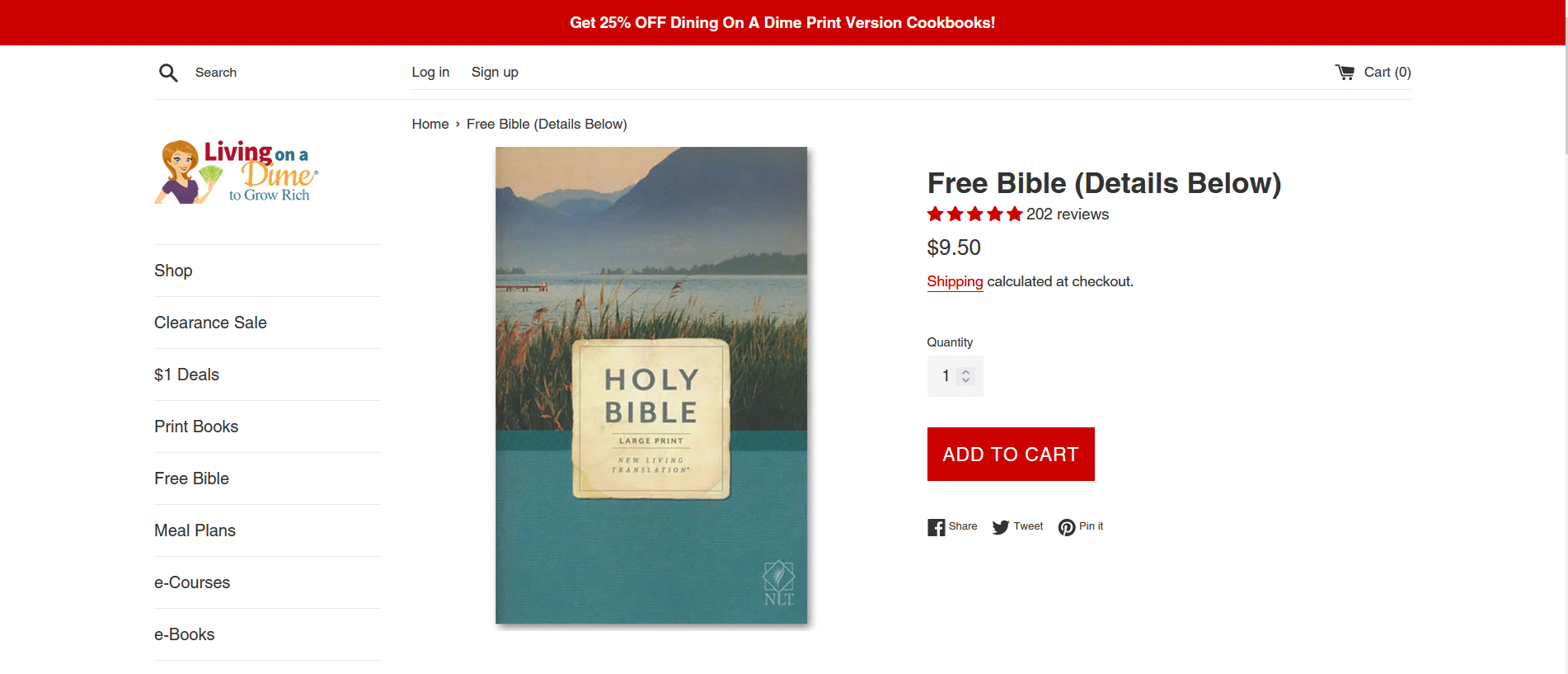 Online Form: E-commerce (same as online shops)
Bible Version: New Living Translation Holy Bible
Hard Copy: Yes
Shipping: Free (By using a coupon code)
Though not a standard charity, Living On A Dime allows anyone to buy a New Living Translation Bible from their website. If you visit the website, there is an option for a free Bible on their menu bar, and clicking on that option allows you to find the coupon code to make the Bible purchase 100% free.
Once applied to your cart, the coupon is active on both the product and the shipping price, meaning that you do not have to pay a cent.
Living On A Dime has a mission to help others succeed and personal relationships with God. This goal is why they are willing to give out free copies of the easy-to-understand New Living Translation Bible.
If you want to get a free Bible shipped to you, simply go to Living On A Dime's website and complete the checkout process after applying the "FREEBIBLE" coupon code.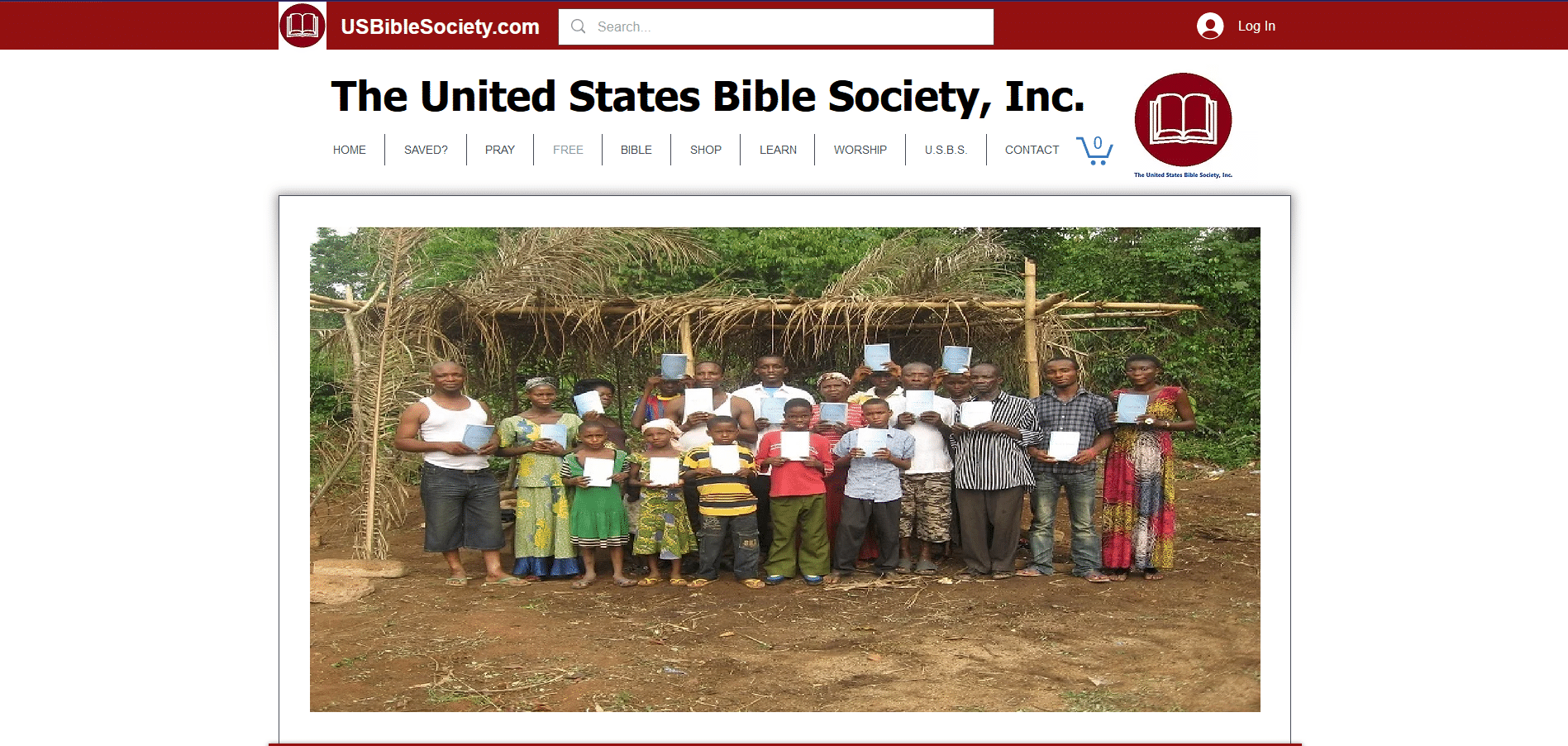 Online Form: Yes
Bible Version: Not Stated
Hard Copy: Yes
Shipping: Not Stated
The US Bible Society is an organization of believers offering various services and products, one of which is a free Bible. I have found no information on the website about the version of the Bible this organization can send you or the shipping details.
The US Bible Society has a partnership with churches and like-minded organizations in the US, and the goal of these people is to reach out to others and spread the word of God.
To request a free Bible from the US Bible Society, fill in the form on their website.
YouVersion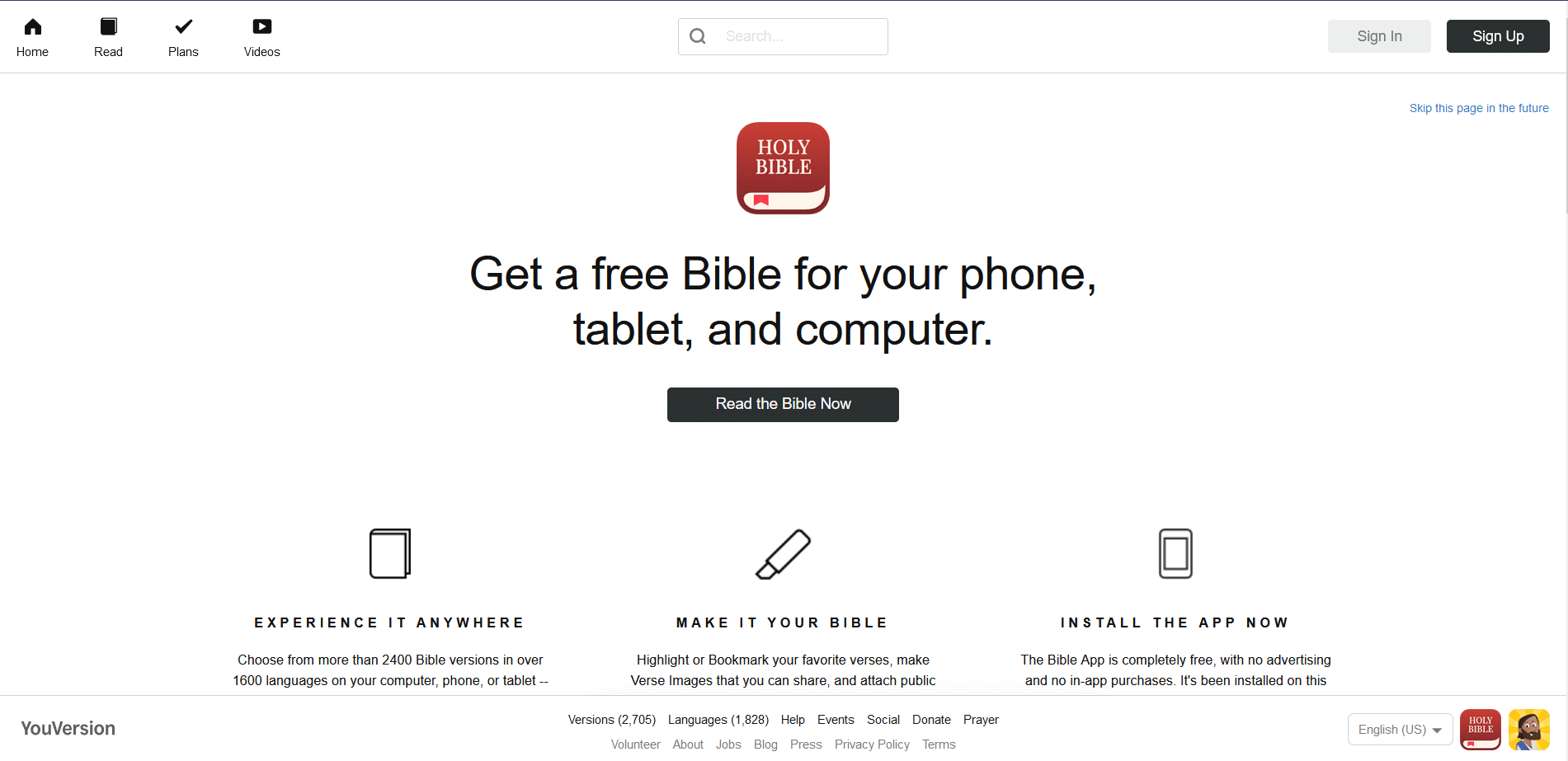 Online Form: Sign-up
Bible Version: Any Version Available Online
Hard Copy: No
Shipping: Not Applicable
YouVersion, or the YouVersion Bible, is an app that anyone can download on their android or IOS device. This app is free to use and gives you access to many different Bible translations and other content.
The mission of YouVersion is to make reading the Bible and getting to know God easy and accessible through the content they create. The company says it seeks to challenge and encourage people to pursue intimacy with God daily. For that reason, the company has put a lot of effort into making a good-looking and easy-to-use app.
The YouVersion Bible app lets you take your Bible with you anywhere you go without worrying about extra baggage or damaging it. They also provide users with much more content and translations, allowing you to read and understand the Bible as you might never have before.
To use the YouVersion Bible on your computer, visit their website or download the app for your phone.
Churches Near You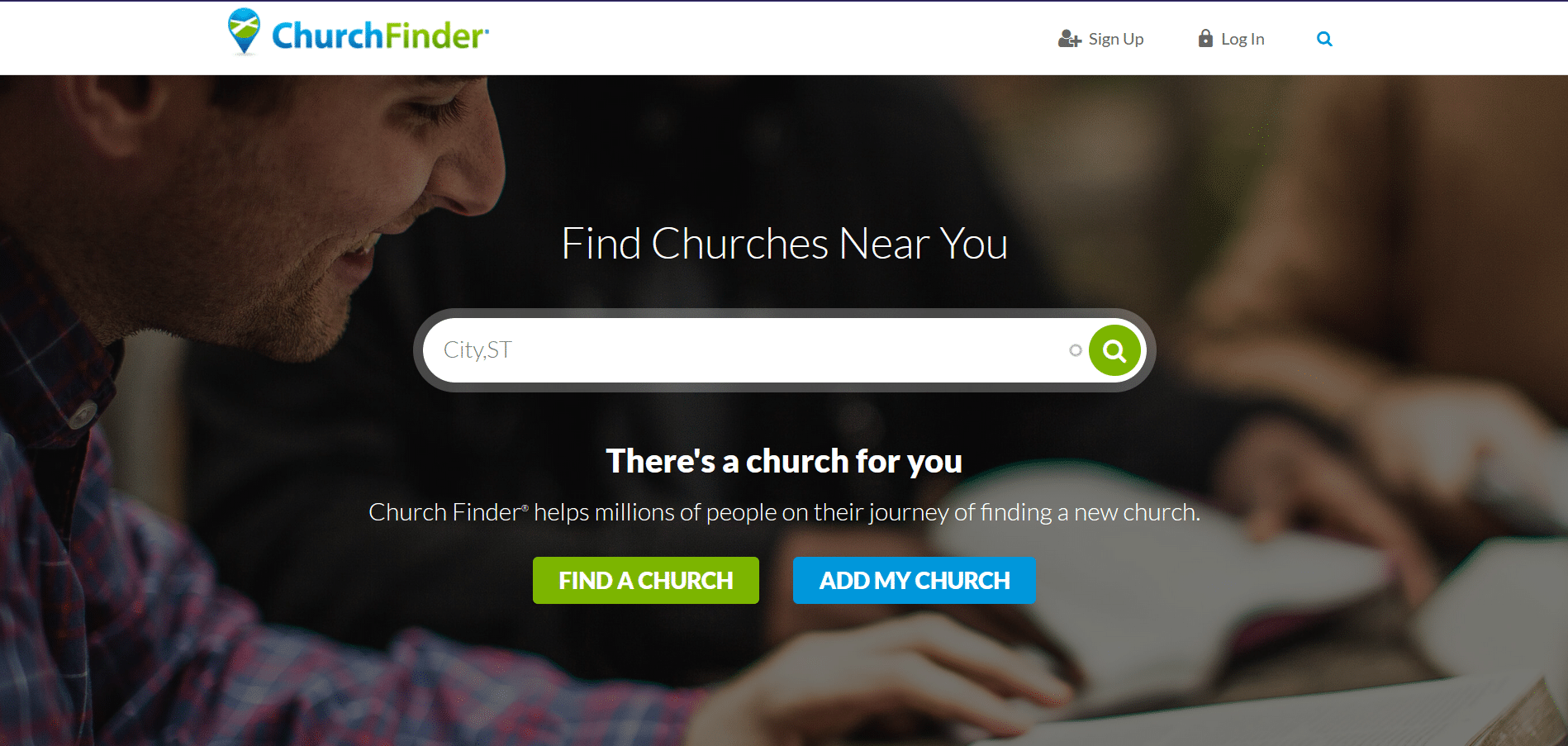 Online Form: No
Bible Version: Any
Hard Copy: Yes
Shipping: Not Applicable
If you have tried all the other options, or before doing so, you can go to your nearest church and ask if they might be able to help. Many churches have extra Bibles specifically to help anyone that does not have one, and even when they don't, most of them will be willing to help you get one.
Many churches also have the option to use a Bible at church if you do not have one of your own or have forgotten to bring yours. Asking the church to borrow a Bible for the service is the best option if you don't want one of your own.
If you are unsure of churches in your area, you can use an app like Google Maps to help you find one. Alternatively, you can also use Church Finder, an online service that finds churches based on your area.
If you are a member of a local church, finding a free Bible is likely not a problem. However, you can still ask if you are not a local church member. Many churches have websites and are willing to give you a free Bible or will allow you to contact someone that might be able to help if there isn't an offer you can see without asking.
Related Questions
Though you might now know where you can get a free Bible, there might still be some other questions you would like answered. Below are some easy answers to some of the questions you might have.
Can I Choose The Bible Version I Get?
Depending on the organization or charity you choose to use, you may or may not have a choice in the Bible Version you get. Many of the free Bible organizations tell you precisely what Bible you will be getting, and others allow you to ask for a specific version.

If you are looking for the maximum amount of choice for your Bible, I recommend using an app like the YouVersion Bible. An app like this allows you to choose from many different versions and translations. Some of these Bible apps also allow you to change the language of your Bible if you wish.
Can I Get More Than One Free Bible?
Most organizations giving out free Bibles do not allow you to request or claim more than one free Bible. However, some places will enable you to have more than one within reason. If you are looking to supply Bibles to some people you know in the area, you might be able to ask an organization like Bible Senders to help you with this mission.

You can also ask local churches in the area to donate Bibles to those in your community if you wish.
Do I Have To Pay For The Shipping Of My Free Bible?
For the most part, it seems like people willing to give away free Bibles will do so without charging you for shipping costs. Free shipping is great, especially since you might not be looking for a free Bible if you had the money to pay for the shipping. The shipping prices might even be more than the price of the Bible itself.

However, if you live outside of the United States, you might have to wait a bit longer as some organizations require the help of missionaries to distribute the free Bibles to the right places.
Can Anyone Get A Free Bible?
Though the primary purpose of the charities that give away free Bibles is to help those who can't afford to buy one themselves, most of these organizations will still send you a free Bible without proving that you can't buy one.

However, if you can buy a Bible, there is no need to ask for one for free. Some people can't buy their own, and some don't have phones to use free apps. For this reason, you should probably not take the chance of getting a Bible away from those who need it. If you have a phone and don't have a Bible, there are plenty of apps you can use instead of asking for a hard copy.
Can I Donate A Bible to Others?
If you have an extra Bible or have money to buy extra, you can donate to almost all organizations mentioned above. Non-profit organizations like the ones mentioned above usually have a page on their website where you can arrange to donate a Bible or help in monetary value. 

Money can help these people buy Bibles or help them send them to where the Bibles are needed.