Does Dick's Sporting Goods Honor Expired Coupons?
Important Note: When you buy through our links, we may earn a commission. As an Amazon Associate we earn from qualifying purchases. Content, pricing, offers and availability are subject to change at any time - more info.
Key Takeaways
Dick's Sporting Goods will usually honor an expired coupon. If they won't, you can ask whether the cashier has any similar active coupons.
Sometimes certain brands are excluded from Dick's Sporting Goods coupons. You'll need to check the fine print of the coupon to make sure that your purchase is covered.
About Dick's Sporting Goods Coupon Policy
As with many companies, Dick's doesn't officially promise to honor expired coupons. The experience you have might vary depending on the location and the manager. But customers report that most locations are willing to honor an expired coupon.
---
Advertisement
---
When you take your coupon to the counter, allow the cashier to scan it. The point-of-sale system will probably flash a notice that the coupon is expired. At this point, the cashier has the option to override the expiration date and use the coupon anyway.
There are a few tips to help increase your chances of having the coupon honored:
Don't mention that the coupon is expired. Just give it to the cashier to scan like any normal coupon. Then act disappointed if the coupon doesn't go through.
Be friendly and polite. Both managers and cashiers are more likely to help a polite customer than a rude one. Since the coupon policy is up to the manager's discretion, a little kindness goes a long way!
Try not to use any coupons that have been expired for a long time. If your coupon is only a week or two out of date, you're more likely to find a sympathetic employee.
Dick's Sporting Goods is known for having good customer service and solid management. The worst case scenario is that you try to use the coupon and are told no. It's worth hanging onto your expired coupons and giving it a shot.
Another note is that Dick's often runs the same or similar promotions again. You can check to see whether there are any active coupons for the same deal as your expired one before you go. If that's the case, you avoid all the hassle in the first place!
Dick's Sporting Goods Promotions
Dick's Sporting Goods has a section of its website dedicated to deals and promotions. Every week, there are new deals on certain types of gear and brands. There are also promotions when you do things like download the app, sign up for emails, or sign up for texts.
Dick's also offers a Best Price Guarantee. When you find lower prices on gear from other stores, Dick's will match that price. That way, you get the same quality customer service without paying any higher prices.
You can also browse the items on clearance through the Dick's online website. Other features include Affirm and Afterpay, both of which allow you to pay over time.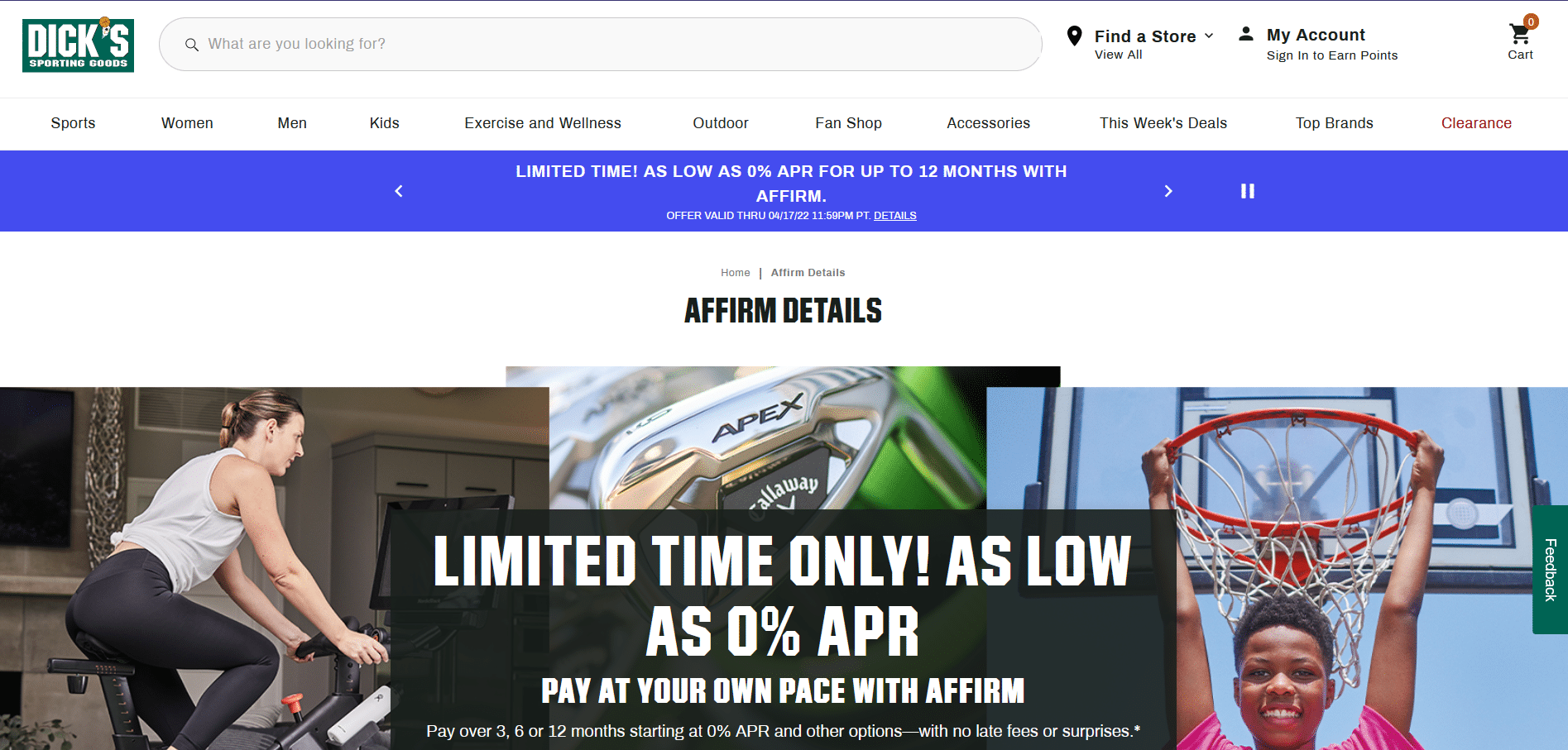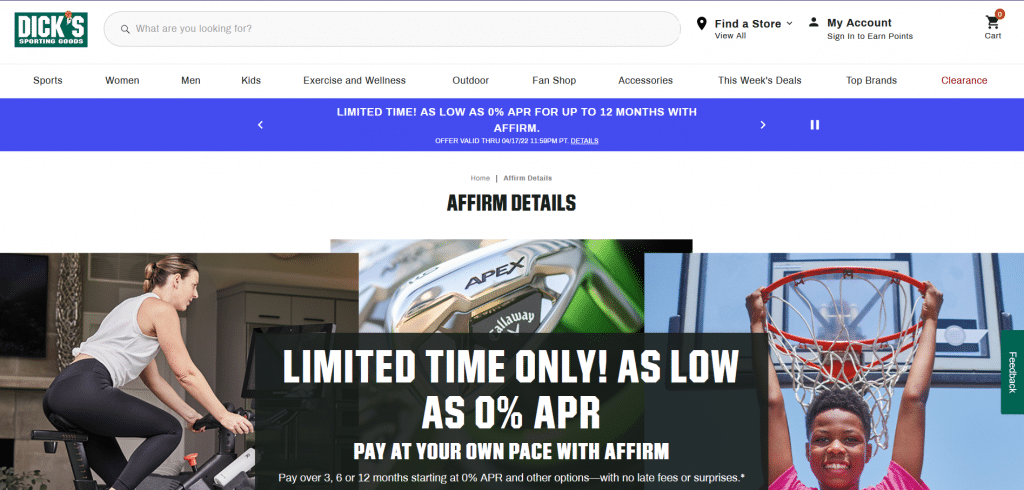 The Affirm program is a way that people can pay for their purchases over time. Basically, you fill out an application, the same way you would for a credit loan. Then you'll be given a virtual card that you'll use one time to pay for your Dick's order.
If you need any additional funds applied to the card, you can ask for that before you check out. Once you check out, the payment details will be emailed to you.
Payments will then be made either through the Affirm app or the website. You will be able to choose your payment schedule, paying only as much as you can afford for as long as you need. The program doesn't have any hidden fees or obligations.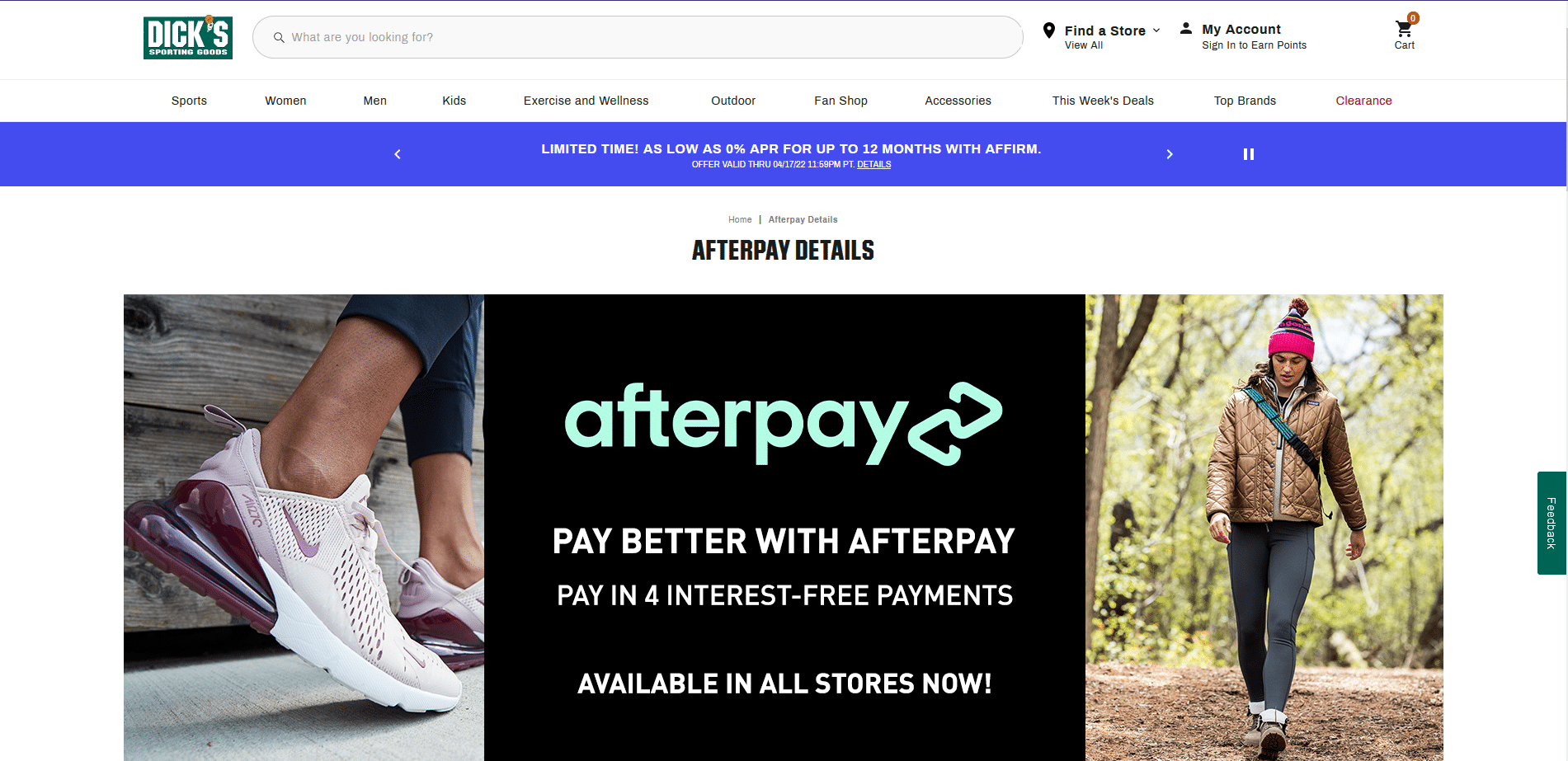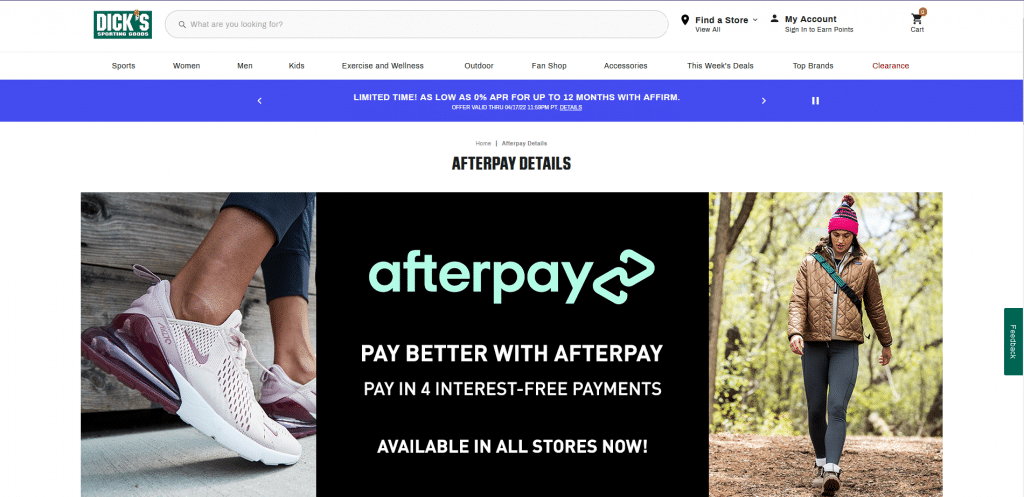 The Afterpay program is available in every Dick's Sporting Goods store. When you get to the register, all you have to do is select Afterpay.
Afterpay works similarly to Affirm. You'll need to download the Afterpay app to your phone. From there, you'll be given instructions for how to make your account and set up the card.
Rather than letting you choose your own payment schedule, Afterpay breaks your payment down into four parts. So if you want to pay just 25% at the register, this is a great option. Then you can bring the purchase home and pay the rest in three installments, with one paid every two weeks.
Afterpay is limited to customers who have an address in the US. But you can use it at the physical register. You'll just use the Afterpay card the same way you would Apple Pay. There aren't any interest rates charged.
Other Promotions
Dick's Sporting Goods has an entire rewards program called Scorecard. But besides that, these are some available promotions as of writing:
When you sign up for text alerts, you can get $20 off a $100 online purchase.
When you sign up for promotional emails for the first time, you'll be sent a 10% off coupon to your inbox. This is valid for online purchases only.
When you download the Dick's app, you'll get an additional 50 bonus points for the Scorecard program.
You can get free shipping on Scorecard orders of more than $49.
Free shipping is also available for standard online orders of more than $65.
You can order from your local store online and have your item available for curbside or in-store pickup within an hour.
The Scorecard program is the member rewards system set up by Dick's Sporting Goods. In addition to the basic Scorecard, there's also Scorecard Gold and ScoreRewards.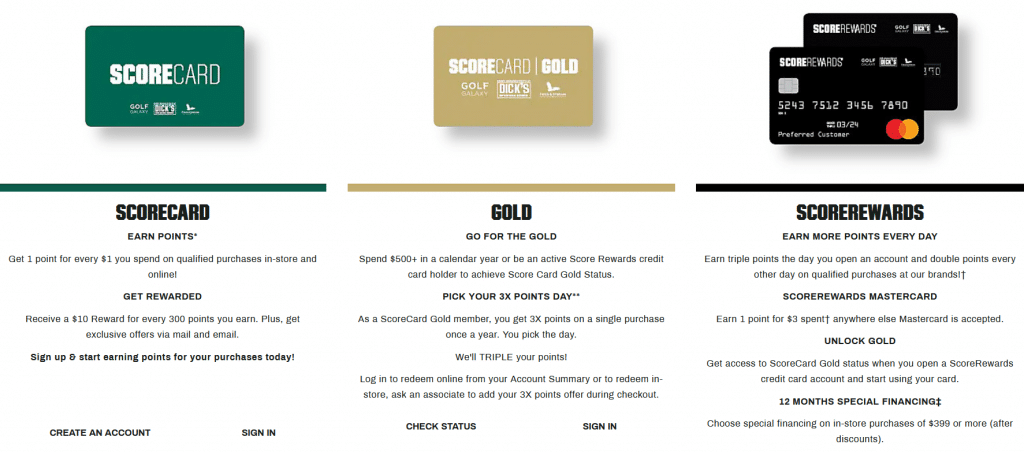 Scorecard
Scorecard is the basic tier of the Dick's rewards program. You can sign up for free either online or in the store.
Like many rewards programs, Scorecard involves a points system. You'll earn points when you spend money. For every dollar you spend, you get one point.
Scorecard holders also have insider access to new offers and deals. So if you're looking for the best coupons, it's a good idea to be a member. You'll also get additional points if you download the Dick's Sporting Goods app.
Checking out online is also faster for Scorecard holders. When you log into your account, all of your payment and shipping details are saved. It's a lot faster to purchase whatever you want, whenever you want it.
As you accumulate points, you can use them to purchase new gear for free. The available offers will vary depending on the day, so it's worth checking back on the app or website.
Scorecard Gold
The Scorecard Gold program comes with all of the same benefits as the basic program. However, in order to be eligible, you must meet one of these two requirements:
You have a ScoreRewards card.
You have spent at least $500 per year as a Scorecard member.
As a Gold member, you'll be given access to member-only offers. These are promotions and coupons that can't be accessed by regular members. They're set aside for frequent Dick's Sporting Goods customers instead.
You can also pick a 3x points day. This means that once every year, you can choose to receive 3 times as many points on a purchase. So if you're ever dropping several hundred dollars at once, you can rack up a ton of points!
To do this, you can either redeem your 3x points from your account online, or you can tell your cashier that you want to use 3x points on your purchase when you check out.
ScoreRewards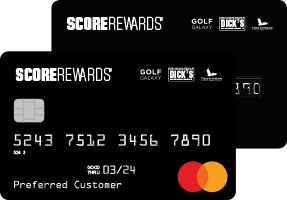 The ScoreRewards card isn't like the regular Scorecard membership. It's actually a credit card. You can apply for the card at no charge online or in the store.
You earn 2 points for every $1 that you spend at Dick's Sporting Goods. You can also use the credit card just like you would a regular credit card.
ScoreRewards holders get the same benefits as Scorecard Gold members. They are also given deals that are exclusive to cardholders. When you make purchases in store, you're eligible for special financing as well. The financing option isn't available if you purchase online, however.
Frequently Asked Questions
Does Dick's Sporting Goods have a rewards program?
Dick's Sporting Goods has the Scorecard members program. When you sign up for an account, you earn points toward free items with every purchase. Members are also able to receive exclusive offers through the app and email.

The Scorecard Gold program is for Scorecard holders who spend at least $500 per year. This gives you access to some extra promotions and coupons.

There's also the ScoreRewards card, which is a Dick's Sporting Goods credit card. Cardholders are automatically enrolled in the Scorecard Gold program. They also get special financing options when they purchase in store.
Does Dick's Sporting Goods have online coupons?
The coupons and deals available at Dick's Sporting Goods vary from week to week. But there are some promotional offers that are only available online. For example, you can get a 10% coupon for online purchases if you sign up for emails.

Another option is to download the company's app. You'll be able to browse available discounts and coupons. When coupons can be used both in-store and online, it's a lot easier to bring a phone to scan than a computer.
Does Dick's Sporting Goods have financing options?
Some financing options are available both when you make purchases online or in the store.

If you have a ScoreRewards credit card, you have special financing options on your purchases in the store. The exact details may vary depending on what you're buying and how high the total is.

There are also the Afterpay and Affirm programs. Both of these allow you to make payments in installments over time. With Afterpay, you pay 25% up front and then pay the rest in three installments. With Affirm, you get to choose your own payment schedule. That includes how much you'll pay and how many payments you'll make.